Travis Goodreau
https://www.safehome.org/security-advisors/travis-goodreau/
Best Home Security Systems that Work with Apple
Do you have an iPhone that you want to use to control your smart home? Do you want to use your Mac to sync up with your home security system? If so, take a look at our list of the best home security systems for Apple users.

Are you looking for a high-quality home security system that can be seamlessly integrated with your Apple HomeKit or iPhone? Below is a list of some of the best Apple-compatible security systems.
1. Vivint

Searching for cutting-edge home automation?
Vivint integrates seamlessly with the Apple iOs platform and delivers total home protection and automation like never before. These all-in-one systems are ideal for renters and homeowners alike!
Vivint offers professional home security, monitoring and smart home control. Vivint offers a Smart Home app that allows you to arm your home security system even when you are not home. You can also optimize your temperature controls for energy savings and comfort using the app. The Smart Home app is compatible with iPhone, iPad and the Apple Watch.
Pros
Wireless home security
24/7 professional monitoring
Professional installation
Smart home control via SkyControl Panel
Voice control using Amazon Echo
Vivint outdoor camera with motion detection available
Cons
Expensive monthly monitoring plans
Monitoring required for basic functionality
Vivint offers excellent home security for Apple users. Vivint is not yet compatible with Apple HomeKit. However, Apple users can protect and monitor their home with the Vivint Smart Home app. There is no need to use different apps to control all of the various devices. It is done all with one single app using an iPhone, Apple Watch or iPad.
Apple users can see who is at the front door, automatic temperature control, track humidity in their home and unlock the front door for contractors using their iPhone, iPad or Apple Watch. The Vivint Smart Home app also allows iOS users to monitor their home for carbon monoxide, receive a notification when a smoke alarm is triggered and be alerted when the batteries in their smoke alarm is low.
Live video is also available on Apple devices. Users can see crisp images of the outside of their home, have a two-way talk with visitors without being home playback videos on an iOS device at a later time. The Vivint Smart Home Sky Control panel and service subscription are both required to use the Vivint Smart Home iOS app
2. ADT

Want the system with the best iOS app?
Believe it or not ADT, the pioneer of home security, has a very highly rated iOS app. ADT Pulse ® has 4.8/5 stars with over 500,000 reviews.
In recent years, home security has undergone a radical transformation due to advances in smart home technology. Established home security leader ADT has done very well at keeping up with the changes. The ADT Pulse app allows you to control your home security from nearly anywhere. You can manage your home security system, surveillance cameras, locks, lights and more using the app. Arm and disarm your system, turn your lights on and off and ensure that you have turned off appliances in your home using your iPhone, iPod Touch or iPad.
Pros
Trusted leader in home security and automation
Quick installation by highly-trained technicians
Robust and customized home security, automation and protection
Video surveillance and monitoring
Professional 24/7 security, safety and fire monitoring
Record and save video clips
Cons
Requires a monitoring contract
Expensive add-ons
DIY installation not available
Currently, ADT Home Security is not compatible with Apple HomeKit. Regardless of this, ADT is a good home security option for iOS users. The ADT Pulse App is compatible with iOS 10.0 and later. The app works with Apple iPhone, iPad and the Apple Watch.
Using the ADT Pulse app, iOS users can control their alarm system and smart home technology from anywhere. Lights, locks, thermostats, and surveillance cameras can be all assessed and controlled via the iOS-compatible app. Apple users can monitor for and respond to fire, flood and carbon monoxide events via their iPhone or iPad. Live video streaming is available on the app for iOS devices.
The ADT Pulse app also allows iOS users to set up custom notifications and schedule various alerts and actions. For instance, you can use your iPhone to lock and unlock your doors remotely to let the babysitter in your house. iOS users can also use the app to turn on the lights before arriving home from a late night at work.
ADT's 6-month guarantee is a nice bonus for Apple users.  If you are not satisfied with your equipment or service during the first six months, you can return the equipment for a full refund. So, if you find that you can't use the functions on the app as you would like, you can return the equipment at no risk.
3. Frontpoint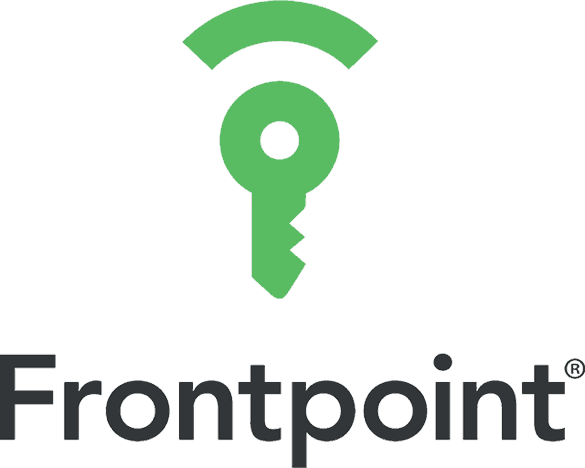 Looking for a DIY system that syncs with Apple?
A top-pick for Apple aficionados, Frontpoint protects your home and makes your life easier with smart features galore. It gets better. Frontpoint also offers the best customer service around.
Frontpoint home security is easy to set up and control. You can control your FrontPoint home security system with your Apple watch, iPhone or iPad. The FrontPoint app lets you control and monitor system from anywhere in the world with your Apple device.
Pros
100% wireless and cellular home security
Comprehensive home security, awareness and control
Expandable and portable home security
24/7 professional monitoring
Crash and smash protection
Optional video doorbell available
Backup protection with automated system checks every 60 minutes
Cons
Professional installation not available
Requires a monitoring contract
Like most other professional home security systems, Frontpoint is not yet compatible with the Apple HomeKit. However, Frontpoint is still an excellent comprehensive home security system for Apple users.
Frontpoint offers an iOS app that gives Apple users quite a bit of functionality when it comes to managing their alarm system. Apple users can remotely arm and disarm the system and receive instant notifications and alerts on a variety of events. Apple users can set up instant alerts to be notified whenever someone arms or disarms the alarm, comes or goes through the front door or when a door is left unlocked.
Home automation is available for iOS users through the Frontpoint app. Users can control lights,  locks and view live streaming video from anywhere using an iPhone, iPad or Apple Watch. Users can also monitor for fire, smoke and water via the app.
Apple users can also receive real-time text, push or email notifications with the iOS-compatible app. Power failure notifications are also available via iOS. Plus, the app supports Apple's new Face ID feature on the iPhone X. This allows users to easily access their alarm system without a passcode.
The Frontpoint app is available for Apple iPhone, ipad and Apple Watch. Apple users can also manage and pay their bill right through the app.
4. Protect America
Protect America offers affordable, professionally monitored home security for Apple users. The system is easy to setup and control. You can connect to your system no matter where you are using the app. Check your camera footage, arm and disarm the system and adjust your thermostats using the iOS-compatible app.
Pros
Complete perimeter security protection
24/7 professional monitoring available
Compatible with popular Z-Wave devices
Amazon Echo Dot integration
Touchscreen control panel
Live video surveillance
Locked-in rate
Price-match guarantee
Cons
A monthly monitoring contract is required
Costly equipment
Protect America provides Apple users with robust yet affordable home security. Although Protect America does not offer Apple HomeKit integration, this system still offers a lot of useful features for iOS users. Apple users can arm and disarm the security system, open the garage door, unlock and lock the front door, turn on and off the lights from anywhere using their iOS device.
Instant alerts and notifications are available via Apple iPhone, iPad and Apple Watch. This allows Apple users to be connected to their home from anywhere at any time. Other Apple-friendly features include HD wireless video monitoring and two-way voice capability via the iOS app. Apple users can also monitor and receive alerts for fire, smoke and carbon monoxide events via the app.
5. Scout
Scout is an affordable, DIY home security option for Apple users. The Scout app allows you to gain full control of your Scout Home Security system using your Apple iPhone, Apple Watch or iPad. You can monitor the status of your home, unlock doors remotely and respond to security events from afar.
Pros
Customized and portable home security
Integration with Nest Thermostats, Hue Lighting, LIFX Lighting and Amazon Echo
No annual contracts
24/7 Professional UL-Certified monitoring
Cellular 4G LTE backup
One-year warranty on equipment
Friendly, helpful customer support
Cons
Not compatible with popular Z-Wave equipment
Scout is a newer home security option on the market. The system is easy to set-up and control. It is a good option for Apple users thanks to the app, which is compatible with iOS devices and allows extensive control of the system using an iPhone, Apple Watch or iPad. Apple users simply need to download the Scout app from the Apple Store to gain full control of their Scout home Security System.
Although Scout does not offer Apple HomeKit integration, there are still plenty of things that Apple users can do with the Scout iOS app, including unlock and lock doors from anywhere, view live video on an iPhone and turn on and off the lights from anywhere.
The Scout app also features customized iOS alerts for any number of events. Users can receive when there is a flood inside the home, a window has been broken or a door is unlocked. They can also view a timeline of various events inside their home, such as whenever motion is detected, a door is opened or a water leak is detected inside the home.
Apple Home Security Integrations
Apple home security integrations are important to ensure that your Apple devices will work with your home security system. Home security systems that feature Apple integrations allow you to control and monitor your home's security and automation via Apple devices.
iPhone
All of the security systems reviewed above offer apps that are compatible with iPhone. The apps allow you to remotely monitor and control your home security system and automation on your iPhone. You can perform various tasks with your iPhone depending on the home security equipment that you choose.
Macbook
The home security systems in this review are all compatible with Mac browsers.  Depending on the equipment and monitoring plan that you choose, you can review your home security, adjust your thermostat, control your lighting and be a live video feed from your Mac.
Apple Homekit
The Apple HomeKit integrates with a variety of alarms, locks, thermostats, and smart lighting systems. Currently, most of the major alarm companies are not compatible with Apple HomeKit as Apple is a direct competitor. Like most of the other major systems on the market, the alarm systems reviewed here are not compatible with the Apple HomeKit. Frontpoint has expressed an interest in Apple HomeKit integration, but this is not an option at this time.
Features of Apple Compatible Home Security Systems
One of the most important features of Apple compatible home security systems is an iOS-supported app. All of the systems featured in this review offer iOS apps. This means that you can control your security system from your Apple iPhone, iPod or Apple Watch. Depending on which plan and sensors you choose, you might be able to arm and disarm your system, unlock and lock your doors, remotely view your front door, and adjust your thermostat using your iPhone or iPad.
Mobile Alerts
Mobile Alerts put home security at your fingertips. In the event of a security breach, this feature sends instant notifications straight to your Apple device. But it goes beyond security and into home automation. Depending on your equipment, you might also get custom alerts for water leaks, temperature changes, and the list goes on. Apple users are getting hip to Mobile Alerts.
Motion Detection
Motion Detection is another sleek feature that many Apple home security systems offer. Mount these devices strategically inside your home. They sound the alarm the moment motion is detected, and many send mobile alerts to your Apple iPhone or other Apple device. The technology is quite advanced — some detectors can distinguish between people and pets, while others boast facial recognition features.
Garage Door
Get the smartest garage door on the block with a smart garage door opener. This feature lets you remotely open and close your garage with an Apple device. If your security system offers an iOS-compatible app (and thankfully, many do) then tap into advanced features like scheduling instant alerts if closing the garage slipped your mind, issuing permissions to multiple users, etc.
Door Locks
Outfitting your Apple home security system with smart door locks is a sophisticated way to secure the perimeter. Another iOS app-based feature, this lets you control and monitor your exterior doors with your Apple iPhone, iPad, and Apple Watch. Lock and unlock your doors, receive instant alerts, and literally take your home security into your own hands with smart door locks.
Voice Recognition
Voice Recognition is another benefit of home security systems that work with Apple. Get a smart device like Amazon Echo or Google Home, and control your security and automation with that valiant voice of yours. Change the temp, set the lighting, lock the locks, open and close the garage door, and more. Just make sure you have Apple-compatible home automation features.
Remote Access
It might feel like you're in a James Bond movie, but it's just a nifty Remote Access feature. Remote Access enables you to monitor and control your Apple home security system from your iPhone or other Apple device — from virtually anywhere. Lock and unlock the doors, tap into live-stream video cams, set the lighting, and more. You'll be the envy of your neighbors.
Entryway Sensors
Entryway Sensors come standard with home security systems compatible with Apple and iOS. Simply mount these magnetic sensors on your doors and windows, and you're in business. When the alarm is set and the sensors are tripped, the alarm sounds and you'll likely receive a real-time alert on your iPhone, iPad, or Apple Watch. Entryway Sensors are key to keeping the bad guys out.
Heat/AC
Apple-compatible home security systems are really heating up. Now you can take control of your thermostat with your Apple device. So long as you have the right automation features, you can change the temperature in your home to your exact preferences… from anywhere in the world! Some like it hot, some like it cold, and some like it just right.
Smart Lighting
Shed some light on the situation with Smart Lighting. Smart Lighting equipment that is compatible with Apple lets you set the mood with your iPhone, iPad, or Apple Watch. The best part, you can access these controls and settings on your way home from work. This way, your home welcomes you like an old friend. Lighting matters. Dial yours in with Smart Lighting.