Best Home Security Systems that Work with Google Home
You probably know Google Home as a go-to voice assistant. But did you know Google Home now works with top-rated home security systems to help fortify your home the smart way? See the best security options for Google Home right here.
Smart home security products, such as video doorbells, home security cameras, smart locks and smart assistant, help you to keep watch over your home. A voice-compatible home security system is compatible with Google Home to make everyday tasks easy.
Google Home works with home security companies such as Vivint, ADT and Brinks Home Security. Part of having a home security system and a home automation system, aside from the obvious, is the convenience these systems offer when used together. One of the most popular home automation systems in 2019 is Google Home. So, before you do anything else, you might want to consider Google Home and the home security systems that work best with Google Home and its many compatible features.
1. Vivint – Best Overall Google Home Compatibility (Editors Choice)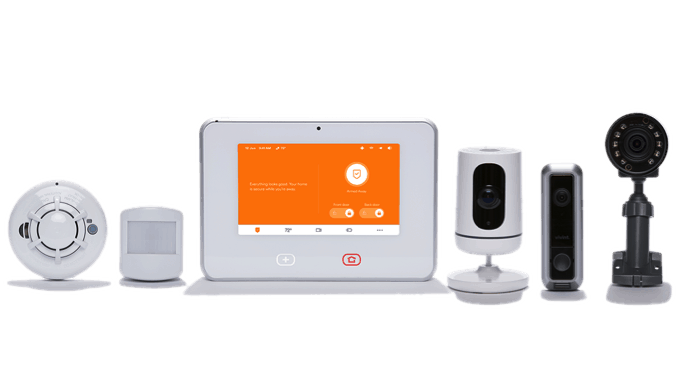 Vivint is one of the most advanced security systems currently available in 2019. They offer a wide variety of home security and home automation products that will make your life easier and more convenient. Their packages are 100% wireless and a little on the high side cost wise, but they are well worth the price. Additionally, they offer outstanding customer service, which you'll appreciate if you ever need assistance. Here are some of the Vivint pros and cons.
Pros
100% Wireless Professional Installation
Compatible with Google Home
Same-Day Installation (in most cases)
Cellular and Landline Connections
Remote Access Via a Mobile App
Cosmetically Appealing Equipment
Lifetime Warranty
Indoor and Outdoor Video Cameras
Doorbell Camera (with two-way voice feature)
Environmental Disaster Sensors
Home Automation
Customizable Security Equipment
Impressive Energy Management Features
Monitoring Available
Cons
Monthly Monitoring Plans Higher Than Most
Professional Installation Is Required
Long-Term Contract
Short Trial Period
The Vivint plans range from $29.99/month to $49.99/month plus equipment financing. A minimum credit score of 600 is required; however, if you don't qualify, you can opt for a monitoring-only contract. And, in some cases, Vivint will negotiate better pricing and various waivers.
Nest integrated with Google Home about five months ago greatly enhancing your home automation options some of which are included with Vivint's upper tier package. But you can easily add-on any of the optional features as your needs change.
Vivint's systems are wireless; however, Vivint requires them to be installed by a professional to make sure they are setup properly, which is good because that's one less thing you have to worry about.  Additionally, Vivint's equipment is well-designed, easy to use, and can be accessed, monitored, and controlled via the control panel, keychain remote, or mobile app.
2. ADT – Best Home Automation Features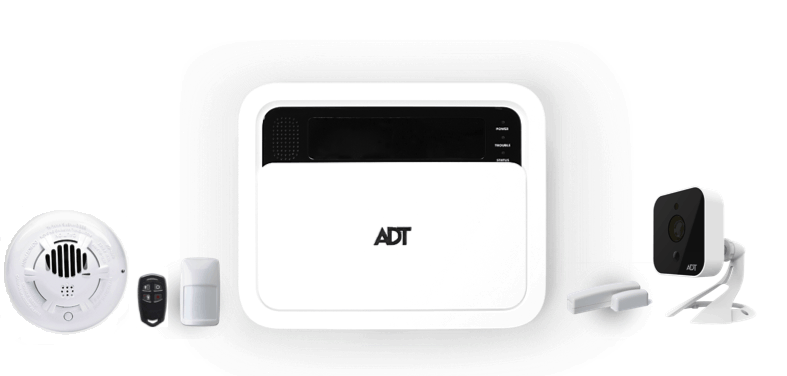 ADT is one of the most experienced security companies in the industry. They have been providing residential home security systems for well over 140 years and they have monitoring centers all over the country. That means you will likely not ever be without coverage. ADT also offers some attractive incentives such as $500 in theft protection (while your system is armed), same day installation, fantastic guarantees, and extremely fast response times.
Pros
Fast Response Times
Free Installation
Over 140 Years in Business
Wireless and Hardwired Systems
Compatible with Google Home
Six-Month Money-Back Guarantee
Cellular and Landline Connections
Indoor/Outdoor Video Cameras
Home and Remote Functioning Medical Devices
Environmental Disaster Protection
Home Automation Features
Voice Recognition
24/7 Customer Service
Cons
No Trial Period
Customer Service Experiences Vary
Long-Term Contract
Good Value But Slightly More Expensive Than Other Options
Activation Fee
ADT is the largest home security provider in the US and Canada. The ADT equipment plans range from $37-$53 per month and their monitoring plans range from $36-$52 per month. However, even though they are more expensive than other options, they offer a lot of value for your money. ADT offers wired or wireless systems with free installation and you can choose one of their home security plans or customize your own. Either way, you will be required to sign a three-year contract, but you can cancel without penalty if you do so within the first six months.
ADT offers 24/7 customer service, provides a landline or cellular option, a wide range of home automation features, indoor/outdoor video cameras, environmental sensors, and a variety of medical alert devices. Additionally, ADT will handle the entire installation process for you. However, it's best to perform a little due diligence on your local ADT branch before making any decisions because their service varies from dealer to dealer.
3. Brinks – Best Home Security Features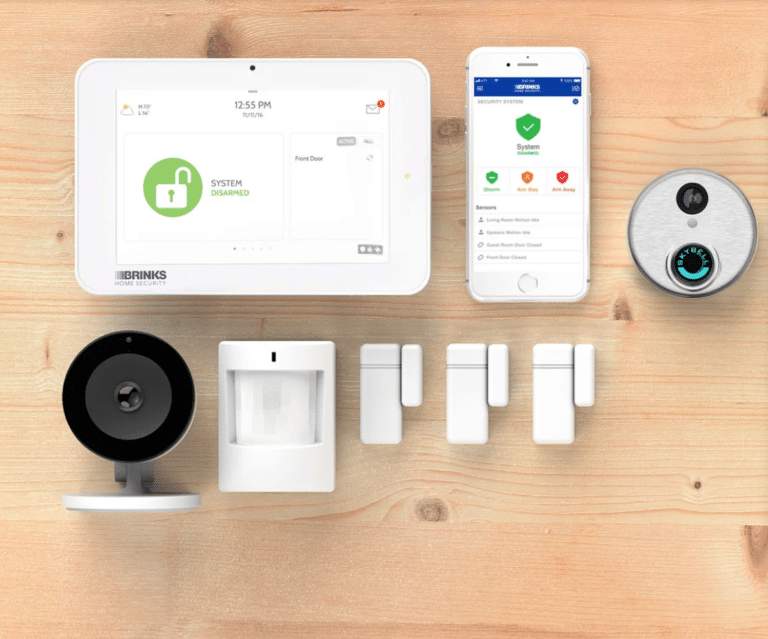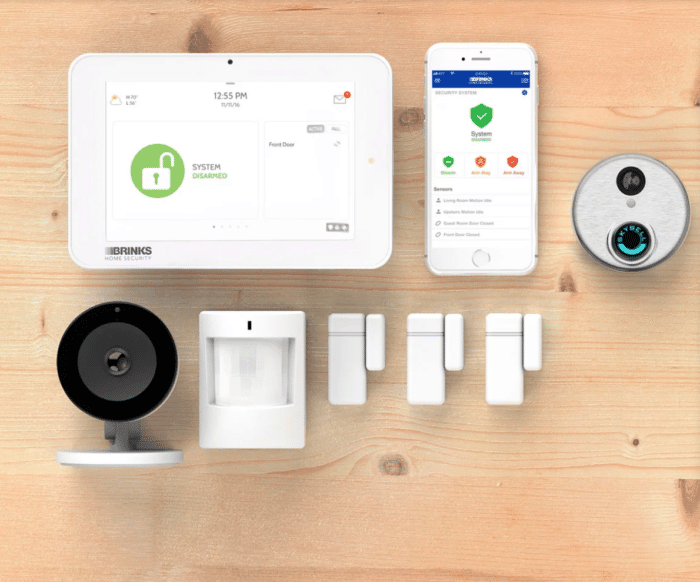 Brinks has a long history of providing value and affordability. They recently merged with Livewatch and Moni so they definitely have the very best in home security and monitoring services. Their plans are extremely reasonable and their equipment is included with the price of most of their packages which means there is no upfront equipment cost involved. The Brinks equipment is compatible with Nest Secure packages and you can add equipment a la carte at its going rate whenever you desire. Here are some of the Brinks pros and cons.
Pros
Compatible with Google Home
Equipment Included (with most packages)
24/7 Professional Monitoring
Smartphone Controls
30-Day Return Policy
Home Automation
Geofencing
LiveVoice Assist
Cloud Video Storage (with select plans)
Live Video Streaming (with select plans)
Crash and Smash Protection
2-Year Warranty
Month to Month Plan Available
Cons
Long-Term Contract (36 months) on Most Plans
Professional Installation Option Costs
The Brinks home security hub can handle up to 40 devices so you can customize your system to fit your needs. The Brinks Home Complete plan starts at $29/month and their Brinks Home Complete with Video plan starts at $39/month. The 36-month monitoring plans are rate locked agreements, so you don't have to worry about cost increases for quite a while. They also have a 30-day return policy as well.
Brinks equipment packages both come with an IG Gen 2 Security Panel, 3 door/window sensors, and one motion detector. The upper tier package also comes with one indoor camera with a recordable live stream and one doorbell camera as well. Additionally, they offer a wide variety of add-on equipment.
With a Brinks system, you will enjoy 24/7 monitoring, crash and smash protection, LiveVoice Assist and cloud video storage (with some plans), and smartphone controls. Brinks is also known for their easy to use systems which are customized and preconfigured to your needs.
4. Scout – Most Affordable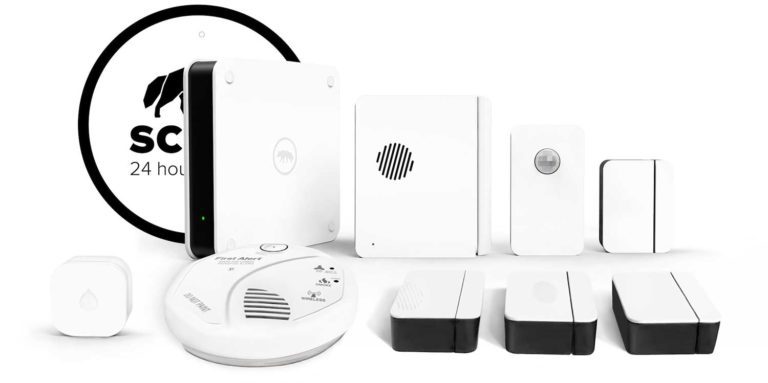 Scout is a relative newcomer to the industry and they're one of the most affordable brands out there. And, their equipment is some of the best we've seen because it's of a high-quality and very well designed. However, they don't offer any cameras or thermostats with their systems, but they are compatible with a variety of smart home devices such as Nest. Additionally, they don't require any installation or activation fees and you don't have to sign any contracts either. And, they give you a 10% discount if you pay for a year's monitoring in advance. So there's an upfront cost for the equipment, but it's a DIY installation.  Here are some of the Scout pros and cons.
Pros
24/7 Professional Monitoring Available
Mobile Access
Low Monthly Rates
No Contract Requirements
Easy Wireless DIY Installation (no tools required)
60-Day Money-Back Guarantee
Compatible with Google Home (and other smart home devices)
4G LTE Cellular and Battery Backup
Portable
Cosmetically Appealing Design
No Activation Fee
Custom Alerts
One-Year Warranty
Cloud Storage Available (some restrictions apply)
Cons
No Professional Installation Available (but probably not needed)
Limited Range of Available Products
Up-Front Equipment Cost
Requires You Pay a Monthly Fee for It to Work
Backup Power Only 12 Hours
Only a One-Year Warranty
Motion Sensors Aren't Pet-Friendly
Doesn't Come with a Keypad
Scout has four equipment packages that range from $299 to $799 which you can purchase through their Affirm monthly payment plan (with approved credit). They also offer two monitoring plans ranging from $9.99/month to $19.99/month with a 10% savings if you pay annually.
The Scout system works with Alexa, Google Home, Nest, IFTTT, and can be voice controlled, or by using the mobile app. The Scout hub also comes with ZigBee and Z-Wave as well. However, Scout isn't as user-friendly as some because you have to use their app for control. The Scout system doesn't come with a control panel/keypad. You can buy their basic packages, then add-on to them as needed. However, if you want to use the automation features, including the app, you will have to pay a monthly subscription fee. If you don't, you'll only get the basic package and the web-based self-monitoring option, which is almost useless without the app. But, the Scout system is suitable for renters and homeowners alike because it's portable.
5. Nest – Easiest Google Home Set-Up


If you like gadgets, you are going to love Nest! It's not the least expensive DIY option out there, but if you're already using Nest in your home and want expandable home automation features, then this is probably the perfect system for you. Especially since the integration with other Nest products is virtually seamless. Overall, Nest is a pretty good option; however, they are far from perfect. For example, there are some add-on subscriptions you have to have to do certain things within their system such as the cellular backup and Nest Aware which can get expensive.
Nest was originally known for introducing their smart thermostat which was one of the first home automation features available and it's what led to the rise of home automation making it into what it is today. But, as you know, Nest offers more than just smart thermostats now. They offer plenty of innovative products which can be easily integrated with a wide variety of third-party devices. This, in turn, will give you many different customization options along with the ability to create an expandable home security/automation ecosystem that's uniquely your own. Here are some of the Nest pros and cons.
Pros
Easy to Install and Use
Compatible with Google Home and Other Third-Party Devices
Feature Rich Subscription Plans
No Contract Requirements
Mobile App Control
Self Monitoring and Professional Monitoring Options
Cons
High Upfront Costs
Nest Aware Prices Are on a Per-Camera Basis
Add-on Subscription Costs Add Up Quickly
While the Nest Secure starter kit is expensive, it does come standard with additional features that others don't include. Which is great, if you need those features, but not so great if you don't. Nest offers professional monitoring through Brinks (formerly Moni) and has a monitoring plan that starts at $19.99/month. However, if you want cloud video recording, cellular backup, etc, all add-on services will require an additional monthly fee. Also, you can purchase add-on equipment such as Nest thermostats, doorbell, environmental disaster detectors, smart locks, as well as, one or more of Nest's four available security cameras.
Nest products are easy to install and easy to use; however, if you prefer professional installation, they offer that too, for a fee. With a Nest system, your customization and expansion potential is almost limitless. And, Nest products can be easily integrated with third-party products, providing even more potential for expansion.
Benefits of Google Home Friendly Home Security
Home Automation
Google Home is loaded with convenient home automation features that allow you to make phone calls, interact with your smart home devices and security system, play music, control your TV, set a timer, make a shopping list, receive weather reports, ask a question for a Google search, set or snooze an alarm, and more.
Hands Free Voice Control
The Google Home system has several ways to interact with it which includes a touch feature and a hands-free voice control. For the hands-free voice controls, you simply say the wake words such as "OK, Google." And for the touch control, you simply touch the top of the Google Home hub and move your finger clockwise, counterclockwise, or by using a long-touch to start or stop a function, change the volume, or to give it a command without the wake words.
Increased Level of Security
Having Google Home adds another layer of protection for your home and family. And, according to Google, its Google Home device only records what you say after being activated, at which time it lights up so you know the device is listening. You can also use the mute button to keep it from listening to anything, including the wake words. Additionally, you can browse the history and delete any given search or clear the history completely if you'd like.
Features of Google Home Compatible Home Security Systems
The following are some of the unique features that are available to you when you purchase a home security system that is compatible with Google Home and their virtual assistant:
Voice Recognition
These devices use biometric voice recognition that allows you to speak and use your voice to control your lights, door locks, garage door, thermostat, appliances, security system, and any other smart home voice-enabled device.
Door Locks
With home automation like Google Home and some smart locks, you can lock and unlock your doors remotely with a mobile app. And, some automatic door locks can detect your location and as soon as your mobile phone and/or key fob is in (or out) of range, it will automatically unlock or lock your doors—handsfree.
Mobile Alerts
Home automation gives you the capability of setting up custom mobile alerts that will send you notifications via text, email, and/or phone when activity is detected so you can respond accordingly.
Remote Access
Remote access is similar to the automatic door locks whereas you can use the provided mobile app to access, monitor, and control your home's access. This feature will allow you to unlock your doors for guests then lock those same doors after they leave. The remote access feature is perfect for nanny's, dog walkers, delivery drivers, contractors, etc.
Entryway Sensors
These sensors monitor all your entryways such as doors and windows. If someone attempts to enter through those entryways while the system is armed, an alarm will go off and you, and possibly the monitoring center and the authorities, will be notified.
Motion Detectors
Motion detectors are similar to entryway sensors except they detect motion in your home rather than entry via a window or door. If the system is armed and it detects any kind of motion in your home, an alarm will go off and you, and the possibly the monitoring center and/or the authorities, will be notified.
Heat/AC
Google Home automation will give you remote control over your HVAC system from your couch or anywhere in the world. A smart thermostat like Nest will make it more convenient to monitor and control your system allowing you to turn it up/down or on/off, which will help save energy and give you the ability to set a more comfortable temperature for when you arrive home.
Lights
Smart home features like Google Home will allow you to turn your lights on/off remotely and/or on a timed schedule. This feature can be programed manually or by using the mobile app. Automatic lights will add another layer of security to your home by making sure the lights are all on prior to your arrival.
Garage Door
Your garage door is another area of your home that can be controlled using home automation. With your mobile app, you can monitor and control your garage door remotely. You simply check the app if you think you forgot to close your garage door. Then you can close the garage door remotely with the app if needed.