Note: Google has discontinued Nest Secure. So we recommend checking out our list of the best home security systems to explore your options.
Nest Secure offers intuitive home security and smart home automation at a remarkably reasonable price. While it's not a perfect system, it meets our standards when it comes to home protection and day-to-day conveniences with smart gadgetry. Nest Secure offers wireless equipment, DIY installation, and a comprehensive lineup of smart home automation options.
Beyond the smart features, we wanted to see if Google's Nest Secure was a safe bet for the price. So, we explored their equipment packages and monitoring options, and we considered the costs for add-on devices. Today, we're sharing our findings with you. Let's see if this modern, intelligent system is the right fit and price for you and your household.
Key Features
Wireless Equipment
DIY Installation
Home Automation
Intrusion Protection
Environmental Protection
Wi-Fi and 3G Cell Alerts
Wireless & Cellular Monitoring
Nest Secure Packages & Pricing
Unlike Vivint, ADT, and other premium brands, Nest Secure is refreshingly direct about their pricing. The main system costs $399 and includes the Nest Guard (central hub), two Nest Detects (entry sensors), two Nest Tags (keychain fobs), and the Nest companion app. We'll touch more on these devices soon, but the key takeaway is that Nest Secure comes in one basic package that you can customize from the ground up.

Pro Tip: Consider purchasing a base kit and upgrading from there, instead of buying a complete package that includes devices you might not want or need.
The $399 price point is steep compared to systems like Ring,
SimpliSafe
, and
Abode
. However, Nest Secure is a step up in quality compared to these options. Nest Secure can leverage AI and smart learning to deliver whole-home security and automation. Beyond their standard package, Nest sells extra sensors, the Nest Hub Max, Nest Hello Doorbell camera, Nest Cam Outdoor, Nest Cam IQ Outdoor, and Nest Wifi. Unfortunately, there aren't other packages for sale in the Google Store. We'd like to see more variety here.
With that said, you might find additional bundle packages sold at select retailers. We've seen the following Nest Secure bundles:
| Nest Secure Package | # of Pieces | Package Savings | Package Cost |
| --- | --- | --- | --- |
| Nest Secure Alarm System + Outdoor Camera | 6 | $100 | $498 |
| Nest Secure Alarm System + Doorbell Camera | 6 | $80 | $548 |
| Nest Secure Alarm System + Cameras | 8 | $140 | $676 |
| Nest Secure Alarm System + Cameras + Front Door | 12 | $240 | $1,152 |
Nest Secure Monitoring Plans
We prefer home security companies that offer a free self-monitoring option, as well as a paid monitoring plan. Nest Secure is one such company. If you want to self-monitor your Nest Secure system, you can use the Nest mobile app to keep tabs on your home from anywhere.1 Otherwise, you can elect to enroll in the 24-7 professional monitoring offered by Brinks Home Security.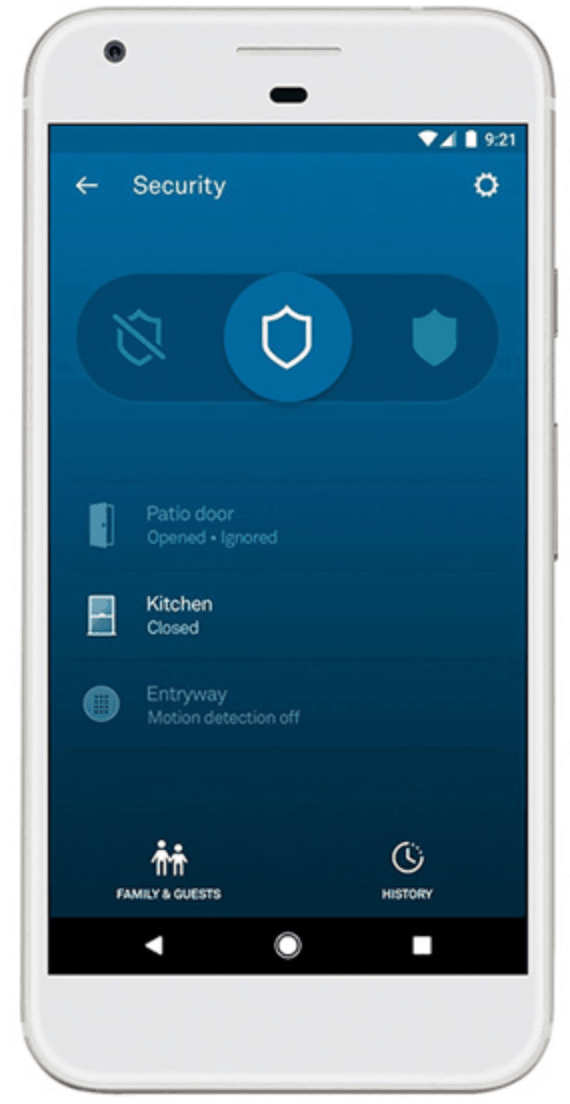 Nest's collaboration with Brinks, a longtime leader in home security, comes in one simple plan with two different price points.2 If you're willing to sign a three-year contract, you'll only pay $19.99 per month. If you choose the month-to-month payment plan, it will cost you $29.99 per month. Either way, Nest makes it affordable to secure your home.
Nest Aware Video Monitoring Plans
Now, if you're looking to install Nest security cameras with monitoring, you'll need to purchase a Nest Aware subscription. We like this plan compared to other video monitoring options in the industry. It comes in the three subscription plans listed below. Each one includes either 5-, 10-, or 30-day video history, plus 24-7 continuous recording, intelligent alerts, clips and time-lapses, and custom activity zones.
| Nest Aware Subscriptions | Price Per Month | Price Per Year |
| --- | --- | --- |
| Nest Aware 5-Day Plan | $5 | $50 |
| Nest Aware 10-Day Plan | $10 | $100 |
| Nest Aware 30-Day Plan | $30 | $300 |
During testing, we found the Nest Cams really came to life when combined with Nest Aware. We recommend the 5-day plan for only $5 per month. You'll enjoy advanced video features like AI facial recognition, and you'll have the ability to scan through your entire video history as it happened, not just your clips. However, we think the $30 per month plan is simply too expensive for video monitoring.
Nest Secure Add-On Equipment Costs
For $399, the Nest Secure system includes the Nest Guard, a 3-in-1 device that serves as a keypad, motion sensor, and alarm. You'll get a pair of Nest Tags, which are nifty keychain fobs that let you arm and disarm your system without a passcode. Also in the box are two Nest Detect sensors that double as entry sensors and motion detectors, a unique feature to Nest Secure systems. Finally, every kit includes the Nest app for controlling your system on the go.3

FYI: Users can adjust the settings on Nest Detect sensors within the Nest mobile app. Turn on entry sensor mode, motion detection mode, or switch on both at the same time.
You can also upgrade your system with add-ons and accessories. Options include indoor and outdoor cameras, smart locks, additional sensors, and more. Of all the products we tested, we liked the Nest Learning Thermostat the most. This product first put Nest on the map as
a leader in home

automation
.
4
Here's a rundown of the Nest Secure add-on equipment costs:
| Nest Equipment | Equipment Type | Cost |
| --- | --- | --- |
| Nest Secure | Control | $399 |
| Nest Detect | Sensor | $49 |
| Nest × Yale Lock | Lock | $279 |
| Nest Protect | Smoke Alarm | $119 |
| Nest Thermostat | Thermostat | $249 |
| Nest Thermostat E | Thermostat | $169 |
| Nest Temperature Sensor | Thermostat | $39 |
| Nest Connect | Extender | $69 |
| Nest Cam IQ Indoor | Camera | $299 |
| Nest Cam IQ Outdoor | Camera | $399 |
| Nest Cam Indoor | Camera | $199 |
| Nest Cam Outdoor | Camera | $199 |
| Nest Hello | Doorbell Camera | $229 |
As you can see, Nest isn't exactly cheap. But we found the products to be more sophisticated and intuitive than other equipment in the same price range. For instance, while $50 seems expensive for a door or window sensor, it's actually pretty cheap when you factor in its motion detection capabilities. Here are a couple of Nest products that we recommend adding to your package:
Nest Thermostats – Starting at $169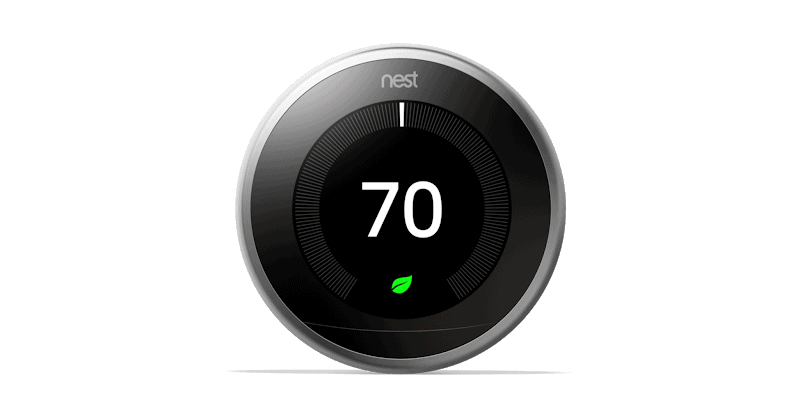 As mentioned, this instrument is perhaps our favorite Nest product, and it's one of the most sought-after Nest devices available. You can choose between two models, the Nest Learning Thermostat ($249) and the Nest Thermostat E ($169). Both allow you to access and control your indoor temps remotely, while dialing in the cost savings with improved energy efficiency. However, the Nest Learning Thermostat is more advanced than the Nest Thermostat E.

Did You Know: Some local utility companies offer cost-saving incentives when you purchase and install a Nest Thermostat.5
Nest Cameras – Starting at $199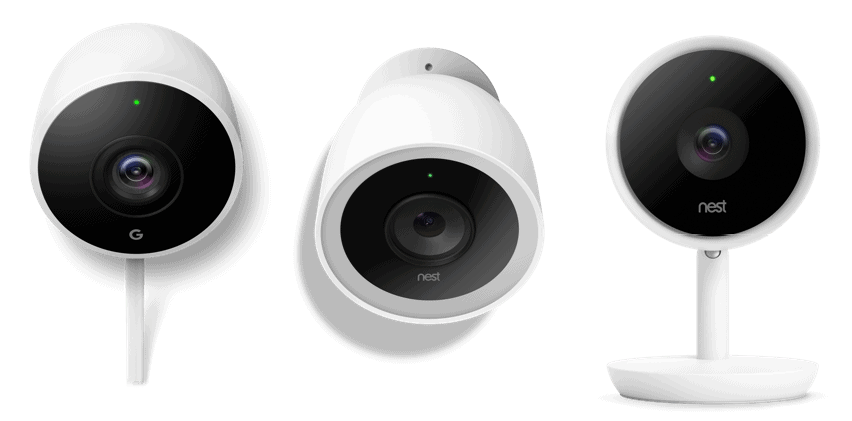 The Nest Cam family includes the Nest Cam Indoor, Nest Cam Outdoor, Nest Cam IQ Indoor, and the Nest Cam IQ Outdoor. During testing, we weren't that impressed by the live video functionality and 1080p HD video quality. After all, these features are almost standard with today's home security cameras. It's when we installed the Nest Cam IQ lineup that we were quite impressed. The AI-powered familiar face alerts worked exceedingly well, despite a few false matches. As future-forward as it may be, the $399 price tag for the Nest Cam IQ Outdoor is a real turnoff. The Nest Cam Outdoor is more our speed at an affordable $199.
Nest Secure Features
In our experience, Nest Secure excelled in the features & tech department. The system offers advanced home security with plenty of smart home automation features. Our favorite device features include:
Facial recognition in the Nest Cam IQ
3-in-1 Nest Guard hub (keypad + motion sensor + alarm)
2-in-1 Nest Detect (entryway sensor + motion detector)
Automatic testing of Nest smoke detectors
Smart mobile alerts sent to our smartphones
Rule of Thumb: The facial recognition technology isn't 100% accurate, and it takes time for Nest cameras to learn faces. So, it's a good rule of thumb to be patient during the initial setup.
Nest products also provide seamless integration with other smart home devices. For instance, the Nest Hello Doorbell works with Google Home to announce when someone's at your door. Nest also offers solid backup protection in the event of a power outage or internet failure. But to get the most out of Nest Secure and Nest Home, expect to spend upwards of $600 or more. It's the cameras that deliver the best features, and they aren't cheap.
Current Nest Secure Deals
If you're considering purchasing Nest Secure, it's worth looking into their current deals and discounts. The company often sells bundle packages that include the Nest Secure system and Nest Cams for total home security and surveillance. We've also seen packages that bundle in the Nest Learning Thermostat and other smart home devices. These offers are always changing to keep consumers on their toes. So we've taken the time to highlight the latest Nest deals. We also recommend checking back periodically, as our team is constantly updating our website to reflect the latest cost savings.
Overall Nest Secure Value
We found Nest Secure packages and monitoring plans to offer a reasonable price for what you get. The company focuses on creating intuitive smart devices. They describe their products as "human" and "delightful." And we agree with that description. During our experience and testing, we liked Nest Secure more and more. Of course, it's not a perfect system, as there's really no such thing, but most users will get plenty of value from these smart wireless systems.
Since the company targets the mid-tier home security market, Nest Secure is a good fit for people who want quality home security and smart automation around the $400 to $600 range. The equipment package is more expensive than the likes of Ring or SimpliSafe, around $200 to $400, but less pricey than premium providers like Vivint, which easily exceeds $600. Nest's monitoring plans are certainly on the cheaper end of the spectrum, starting at $19.99 per month. All in all, if Nest Secure fits your budget, it might be a good fit for you and your family.
Nest Secure FAQs
Does Nest Secure have a monthly fee?
Yes, Nest Secure offers optional professional monitoring for $29.99 a month.
What is included with a Nest Secure system?
The Nest Secure system includes the Nest Guard, which is the hub or brain of the system. It also features a keypad. The system includes Nest Tags, which let you arm and disarm the system, a motion sensor, and the alarm.
How does the Nest Secure system work?
The Nest Secure is a type of alarm system. It has a base station, called the Nest Guard, which allows you to control each component. This includes a motion detector you can place anywhere you need, the Nest Detect sensors for doors and windows, and Nest Tags, which detect motion. When any sensor picks up on an alert, it connects with the Guard, which then alerts you.
What devices can I use to check my Nest Secure system?
Nest Secure allows users to download an app to their mobile phone or to access the system through their account on a PC or tablet. You can use this to communicate with the system to arm and disarm it. The apps are available for iOS and Android phones.
Does Nest Secure require a subscription or a contract?
No, the Nest Secure does not require a subscription or a contract unless you decide to invest in 24-hour professional monitoring services.
Does Nest Secure have an audible alarm?
Yes, the Nest Secure has an 85 dB siren that will sound for up to 10 minutes.
Do Nest Cams work with the Nest Secure?
Yes, Nest Cams work with the Nest Secure.
Does Google Home work with Nest Secure?
Yes, Google Home works with Nest Secure?