Travis Goodreau
https://www.safehome.org/security-advisors/travis-goodreau/
Best Office Security Systems
Looking to protect a home office or commercial office? Take a look at our list of the top office security systems below.

Finding the best office security systems that fit your particular needs doesn't have to be difficult, you just have to know where to look. That's why we've researched and tested a variety of office security systems so you don't have to. Here are our top three recommended office security systems in 2019.
1. Vivint – Best Office Security Systems Overall


Vivint business solutions include advanced technology, remote access, and a 100% wireless security system that is more affordable than other business security systems on the market. Additionally, when you opt for a Vivint security system for your business, it can be installed in as little as two hours. And, because it's wireless, there won't be any operational disruptions, having to move desks or other fixtures to accommodate the wiring installation, and it can be done quickly so you will have your system up and running in no time flat.
Pros
Can be tailored to fit your business needs
Integrated technology
Automated commercial security solutions
100% wireless
Remote mobile app access (control your system from anywhere)
Vivint Flex Pay option 0% for 42- or 60-months, with approved credit
Remote energy management
Cons
Upfront equipment purchase required if you want no-contract billing
Cellular connection can be spotty in remote locations
Intermittent reports of poor customer service
With a Vivint Business Security system, you have your choice of one or more smart security, smart energy, and/or smart automation controls. You can take these systems and customize them, so they fit your business like a glove with as many or as few bells and whistles as you would like including surveillance cameras, smart door locks, motion detectors, and just about anything else.
Vivint's most basic package comes with 1-touchscreen panel, 3-window/door sensors, 1-motion detector, 1-keyfob, 1-sign, Vivint Live Communication, non-emergency and severe weather alerts, a mobile app, 24/7/365 monitoring, and more starting at just $53.99 per month. Then, you can add as many additional options and features as you want and need to meet your particular business security needs.
2. ADT – Best Professional Office Security System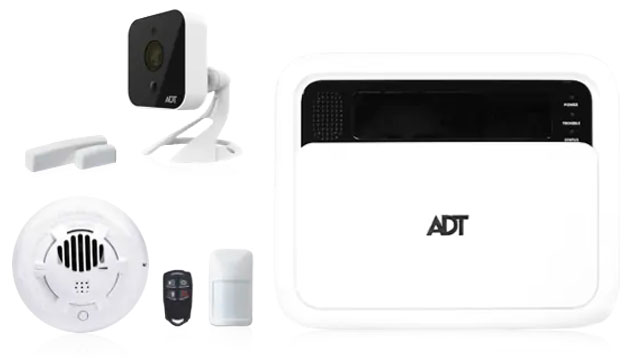 ADT is a security company that has a 140-year history of providing exceptional home and business security options and features. Additionally, they offer security systems for small to medium-sized businesses and commercial security options for larger businesses. And, with ADT, you will receive a free business assessment that will show you exactly what vulnerabilities your business has so you can customize a system that covers those needs.
Pros
Free risk assessment
Cybersecurity solutions
Video verifications (reduces false alarms)
ADT Pulse (interactive feature)
Responsive live phone support
Cons
Business Basic package doesn't include the Pulse interactive feature
Long-term contract required (36-months)
Extra fees involved (installation, activation, and early cancellation fees)
ADT has some great business security features that might just tip the scale in their direction. They offer service guarantees, a variety of window and door sensors, a hold-up button, environmental controls for temperature and flood monitoring, as well as video surveillance cameras with local and cloud storage options. ADT for business also comes with a backup power system so your security system will still run even if you lose power. ADT monitored business security packages are the Basic for $27.99/mo. and the CellGuard for $45.99/mo. However, the Basic package is fairly limited, so unless you only need a bare-bones security system, you might want to opt for the CellGuard option for complete coverage. ADT's business automation features are what will save you money month after month and year after year. Those features include climate controls, smart lights, and smart plugs. ADT also has smart locks, a keycard option, and two-way intercoms.
3. Frontpoint – Best DIY Office Security System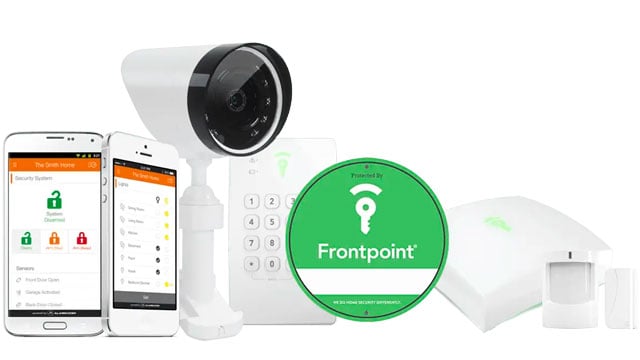 Frontpoint has exceedingly popular security systems. And, they have some of the best customer service in the industry. That's important, especially when you have a problem and need reps who are capable of helping you quickly and effectively. In addition to being popular, Frontpoint also has advanced technology components with smart security and automation features that are highly customizable.
Pros
Advanced automation features
Highly customizable
Environmental sensors to help protect your property, employees, and inventory
Indoor and outdoor surveillance cameras
24/7 professional business monitoring services
Exceptional customer service team
High-quality equipment
100% wireless and portable equipment
General Electric branded third-party compatible equipment
Cellular signal
Cons
No business-specific plans, you have to customize your own
Surveillance cameras more expensive than most but are of higher quality
Long-term contract
No landline option
Frontpoint's top-quality security systems will help you protect your business, employees, and inventory from crime, loss, and other potential environmental disasters. It will also help protect you from staged accidents and fraudulent accusations, discrimination, and harassment lawsuits. Additionally, since the Frontpoint is wireless, it's portable so it can be moved around as your business grows. That means you won't have to invest in a whole new security system if you change locations.
The Frontpoint surveillance cameras come with infrared technology and motion-activated video recordings. And, some of them come with a pan and tilt feature as well. Additionally, you will have access to the companion mobile app so you can view the live video feed to check on your business and employees at any time.
Home Office Security Systems
A home office security system is just as important as an offsite office security system. A home office still houses expensive equipment and sensitive documents and information you don't want getting into the wrong hands. Additionally, a home office security system will help protect you and your employees from becoming victims of a crime, not to mention it will help lower your insurance premiums as well. But overall, a home office security system won't require as many advanced security features as a commercial office system because there area usually fewer people coming and going.
Home office security systems consist mostly of the same components as an offsite business security system does. That would include window and door sensors, glass break sensors, yard signs, smart door locks, lights, and temperature controls, as well as professional monitoring if you opt for such a service.
Commercial Office Security Systems
Commercial businesses are generally bigger and have more complex security needs. Therefore, a commercial office security system will require multiple layers of security. This is because the threats are different. A home office security system will focus more on crime prevention mostly on the exterior. And commercial office security will be more focused on security as a whole such as high-tech video surveillance, building break-ins, fires, and other environmental disasters, controlled access features, and video recordings of who's coming and going, etc. Additionally, many commercial office buildings require security guards and other advanced security methods to prevent crime and keep everyone who enters safe.
Features of Office Security Systems
The following are some common features of office security systems:
Wireless Connectivity
Wireless connectivity is a security system that uses a cellular signal to send alerts to you and/or the monitoring center when activity is detected. The wireless function uses window, door, and motion sensors that use a wireless connection and radio frequencies to communicate. Wireless connectivity is helpful when installing office security systems because the installation won't disrupt your daily operations.
Cellular Monitoring
Cellular monitoring is used by most security companies these days as their main source of monitoring, leaving behind the old method of using an office landline as their main source of communication and monitoring. Cellular monitoring uses a dedicated cellular signal just like your mobile phone. The cellular function uses a secure wireless cellular signal and it sends messages via that signal as encrypted transmissions to the monitoring center. Cellular monitoring eliminates the need for drilling holes such as is the case with wired office security systems.
Mobile Alerts
Most office security systems come with a mobile app. The mobile app allows you to access, monitor, and control your office security and automation systems remotely. The app will also enable you to receive security alerts via text messages when activity is detected and these text messages are referred to as mobile alerts. Receiving a mobile alert the moment activity is detected will allow you to respond quickly and accordingly, which will in many cases help prevent a crime from happening.
Remote Access
When talking about an office security/automation system, remote access is the function that enables you to access, monitor, and control your office security/automation system from anywhere. This remote access is provided using the companion mobile app from your chosen security brand. With remote access, you can view your office, employees, inventory, arm and disarm your security system, control your lights, thermostat, and other office automation systems. You can also set up a customized alert criteria for your mobile alerts, and view your office security camera video feeds in real-time.
Glass Break Sensors
Glass break sensors are electronic sensors used in office security system alarms. These sensors can detect when glass window or door panels are broken or shattered. A glass break sensor uses a microphone to monitor any noise or vibrations coming from the glass where they are installed and usually within a radius of several feet. When broken or shattered glass is detected, it will sound an alarm and notify you and/or the monitoring center, if a monitoring center is being used.
Motion Detectors
Motion detectors are one of the main components of an office security system. The motion detectors are designed to detect movement in or around your office. Then, when movement is detected, the system will alert you and/or a monitoring center so you can respond accordingly. When motion is detected, you can use your security system's mobile app to check your place of business to see what caused the motion detector to trigger an alarm or contact the proper authorities to respond to the alarm for you.
Security Cameras
Security cameras are used in almost all office security systems. A security camera will allow you to monitor and/or record the activity that goes on in and around your office. Security cameras come in all shapes and sizes and all have a variety of functionality. Security cameras can be bullet or dome-shaped and have pan/tilt/zoom capabilities. And, they can be either wired or wireless, have motion detection features, as well as night vision and varying degrees of range and clarity. Security cameras are also capable of being accessed, monitored, and controlled using a voice assistant or remotely using a mobile app.
Smart Locks
Smart locks are part of a line of what's referred to as smart home automation products. A smart lock is capable of locking and unlocking your office doors when it receives a command from an authorized device. This function works by using an encrypted wireless protocol to authorize the locking/unlocking process. These locks allow you to lock and unlock your office doors remotely and even hands-free in some cases.
Home Automation
An office equipped with smart home automation devices can remotely control many functions of that office. Smart office devices will enable you to remotely use voice commands via a digital assistant or via a mobile app to control your lights, thermostat, security system, small appliances, doors, and more if they are compatible with each other. Additionally, home/office automation, in most cases, will also enable you to schedule certain functions of your office to work automatically according to that schedule. For example, turning on the HVAC at a certain time or turning off all the lights at a predetermined time, etc.