Home security is not just for homeowners. In this guide, you will find some tips for choosing a safe apartment and how to make it safer.
---
It is important to consider the safety of your home at all times. There are plenty of security systems and upgrades that can make your house a safer place. But a lot of people wonder, "What about an apartment, though?" This is a legitimate question since renters are not at liberty to make as many safety modifications as homeowners.
In some cases, security is sometimes even a bigger issue with apartment complexes simply due to their location. Many apartments are located in areas that receive a lot of foot traffic such as shopping centers, gas stations, and other attractions that people tend to frequent. So… how do you ensure the security of an apartment?
In this renter's guide for apartment security, we'll go over some measures you can take to ensure your apartment is as safe as it can be. From finding a safe neighborhood, to outfitting your abode with the best apartment security system available, it's all incredibly important. After all, you deserve to feel safe and secure in your apartment or condo. So let's dive right in.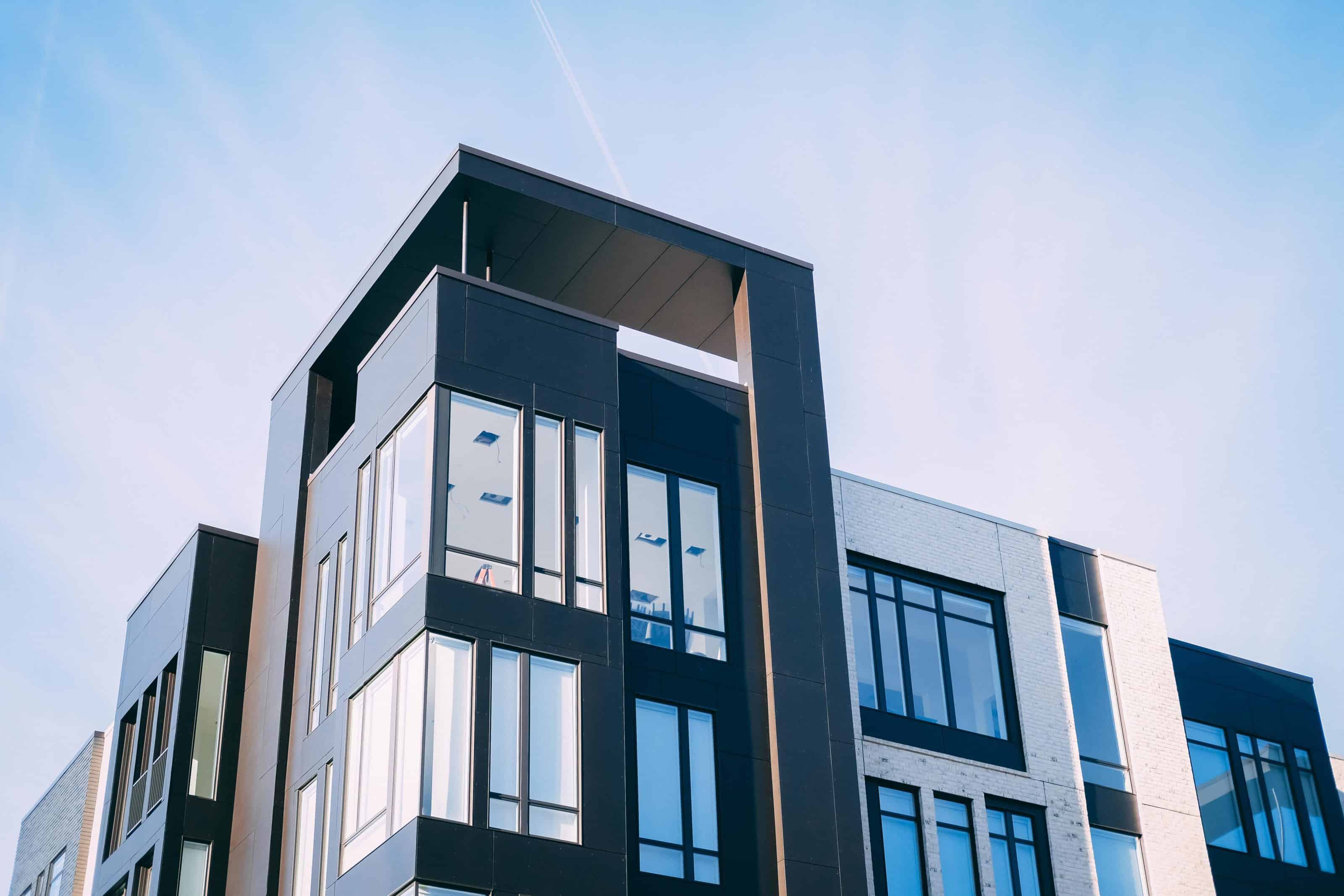 Shop for a Safe Apartment
It is difficult to adequately secure your apartment if it's located in a dangerous area of town. While it is possible to do so, it's best to look for an apartment that is already fairly safe and in a safe location. Of course, we understand that budget constraints can make this even more challenging. And it can also be a bit overwhelming if you do not know what you are doing. So let's have a quick look at how to find a safe apartment (if you already have an apartment, skip halfway down this page to our section on 'What to Do When You Find a Good Place').
Pro Tip: Buy in the best area that you can afford. And if your budget makes you have to choose between living in a smaller space or living in a safe place, we recommend you choose safety over square footage. Or at least try to find a good balance between the two.
Check the Statistics of the Area
The first thing that you should do when you think you might have found a good potential apartment is to check the crime statistics for the area. This is smart for a few reasons. First, you'll learn whether or not the crime is low enough to feel safe and comfortable there. Second, you will learn about which places nearby you should avoid. And third, crime statistics speak volumes to the quality of schools in the area, which is important if you have children.
You can also learn a lot from asking around. People tend to be pretty willing to open up about information such as the safety of their city or neighborhoods. It would be a wise idea to go ahead and do some shopping or eating out in or around the neighborhood you're considering moving into. And remember, ask around about the safety of the neighborhood and what people think about it.
Branch Out!
Don't feel bound to a small radius when apartment shopping. Feel free to travel around to nearby cities, towns, or suburbs. Local travel gives you a better idea about how various locations compare to one another. Exploring the area will also help you to understand the layout of the city and surrounding areas and how they measure up to one another when it comes to comfort and safety. So branch out and don't be afraid to cast your net a little wider than you had originally planned.
Appearances Matter
When in doubt, look around! You can tell a lot about an area by simply looking at it. One of the biggest indicators of safety is how well kept the apartment complex or neighborhood is. You can look to see if the landscaping is maintained, if there is any litter or not, and similar factors.
Of course, you should look closely at the apartment complex itself. Check to see if it is clean, if the pool is maintained, if the garbage is kept in the bins, and if the complex looks cared for in general. You will also need to make sure that the garages are gated.
Another thing that you should determine is how different the area is in the day versus the night. You will want to know details such as whether or not it gets busy at night, the kinds of people who come and go, and which businesses stay open late. If any of your findings make you think twice about signing that lease, then don't sign! After all, the goal is that you feel safe in your apartment. If you do not feel safe, then it is probably not a good apartment for you.
Security Gates and Security Guards
You should also look at the entrances to see if there are security guards (or at least a gate!) to keep just anyone from entering the complex. The best gates have buzzers or keypads that only allow residents access. You should also check for secure doors and windows on the outside of the complex. And finally, be sure to look for bright lighting at night. The complex should be well-lit so that the building can be easily seen and potential burglars feel a little more exposed.
Rest assured, bright lights are a great deterrent when it comes to intruders or burglars. We've seen this ourselves while testing security products for apartments. We found a couple spotlight/floodlight camera combos in Ring's lineup of cameras, and Swann has a couple light-up cameras as well.
Did You Know? Even unarmed guards can help to deter criminals. The mere presence of a security force is often enough to make burglars and thieves think twice about targeting an apartment complex or condo.
What to Do When You Find a Good Place
Once you sign the lease at your new place, there are a few things that you can do to ensure that you are as safe as possible in your new apartment. We definitely recommend purchasing an affordable security system (we'll get to that), but there are other simple things you can do to safeguard your apartment, your belongings, and your family.
Get Renter's Insurance
Many apartment complexes today will require you to get renter's insurance just to err on the safe side, but regardless of whether you're required to or not, it's a good idea to have. Renter's insurance will protect the value of your belongings in case theft or damage by a natural disaster. Renter's insurance can also protect you from lawsuits where you are deemed responsible for the damage of someone else's property. Even if you don't think you own much, renter's insurance is still worth it for the peace of mind.
Secure Your Points of Entry
After you have determined that the area is safe enough for you, now it is time for you to tidy up and get the apartment up to safety standards. When you move in, you should immediately replace the locks on the doors. It is hard to know when was the last time the locks were changed. If they have been on the doors for many years, there is a higher chance of there being extra copies of the keys floating around (never a good thing!). The doors themselves should also be sturdy and in good shape.
Make an Emergency Plan
You'll also want to familiarize yourself with the building, not just your apartment unit. You should become familiar with safety exits, the location of the main offices, and the fire escape plans. When it comes to dangerous situations like a fire, you will need to know exactly what you are going to do before the danger arises.
These safety measures should also include a contingency plan if your apartment is broken into. You will need to determine who to call, where you will go if you feel your apartment is no longer safe, and how you will begin to make repairs such as replacing locks. As they say, if you fail to plan, you can plan to fail!
FYI: It's always smart to befriend your neighbors so that you have extra eyes on your place when you're out of town or away for any period of time. Think of it like a neighborhood watch — if they see something suspicious, they can alert you or call the police.
Install an Apartment Security System
There are a lot of security systems on the market. Some of them require professional installation and are better suited for homeowners. Other systems, however, are easy to install and can easily accommodate the constraints of an apartment. Some wireless security systems have video doorbells and surveillance cameras for apartments that can come in handy as well.
When looking for the right home security system for you, be sure that you thoroughly compare your options and look at the features of each system so that the system you choose will live up to your expectations. We recommend finding an apartment security system that offers easy, DIY installation. These should only take you about 20-30 minutes to set up, and you won't have to drill into your walls or mess with any wiring. Here's our latest roundup of the best DIY security systems available.
As far as features go, one handy feature to look for in a security system is remote monitoring. This way, you can use your smartphone to control and monitor your new security system. Some systems even serve dual purposes. A lot of people like systems with cameras that can act as baby monitors.
Final Words on Apartment Security for Renters
So remember, first try to find an apartment complex that is located in a decent area without a lot of crime. Once you've located a prospective abode, be sure to meticulously look at the grounds to ensure the complex is well cared for, and also look for important factors like security guards, security gates, bright lighting, etc.
Then, once you're settled in an apartment, you'll want to replace the door locks and pick up a DIY security system. Whatever system you choose, you will be happy that you took the steps to secure your apartment and ensure the safety of your loved ones and your belongings. Hopefully, this guide has helped to boost your confidence in making your apartment safe enough to call your home.