Renter's Insurance Market Forecast
The good news about renter's insurance is that tenants can count on their tenant insurance premiums to be relatively stable. While 43 percent of homeowners indicated their home insurance premiums went up over the previous year, only 18 percent of tenant insurance premiums increased.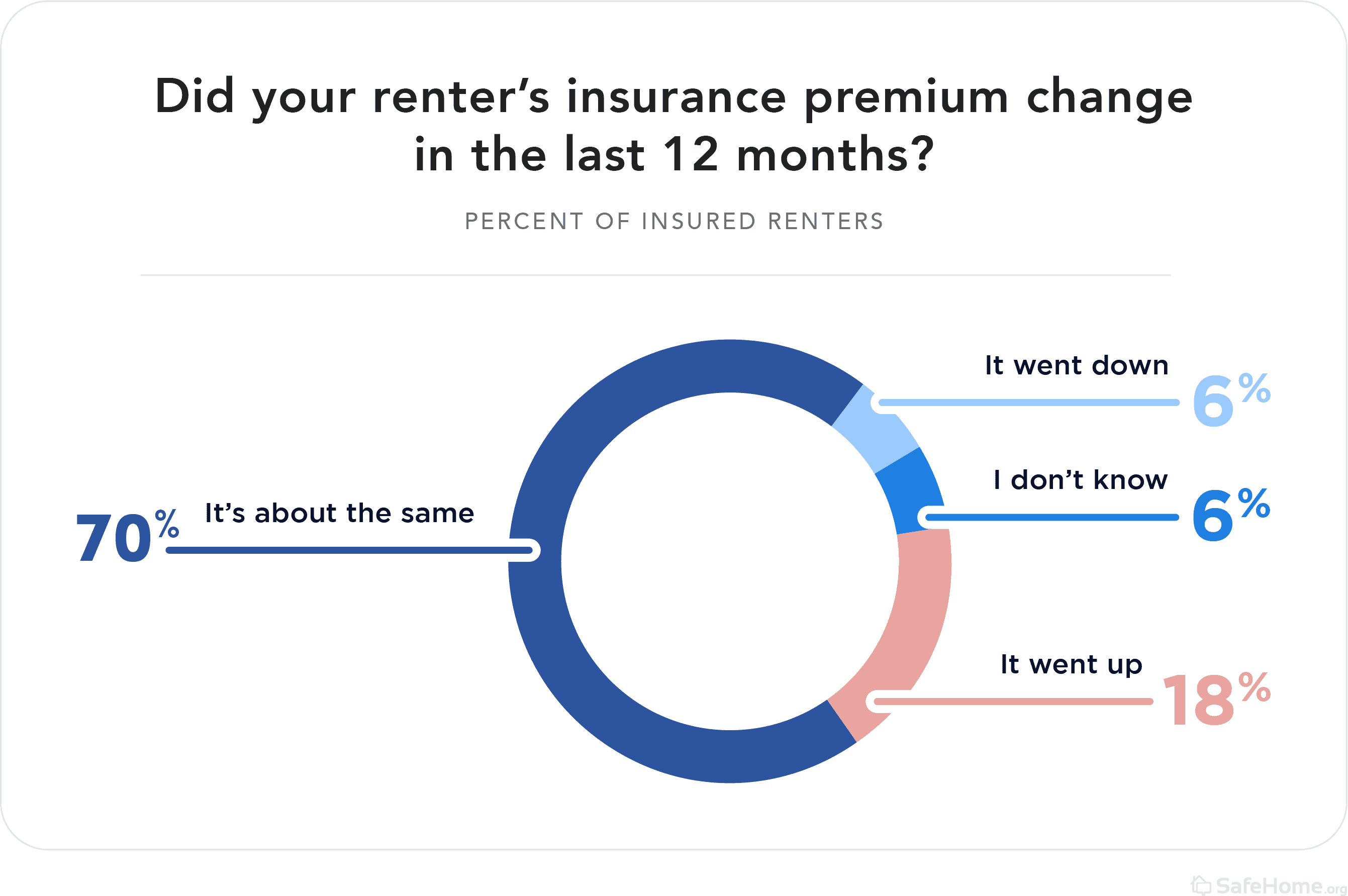 While history shows that tenant insurance premiums tend to be fairly steady, certain conditions could cause them to trend upward. A tenant who files a claim on their tenant insurance policy will likely see an increase in their premium, although only three percent of tenants in our study had ever filed one.
Increases in tenant insurance can happen for other reasons besides claims. For example, suppose insurance companies pay out claims in the hundreds of thousands of dollars after major catastrophes like Hurricane Ian. In that case, insurance companies will have no choice but to increase premiums.
Inflation may also impact increased tenant insurance premiums as it will cost more to replace damaged or stolen property. Lastly, excessive lawsuits could negatively impact insurance companies' profitability, which could also have a bearing on increasing tenant insurance premiums.
Most renters have no plans to change their coverage
In light of the economy, housing market, and other societal factors, what plans do tenants have regarding their tenant insurance policies? Our study showed that most renters would not be making any changes to their tenant insurance policies. It stands to reason if something is not broken, why fix it?
About one in 20 insured renters plan to change their coverage or change their insurer altogether. Another six percent of insured tenants plan to cancel their policies without switching to a new insurer. They may be doing so for reasons such as moving in with a family member, purchasing a home, or moving out of the country.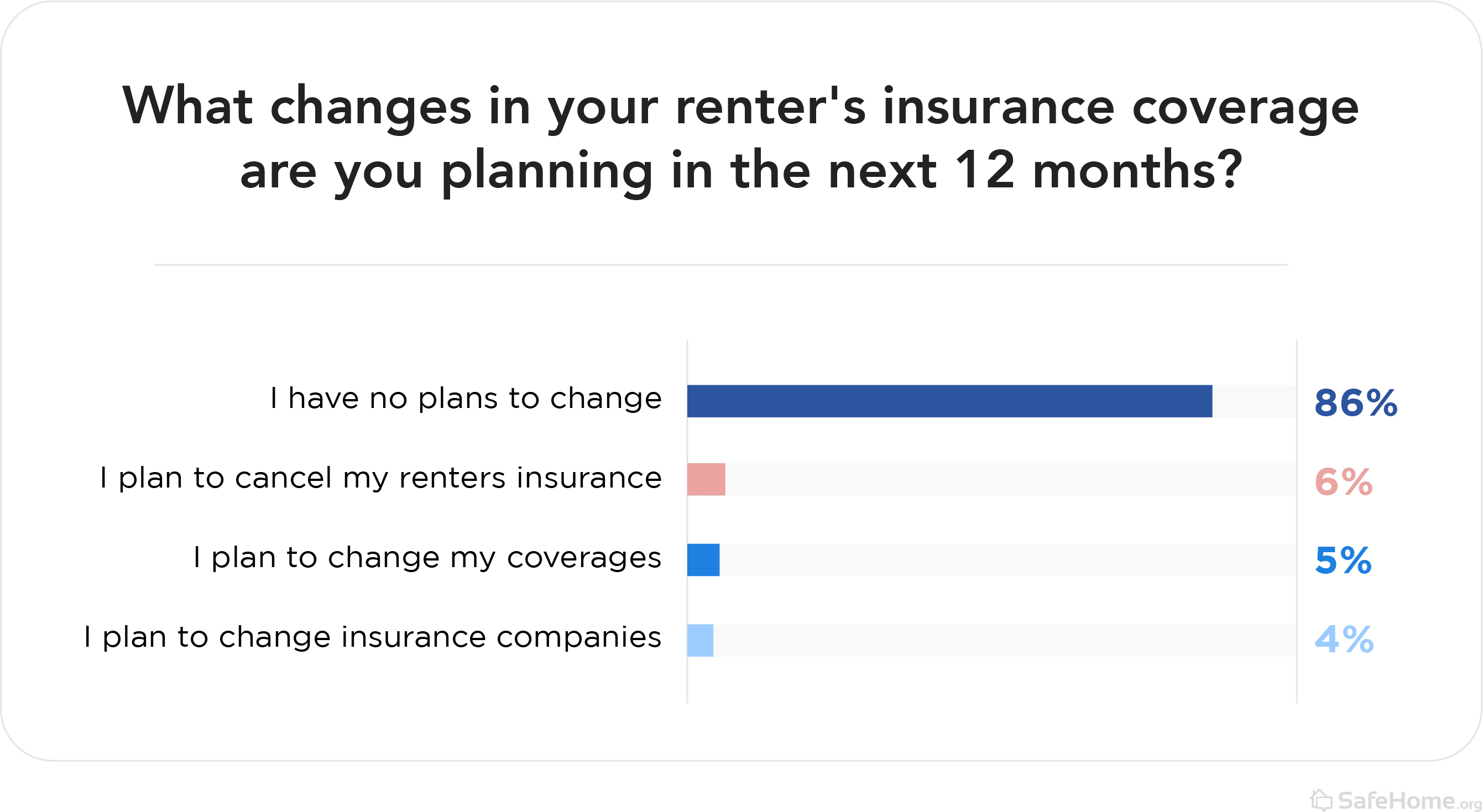 Tenants who are unhappy with their current tenant insurance company may be canceling their coverage at the renewal date or sooner. Budget-savvy tenants commonly leave their present insurance carriers to save money. There is not really a downside to switching insurance companies as long as tenants switch to an insurance company that is financially strong and has a good reputation among its policyholders. The main risk is canceling the old policy before the new one officially goes into effect, which would create a coverage gap.
| Top reasons for changing insurers | Top reasons for changing coverage |
| --- | --- |
| Moving to a new home | Increasing coverage amount |
| No longer need renter's insurance | Adding optional coverages |
| Lower premium | Removing some optional coverages |
| Changing to a company that offers better bundling options | Lower premium |
| Changing to a company that has optional coverage not available on current plan | Reducing coverage amount |
Reducing coverage is one way to get a lower premium, yet too low of a limit for contents or liability could defeat the purpose of having tenant insurance. In this case, tenants would run the risk of being able to get their contents replaced or not having enough liability to cover a lawsuit in the event of a claim.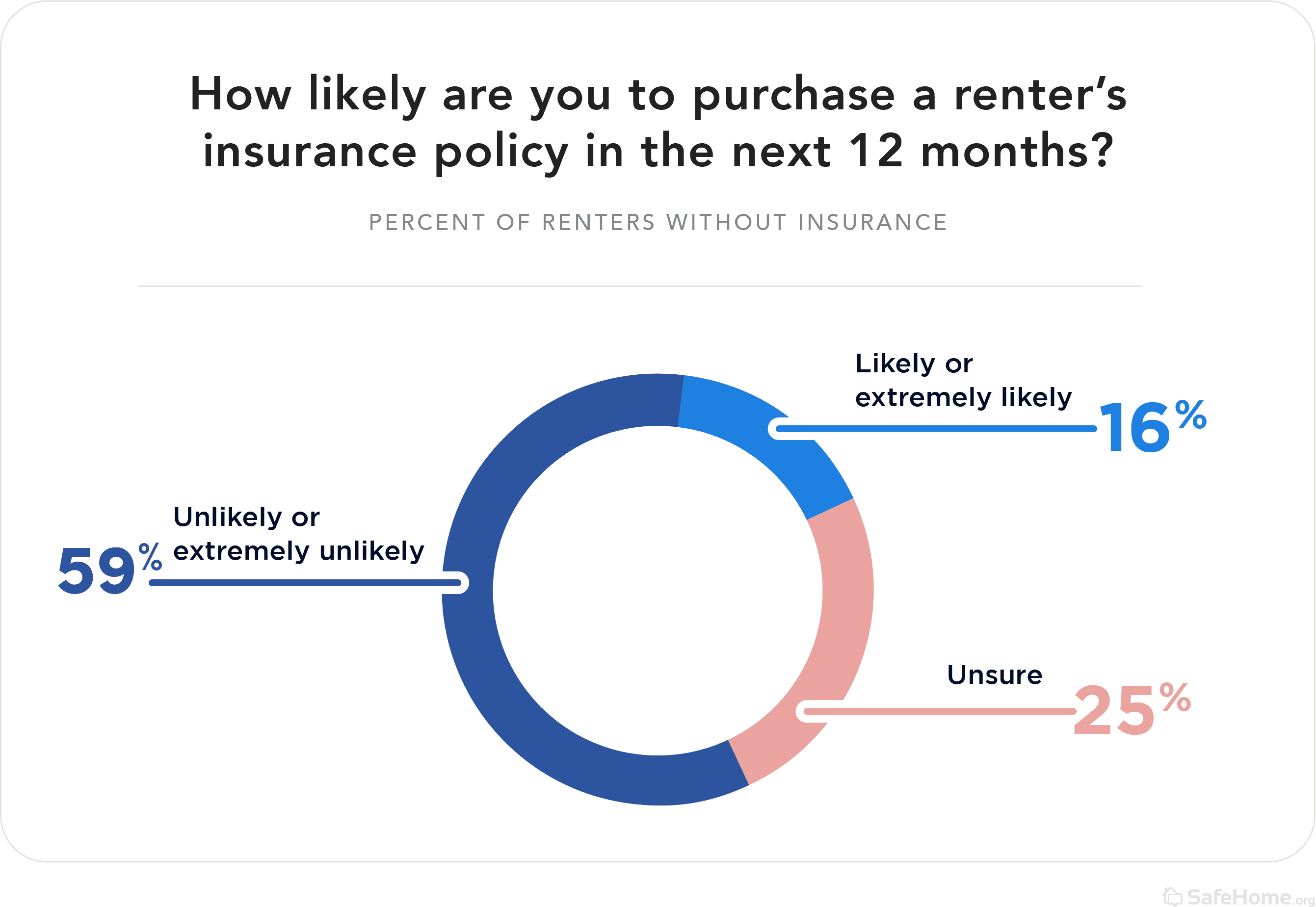 According to our research, 16 percent of renters without insurance are likely to purchase a policy within the next year. This could be nearly 8 million new customers. However, most renters who do not have tenant insurance aren't likely to purchase a policy anytime soon. These individuals may not be required to have insurance coverage or simply not feel their possessions are at risk of loss.