Travis Goodreau
https://www.safehome.org/security-advisors/travis-goodreau/
Best Indoor Security Cameras of 2021
Indoor home security cameras are a must for any home, but which are the best? Check out our list of the top indoor home security cameras.

We all want to feel safe and secure at home. Fortunately, are a variety of indoor security cameras to help you keep an eye on the home front. Like so many home technology gadgets on the market, indoor home security cameras feature many smart features to help you do much more than just monitor your home for burglars. Today's home security cameras let you see when your kids come home from school, make sure your dog is not chewing up your couch while you are at work and check to be sure the baby is sleeping soundly. The exact indoor home security camera that is right for you will depend on your needs. To make it easier, here are the best home security cameras that you can buy right now.
1. Nest Cam – Best Indoor Security Cameras Overall
Nest, the maker of the Nest Learning Thermostat, offers a complete range of smart home products including indoor security cameras. Nest products are designed to work together or alone.
Nest has two indoor security cameras available — the Nest Cam IQ Indoor and the Nest Cam Indoor. The Nest Cam Indoor is easy to set-up and install. It features plug-in-and-go security. You simply plug in the unit and you are ready to go. You don't have to worry about dead batteries. The Nest Cam Indoor features 24/7 continuous recording, which ensures that you won't miss a thing. You can save footage in the cloud for up to 30 days with a Nest Aware subscription.
The Nest Cam IQ Indoor is the newest indoor camera in the Nest lineup. This camera features artificial intelligence face recognition. So, it can distinguish between a familiar person and a stranger. The Nest Cam IQ also has a built-in Google Assistant. The Nest Cam IQ also has HDR Intelligent imaging and a 4K sensor.  Nest also allows you to designate activity areas to keep an eye on certain areas.
Pros
Super clear 1080p HD
Noise and echo suppression
Infrared LED
Free 3-hour snapshot history
24/7 Live streaming
Magnetic stand included
Plug in and go security
Built-in speaker and mic
Cons
No backup battery
Works with A/C power only
A Nest Aware subscription is needed for extended cloud storage
The upfront cost of equipment
The Nest Cam and Nest Cam IQ Indoor cameras are great options if you are looking for state-of-the-art smart technology. The latest in the lineup, the Nest Cam IQ features some of the most technologically advanced features at this price point with things like facial recognition and a 6-core processor. The Nest Cam IQ is more expensive compared to some of its competitors. However, you'll find a few smart cameras as technologically advanced. So, if you are fine paying a little more, it is worth the cost.
2. Arlo – Best App Control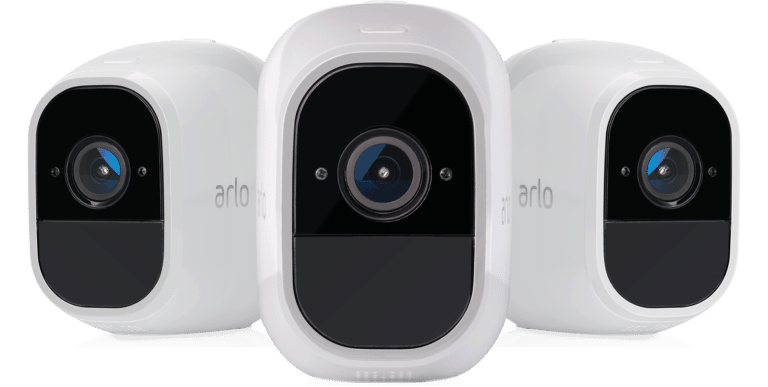 Like Nest, Arlo makes a complete line of smart home products that are made to work together. Arlo has two A/C powered HD security cameras — the Arlo Q and the Arlo Q Plus. Both cameras offer 24/7 recording, enhanced night vision, and 2-way audio. They also both feature Amazon Alexa and Google Assistant connectivity.  The Arlo Q Plus adds Power over Ethernet connectivity. So, you can power the camera and connect to your network with a single cable.
Arlo also offers an indoor camera that was designed specifically for baby monitoring — the Arlo Baby. This smart baby monitoring camera features a night light, air sensors, lullaby player, 1080p video and rechargeable battery.
Aside from the dedicated indoor-only security cameras, Arlo also makes a variety of indoor/outdoor cameras. These feature advanced motion detection, wire-free-design, 2-way audio, night vision and more.
Pros
Basic 7-day cloud recording included
Works with other smart home devices
2-Way audio
Wide angle 130° lens
Optional 24/7 recording
Advanced infrared night vision
Local backup storage
Free Arlo app for Android, iOS, web browser and Apple TV.
No long-term contract required
Cons
Requires a cloud storage plan for continuous video recording.
Arlo indoor security cameras come with a variety of smart home features. You can buy the cameras in packages and mix-and-match the various cameras. This customization makes Arlo a great choice for most homeowners or renters.
However, to get the most out of Arlo indoor security cameras, you'll need an Arlo service plan, which adds things like rich notifications, person detection, and extended cloud storage. The service plan also includes e911Emergency Call Service, which automatically connects you with emergency responders closest to your home rather than ones near your phone.
3. Blink – Easiest Indoor Camera Installation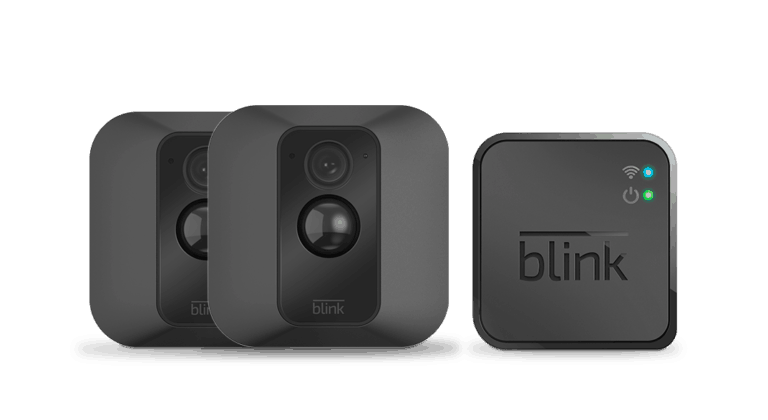 Blink is focused on mainly ultra-affordable home security options. The Blink Indoor HD Camera is a cheap indoor security camera. It features simply DIY installation and a 2-year battery life.
The Blink XT2 is designed for either indoor or outdoor use. It is a wire free security camera that can be placed anywhere. Like the Blink Indoor Camera, the Blink XT2 has a 2-year battery life.
Both cameras feature motion-triggered HD live and recorded video. As soon as motion is detected, the video is sent right to your phone or smart device. You can use the Blink app to check the live video. An instant alert will notify you of any events.
Pros
Can be placed anywhere
2-years of battery life
Built-in microphone
Low light illumination
Motion and temperature sensors
Camera mount included
Cons
Not compatible with other smart home devices
No voice control via Amazon Alexa or Google Assistant
Must have iOS 10 or higher or Android 5.0 Lollipop or higher to use the app
Blink is a good choice if you don't need all of the bells and whistles of some of the other more advanced indoor security cameras. Although they lack smart home integration, they are both affordable and versatile.
4. Guardzilla – Best Indoor Coverage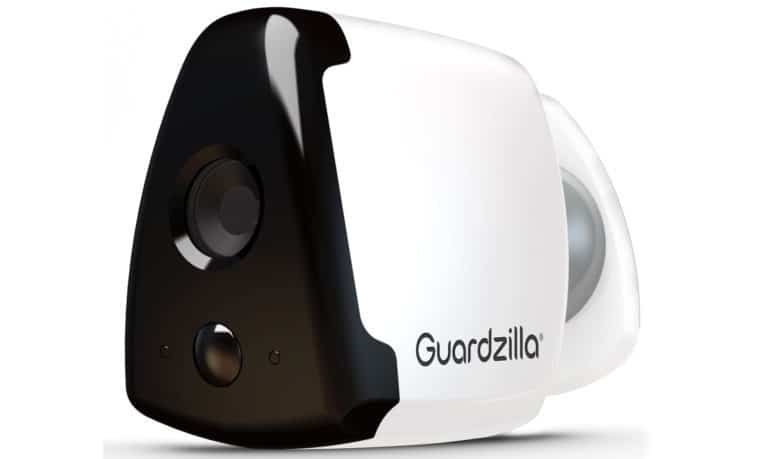 Guardzilla's indoor home security cameras are easy-to-use, affordable and customizable. Guardzilla offers three cameras to meet a variety of needs. The 360 Indoor All-In-One HD Camera is the most expensive in the lineup. However, it offers a plethora of features for under $200. This camera uses Wi-Fi to deliver live 360-degree streaming right to your smart device. Other features include a loud 100dB siren, motion detection, night vision, two-way talk and more.
The 180 Indoor All-In-One HD Camera offers many of the same features of the more expensive 360-degree model. The main difference is that this camera has a 180-degree view rather than 360.
Guardzilla also offers a lower-cost indoor security camera, the Indoor HD Camera. For under $100, this camera offers quite a few features like motion detection, a wide-angle lens, geofencing and night vision.
Pros
Auto arm
Two-way talk
Up to 360-degree views (depending on model)
Built-in speaker and microphone
Live HD video
Motion detection
Versatile placement options
Cloud storage
Seamless setup and operation
Works with Google Assistant, Amazon Alexa, Samsung SmartThings and Nest
Cons
360-degree views only available when the camera is set-up in certain positions
Inconsistent video quality
The 100dB siren is very loud for smaller spaces
Guardzilla is a great affordable choice for larger homes. For under $200, you can get the  All-In-One HD 360 degree model. However, this feature is not the most practical for everyone. If you place it near a wall, for instance, you won't get a 360-degree view.
Also, the 100dB siren is perfect for larger homes. However, in small spaces or apartments, it might be too loud. Therefore, if you live in an apartment especially, you might want to choose one of the other options on this list.
5. Zmodo – Most Affordable Indoor Cameras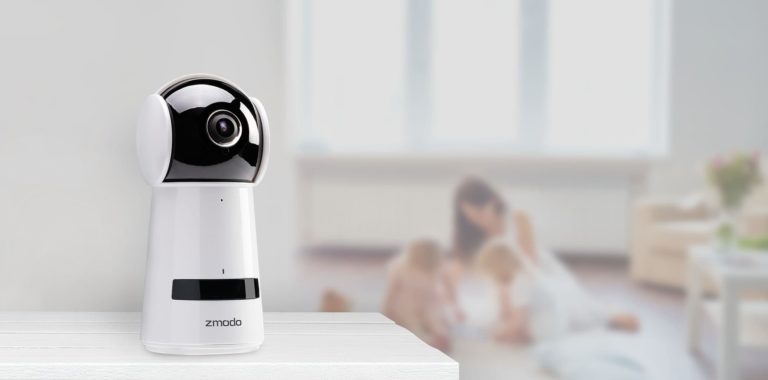 Zmodo is another company focused on complete smart home control. As a result, the indoor security cameras by Zmodo all feature advanced smart features and integrate with other smart home products offered by Zmodo and other companies.
Zmodo offers a total of eight indoor cameras. They range from the very inexpensive Zmodo EZ Cam, which retails for under $35 to the Snap Pro Security Camera, which was recently featured on Kickstarter. This camera is currently available for pre-order.
The Zmodo EZ Cam features a surprisingly large amount of features for the cost. It comes with 720 HD wireless recording, two-way audio, night vision, and a wide 115-degree viewing angle.
One of Zmodo's mid-range models, the Zmodo 1080p HD Pan and Tilt Camera, is perfect for monitoring in a wide variety of situations. You can use it to monitor the baby. Or, use it to talk with the kids when they come home from school. It comes with a 2-pack of door and window sensors. Plus, there is 2-way audio cloud recording.
Many of Zmodo's cameras also allow you to establish pre-determined monitoring areas. So, you can set the cameras up to receive alerts for just certain areas that you are interested in viewing. Plus, you can set-up alerts for home, away or sleep.
Pros
Optional cloud recording
Two-way audio
Remote viewing day or night
Pan and tilt functions on some models
Motion detection alerts
Cons
You must purchase a cloud storage plan to share videos
Extended cloud storage requires a paid plan
Zmodo has eight indoor security cameras, so there is a solution for just about any budget. You can design an indoor security camera system to meet your individual needs with Zmodo. Zmodo offers quite a bit of customization also when it comes to monitoring. This makes Zmodo indoor cameras a great choice for anyone who wants to define areas and events to monitor. All of the cameras are very easy to install and operate.
How to Hide a Security Camera Indoors
Everyone's needs differ when it comes to home security. A set of powerful cameras displayed proudly and prominently around the house can be an effective crime deterrent, but for others, a more discreet setup is necessary.
At some point, you might find a need to hide an indoor camera somewhere inside your home, whether you're trying to monitor your kids' virtual school lessons or you just have a less gadget-forward aesthetic in mind. Whatever your reasons, here are a few tips on how to hide a security camera indoors:
Hide the camera inside other objects. Cut a hole into an inexpensive decorative item, like a book or stuffed animal, as long as it doesn't look exceptionally valuable (you don't want anyone getting curious, right?).
If you're willing to go a little MacGyver, you could use a tissue box with a mirror or another shiny desk accessory to obscure and hide the camera.
Going further, you could choose to display the camera in an area that's already subtle, like a high corner of a bookshelf, or a high ceiling.
Choose a camera that blends in with your decor. When we tested the Canary Pro camera, for instance, we loved how well it blended in with our mahogany bookshelf.
And one more note on color blending: We've found a few brands that offer a choice of black and white cameras, so you can pick and choose with ease. Amcrest's massive camera lineup includes both black and white models, which is great when you've got multiple motifs going on in your home.
And, don't forget to hide those wires, too. If you're dealing with a plug-in camera, you don't want those pesky power cords giving you away, do you?
As you can see, there are several different ways to hide a security camera indoors. Consider this just a sampler, as there are plenty of other ways to get creative and keep your cam out of sight.
How Many Security Cameras Do I Need?
If you're new to the world of home security cameras, you might find that it's hard to tell exactly how many security cameras you're going to need to install around your home. In our experience running tests and writing hands-on reviews of dozens of security cameras, we've found that there's really only one way to determine how many cameras you're going to need.
Walk around your home, with a pen and paper, and plot out which areas of your home you want to cover.
Why do we advise this? Because this is when you'll really want to hone in on the vulnerabilities of your property. In our tests of outdoor security cameras, we look for dark corners or pathways where burglars (or critters!) might sneak in. We've found in our research that many security camera users tend to focus more heavily on the front of their homes, sometimes leading them to neglect the darker areas in the back or side.
FYI: Cameras with motion-activated spotlights, like the Arlo Essential Spotlight camera, were made for scenarios that call for extra light. Keep in mind that burglars and thieves prefer the cover of darkness — so security cameras with built-in LED lights are a great crime deterrent.
And, as we know, danger doesn't lurk only in the great outdoors; we've seen numerous benefits to installing cameras indoors, too. Got a couple of ankle biters that need an extra set of eyes? Or perhaps a home improvement project where you can't always be present? Indoor cameras have long served as excellent everyday household monitors, and we'd be remiss if we didn't mention how handy these things can be for dog owners, too.
To address those vulnerabilities, consider hallways, stairwells, and entryways. So you might need more security cameras than you think. We've tested a couple of cams from Google Nest that take a more comprehensive approach to security, with wider lenses, motion tracking and pan-and-tilt features. Remember that you might be able to cover one whole room in your home with one camera; but in other areas like hallways, you might find more benefit in a traditional bullet camera, with simple motion detection and high-quality video.
Whatever your security needs are, the ideal outcome is that you'll always know who and what is moving around your property.
Of course, we can't say exactly how many security cameras you need, as home security needs differ from person to person. But getting to know the nooks and crannies of your home – and the belongings you hold dear – is key to determining how many security cameras you should buy.
Features of the Best Indoor Security Cameras
Not all indoor security cameras are the same. There is quite a bit of variance among features of indoor security cameras. The exact features that you need will depend on what you use the camera for, how big your indoor space is and how many people are in your household. Here are some of the most important features of indoor security cameras.
Motion Detection
Detect movement in your home when it matters the most. Many indoor security cameras with motion detection automatically record when the sensor is triggered. And the best indoor security cams send instant alerts to your smart device, warning you of suspicious activity. Some are even capable of distinguishing between people and pets.
Two-Way Voice
Indoor security cameras with two-way voice are becoming the industry standard. Communicate with the kids, console a lonely pet, or kindly ask a burglar to leave (or else!). Along with a built-in speaker, indoor security cameras with 2-way voice also come equipped with a microphone. Remember, it's not eavesdropping if it's your home.
Night Vision
Many thieves and burglars prefer the cover of night to commit their crime. Not to worry — an indoor security camera with night vision will expose them. Some night vision cameras even boast infrared technology to illuminate the darkest reaches of your home. To further optimize your security system, look for indoor cameras with color night vision.
App Control
Out of town and want to check in on your home? It's never been easier. With app control, you can remotely view your indoor security cameras. Many apps even allow you to arm and disarm your cameras, talk and listen via two-way voice, and perform other helpful commands. Indoor cameras with app control put the ball back in your court.
High Resolution
Image quality is the backbone of any indoor security camera. A high-resolution camera picks up on every little detail and tells the full story. What's that tiny tattoo on your burglar's arm? Thanks to high-resolution, that would be a heart and dagger. Crisp images make a world of difference in the investigation.
Video Recording
Video recording lets you "see the unseen." That is, you can play back footage of your indoor camera. Whether it's a couple of criminals looting your home, or a couple of teenagers cuddling on the couch — view it any time after the fact. Some indoor cams even offer "snapshots" so you can pick and choose what to watch.
Cloud Storage
Some indoor security cameras include cloud storage, while others offer it as an upgrade. Either way, cloud storage is the wave of the future. Unlike your hard-drive, the cloud will never run out of space or crash on you. That's why cloud storage plans are fast-becoming a top choice for safe and secure video storage.
Live View
Get an indoor security camera with live view, and visit your camera's live-stream anytime, anywhere, for any reason (it's your home after all!). This nifty feature is often included with app control. And some smart cameras will even send a live video alert if something or someone triggers the motion sensor. Now that's home security on-the-go.
Smart Home Integration
Smart home integration is another great indoor camera feature, especially for techies and home automation aficionados. If you already have smart home automation, or are looking to get hooked up, you'll likely want an indoor camera that is compatible with the system. Thankfully, many home security cameras now offer this feature.