What Our Testing Revealed
The Signup Process
We had our boots laced up and ready to go with a fast purchase from the web. But we were stopped in our tracks. Link Interactive required us to "call in for a quote." On the phone, you can expect a sales rep to help you customize a package with door/window sensors, motion sensors, a control panel, indoor/outdoor cameras, a doorbell camera, and the like. Keep in mind that all equipment comes with a 3-year warranty (pretty nice!) and a 30-day money-back guarantee (we've seen better).

Did You Know: ADT offers a generous 6-month money-back guarantee, which is the best in the industry.
Installing the System
Link Interactive makes the grade in this category. We were able to install our equipment and mount the hardware in a matter of minutes. If you're not the handiest around the home, don't worry, there's no drilling or wiring to fuss with. The door/window sensors are mounted with removable adhesive strips, and the only tool you'll need is a screwdriver for mounting the control panel. But even that's optional.
Bear in mind that your mileage may vary depending on the equipment bundle you purchase. If you went wild at checkout and bought a Costco-sized cartful of equipment, you'll need to roll up your sleeves and carve out a couple of hours for installation.
Daily Use of The System
In our experience, controlling the Link Interactive security system was generally pretty easy. We went with the IQ Panel 2, which wasn't cheap. But this touchscreen panel gave us total control over our system, allowing us to arm/disarm the alarm and manage our cameras and smart home devices with a few swipes of the finger. Not bad.
We were also able to control our system remotely using the Link Interactive mobile app which is powered by Alarm.com. Smartphone controls are always nice, but note that the 'Standard' monitoring plan does not include this important feature. You'll have to spring for 'Gold' or 'Elite' if you want it. So that's a little disappointing. There's also a nifty little keychain remote for basic arming and disarming functions.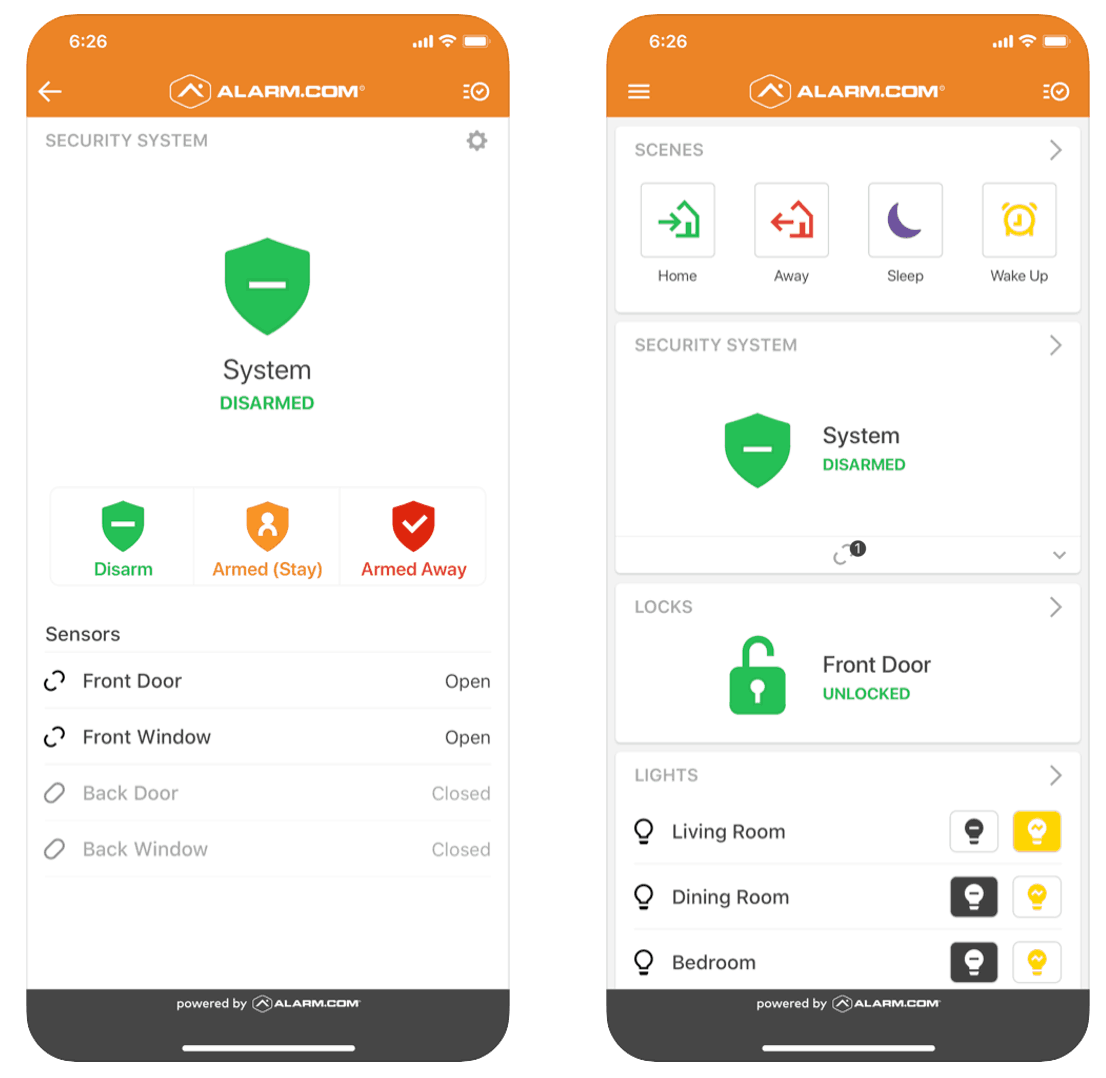 Thankfully, all of Link Interactive systems use cellular monitoring. Cellular monitoring is generally faster and more reliable than Wi-Fi or landline monitoring. So we fully expected to see speedy response times when our alarm tripped. Well, expectations and reality sometimes don't line up. Link Interactive agents were on-the-line in about 40 seconds on average. This is slower than the industry average of approx. 35 seconds (and every second counts when a bad guy is forcing entry!).

FYI: You can choose between the 2 Gig Go! Control Panel ($251), or their premium IQ Panel 2 controls ($331). Although it's expensive, we liked the IQ Panel 2 for the 7″ touchscreen, built-in glass break sensor, and 5-MP camera.
So what about Link's
home automation features
? Great question. If you choose the Gold plan, you can outfit your home with smart devices like a garage door controller, touchpad deadbolt, smart thermostat, and more. The smart devices worked fine, but they failed to 'wow' us (2GIG products are good, but not great). That said, Link Interactive is also Z-Wave compatible, which is always music to our ears. This means you can build-out a custom smart home ecosystem by adding all sorts of third-party products.
FYI: If you want state-of-the-art video surveillance, a brand called 'Deep Sentinel' takes a proactive approach to home security, and offers some of the best security cameras we've seen.
And as for
video surveillance
, well, the cameras offer standard features like 1080p HD resolution and night vision. But here's the thing — Link Interactive cams actually come from Alarm.com, a major security equipment provider that makes products for other brands, like
Frontpoint Security
. In our opinion, these cams lack the build-quality and advanced features that we're used to seeing. Also, you'll only have two indoor cameras and one outdoor camera to choose from. So we think there's room for improvement here.
Overall, we enjoyed using Link on a daily basis. The controls were strikingly similar to
Brinks Home Security
. And even though the monitoring was a bit slower than what we're used to, we felt safe and secure in our home. We give Link Interactive a solid 'B' grade in the daily-use department.
Customer Service
In our research, we found that Link Interactive holds an A+ rating with the Better Business Bureau (BBB).3 Each time we reached out to sales or support, we spoke with a friendly agent. In fact, we found that the company really prides itself in outstanding customer service: they display links to major consumer review platforms like Yelp, Trust Pilot, and Angie's List on their website.4 So it sure seems like they have nothing to hide.
They also have 'Additional Support Resources', which we actually found to be a bit lackluster. Sure, we had access to Installation Guides, Monitoring Station Procedures, FAQs, Tips to Avoiding False Alarms, and a Moving Guide. But we found the documents to be a bit dense to read. All in all, Link Interactive's customer service is good, but not quite as refined as other brands we've tested like ADT and Frontpoint.

FYI: Keep in mind that Link Interactive's offices are closed for customer service on Sundays. This might have something to do with their location in Ogden, UT.