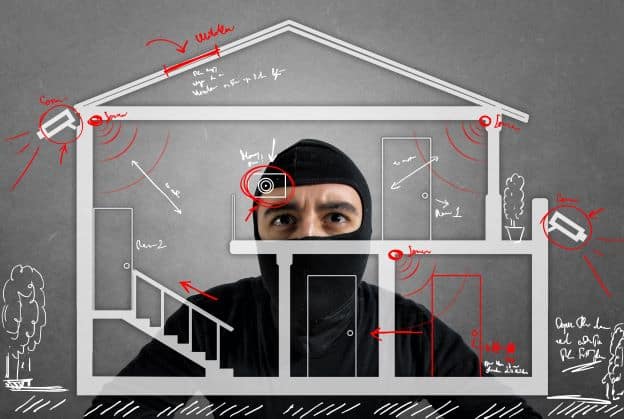 Our neighborhoods are getting safer. That's what the latest home invasion data from the FBI tells us. Burglary rates have plummeted over the past 20 years.
It's difficult to say exactly why burglaries have gotten so much rarer, but one factor is surely all the home security systems Americans have been installing. The top names in home security have made protecting our homes cheap and near effortless — which thieves, of course, don't like one bit.
So our homes are the safest they've been in two decades. Cased closed.
Not so fast, homeowner. Burglaries have indeed fallen dramatically all over the U.S., but when thieves do strike, they are hauling off more these days. Call it the Grinch Syndrome, but burglars are getting greedier. In the past, maybe it was the family silver and any loose money lying around. Today, it's TVs, Xboxes, laptops, and smartphones.
The million-dollar question is, why do prowlers target certain houses and leave others alone? I mean, we all own something of value. The answer may boil down to a handful of home security mistakes victims are making without realizing it. Here are the seven most serious and how to fix them.
FYI: The burglary rate in the U.S. didn't just drop over the past decade; it plummeted by a record 48.5 percent, according to the FBI.1
1. Letting Your Home Insurance Policy Lapse
Surprised to find this at the top of my list? Well, a quality home insurance policy is the domino that holds the rest of our home security dominoes in place. I'm not suggesting you pin your homeowners policy to your front door like a clove of garlic to keep prowlers off your property. But if you don't have an up-to-date insurance policy and you do fall victim to burglary, you're going to have to foot the bill to replace your possessions.
Let me unpack that just a bit. One of the niftier things our homeowners policies cover us for is burglaries — even if a thief breaks into our car. Now, as I said up top, a good home security system will usually be enough to protect your house from unwanted entries. In fact, the folks at ADT home security are so confident in their products that they actually offer to cover our deductibles if we get burgled on their watch!
That's all great. But if you miss a home insurance payment for any reason or you lose coverage temporarily because you're in the middle of changing home insurance providers, that's when you may be exposing yourself to one of homeownerkind's biggest mistakes.
How to keep safe: This is simple. If you're happy with your insurance provider, keep your home insurance on auto-renew. If you're thinking of switching, time the switch so that you don't lose coverage, even for a day.
Pro Tip: If a property you own is empty for over a month, your standard HO-3 homeowners policy won't usually cover you in the event of a burglary. You'll need special vacant home insurance for that.
2. Shortchanging Yourself on Home Security Equipment
Let me make a quick distinction. Affordable home security is something we really like a lot around here. Stinting on home security, on the other hand, is not something we recommend. There's a big difference.
For example, if you're trying to decide between the Rolls-Royce of home security services (ADT) and the Hyundai of house protection (SimpliSafe), you're not selling yourself short with either. Both solutions are great. One gives you hardwired, professionally installed products that have been around forever; the other is a new kid on the block with top-of-the-line DIY home security equipment you can set up yourself in a jiff.
If your house has eight windows and two doors downstairs and you decide you'd rather pocket $45 than put in sensors on all the windows, saving in this case is really just shooting yourself in the foot as far as long-term peace of mind goes.
How to keep safe: Getting a quote from a security expert is probably the safest way to go here. They'll tell you how much equipment you need to fully protect your home. If you're going DIY, as a lot of us are these days, home security brands like Cove have smart online questionnaires that let you build your security system properly in a few minutes all by yourself.
Did You Know? If you're on the fence about the kind of security system you need for your home and you want to narrow down your options, take a gander at our beginner's guide to choosing the right home security system.
3. Choosing Wireless Home Security Monitoring (and You Have Spotty Wi-Fi)
There's nothing more rewarding than installing a whole home security system in 10 minutes flat. These days, the best wireless home security systems approach that level of simplicity.
But what happens when the Wi-Fi goes down?
That depends on what kind of monitoring plan you have. Monitoring plans, by the way, are paid services — usually no more than 50 bucks per month — that connect your home security hub to an emergency service, which contacts the police for you if you've got an intruder. We highly recommend them.
Now back to that Wi-Fi.
When you've got a wireless monitoring plan and your Wi-Fi goes down, your emergency service won't receive alerts from your hub. Granted, the noise a tripped alarm makes is usually enough to drive most criminals with half a brain back out the door. But if you're already paying for a service, wouldn't you rather let it do its job? After all, it's your house on the line.
How to keep safe: You don't need a wired home security system to avoid the pitfalls of bad Wi-Fi, but you do need a home security system with cellular monitoring. Cellular systems work like data on your phone. Unlike Wi-Fi, they're always on, so unless you live in a remote location, your security service will have your back.
FYI: Cellular systems are the gold standard of home security monitoring, but they're not out of reach to homeowners on a budget. Up top, I mentioned SimpliSafe as a budget home security solution. Well, SimpliSafe's premium plans come with cellular monitoring.
4. Putting Your Home Security Hub in View of a Window
Thieves don't like taking any more risk than they have to. That's why they usually strike during the day (when no one's around) and often do a little casing first. Casing, in this case, might mean just ringing your front doorbell. If you don't answer, a would-be burglar will usually slink off to the back door (where no one's watching — or where they get monumentally busted by your outdoor security camera).
But imagine how much happier a risk-averse thief would be to give a test knock, peek through your front window, zero in on your home security panel, and see the glowing green "disarmed" icon. With that one little "interior design" error, you've just given your neighborhood thief carte blanche on your living room.
How to keep safe: It's tempting to put your home security panel next to the door. (It's so convenient.) But don't do it if it's putting your alarm status on full display. Better to put your security hub around the corner from your door and away from windows, even if it takes a few extra steps to get to.
FYI: Time, sound, and visibility are the three most important factors for thieves on the prowl. Can they get in and out of your home fast? Is their entrance going to be quiet? Will they be seen? Button up these areas to stay safe.
5. Trying Too Hard to Look Like You're Home
It's 3 a.m. Tuesday morning, you're out of town, and your house is the only one on the block with lights blazing on two floors. (You've arranged this with the magic of light timer switches.) If that's you, I understand the thinking. Light means "we're home." Like the colorful stripes on a poisonous fish, it's a beacon to thieves to leave your house alone.
While this may sound good on paper, in practice it isn't a smart move. First and foremost, more light doesn't mean you're "more at home." In fact, it's probably sending the opposite message: Trying too hard to fool burglars into thinking you're home is a dead giveaway that you're not home.
How to keep safe: If your home is dark at 3 a.m., that's a sign that somebody is home, so don't set those timer switches to go off past midnight. Instead, consider running one or two lights for a few hours in the evening. Just make sure your blinds are drawn because where there's light, prowlers can see in. A motion-activated spotlight on the front porch or garage is also a great deterrent.
6. Broadcasting Your Vacations
It's the easiest thing to do. You're on the phone with Ron from the post office, who has a package for you. You ask Ron to hold it because you're leaving town tomorrow for a week or two and you're too busy to run by.
In the best of all possible worlds, Ron wishes you a safe trip and holds your mail for you. In a parallel world where bad things happen, Ron files that info away and calls his buddy Phil, who has been known to let himself into an empty home or two come vacation season.
Let me make this perfectly clear: Nine times out of 10, nobody in our daily orbit is a thief's accomplice. On the other hand, we know for a fact that the majority of burglars are people we know (acquaintances or friends of friends), not total strangers. If you get too chatty with the wrong post office worker (or hairdresser or waiter or sales assistant), you may regret it.
How to keep safe: It's natural to let personal details slip into conversations. We're human after all! It can also make us feel paranoid to be too tight-lipped about anything as "low clearance" as a vacation. Still, our advice is to play it safe and keep all vacation plans out of conversations with anyone but close family and friends.
FYI: Sixty-five percent of break-ins are the work of people we know, per the Bureau of Justice.2
7. Forgetting to Lock Your Front Door
There are three types of front door closers in the world: the lockers, the forgetters, and the trusters.
The "trusters" are the 2 out of 10 Americans who don't bother locking the front door. Thieves love them.
To the lockers among us, kudos to you. Your memory is a mini security system all by itself. Thieves don't like you at all.
Finally, a message for the rest of us whose heads are crammed with so many inconsequential details day in, day out that we fail to lock up on a regular basis or can't remember if we have. Folks, you're giving thieves a critical hand in their mission to rob our homes.
How to keep safe: If you're a serial "forgetter," consider a smart lock. It doesn't have to be anything fancy or expensive to get the job done. The job, by the way, is locking itself automatically so you don't have to remember.
FYI: If you thought an 80 percent front door lock rate was bad (see our study above), in the Northwest and New England, that rate drops to below 60 percent!
Final Thoughts
Most thieves have checklists. They want a quiet house (with no one home), and they want to get in and out fast without being seen. A home security system with a camera — DIY or professionally installed — will keep your home off most thieves' hit lists completely.
After that, the odds of falling victim to burglary are pretty slim. That said, if you really want to ramp your peace of mind up to 100 percent, investing in a cellular home security monitoring plan makes sense. (They're not expensive and you'll have instant contact with first responders in emergencies.) You should also practice sensible "vacation hygiene" and, of course, always remember to lock the front door. If you can't, it may be time for a smart lock.