Locking Your Doors
Property crime offenses have been on the decline for the past 10 years, but a burglary still occurs every 20 seconds. While break-ins may seem random, there are certain things burglars look for – including an unlocked door. After knocking on the front door to check if residents are home, a simple turn of the knob can grant a burglar easy access to an unoccupied home.
Turning the lock on a door is a quick and easy step to protect your home, but how many Americans always take this precaution? We surveyed over 1,000 people across the U.S. to find out. Keep reading to see who keeps their most cherished things behind closed – and locked – doors.
Secured States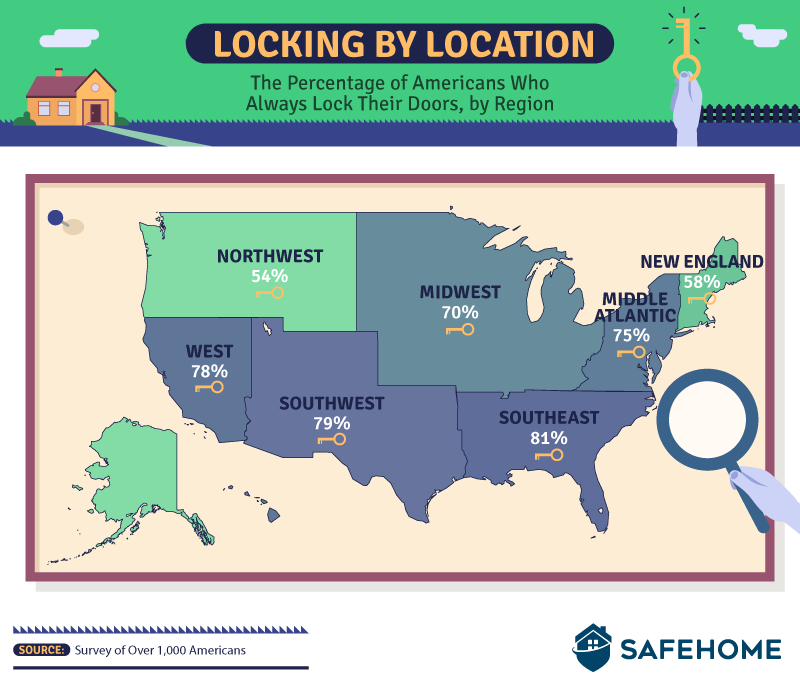 Southern hospitality seems to draw the line at leaving doors unlocked for unwanted guests. From coast to coast, more residents from the Southeastern part of the U.S. kept their doors locked at all times compared to anywhere else – with 81 percent always locking their doors. Alaska and the rest of the Northwest were the most lax with their locks: Only 54 percent of respondents said they always secured their doors.
The South may have reason to ensure their doors are locked all the time, though (other than it being the safe thing to do). It turns out that this region has held the record for the most burglaries per year in the U.S. several times since 2015, which was when we began tracking this data. But even in the Northeast – where only 10 percent of all burglaries occurred – 58 percent of respondents in the New England area and 75 percent of participants in the Middle Atlantic locked their doors. As they say, it's better to be safe than sorry.
Security Styles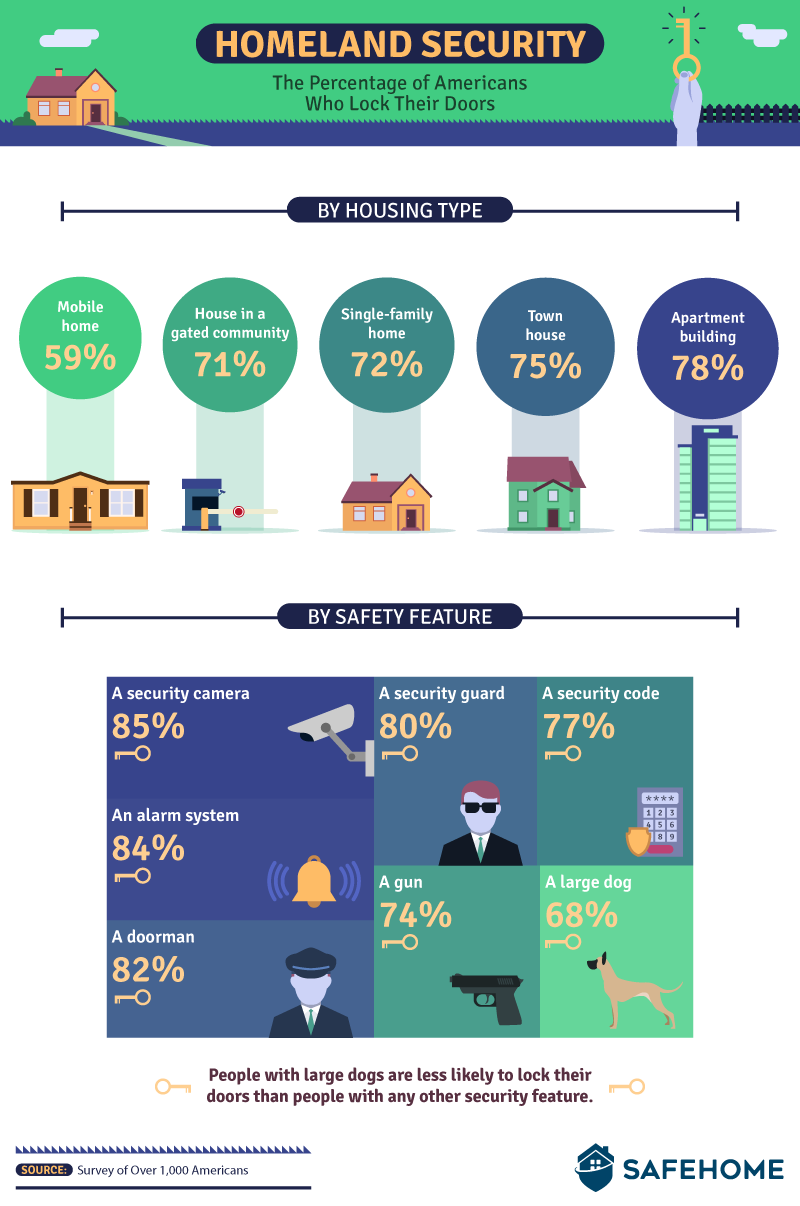 All homes should come with lockable doors (and even smart locks to make it easier), but are they always used depending on the type of housing? Seventy-eight percent of respondents living in an apartment building locked their doors, the most of any housing type. Town houses, single-family homes, and houses in gated communities weren't too far behind, though, with more than 70 percent of respondents in each turning the locks. However, mobile homeowners locked their doors the least – almost 20 percentage points less than those who lived in an apartment building.
Keeping doors locked isn't the only security method people take. Depending on the method of choice, how likely are they to still lock their doors? Of those who kept a watchful eye with security cameras, 85 percent also kept their doors locked. Gun owners were 11 percentage points less likely to lock up, possibly because of their added protection of a weapon. The most interesting finding may prove that dogs really are a man's best friend after all: People with large dogs were less likely to lock their doors than people with security guards. While their trust may not be lying in their dog's ability to deal with an intruder, it's likely they think the presence of a large dog may ward off any attempts of a burglary.
Stranger Danger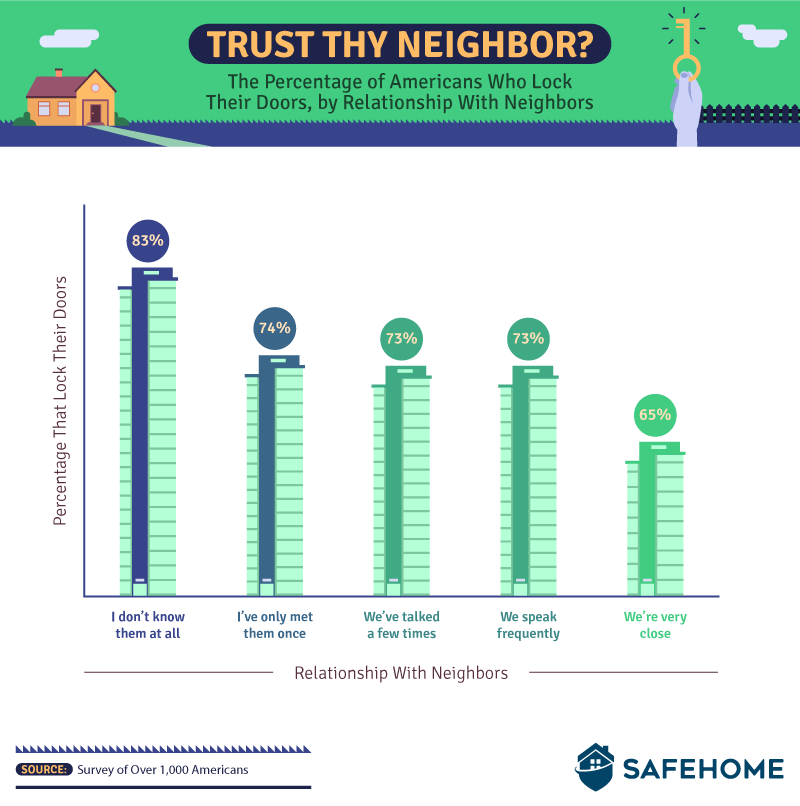 Getting to know your neighbors can be very beneficial, including an increase in the safety of your home. Eighty-three percent of respondents who didn't know their neighbors always made sure to lock their doors. And that percentage decreased as relationships with neighbors became stronger. Those who knew their neighbors very well were 18 percentage points less likely to lock their doors than those who had strangers living next door.
Parental Precaution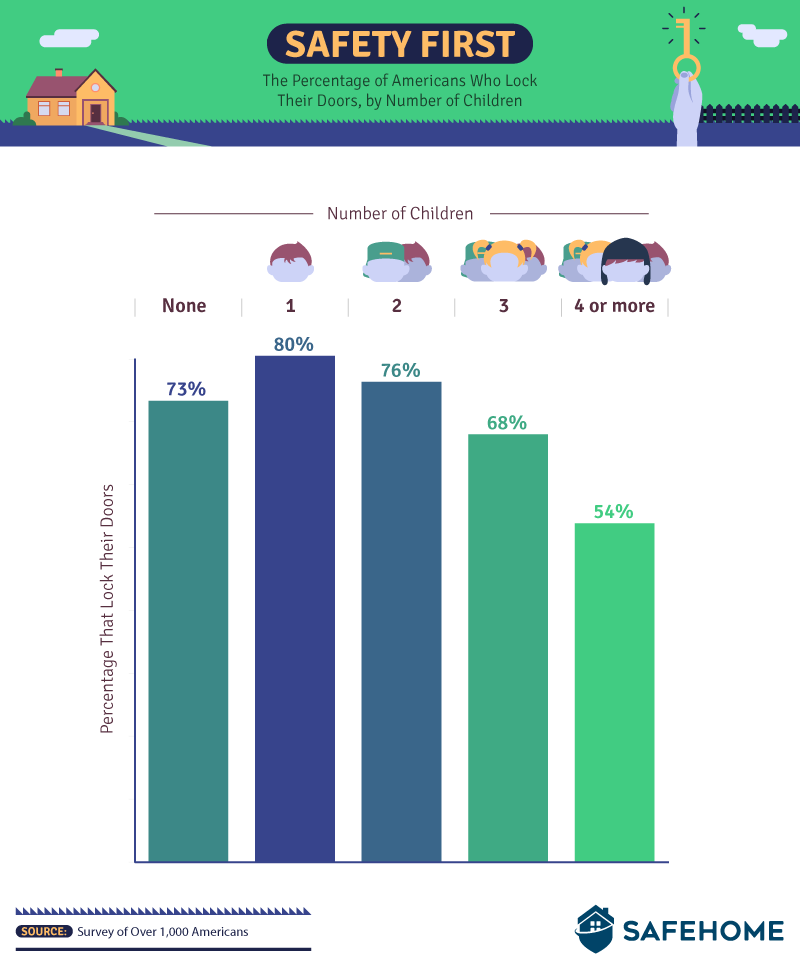 It happens – you're in a rush to get out the door, making sure you have everything you need, and you don't realize until it's too late that you've forgotten to lock the door. But add four children into the mix, and this could happen quite a lot more often. Seventy-three percent of people without any children locked their doors. But that number jumped to 80 percent when there was one child, and slowly decreased as more kids came into the picture. Why is it that the more kids someone has, the less likely they are to lock their doors? We have a few guesses.
Getting children ready and out the door in a timely fashion may not happen smoothly. Between getting oneself together and making sure nothing is forgotten, it may be easy to forget to turn the key once you've finally made it out of the house. The more children someone has, the more they have to keep track of, and locking the door may be the last thing on their mind.
This lack of locking may occur for different reasons, too. As children get older, they may be the last ones out the door, leaving it unlocked. While teenagers are good at locking their bedroom doors, the thought to lock up the house when leaving may not be as ingrained in their minds as it is for the homeowners.
Safety in Numbers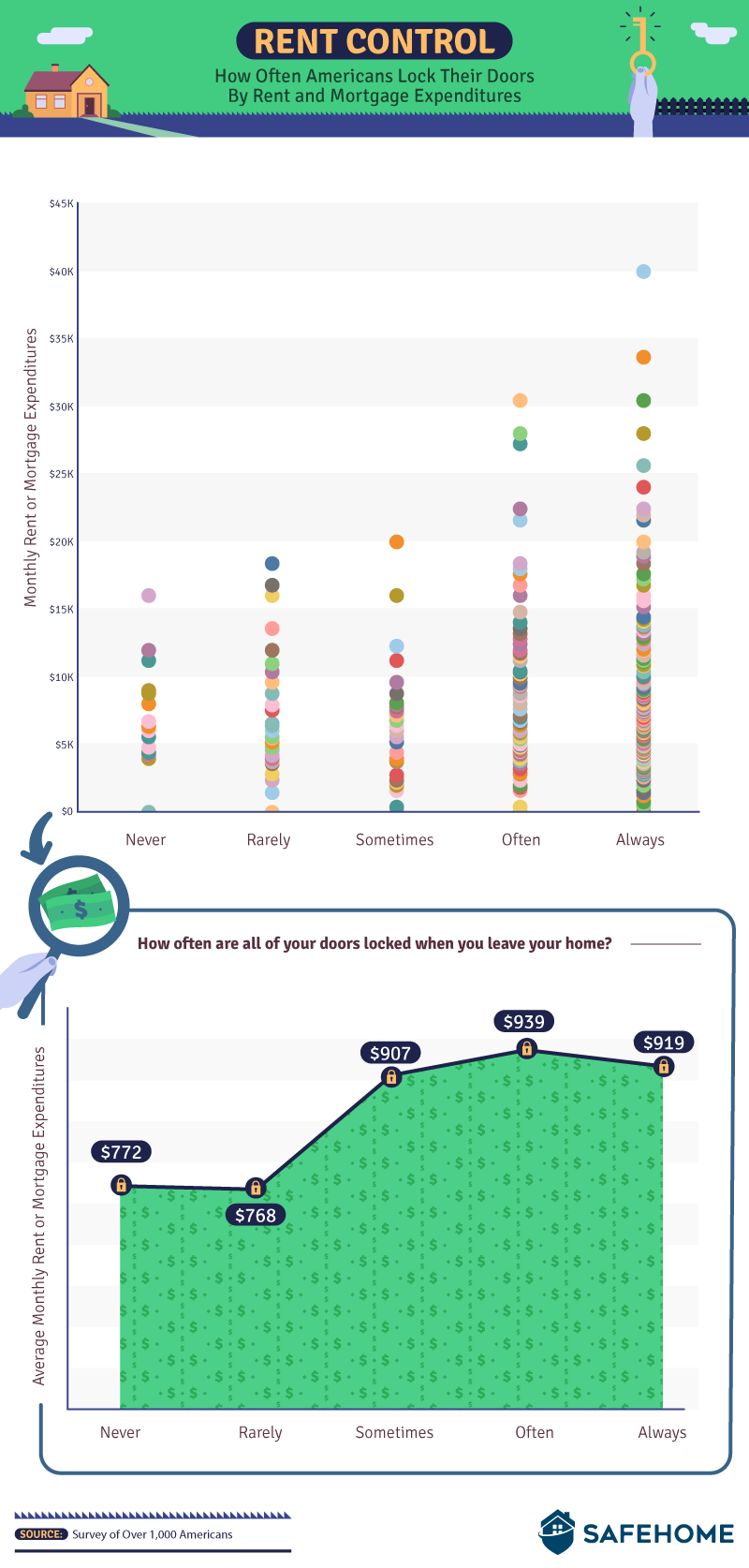 The whole purpose of locking doors is to protect not only yourself but also the valuables in your home. But does the value of your home make you more protective of what lies inside? It certainly can.
While burglars don't necessarily target homes of high value due to the likelihood of security features, the more one spent on their average monthly rent or mortgage, the more often they locked their doors.
Protection by Posts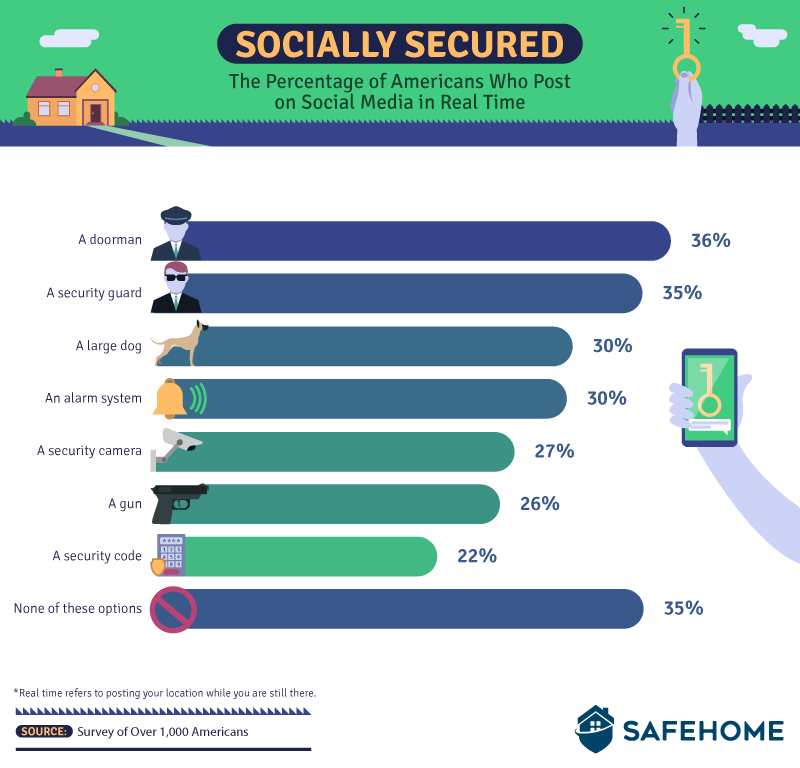 Burglars don't need to lurk in bushes or idled cars to scope out homes anymore. The age of social media has introduced "checking-in" while still in one location. While many check-in to show their friends where they are, what they're doing, and who they're with, they may not realize that posting in real time can alert burglars to an empty home.
What security features make people the most confident in posting where they are exactly when they are there? It looks like man's best friend doesn't take the lead this time. Those living in a home where a doorman was present were the most likely to post in real time. Surprisingly, 35 percent of respondents who didn't secure their home with any of the systems we listed posted on social media in real time – more than any other form of security system besides a doorman or security guard.
Lock and Leave
Forgetting to lock your door is an oversight we've all made, but the majority of Americans make sure to turn the key when they leave. And it's a good thing they do – locked doors and a doorbell camera can deter a burglar looking for an easy-to-access home. Whether you live in a gated community, share your home with a large family, or even live in a relatively safe neighborhood, be sure to lock up – it's an easy step to take towards safety and peace of mind.
Methodology
We surveyed over 1,000 Americans about how often they kept their doors locked. We also asked them about the security features their homes already had in place to see how that affected their tendency to lock up. As always, we also gathered demographic information (location, gender, etc.) to see how that affected locking frequency.
Fair Use Statement
No need to keep our findings locked up! We grant you permission to use the images and content here for noncommercial purposes. Just don't forget to link back to this page to give the authors proper credit.