Our Experience with Amcrest Outdoor
One perk we always look for in an outdoor camera is ease of installation. For DIY home security products, this is supposed to be relatively easy; of course, that's not to say some folks won't find a few challenges as they go through installation and setup. We've found this process to vary widely according to the brand, camera type, and other factors.
We kept this top of mind as we unboxed our first camera: the 4mp HD Outdoor Bullet camera. First impressions were good; we thought the equipment looked solid and well-designed, and the fact that it comes with both plug-in and ethernet (PoE) ports is a nice plus, too. It's also got an IP67 weather rating,2 which means we wouldn't have to worry about keeping our camera out in the elements. (And, living in Ohio, we know "the elements" are coming.)
Since we'd installed bullet-style cameras like these before – many outdoor cameras are designed this way – we had no problem screwing in the base to the wall with our handy drill.
Not a bad look, right? We liked how our white outdoor cam blends in with our slightly worn (and slightly less white) porch trim. Also, since it's got a wide-angle lens3 (Amcrest actually calls it a super wide angle lens, though we're not quite sure what's so super about it), we didn't have to go to too much trouble to find an angle that would effectively cover our porch. It all came together pretty easily, which made us happy, but we also knew we had a bit more work to do.
FYI: For the most part, security cameras on the market today fall in one of three categories for image resolution: full HD 1080p, super HD 1440p (2K), or ultra HD 4K. Our Amcrest outdoor camera has a 4-megapixel image sensor, which can provide video resolution of 2560x1440p. So, to clear up any confusion: This is, indeed, a 2K camera.
Now, it was time to sync our camera to its accompanying mobile app, Amcrest Smart Home. This, friends, is where things got just a little sideways.
You see, Amcrest has several apps that connect to different cameras in their product lineup. Since Amcrest makes so many cameras, it wasn't always easy for us to tell which app corresponds to which product. In fact, the other Amcrest camera we purchased for this review, the ProHD Pan/Tilt, uses a different app: Amcrest View Pro. We'll expand on that more later, but in the meantime, don't worry; it's not quite as confusing as it looks.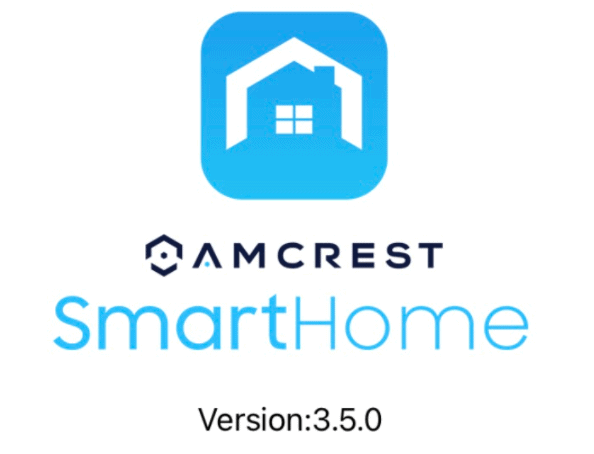 For our outdoor camera, we learned from reading the included quick start guide that Amcrest Smart Home was the app we needed. At that point, we downloaded the app and proceeded to sync our camera to it.
To do this, we turned to the camera, where the QR code was conveniently located on a sticker at the bottom of the unit. We scanned it into our phone, which ushered in a series of prompts for creating an Amcrest account, linking our Wi-Fi network, and even giving the camera its own password.
This isn't typically a long process – it took us no longer than 10 minutes – but keep in mind that you'll want to be very careful when you type in all those passwords; getting them wrong will slow you down and force you to backtrack (don't ask us how we know this).
It didn't take long after that for us to be able to see our device dashboard, where we could manually record video, take snapshots, and see our live view in full screen mode, clear as day in 1080p. This was a good time to look at Amcrest's cloud recording option, since we hadn't actually decided how we were going to store our recordings. We also had the option to use a micro SD card for local storage, but for the time being, we chose the cloud.
Fortunately, Amcrest gave us a free one-year trial of their cloud storage plan, so we stuck with that.
Limitations of the App
From there, we explored other settings on the app. You should know there are quite a few of these, some of which are helpful, and others that don't even pertain to this camera. Like multi-view, for instance; since we only had one camera connected to this app, we certainly wouldn't have any use for four camera views on our screen.
Unless we wanted to look at this every time we checked our app:

Frankly, seeing that there were features on the app that we couldn't unlock soured the experience a bit. It wasn't a deal-breaker, but it did make the app feel somewhat generic, and we wondered what we were missing.
We felt similarly nonplussed as we navigated again through the Amcrest Smart Home app. It's pretty barebones, which makes sense, knowing that this is a pretty basic outdoor camera without advanced features like person detection, facial recognition, or active-deterrence lighting.
We did enjoy the ability to schedule alerts, choose regions (zones) in our view to focus on, and adjust motion sensitivity. After all, we know that the more detail we can get from our cameras, the better chance we have at catching package thieves,4 wild animal cameos, and anything else unusual or suspicious. But again, these are standard features in security cameras, so it didn't surprise us.
Motion Zones
We've been testing security cameras for a long time, and there's rarely a camera nowadays that doesn't have some type of motion zoning function. With Amcrest's custom zone feature, we can choose to color in zones on our screen where we want the camera to detect motion, and block out others.
This is especially helpful if you're pointing the camera toward a busy street; we certainly don't want constant notifications for benign things like headlights or road noise. It's great for customization, but in our experience, the headlight issue wasn't completely solved by adjusting our zones. We still received occasional false notifications when a headlight beamed onto our porch. So this is something to keep in mind.
Video Resolution
Beyond all the bells and whistles, we really wanted to see our outdoor camera in action. We were especially eager to see its promised 4-megapixel (sometimes known as 2K) resolution do its work.
Ready, set …
OK. A bit grainy, but it was nighttime, after all. It's also worth noting that we'd set the camera to standard definition (SD) instead of HD, mostly to save internet bandwidth. But even at the lower setting, we still got a decent picture, thanks to Amcrest's infrared night vision.
Here's a better daytime shot, brought to you by that powerful 4mp image sensor:
Pro Tip: Amcrest's outdoor camera does not have two-way talk. You can only listen through the camera's built-in mic, which can come in handy on many occasions. But several other models in Amcrest's inventory do have two-way talk, including our Amcrest indoor pan-tilt.
The next morning, it felt to us like a good time to look at any alerts we'd gotten overnight, which is easy to do, thanks to the timeline scrolling across the bottom of our photo:
Those blue lines appearing at intervals across that ruler? Those were our motion recordings, and if we wanted to see them, we simply had to drag left or right.
And what did we see? Just a girl coming home after walking the dog. And, you know, other mundane but enjoyable family activities.