Unboxing and Installing Amcrest
Selection. That's our favorite thing about Amcrest, a company headquartered in Houston, Texas.1 There's literally something for everyone here; and they don't stop at home security, either. In fact, home security cameras are just a small part of Amcrest's vast lineup; we found dashcams, baby monitors, video doorbells, GPS trackers, drones, hunting cams, and even binoculars, too in Amcrest's inventory.
And beyond their virtually never-ending list of products, the cameras themselves come with loads of options and features – so many, in fact, that we found it all to be overwhelming at times.
We kept this in mind as we unboxed our first camera: the 4-megapixel HD Outdoor Bullet camera. First impressions were good; we thought the equipment looked solid and well designed, and the fact that it comes with both plug-in and Ethernet (PoE) ports is a nice plus, too. It's also got an IP67 weather rating2, which means we wouldn't have to worry about keeping our camera out in the elements. (And, living in Ohio, we know "the elements" are coming.)
This is a classic outdoor camera in terms of design – you know, like the ones we usually see outside grocery stores and malls, only a bit more compact. While more style-forward outdoor cameras are becoming more common, such as the sleek-looking Nest Cam (battery) we tested, we love how the Amcrest camera reflects a "no-nonsense" approach to home security.
Since we'd installed bullet-style cameras like these before – the best outdoor cameras in the industry are mostly designed this way – we had no problem screwing in the base to the wall with our handy drill.
Not a bad look, right? We liked how our white outdoor cam blends in with our slightly worn (and slightly less white) porch trim. Also, since it's got a wide-angle lens3 (Amcrest actually calls it a super wide angle lens, though we're not quite sure what's so super about it), we didn't have much trouble finding an angle that would effectively cover our porch.
It all came together pretty easily, which made us happy, but we also knew our work wasn't over yet; we had another camera to install.
Unboxing our other Amcrest, the 1080p Wi-Fi Pan-Tilt camera, we transitioned from outside to inside our home. We're not entirely new to this type of camera, either. It's an indoor camera set on top of a mechanical base that rotates the camera for that pan-and-tilt function. It's similar to the D-Link Pan-Tilt we'd tested a couple months back.
The Amcrest Pan-Tilt was not exactly unique, but it does have a stylish element that elevated it over the D-Link Pan-Tilt. We can't put our finger on it – perhaps it's the more rounded design or the low-profile base, or maybe it's matte black finish that made the camera less conspicuous – but our 11-year-old in the room described it as "like a really cool 8-ball."
And, it made a nice first impression on us grownups when we realized how much we liked the way it looked in our home. Simple, pleasant, stylish, but with a solid construction that told us we'd have this camera for a pretty long time.
FYI: As a brand, Amcrest closely resembles D-Link, an early leader in network connectivity. Both sell camera and non-camera equipment, and both have huge and rapidly changing inventory. D-Link cameras, like Amcrest, are also pretty affordable. If you're interested, visit our hands-on D-Link camera review.
Since we knew this indoor camera wouldn't need to be mounted or nailed down to a surface, we simply placed the camera on our office shelf, unwrapped our power cord, and plugged it into our wall. That's two minutes well spent, don't you agree?
Setting Up Amcrest Cameras
Here's another important point we discovered while unpacking our two Amcrest cams: They sell so many wireless products that they need more than one mobile app to control them all. Last we checked, they had five apps, four of which are for security cameras. While not uncommon in the industry (Lorex cameras use multiple apps, too), this can add to some of the confusion associated with these big security brands.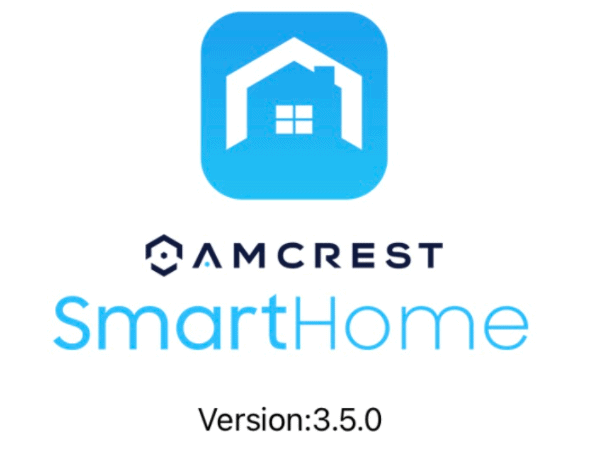 Unfortunately, as it turned out, our two cameras required two different apps: the Amcrest View Pro app for the indoor camera, and the Amcrest Smart Home app for our outdoor camera.
This isn't the ideal way to control a house full of security cameras, to be sure; in fact, it can be frustrating. When our wily dog got out, we had to switch from the View Pro app to see how he got out to the Smart Home app to see where he went. That switch was enough to give him at least a 10-second head start to get down in the mud – literally.
In our view, the easiest way to avoid this is to buy multiple cameras of the same variety with an accompanying recorder or smart hub, and control the whole system with one of the five Amcrest apps. That way, you can see clearly up front that you'll only need to use one app.
But for now, we had some syncing to do. Both apps worked just like many other apps we've used to control cameras in this market, including Arlo, a wireless system and accompanying app that worked effortlessly together in our hands-on Arlo review. With Amcrest, the QR code was conveniently located on a sticker at the bottom of the unit. We scanned it into our phone, which ushered in a series of prompts for creating an Amcrest account, linking our Wi-Fi network, and even giving the camera its own password.
This isn't typically a long process – it took us no longer than 10 minutes – but keep in mind that you'll want to be very careful when you type in all those passwords; getting them wrong will slow you down and force you to backtrack (don't ask us how we know this).
It didn't take long after that for us to be able to see our device dashboard, where we could manually record video, take snapshots, and see our live view in full screen mode, clear as day in 1080p.
The good news is, setup was a breeze with both cams, even with two apps to speak of. But it wasn't totally smooth sailing from there. Let's take apart a few more quirks and nuances as we continue getting to know Amcrest.