Nest Secure Add-Ons and Upgrades
We discovered that Nest excels in the home automation industry. They offer a range of devices that could function independently or with our Nest Secure Alarm System. Here's a rundown of the Nest products that our team liked the most. We didn't test all of these devices, but the ones we did test worked pretty well.
Nest Protect – Starting at $119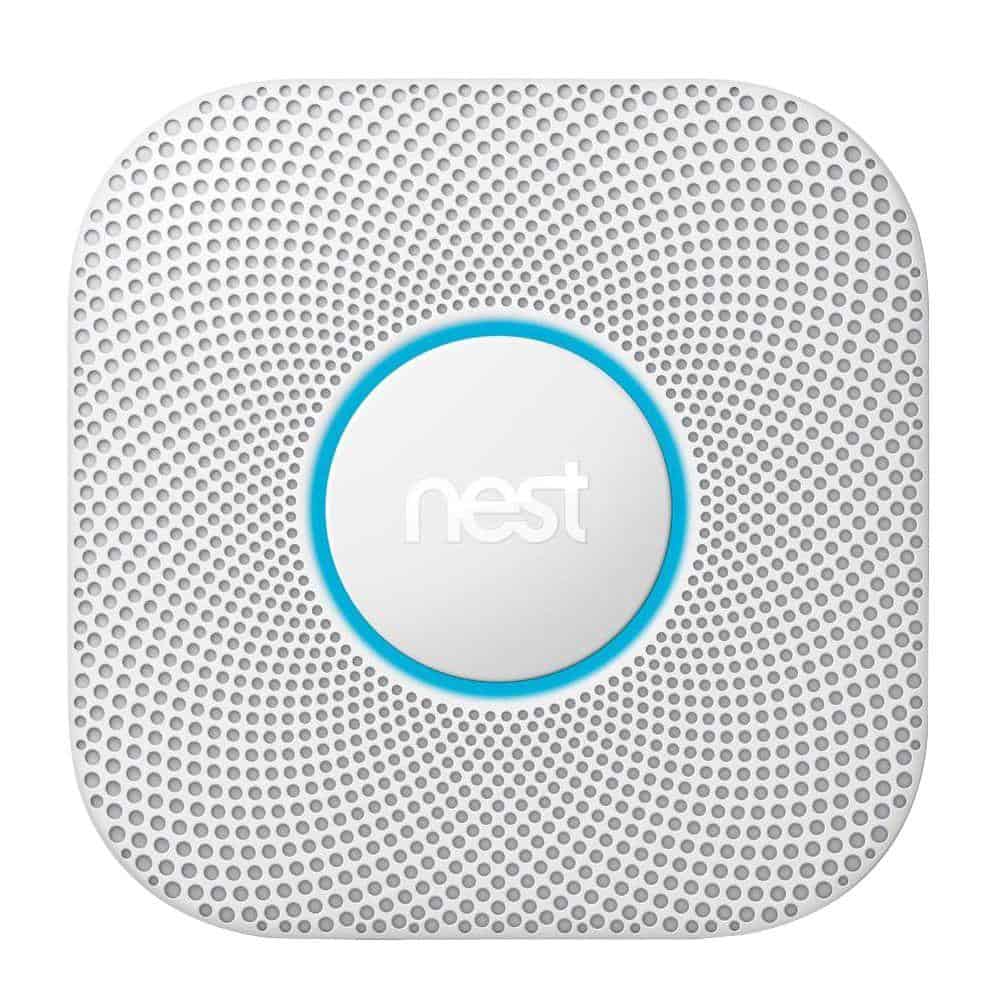 The smart smoke and CO alarm has some unique features. It was easy for us to set up, and it displayed in plain English where the environmental threat was. It also synced with other Nest smart detectors we installed. During our testing, we did experience a false alarm, but it was easy to turn off using our Nest app.
Did You Know: You can quickly disable false alarms if you keep your mobile device close at hand.
We found that the Nest Protect is also capable of distinguishing steam from smoke. If the shower was steamy, we didn't have to worry about the proximity of the sensor. Another helpful feature were the lights on the detector. It just about lit up the room when it went off at night, allowing for quick egress to safety. This pathlight feature also acts as a motion light.
The Nest Protect comes in a battery-operated wireless option or a hard-wired option. We always preferred the wireless model. You can also run tests on the detectors using the Nest app, and it self-tests, too. While Nest Protect was fun to try out, we wouldn't buy one for our own homes at the $119 price point. We think it's a bit too expensive for a smoke and CO detector.
Nest Thermostats – Starting at $169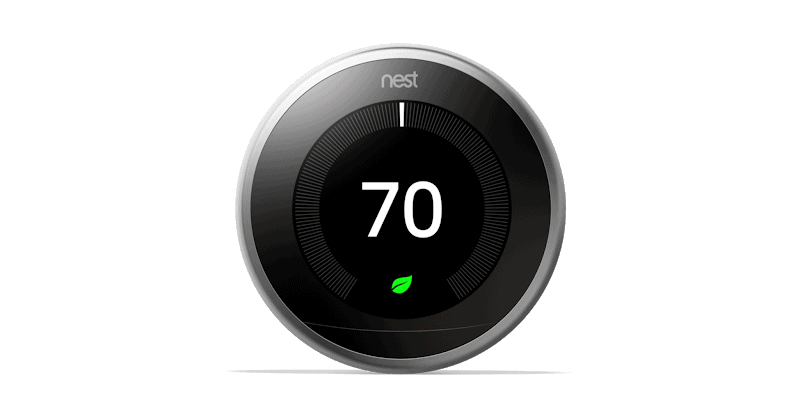 As you probably know, Nest's flagship product is the smart thermostat. The Nest Learning Thermostat and the Nest Thermostat E gave us smart control over our indoor temperature. During testing, we were able to control the thermostats from anywhere using the Nest app. The learning features adjusted to our schedule and temperature preferences, allowing us to save some money and stay comfortable. The Nest Thermostat E has additional energy-saving technology. If used for an extended period, we do believe it would further reduce energy costs simply due to the hibernation mode.
FYI: Studies show that smart thermostats like Nest help homes become more energy efficient.6
The design of these devices are modern and appealing, and they blended into our existing decor. Also, in our research, we found that some utility companies offer rebates on smart thermostat purchases. So this discount is worth researching. Nest's line of smart thermostats are some of the best smart home devices we've researched and tested.
Nest Hello Video Doorbell – $229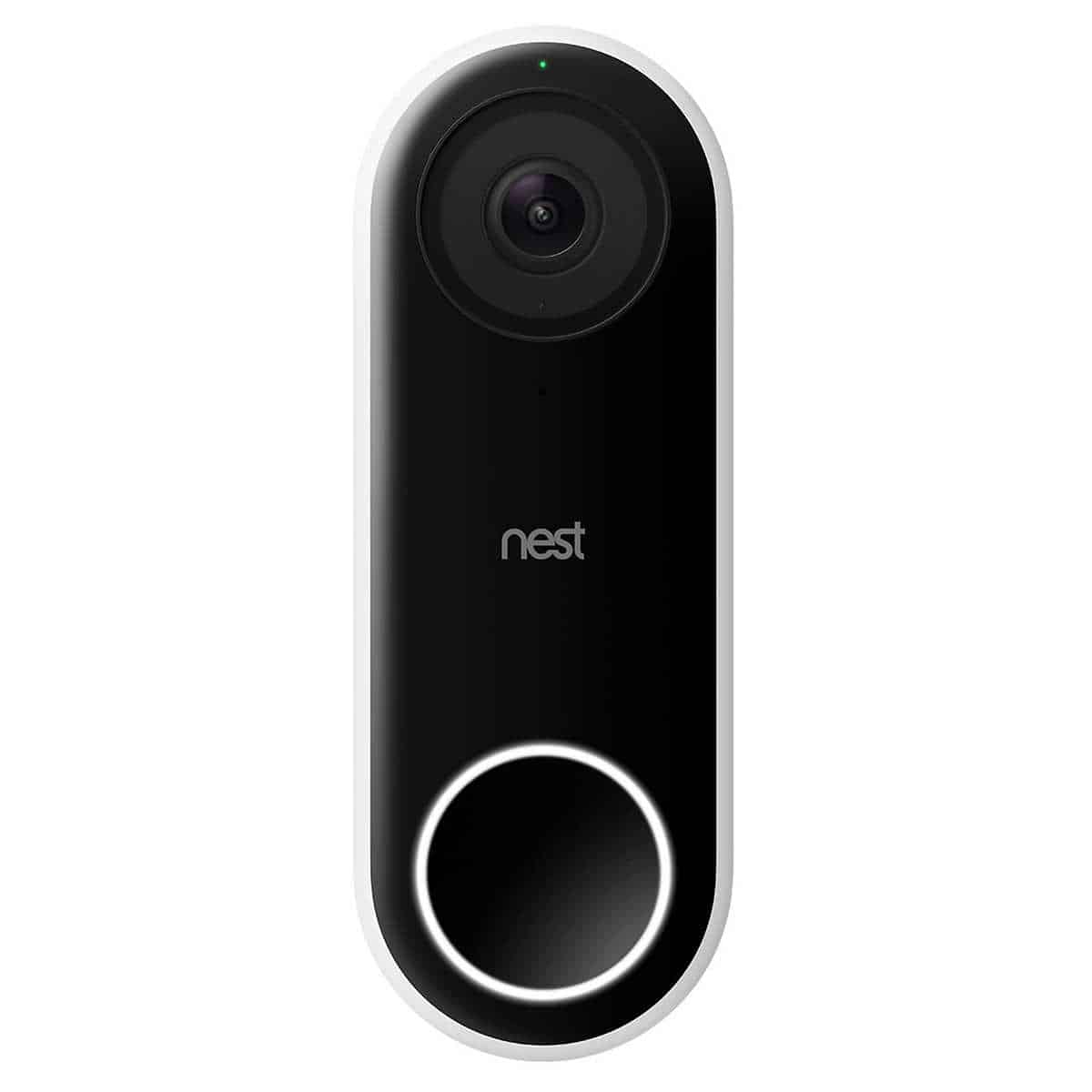 This video doorbell will integrate into any Nest Secure security system. We didn't test this specific device, but our team conducted in-depth research on it and pored over countless user reviews. Unfortunately, it's a hardwired video doorbell, and it's not easy to install. So you're probably better off with professional installation.
The Nest Hello Video Doorbell offers 24-7 live streaming with HD quality video in 4:3 aspect ratio. The 3-hour snapshot history lets you check out what happens when you're not viewing it live. The mobile alerts also let you know if it senses motion or sees a person. We found that if you have a Nest Aware subscription, the video doorbell can notify you when it recognizes a familiar face or notices a stranger or intruder. With its two-way microphone, you can communicate with visitors at your door. Finally, like all Nest products, it will connect with a Google Home Mini device for voice notifications of visitors.
Nest Connect – $69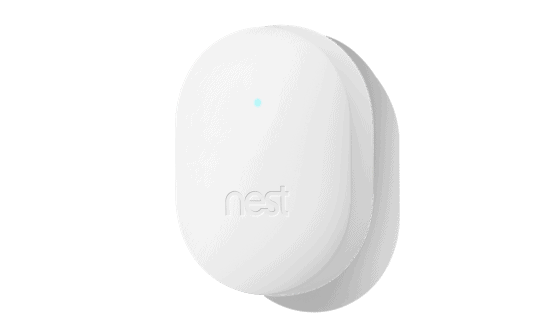 As the name implies, this device acts as a bridge between the Nest Guard base unit and the Nest Detect sensors. It worked alright in one of our homes, but we noticed some lag when placed far away from some devices. The main point for having Nest Connect is that it ensures coverage throughout a larger home. It came with a battery backup in case our power went out, but we never needed it. After testing, we would say that most people should get what they need from the Nest Connect device. But if you live in a mansion, you might be out of luck. The range you get is typical of what we've seen and tested on the market.
Nest x Yale Lock – $279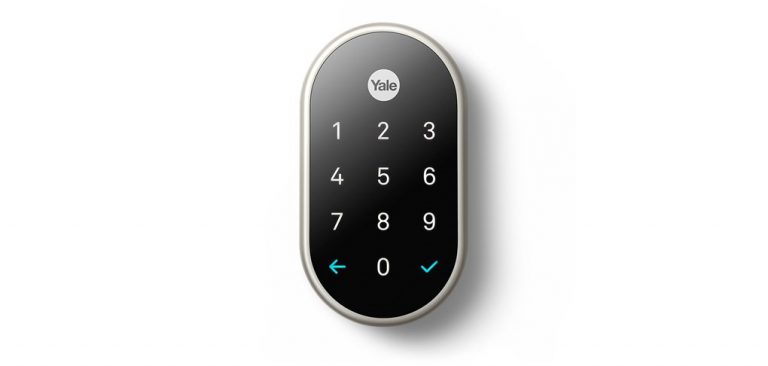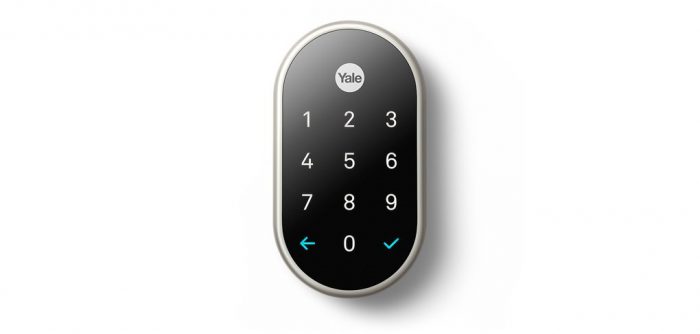 We're big fans of smart locks. Well, the good ones, that is. This smart deadlock integrates nicely into the Nest Secure system. It interfaces with the Nest Connect or the Nest Guard. In testing the device, we were able to lock and unlock our door remotely, as well as create unique passcodes for friends and family. Using the app, we could see who was coming and going. It's tamper-proof, and the lock has a low-battery notification. There's also a charging option in the event of a power outage. Our extensive research shows that Yale makes some of the best smart locks on the market. And we must say, our team was satisfied with this collaboration.
Did You Know? Smart locks require batteries, so be sure to replace your smart lock battery before it depletes.
Nest Security Cameras
Our team tested all four of Nest's security camera options. Their features include:
24-7 live streaming video
Instant smartphone alerts
1080p HD video quality
3-hour snapshot timeline
Night vision
Hardwired installation
Solid construction
Glass lenses
Speaker and microphone
Wi-Fi connection
Here's what we experienced during hands-on testing of the different cameras:
Nest Cam Outdoor – $199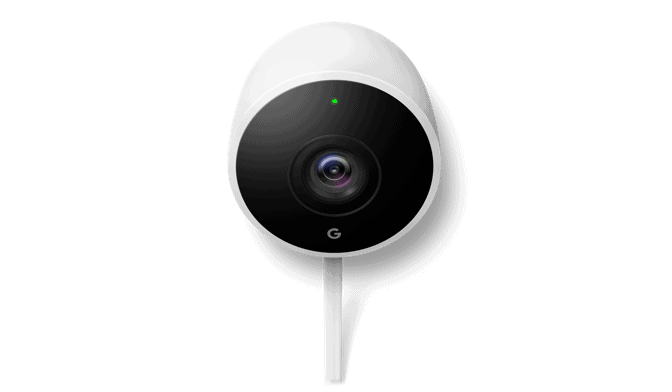 This is Nest's outdoor home security camera, which is weatherproof and has a 130-degree field of view. It offered us live-streaming capabilities with a crisp, clear video. But we were especially impressed with the cam's 8x digital zoom. However, while the HD picture was good, expect a similar picture from other cameras in this price range. Our Nest Cam Outdoor also included several types of mounting hardware, including wall anchors and a mounting magnet. So it was easy enough to install (almost plug-and-play easy).
Nest Cam Indoor Security Camera – $199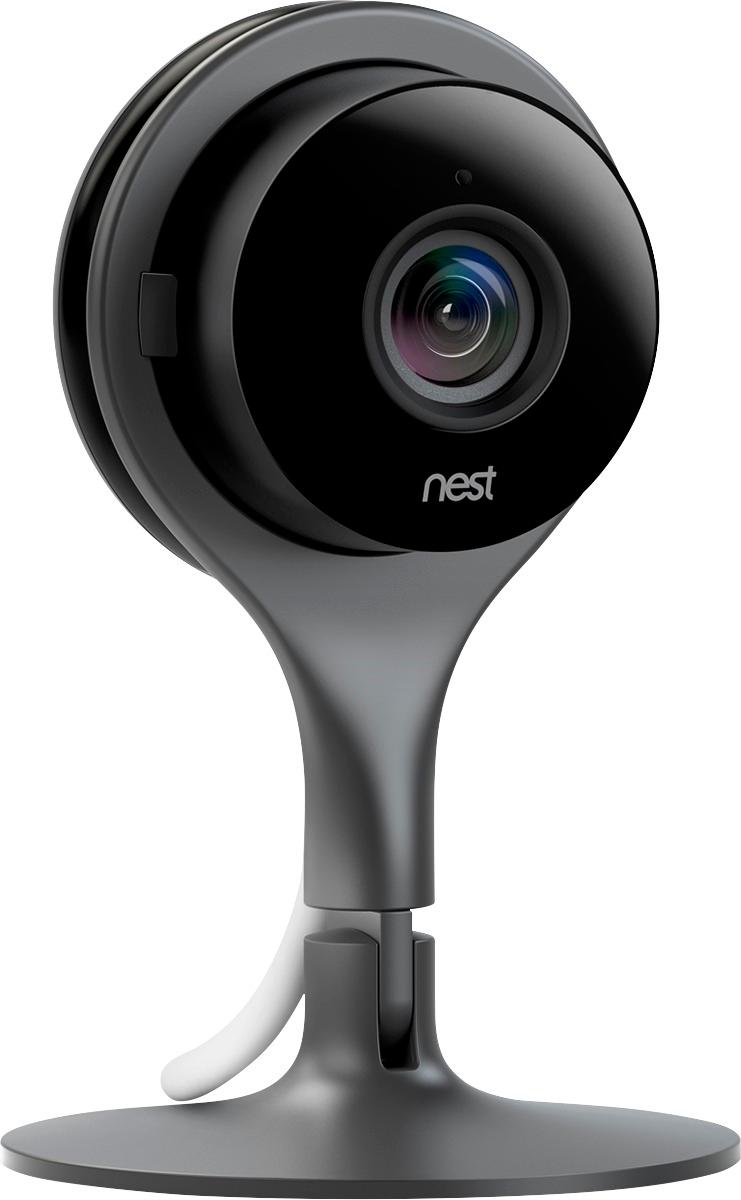 We found the Nest Cam Indoor to be a bit pricey as far as indoor cameras go. But this camera did meet our standards during testing. It offered us a simple DIY setup with several different mounting options, including standing, magnet, wall, and tripod. We tried all mounting options, but we were able to get the best angles by using the built-in magnet for mounting. This cam gave us the same live streaming capabilities as many of the leading indoor cameras today, so nothing groundbreaking there. The biggest advantage we discovered is that this cam integrated into our Nest Home platform with ease.
Nest Cam IQ Indoor and Outdoor – $299 – $399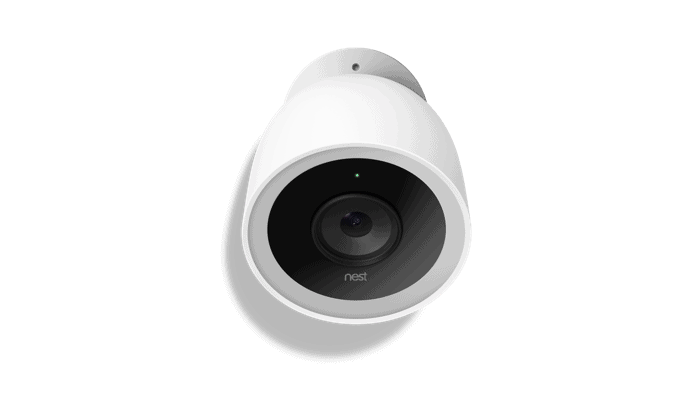 We've tested our fair share of high-tech security cameras. So we had high expectations for the Nest Cam IQ lineup. The IQ security camera is Nest's higher-end option with intelligent monitoring. When we set it up, we immediately began digging into these smart features. Our tests revealed that it does, in fact, learn a person's face using facial recognition technology. It also sent instant activity alerts to our smartphones, but only when it sensed a person. While it wasn't 100% accurate, it was able to distinguish between people and other moving objects.
We actually got a lot of use out of the Nest Cam Outdoor's motion-activated alerts. When someone came within 50 feet of our camera, it took their picture and sent us an instant notification to our smartphones. There were some false alarms, but overall this too was accurate. Also, the speakers and microphone offered noise and echo suppression to improve the audio quality of the stream and communication.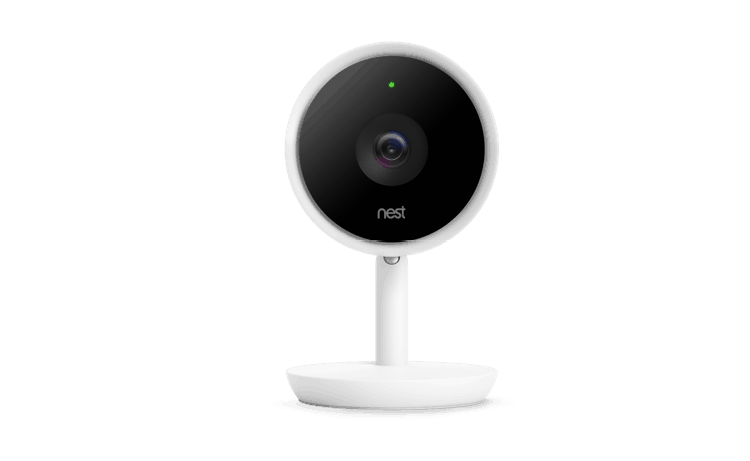 These cameras are also tamper-resistant, so a criminal can't damage them or bypass your system in any way. The power cord is hidden to prevent that avenue of attack. We also liked that these cameras have a 4K sensor, 1080p HD image quality, 24-7 mobile streaming, and 12x digital zoom. These features combined put Nest Cam IQ in the upper echelon of the cameras we've tested. But remember, with great technology comes a great price tag. Expect to pay $299 for the indoor camera and $399 for the outdoor camera.
Pro Tip: Customize your alerts in the Nest App to receive a unique chime for different activity types.