Our Experience with MobileHelp
The Sign-up Process
Signup was the hardest part of our MobileHelp experience. To be honest, the choices were confusing. For instance, how is 'On-the-Go' different from 'Complete Protection'? We studied product descriptions for longer than we'd like… then called to confirm our understanding.
Fortunately, a MobileAgent expert answered right away, and thankfully there was no sales pressure whatsoever! So we ordered MobileHelp online. Here are a few things to note:
We could pay for one month or more of monitoring. If we paid ahead for at least three months, the rate would drop significantly.
For home-only systems, MobileHelp adds a free second wearable. Nice bonus! We chose a black button with a black wristband.
To finish we could opt for a TrelaWear pendant, fall detection, wall buttons, GPS tracking and other upgrades.
MobileHelp offers free basic equipment. The only charges were for add-ons and monitoring.
Installation and Setup
Installing a standard cellular MobileHelp system is easy: All we did was plug the base station's electrical cord into a wall outlet. A green light shows that the system is ready for use. If we choose the landline system, we'll just have the extra task of connecting a phone jack cord, which is included.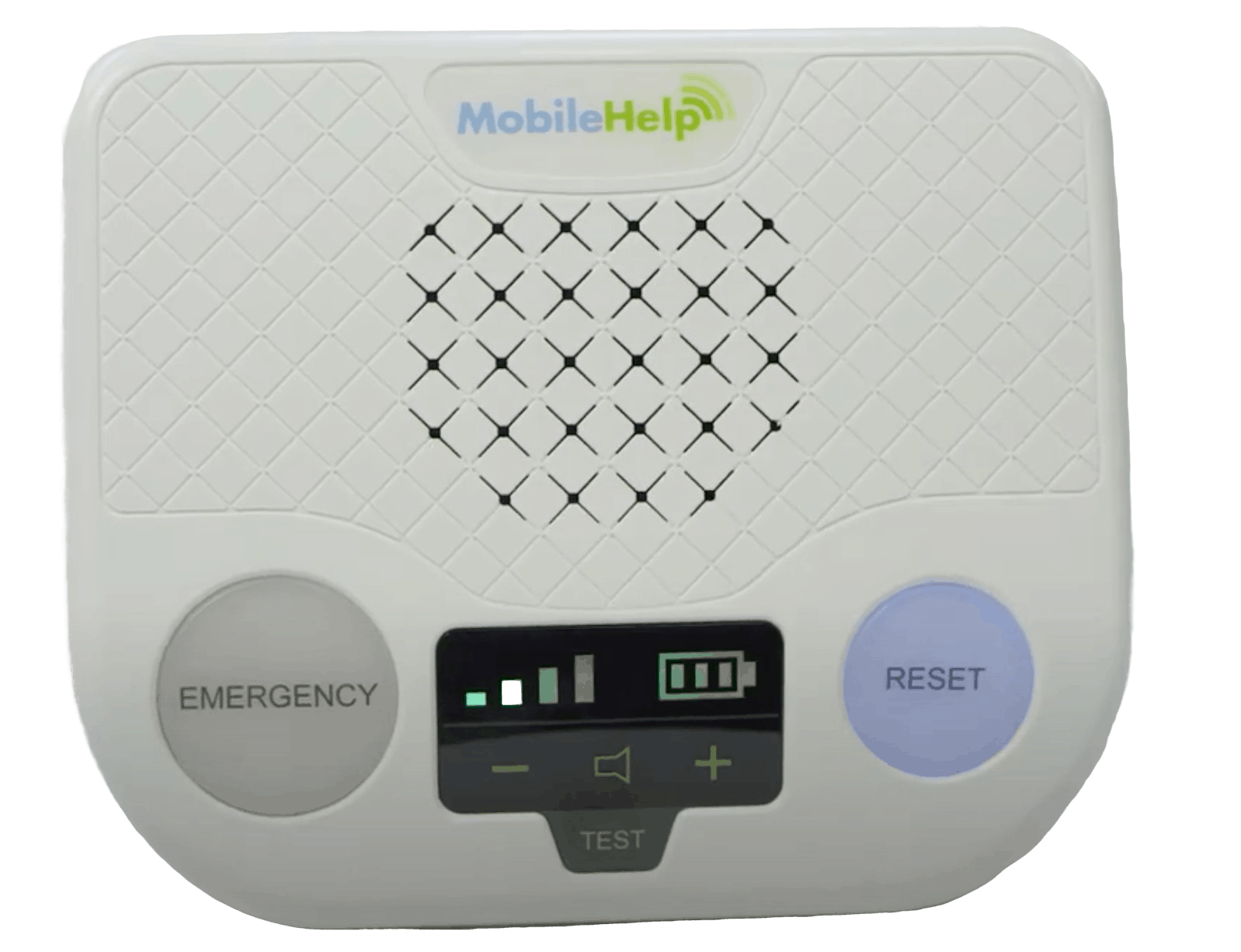 Setting up Mobile Touch (the tablet system) is more time-intensive. It has a user-friendly wizard, but as caretakers, we'd handle setup for a subscriber. We can test a system right away with its dedicated Test button. We like this feature because it feels relatively low stress; other brands have you press an emergency button, then explain to the operator, "This is only a test."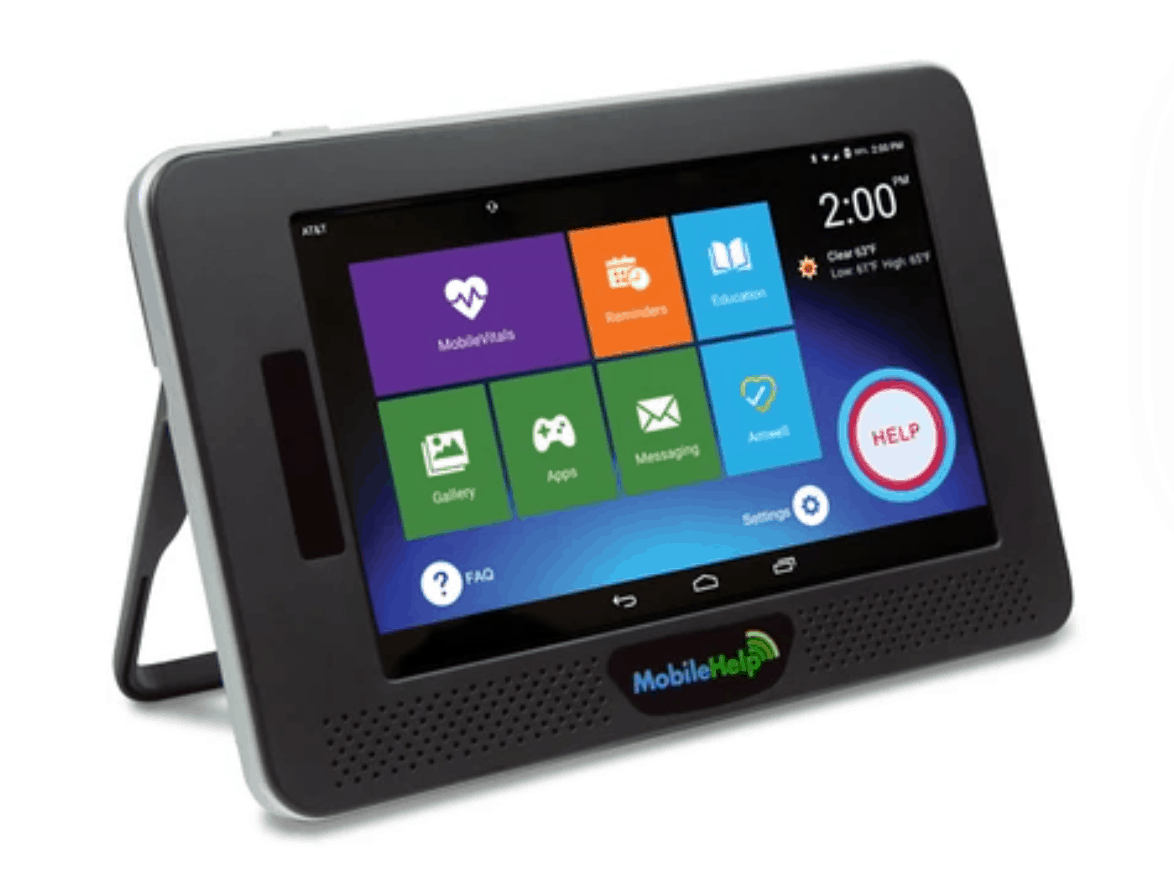 Was it Easy to Use?
Using MobileHelp equipment is easy. When we pressed the wearable help button or wall button, we got an operator on the line pretty fast. All the base stations have Help buttons, too. If we like, we can carry the Mobile Device (the portable base station) and press its button; we don't need a wearable except for convenience. And if we upgrade with fall detection, a neck pendant will usually call for help automatically if we take a tumble.

Pro Tip: We always recommend signing up with the fall detection upgrade, but it's important to know that the technology isn't 100% accurate.
Keep in mind, with MobileHelp we can only talk through a base station. With other leading brands we'd get the convenience of audio built into the wearable itself. That said, you still might prefer MobileHelp because it's cheaper, especially when you have two people to protect.
Wearing the Devices
We found MobileHelp pendants to be comfortable to wear and quite fashionable. The standard neck pendant isn't the smallest on the market, but it isn't too chunky for comfort. The TrelaWear pendant is lightweight (1.8 oz) and discreet; in our opinion, it can complement almost any woman's wardrobe from Gen Z on up.


As for wearing a MobileHelp button on the wrist, we like how any standard watch band is compatible. This helps make our emergency backup look discreet. A hypoallergenic (Latex-free) wristband is included, too.


Monitoring 24/7 with MobileHelp
MobileHelp works with Rapid Response3 to monitor alerts 24/7. Rapid Response has been in business since the early 1990s and is known for fast average response times; with their partnership, MobileHelp recently reported a 17-second average. Dispatchers speak English and Spanish, and they have access to translators for hundreds of other languages. And judging from anonymous employee reviews, workers feel taken care of in the Rapid Response culture.4
Their call centers are in Syracuse, NY, and Corona, CA. We think the bicoastal setup is strategic in case of an earthquake, hurricane, or other disasters. We call this "redundant monitoring" in the business. And in this context, redundant is good! Overall, we were quite impressed with MobileHelp's 24/7 monitoring.
How's their Customer Service?
MobileHelp's customer support phone line is open Monday through Saturday for non-emergencies. The hours are 8 a.m. to 8 p.m. EST on weekdays and from 9 a.m. to 6 p.m. on Saturdays. We should point out that competitors have Sunday hours, but still MobileHelp is easy enough to reach. MobileHelp also has an A+ rating from the Better Business Bureau.5 In our experience speaking with their agents, we think that's a fair assessment.

FYI: If you aren't happy with your MobileHelp medical alert system, you can return it within 30 days for a prorated refund.