Services and Features
When it comes to identity theft protection services, we're looking for a handful of non-negotiable features. The things we need to see in a plan are monitoring, alerts, recovery services, and insurance (the fab-4 features). If the plan doesn't offer these four features, we typically don't want it. It might sound harsh, but we've tested countless services, and the best ones all offer these features in spades. So why settle for less? Let's tackle them one at a time.
Equifax Monitoring
We wouldn't have much use for an identity monitoring service that didn't have decent monitoring. So we were happy to see that Equifax's identity monitoring services included the basics: credit monitoring and social security number monitoring.
Of course, Equifax Complete monitored our Equifax credit score. But it also monitored our credit files (not scores) with the other two big credit agencies, Experian and Transunion. On the other hand, the cheaper ID Patrol product didn't impress us as much here, as it didn't come with Equifax credit score monitoring (though it still monitored credit files).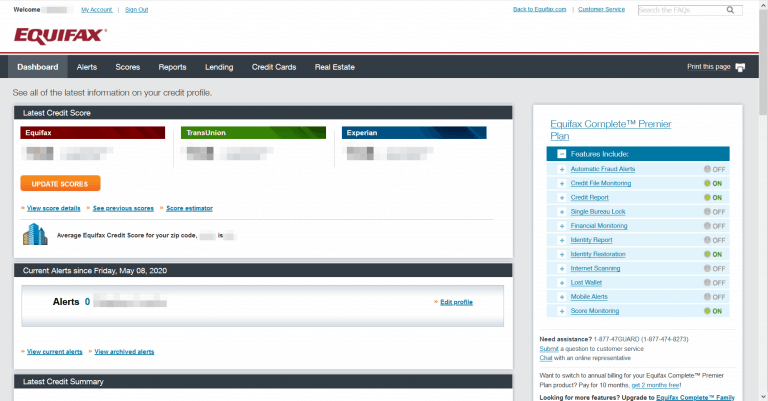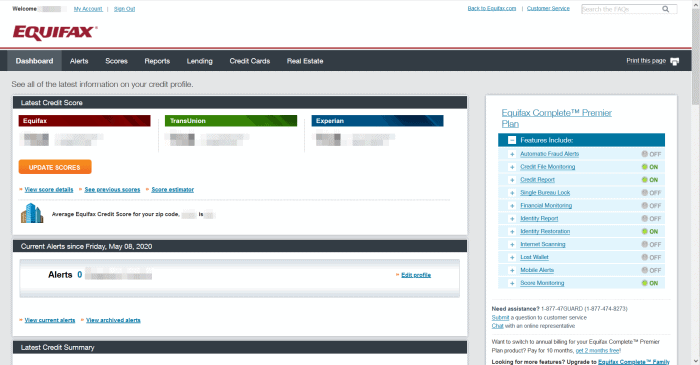 Thankfully, Equifax also scoured the internet and the Dark Web looking for our social security number. We always recommend that you protect your social security number by shredding important documents and taking other basic steps. But trust us, nothing beats professional monitoring. After all, you're not the only one who can lose track of your social security number. If a bank or government agency loses it, you'd better find out about it fast. That's why we liked that Equifax monitored the internet and the Dark Web for our sensitive information.
Did You Know: Any institution can fall victim to a security breach. Even Equifax was the victim of a notorious hack in 2017.3 Social security numbers stolen in attacks like this can end up for sale on the Dark Web, but spotting the sale can give you time to freeze credit files and protect your assets.
One thing to keep in mind is we found that some of Equifax's best monitoring features were not enabled by default. Only after accessing the web app were we able to set up these helpful features. We thought this was a little strange; but we'll talk more about it in the user experience section below.
Equifax Alerts
If Equifax flagged any suspicious activity or potential fraud in our name, we'd need to know. Thankfully, Equifax let us change our settings for alerts, which we think is a nice touch. We had the choice to receive alerts by SMS (text message) if we wanted.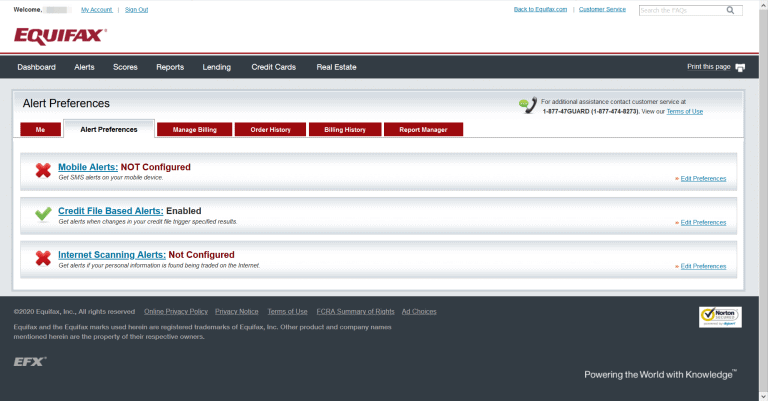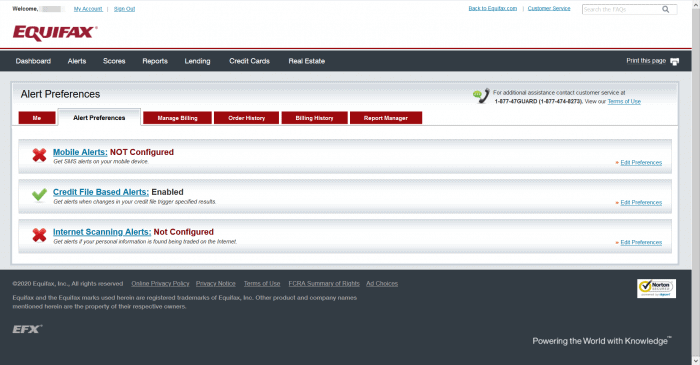 We wish we'd been able to turn email alerts off and on, though. And we really hoped to see an option to receive push notifications on our mobile device. Unfortunately, since Equifax Complete and ID Patrol don't have mobile apps (more on this in a bit), this simply wasn't an option. So that's definitely a swing-and-a-miss for Equifax.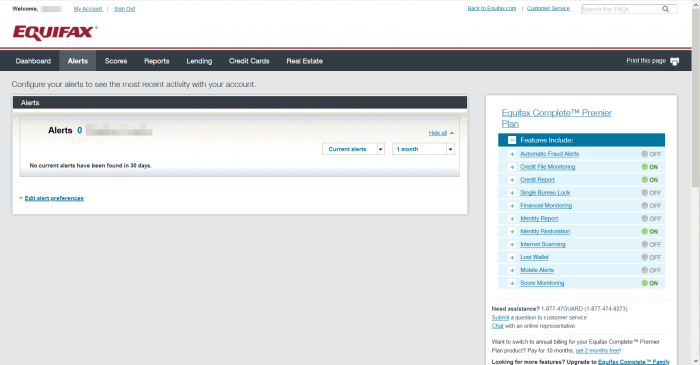 We also found that Equifax wasn't as liberal with its alerts as other services we've tested. This is good or bad, depending on how you feel about alerts and notifications on your phone. We often get a backlog of alerts when we sign up for a new service, but Equifax started fresh and clean — a blank slate! So we didn't hear about older breaches (old news) that other services would've shouted from the proverbial mountaintops. Equifax makes the grade when it comes to alerts.
Recovery and Insurance
We always recommend monitoring, as early detection is the key to limiting identity theft damage. But we also know that catching problems isn't the same as preventing them. Damage still happens. So if we fell victim to an identity crime, we'd feel much better with recovery services and insurance in our corner.
We were glad to see that Equifax offered recovery services. But we felt that they didn't emphasize their recovery features as much as some competitors do. We had a toll-free number to call with issues, but that was pretty much it. We think Equifax should design a recovery section right into their app like some brands we've tested. You know, for peace of mind.
We weren't too impressed with the hours here, either. Equifax's recovery pros are available from 8am to 9pm on weekdays only. The thing is, identity thieves work on weekends, so we typically recommend services with 24/7 recovery support. It might seem like we're splitting hairs, but if/when your identity is stolen, it can sometimes feel like the world is crashing down on you.
Pro Tip: Recovery from identity theft involves a lot of "chores." You'll need to file a police report, notify banks and lenders, freeze credit files, cancel credit cards, change passwords, and more.4 But a recovery team should help you get things squared away fast.
If our identity were ever compromised, we would need to freeze our credit files with the three major bureaus. We could take care of at least one with the click of a button using the Equifax credit report lock feature included in our subscription.
We also enjoyed having identity theft insurance through Equifax. Our policy covered up to $1 million in identity theft-related losses and expenses. This can help to pay accountants, lawyers, and other experts to help put our lives back together in the wake of identity crime. And of course, it can reimburse us for any money drained from our bank accounts.
In our experience, most insurance policies like this are pretty standard across the board. The $1 million coverage that you'll get from Equifax is almost identical to the coverage we've seen from top competitors. We got our coverage through Equifax Complete, but you can also get it through ID Patrol. It's the same policy either way.
Other Features
We were happy to learn that Equifax Complete had a few perks up their sleeve. One of the extra features we enjoyed was "lost wallet protection." We've seen this with lots of competitor services. It's basically just a way for us to record information from our wallet, so that we can quickly cancel and replace bank and ID cards if our wallet is ever lost or stolen. Keeping your wallet or purse safe is a great way to limit identity theft risk, but it's always good to have a backup plan.
Credit scores like the ones that Equifax monitored for us are obviously important. So we were glad that the Equifax app made our personal finance information especially useful to us. That is, we were able to see our scores at-a-glance.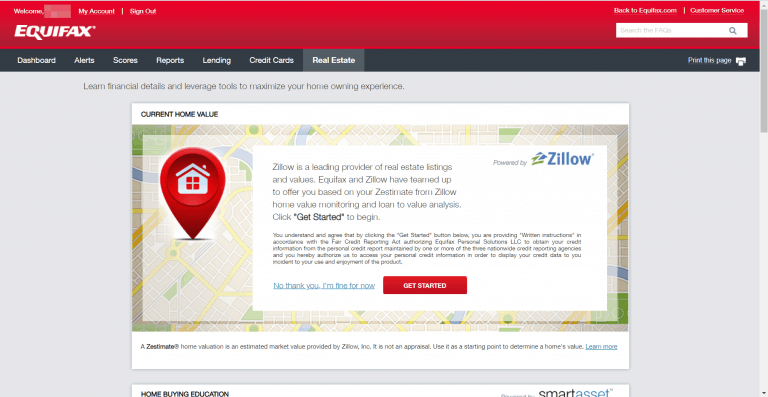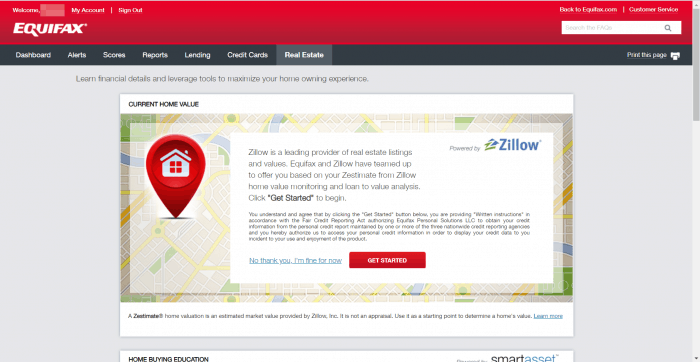 Equifax even has a real estate home value tool in its app, which is offered through a partnership with Zillow. We're sure this helps both Zillow and Equifax, but that's okay as long as it helps us, too. A win-win-win situation is always welcome around here. We think you'll like these little perks and extra features.