Services and Features
When looking at services and features, we're looking for the all-important basics like identity monitoring, alerts, recovery services, and insurance. ProtectMyID has all of these bases covered. We'll break it down by category below.
ProtectMyID Monitoring
ProtectMyID's main job was to monitor our identity. We thought it did a pretty good job with that.
We think two types of monitoring are absolutely essential: credit monitoring and social security number monitoring. Credit monitoring is a big one, as it helps us catch credit checks, new loans, and other signs of fraud. And social security monitoring entails looking for our social security number in places where it shouldn't be, like in public records and on the internet (including the Dark Web). It's not foolproof, but we think SSN monitoring is the most important type of protection to have other than credit monitoring.
FYI: Generally speaking, you shouldn't expect a monitoring plan to actually prevent identity theft. Rather, they are geared more for early detection. But there are times when they'll provide the information you need in order to act preemptively. For instance, if you change your password after a data breach, you really could prevent an identity crime before it happens!
Of course, we have more personal data to worry about than just our financial history and social security numbers. But don't worry, ProtectMyID offers all sorts of monitoring, and we think you'll be pretty pleased with these plans overall.
ProtectMyID also tracked our email addresses. We think it's extremely important for you to know if (or when!) your email is compromised in a big data breach. You don't necessarily have to get a new email address if this happens, but you should definitely change your passwords and be on high alert for phishing attempts.1
We had ProtectMyID on the lookout for change-of-address requests and other matters of public record. We could add other things to be monitored, too, including our credit cards, bank accounts, and driver's licenses. We liked that ProtectMyID let us track up to 10 credit cards and 10 bank accounts (that's ten of each) at the same time.
ProtectMyID's high-end package even included social media monitoring, credit limit alerts, sex offender registry monitoring, and child monitoring. These are all important things to have covered. We think you'll rest a little easier if you have a service like ProtectMyID on the job.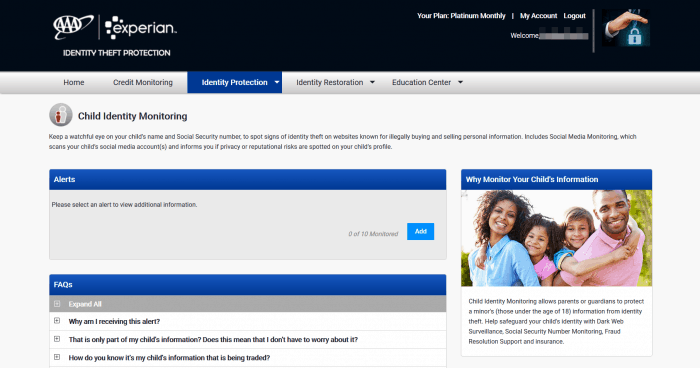 You can also get child monitoring as an add-on to ProtectMyID's middle-tier package (see our section on pricing below). Child identity theft is very rare, but it's certainly not unheard-of.2 Since signing up with child identity monitoring is pretty cheap and easy, we recommend that you cover the kiddos just in case.
ProtectMyID Alerts
We were fairly confident that ProtectMyID would spot identity threats and fraud. But we wanted to see where we were vulnerable, too. Thankfully, the service made sure that we had the full picture by sending us instant alerts. And we could view our ProtectMyID alerts at any time within the web app. We also got a heads-up by email whenever a new alert came in.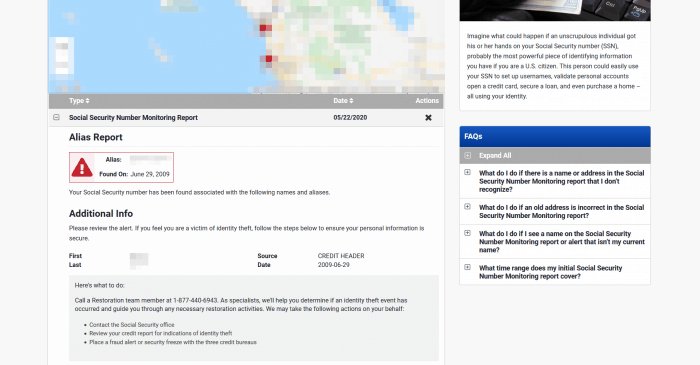 We didn't see any way to tweak our alerts settings, though. We thought that was a shame. So if you want to get your alerts by text message, you may want to look at a different service. Mobile push notifications weren't an option, either, because we didn't get a mobile app in the deal (we'll talk more about this in our section on our user experience).
There also didn't seem to be a way for us to turn off certain alerts, which we think could become annoying. For example, an alert about a sex offender a mile away is a much bigger deal if you live on a big ranch in Texas than it is if you live in downtown Chicago. We wish that ProtectMyID allowed us to change alert settings to match our living situation and preferences.
Recovery and Insurance
We hope you never fall victim to the schemes of a fraudster or identity thief. With this in mind, we recommend that you follow some basic tips and best practices to reduce your identity theft risk. With a service like ProtectMyID, you just might get the early warning you need to stop a criminal in his (or her!) tracks.
Pro Tip: One great way to protect yourself is to be smart about your passwords. Use complex passwords, change them often (experts suggest as often as once a month), and never use the same password for multiple accounts.3 If that sounds like a lot of work, consider getting a secure password manager to simplify matters.
At the end of the day, though, you can only do so much. We think it's important to remember that there's no foolproof way to prevent identity theft. That's why we recommend services like ProtectMyID. They'll help you act fast, minimize damage, and, above all, recover in the aftermath of an identity theft disaster.
Recovering from identity theft can be rough. There are a lot of chores to do, including notifying the authorities, canceling and replacing credit cards, freezing credit files, correcting and disputing credit data, and more. So we appreciated knowing that ProtectMyID would be there to help us when it mattered most. Identity theft is always stressful, but it can be a lot less miserable if you have monitoring and recovery services on your side.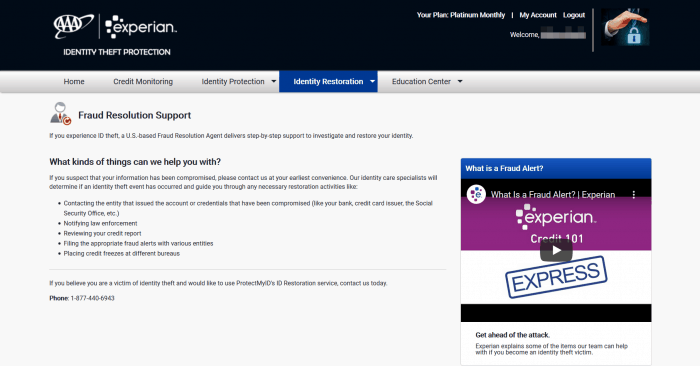 We also think you should remember that identity theft often costs money (and sometimes LOTS of money). It's theft, after all. But to make matters worse, our expenses wouldn't stop with the actual theft of our money. During the recovery process, we might also end up on the hook for big bills from lawyers, accountants, and other professional service providers.
This doesn't mean you should panic. The truth is that most identity theft victims don't actually end up losing money.4 These lucky ones avoid paying the steep costs because the fraud is flagged by their credit card companies, their banks, etc. But… you shouldn't leave it up to your bank or credit card company to protect you. That's why we always recommend that you put an insurance policy to work for you. You may not need it, but if you do, it could pay off in dividends.
ProtectMyID and services like it are quite helpful in this department. We're used to seeing a cool million bucks in coverage. And ProtectMyID was no exception. Speaking of exceptions, it's worth mentioning that insurance policies like these always have caps on certain types of expenses. Sure, you can be reimbursed for up to a million dollars, but don't expect to spend half a million on accountant fees alone. So we recommend reading the fine print before signing up.
ProtectMyID can come with or without insurance. In our opinion, it's not worth paying for identity monitoring without insurance. Thankfully, ProtectMyID's plan without insurance is actually free. Still, we recommend that you spring for a paid plan with insurance if you want comprehensive protection. Insurance coverage is all the rage for a reason.
Other Features
We care the most about monitoring, alerts, recovery, and insurance, but that doesn't mean that we'll turn down bonus features. ProtectMyID offered us a few extra perks. One perk was "Lost Wallet Protection."
Lost Wallet Protection is a feature we see a lot, and we were glad to see it here. With this feature, we can tell ProtectMyID what's in our wallet. Then, if our wallet ever ends up lost or stolen, we can get in touch with our identity pros to quickly cancel and replace our important documents, credit cards, identifications, etc. We think this is a nice little safeguard.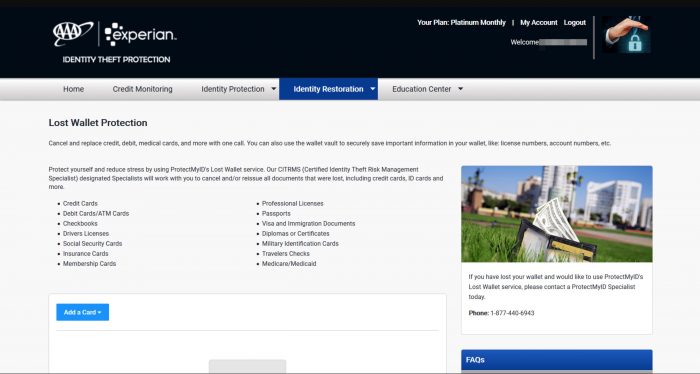 Enrolling in ProtectMyID also gave us our VantageScore. If you're not familiar with VantageScores, they're basically the credit bureaus' own version of FICO.5 We would rather have seen our FICO score, since it's the more widely used of the two scores. But something is better than nothing, so we were still glad to see our VantageScore.
Did You Know: You have a lot of credit scores! The three major bureaus (Equifax, Experian, and TransUnion) each keep a separate file on you. Credit scores can be determined using a formula like the famous FICO method. But a FICO score can be based on all three bureaus or just one, depending on the situation.6 Since you don't know which bureau(s) will end up sharing their data with your lender the next time you apply for a loan, we think it's wise to keep track of your reports and scores with all three bureaus.
One thing we really liked was the credit score graph in ProtectMyID's web app. We like when services like this double as personal finance tools. If they're looking at our credit scores anyway, why not give us some financial tools and tips? We think ProtectMyID does a pretty good job in this category, especially compared to the competition.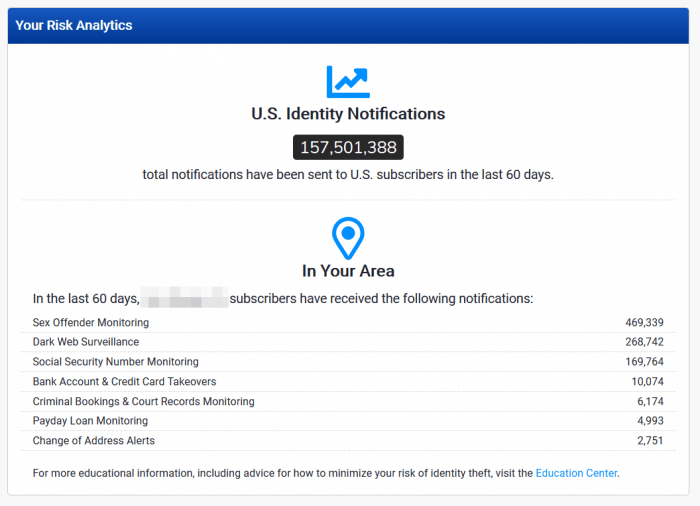 Our ProtectMyID app also told us how many alerts went out to people in our area. We're not sure what makes this information particularly useful, though. Perhaps they're just bragging or trying to build trust. At any rate, we don't think you'll have much use for this feature. But it's easy enough to ignore.