Which Americans Are the Drunkest?
Written By: SafeHome.org Team | Updated: August 15, 2023
More than 5 in 10 American adults are regular drinkers, with about 56% reporting that they have had a drink in the past month, according to data from the Substance Abuse and Mental Health Services Administration.
With multiple holidays and special events based almost entirely around drinking (see: St. Patrick's Day, New Year's Eve and every football Sunday), for many Americans, their favorite pastime seems to be cracking open a beer or pouring a stiff cocktail.
But would it surprise you to know that the typical American today could be considered downright prudish compared to early Americans? That's right, our puritanical ancestors drank quite a bit more than we do today — to the tune of about 5.8 gallons per person per year; that compares with just 2.3 gallons per person on average in modern America.
Drinking varies pretty widely by state, but no states consume quite as much alcohol as early Americans did, though some states might give the colonists a run for their money. We wanted to look at where drinking is most popular in the U.S., including how much alcohol is consumed in each state and how many adults drink regularly, along with several other metrics.
Drunkest States Ranking
Jump to the bottom of the page to see the full methodology used to calculate our rankings, but a quick explanation is that we used data from all 50 states and the District of Columbia covering the percentage of people who drink and how much, how drinking rates have changed, the prevalence of craft breweries and the rate of binge-drinking.
According to our analysis, the District of Columbia is the heaviest-drinking state, followed closely by Vermont and South Dakota. The biggest teetotaler states are Arkansas, Georgia and Mississippi, who each have overall scores that are a fraction of the scores among the highest-ranking states.
D.C.'s total drunkenness score of 224 is something of an outlier in the South, where the average state's score was just 88. That compares to the Northeast, which led the nation with an average score of 169, just ahead of the Midwest's 165. Western states had an average score of 127.
Among the top 10 in our drunkest state rankings, five are in the Midwest, and the Northeast and West have two each. Eight of the 10 states with the lowest scores are in the South, while the other two are in the West. The average score in our analysis was about 131, and 26 states were above that level.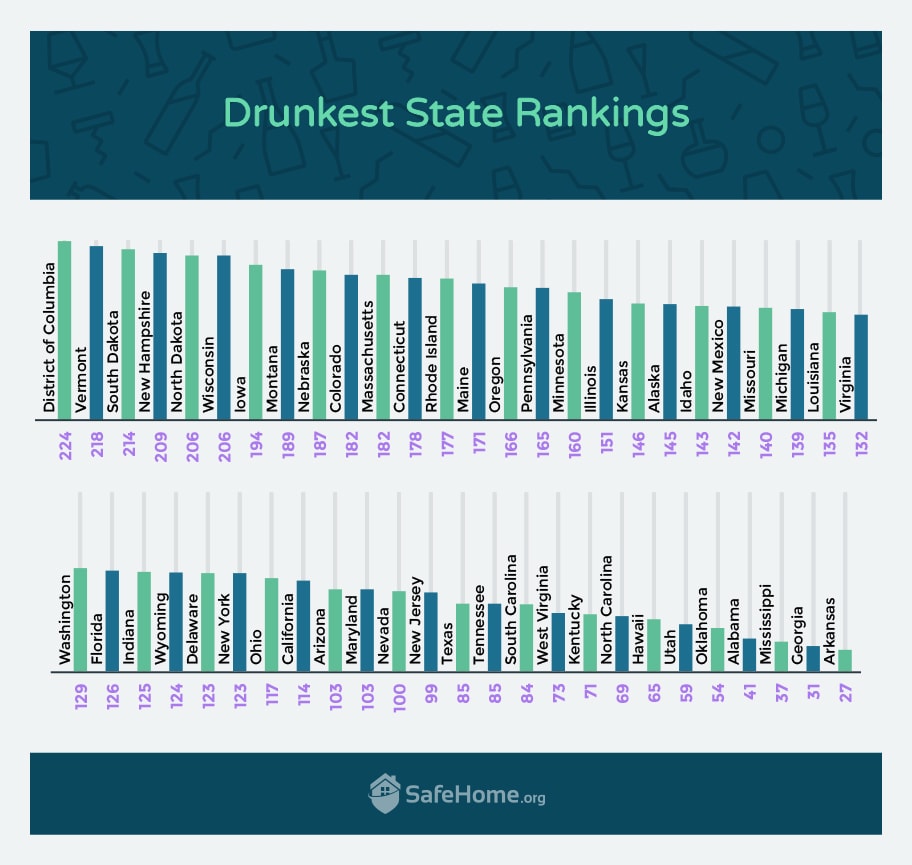 Where Your State Stands
Why is D.C. the drunkest state, according to our analysis? Because in four of the five categories we compared, the district ranks as either the highest or second-highest state. Conversely, Arkansas, the lowest-scoring state, got out of the bottom 10 in only one of the five categories.
Here's a look at how each state performed in the five categories we measured, from the highest-scoring state to the lowest.

The Dark Side of Drinking
An estimated 5.8% of U.S. adults have alcoholism, or alcohol use disorder, according to SAMHSA data, and this rate is down from 7.7% in 2008. While alcohol dependence may be on the decline and most people who drink are able to do so without brushing up against the legal system and/or substance abuse disorders, the truth is that recreational drinking can easily turn into problem drinking.
Our ranking of the drunkest states did not include things like the percentage of people who have alcoholism, drinking-related death rates or arrests stemming from drinking or drunkenness. But, notably, when we compare how states rank in those metrics, seven states appear in the top 10 for both overall drunkenness and dangerous drinking — Colorado, Iowa, Montana, North Dakota, South Dakota, Vermont and Wisconsin. So in which states does drinking cause the most health and legal problems?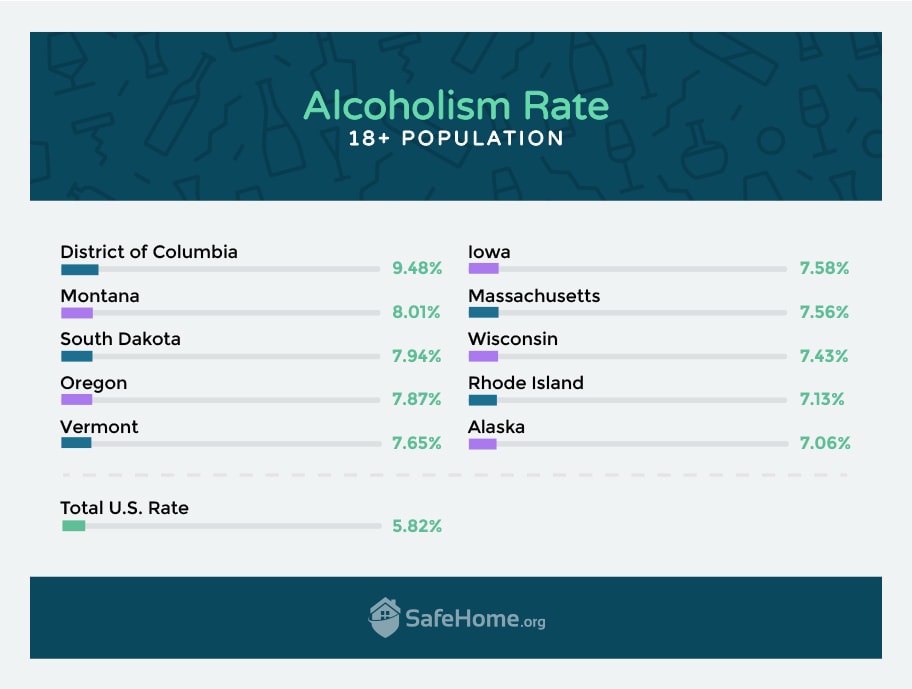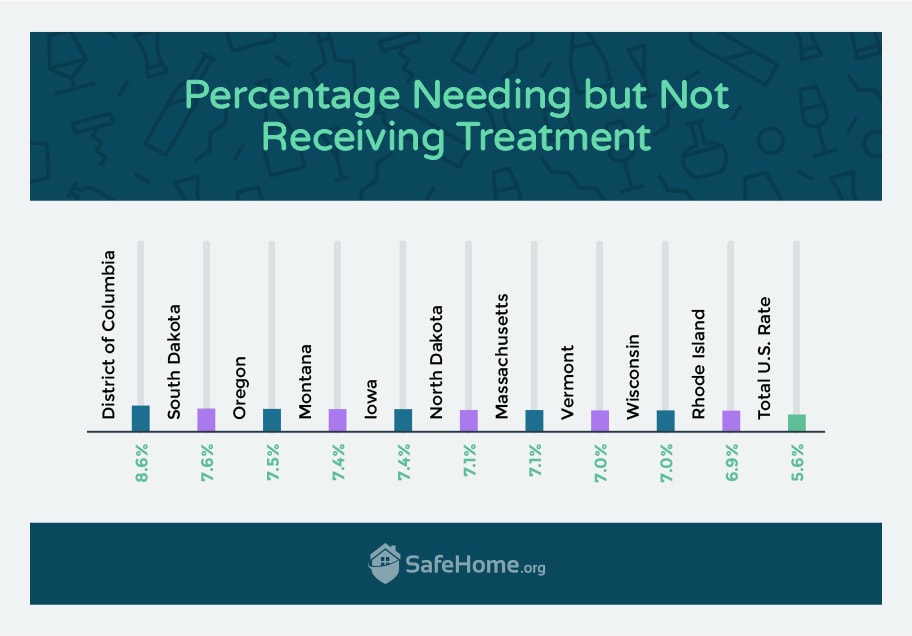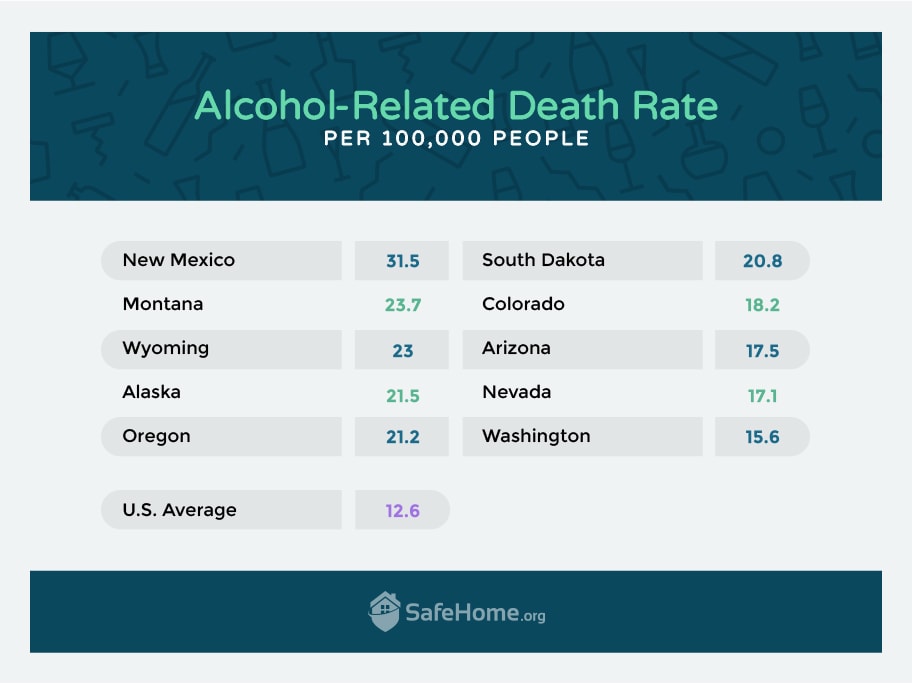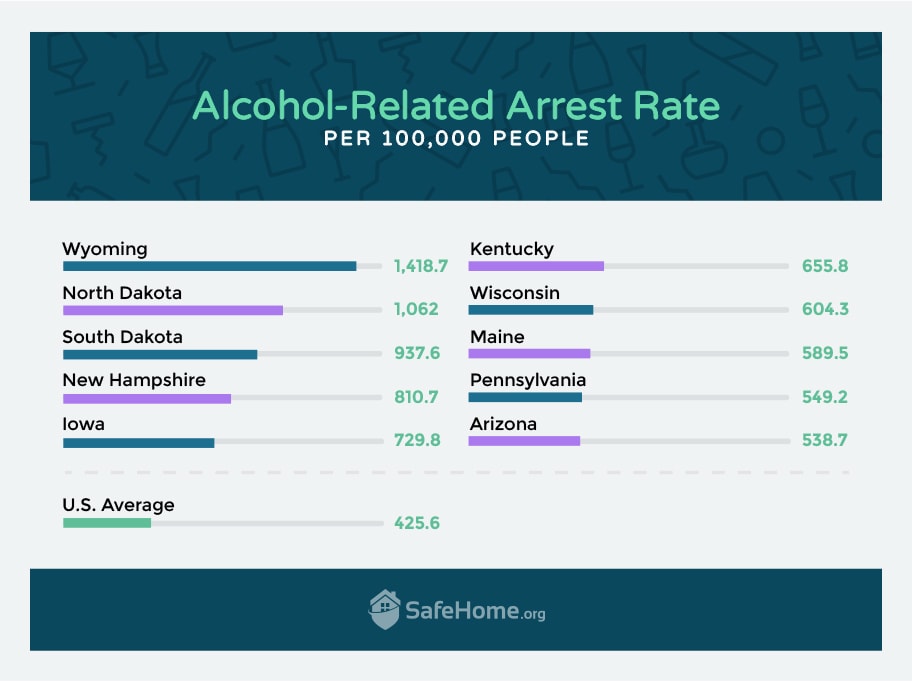 Conclusion
For most American adults (86% have consumed alcohol), drinking is a fun social activity that they share with family and friends, though in many states, drinking is far less common than one might assume. The states where casual drinking tends to be more common also are among the ones where dangerous drinking, including drinking that causes death, is more prevalent.
Other Top Categories
Methodology & Sourcing
As mentioned above, our main ranking compared metrics for every state across a range of drinking-related topics:
The percentage of adults (18 and older, so, yes, some of the drinking covered here is illegal) who say they have consumed alcohol in the past month.
The percentage change in that number between SAMHSA's 2008-09 and 2016-17 collection periods.
The number of craft breweries in the state per 100,000 drinking-age adults.
The percentage of adults who acknowledge binge-drinking in the past month; binge-drinking is defined as consuming several drinks in a short period.
The amount of alcohol consumed per person (limited to those 14 and older).
Information on the percentage of people who drink as well as the change in that rate over time came from SAMHSA's annual estimates, which can be found here. Information from SAMHSA on binge-drinking and alcohol use disorder treatment can be found here.
We consulted FBI crime data in calculating the rate of alcohol-related arrests, which includes drunk driving, public intoxication, and violation of other liquor laws. It's important to note that in many states, public drinking and intoxication are not crimes, and laws related to alcohol vary widely, so the rates reflect that variance.
Rates of deaths related to alcohol, which includes acute alcohol poisoning, chronic alcohol-related diseases and others, were gathered from the Centers for Disease Control and Prevention's WONDER database using a custom table. The most recent data is from 2017.
Figures on breweries in each state came from The Brewers Association and consists of the number of craft breweries per 100,000 drinking-age adults in each state; the data is from 2018. Finally, information on total alcohol consumption came from the National Institute on Alcohol Abuse and Alcoholism and estimates the amount of alcohol consumed in gallons per person 14 and older. This information is from 2017.
Fair Use Statement
Sharing the data and images on this page is permitted for any noncommercial uses. If you want to share what you've seen here with your readers, all you need to do is provide a link back to the URL of this page.