Do Travelers Feel Safer on Vacation with Security Cameras?
Short-term rental platforms are popular as they offer guests the chance to rent out rooms or entire homes directly from their owners, giving them a more personal and unique experience than a hotel. Most of the time, the stays go smoothly for guests and hosts, but crimes occasionally arise at short-term rental properties. Some of them are shocking enough to make the news.
For example, in late 2022, guests stole a dryer, television, appliances, and more from a Tulsa Airbnb. The host reported the incident to the police, who were able to use security camera footage to identify the criminals and confirm they had recently made a booking at the residence.
The security cameras helped the host and law enforcement officials in that case. But on the other of the spectrum, stories of hidden cameras in short-term rentals also spook potential guests. TikTok user Lyssiemento's videos recently went viral when she explained how she and a friend discovered hidden cameras in their Airbnb and found they were being watched. This practice violates Airbnb safety policies and endangers guests.
While security cameras are often listed as amenities on platforms like Airbnb, only some see them as beneficial. In our quest to understand customer perspectives, we sought to determine if the presence of security cameras actually made renters feel safer. Our analysis focused on American adults who'd stayed in or considered booking a vacation rental in the past two years.
The results were mixed. Thirty-eight percent of respondents said they feel safer in rentals with cameras, but 34% stated that they would feel less secure, even if the cameras were positioned outside the rental property. Interestingly, our findings indicate that women and younger individuals were likelier to feel unsafe in a short-term rental with cameras than men and older adults.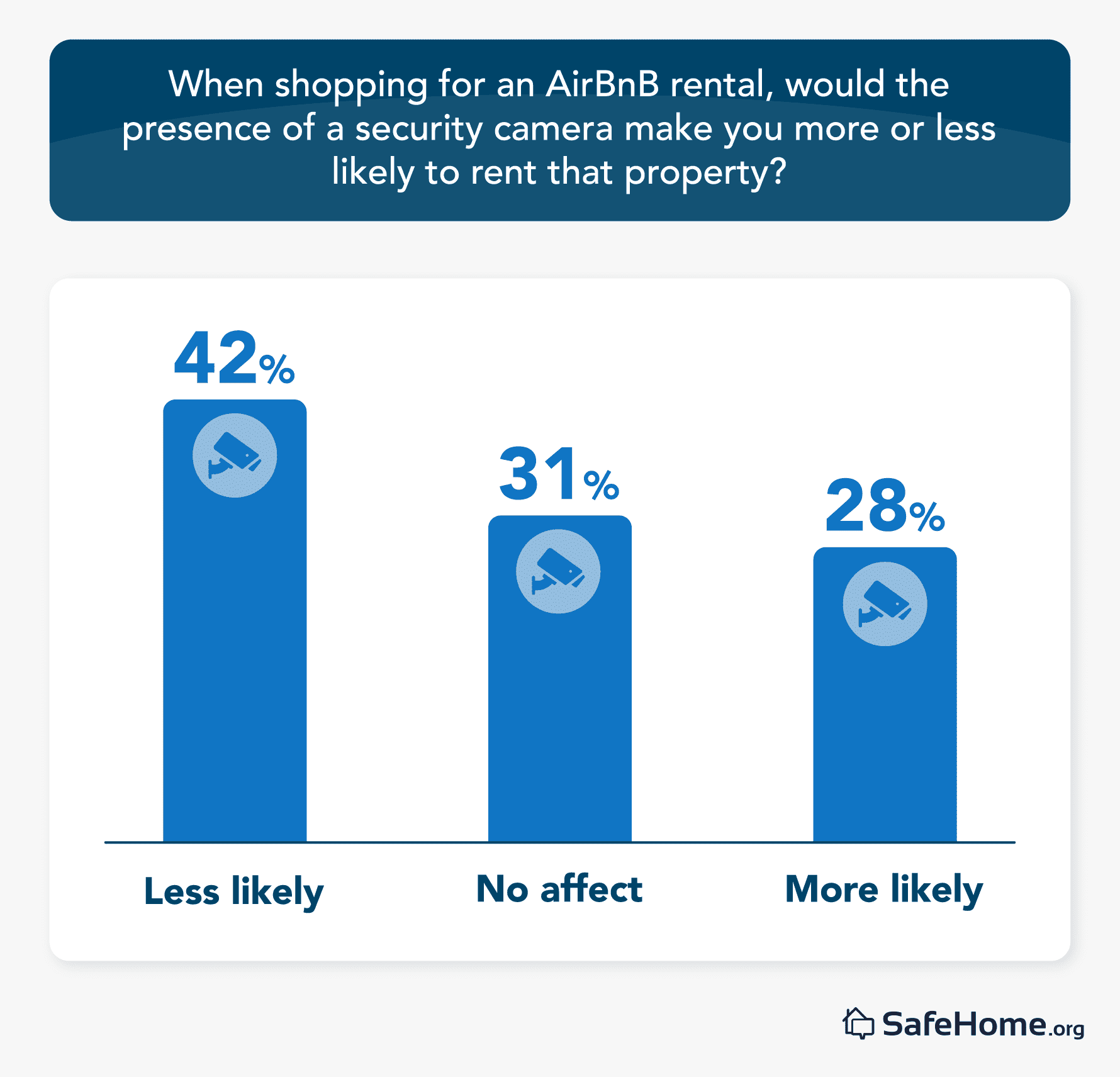 We also found that the presence of security cameras at short-term rentals could impact hosts' profitability. Forty-two percent of potential renters said that security cameras would make them less likely to book a listing! This is important for hosts to be aware of. As they work to protect their homes and properties, they could be driving away potential guests. Each host must weigh the pros and cons and the potential financial impacts of installing security cameras at their short-term rentals.
"For hosts, the benefits are plentiful. Cameras offer a way for owners to ensure that their rental is used appropriately. They're able to check in on their property and have footage available if there is a problem," said Larry Snider, vice president of operations at Redwood Vacation Rentals. However, hosts must be totally transparent about the locations of the cameras.
Besides cameras, hosts employ many other types of smart home technology in their rentals to improve safety.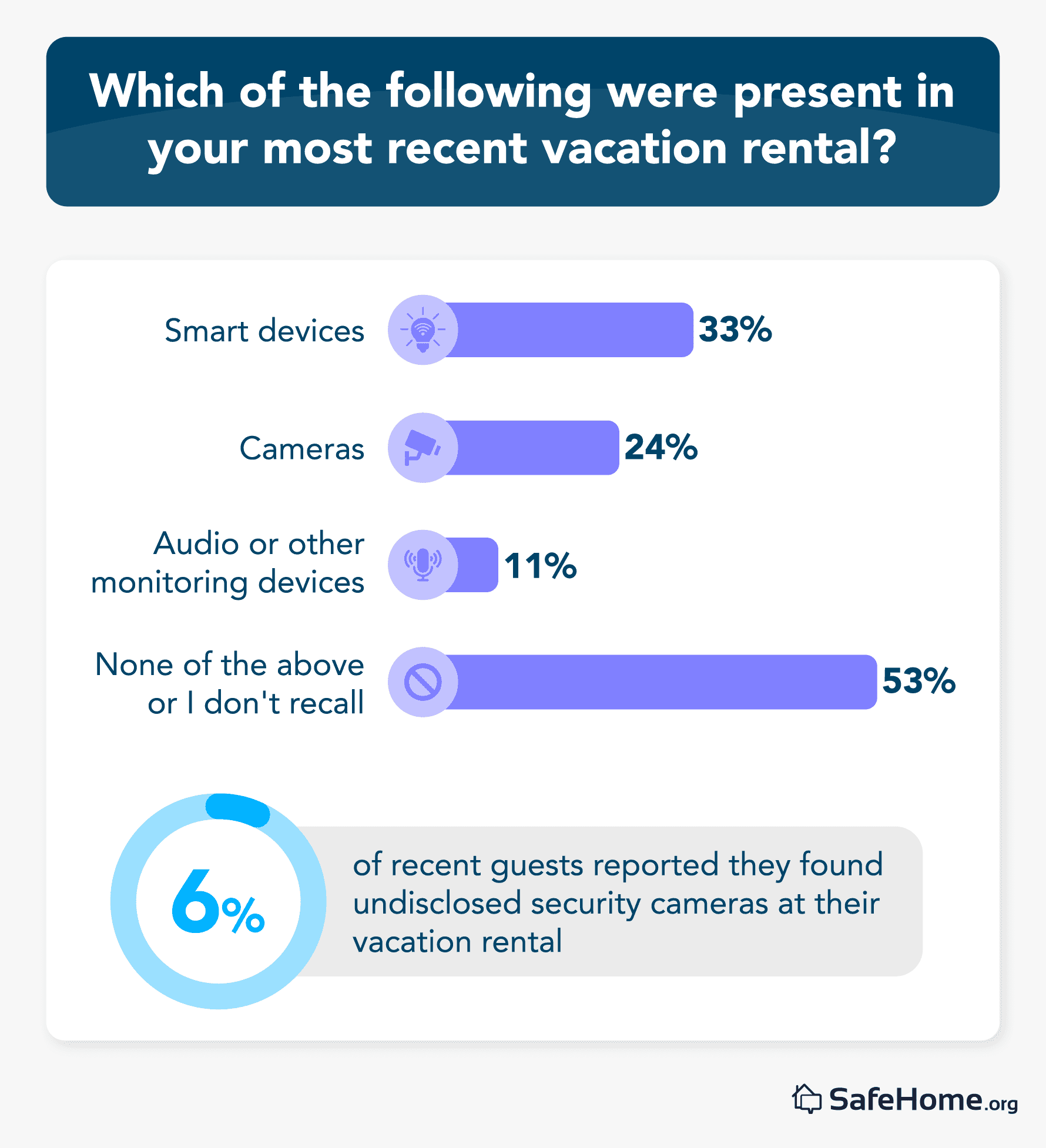 Guests and hosts need to communicate their expectations of privacy when using smart devices like locks and cameras at their properties since they can be misused. Hosts should inform guests about the presence of smart locks and any other smart devices in operation within the rental property.
"Additionally, hosts should ensure that any recorded footage is properly stored and secured to prevent unauthorized access," said Attorney Mike Schmidt. This step is crucial today as data breaches are all too common.
Unfortunately, 6% of Airbnb guests said they had discovered cameras in short-term rentals that hadn't been disclosed on the unit listing. This is also a violation of Airbnb policy and should be reported immediately.  "Not a single glimpse of the property's internal space like bathrooms or bedrooms should be recorded," said real estate broker Theresa Raymond. "Several lawsuits have been filed against owners for using hidden cameras and using their private footage."
While owners are responsible for disclosing cameras, guests can also take steps to protect themselves, such as thoroughly reading reviews and communicating with the host before booking. Nathan Russo of Florida Panhandle beach rentals added one more important step for vacationers to complete upon arrival: "It's very important for renters to do a full sweep of the property first thing when they arrive," Russo said. This can reveal potential security issues and allow guests time to find alternative housing.