Summer presents a perfect opportunity for children to take advantage of outdoor play. Still, parents and caregivers need to remain vigilant of the potential dangers that accompany the season. Our analysis of ER visits between June and August 2022 highlights the top five summertime products that caused the most injuries for children.
| Product | Number of ER visits |
| --- | --- |
| Swimming | 47,461 |
| Bicycles | 44,475 |
| Trampolines | 29,956 |
| Unspecified swimming pools | 17,796 |
| Monkey bars or other climbing playground apparatus | 16,610 |
Overall, swimming/pools, bikes, trampolines, and monkey bars were the primary culprits behind most emergency room visits for children last summer. These activities and products tend to be popular among kids during the warmer months, providing ample opportunities for accidents.
A combination of factors, such as lack of supervision, insufficient safety measures, and children's natural inclination to test their limits, contributes to the increased risk of injury in these areas.
Parents can help their children avoid unnecessary injuries during the summer months by paying close attention to these common hazards. Teaching kids how to use these products safely and responsibly is crucial, as is providing them with the necessary safety gear and guidance. In addition, consistent adult supervision and reinforcement of safety rules will ensure children enjoy their summer adventures while staying safe and injury-free.
Age-Specific Risks for Children's Injuries During Summer
The table below illustrates the most common summertime products that cause injuries among children, categorized by age groups: 2 years or younger, 3-10 years old, and 13-17 years old. By examining these differences, we can better understand the risks for each group and provide parents with targeted prevention strategies.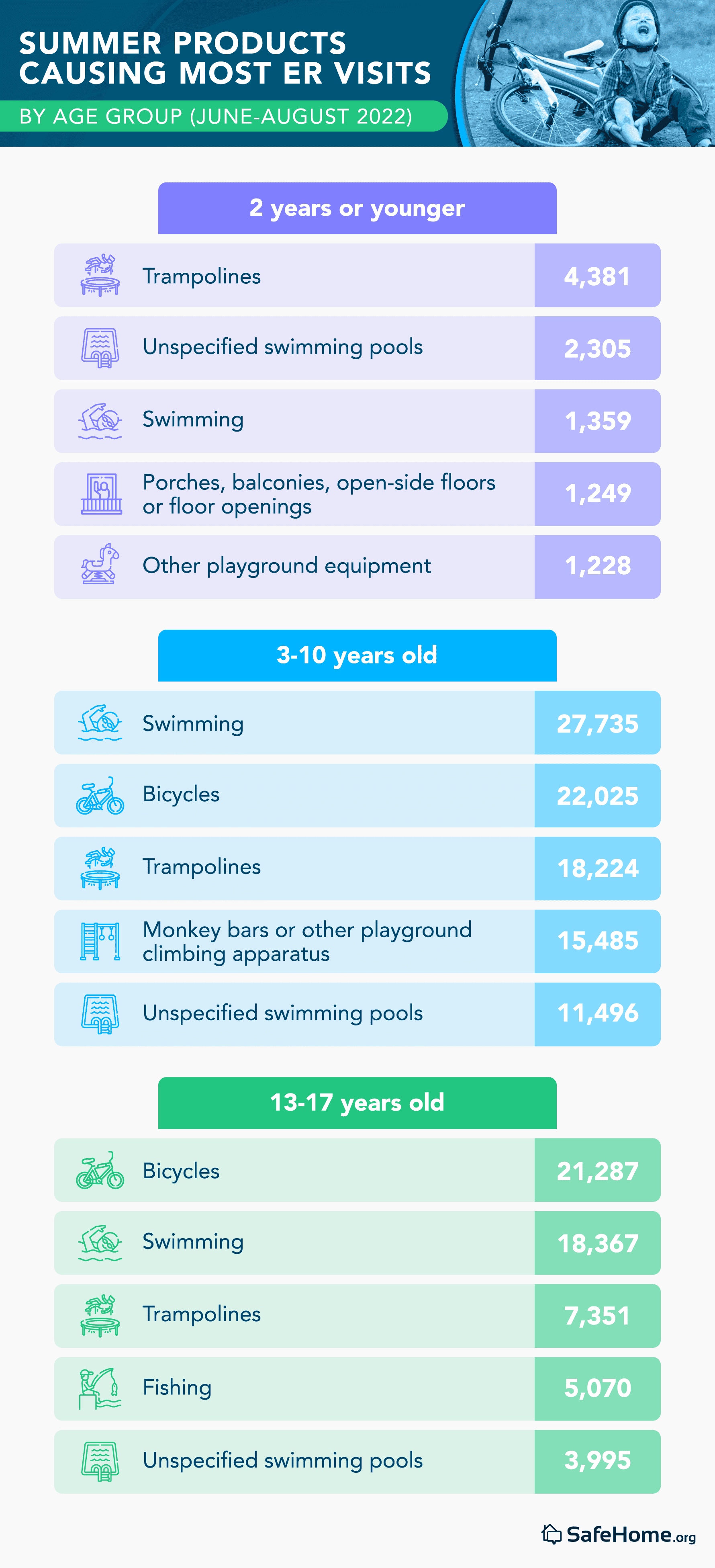 2 years or younger
Trampolines are the leading cause of injuries in this age group, which is quite different from the older age groups, where swimming and bicycles are top hazards. Porches, balconies, open-sided floors, floor openings, and other playground equipment are more dangerous for this age group than the other groups since these little ones aren't able to navigate them as bigger kids can. To prevent accidents among this vulnerable group, parents can:
Always maintain close supervision during playtime, especially around water and trampolines.
Ensure that play areas are age-appropriate, well-maintained, and free of hazards.
Install safety measures like baby gates to restrict access to dangerous areas like stairs, porches, and balconies. Never leave infants or children alone on porches or balconies even with railings.
3-10 years old
Swimming and bicycles dominate the list of hazards for this age group, indicating that these activities become more popular and potentially more dangerous as children get older and more active. Monkey bars or other playground climbing apparatus are major hazards for children aged 3-10, while they are not on the list for the youngest age group or teenagers.
To keep this age group safe, parents should:
Provide swimming lessons and enforce strict water safety rules, such as not diving in shallow areas or running near the pool edge.
Encourage using helmets and other protective gear while riding bicycles, and teach children about traffic safety.
Supervise playtime on trampolines and playground equipment, promoting safe behavior and age-appropriate use.
13-17 years old
Fishing emerges as a top hazard for teenagers aged 13-17, which is not a common risk factor in the younger age groups. This indicates that children may encounter different risks as they age and explore new activities. Unspecified swimming pools remain a consistent hazard across all age groups, but the risks may differ depending on the child's age and the activities they engage in around the pool. To help prevent accidents among this age group, parents can:
Reinforce the importance of wearing helmets and adhering to traffic safety rules while biking.
Encourage responsible behavior around water, including swimming with a buddy and avoiding risky activities like diving in unknown waters.
Discuss safe fishing practices, such as handling sharp equipment carefully and being aware of the surroundings.
Continue emphasizing the importance of safety and supervision when using trampolines and swimming pools.
By understanding the specific risks of each age group and implementing tailored prevention strategies, parents can help ensure their children enjoy a safe and fun-filled summer.