How Consumers Choose Home Security Devices
There are several key reasons why people protect their homes with security systems. For nearly three in four users in our study, the primary reason for their home security systems was to improve their overall sense of safety. We found that users' sense of safety increased with the number of components that people used. Video doorbells, video surveillance, and alarm systems all created an equal sense of increased security among users.
While a "sense" of safety is necessary, the actual effectiveness of a security system is also essential, which is the point of installing them. Studies show they can be effective deterrents for criminals, and burglars often avoid homes if they know alarms are present.
| Why did you decide to use a security system in your home? | Percent of users |
| --- | --- |
| To improve my overall sense of safety | 74% |
| Protect my children | 27% |
| I frequently spend time away from home | 26% |
| I own lots of valuable items | 18% |
| I've had break-ins or crime experiences in the past | 17% |
| It was already installed when I moved in | 14% |
| I live alone | 13% |
| There are older adults in the home | 11% |
| I live in a crime area | 10% |
| I live in an area prone to fires or disasters | 6% |
Other popular reasons for installing security systems were to protect children and monitor the home while away. Overall, home security considerations appear more motivated by the possibility of becoming a crime victim than actual experience. Just 17 percent of consumers surveyed reported being victims of break-ins and other crimes. Their primary consideration in installing home security systems was reducing the chance they would ever have to go through such an ordeal again.
Only 10 percent of users turned to home security systems because they lived in high-crime areas. This may indicate that people who live in areas with lower crime rates still have concerns and want to increase their sense of security.
Top purchase decision factors
When it came to actually choosing a system, user-friendliness and price were the most influential factors. System prices can range significantly depending on their complexity and the number of components. Still, for the users in our study, the median initial cost for security equipment and setup was $300, and the median monthly fee for monitoring or memberships was $10.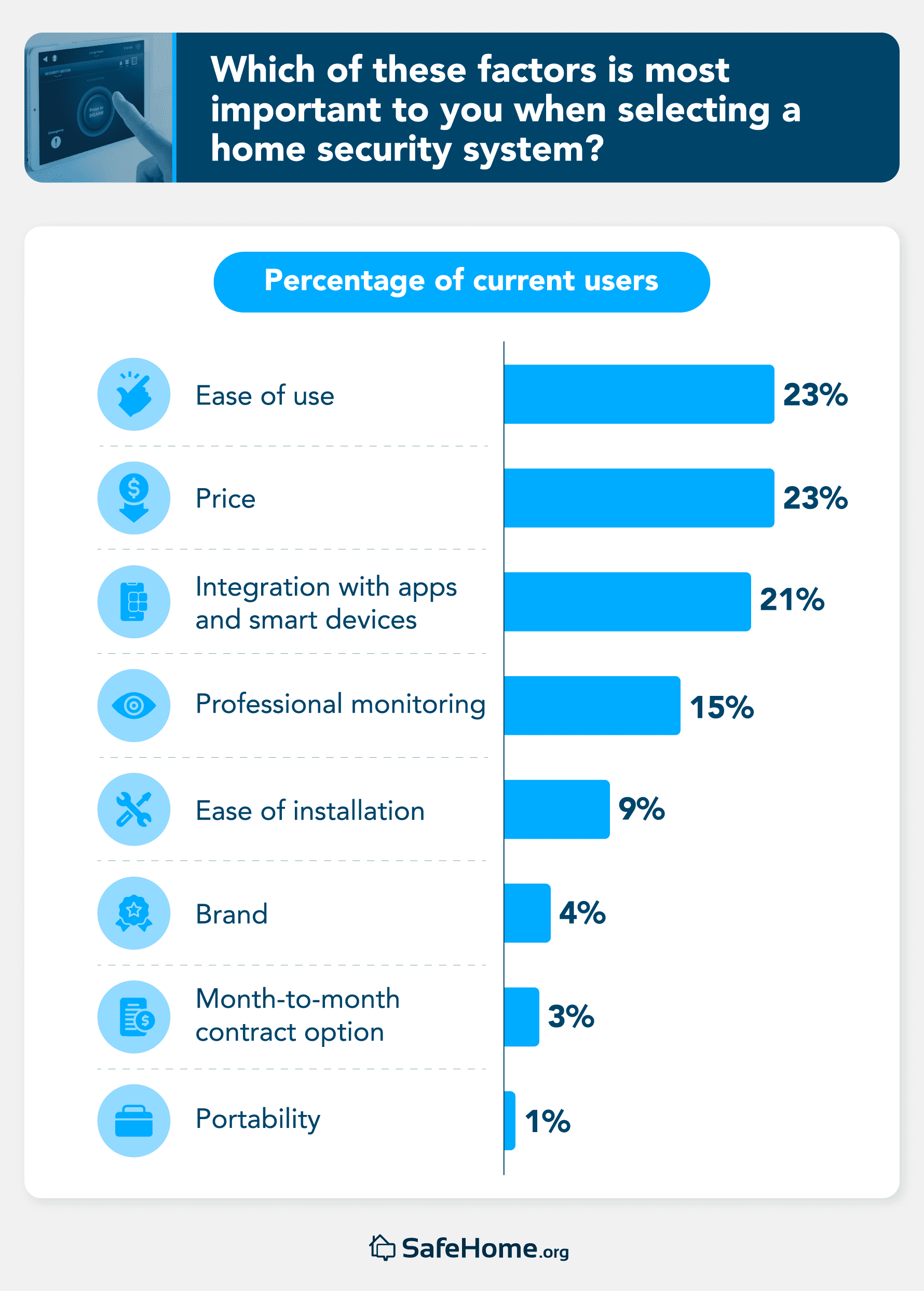 Mobile app integration was nearly as important as price when choosing a home security system. According to Chris Carney, CEO and founder of home security provider Abode, this factor should be at the top of consumers' minds when choosing security solutions.
"Customers are looking for solutions that help unify multiple aspects of their lives to help make life easier and more secure," Carney said. "For that reason, a security system that heavily emphasizes connectivity and interoperability is the type of system growing the fastest."
With all of the options and features available on the market today, choosing the right home security solutions can be overwhelming for some shoppers. However, Carney had some advice to help shoppers narrow down their options.
"One of the best places to start when shopping for a home security system is to identify a problem or need you'd like solved, and shape your system around that. If knowing when your kids arrive home from school is most important, consider a system that supports a video doorbell, smart lock, and door/window sensors to inform you when they're home," Carney explained.
"Off-label" uses for home security systems
Besides preventing break-ins or thefts, people use their security systems for many other purposes. Video-enabled devices allow people to check in on activities occurring in and around the home from remote locations. Over two in three users said they'd screened visitors at the door using their devices, and 65 percent have checked to see if packages are delivered. This is a good idea since package theft is a growing issue in the U.S. today.
| For which of these activities have you ever used your home security system? | Percent of users |
| --- | --- |
| Check home when you are away | 70% |
| See who is at the door before answering it | 67% |
| See if a package was delivered | 65% |
| See if family members arrived or left home | 37% |
| Check on your car | 30% |
| Monitor pets | 29% |
| Check for food deliveries | 27% |
| Fire alarm | 17% |
| Check on kids | 16% |
| Check on babysitter | 3% |
Thirty-seven percent of users have checked their home security cameras to monitor the coming and going of their family members, and many others have checked cameras to see if their food deliveries had arrived. These show that home security devices aren't just for emergencies but can make everyday living easier.