Owning your own home is a significant accomplishment and one that you should be proud of. But it goes without saying, homeownership does come with some serious responsibilities.
One task that ought to rank pretty high on your to-do list is making sure your home is protected. That means researching security systems and evaluating which one is the best fit for you and your family. But, oy! There are so many companies to choose from and so many things to keep in mind when shopping around. Not to worry, we did the heavy lifting for you.
We carefully researched, tested, and compared two well-known security system providers: ADT and Vector Security. Keep reading to find out what we learned so that you can make a more educated decision on your journey of home security discovery.
What ADT and Vector Have in Common
After a thorough investigation, we found a surprising amount of parallels between the two security giants. Both ADT and Vector take pride in their reputations as being leaders in the industry and each offer highly effective systems for protecting both homes and businesses alike. To top things off, both ADT and Vector offer an assortment of add-on options and give you peace of mind with 24/7 monitoring services.
Let's take a closer look at the similarities between the two industry titans:
Mobile app capabilities
Medical alert devices
Environmental hazard sensors
Professional installation
Indoor/outdoor video surveillance
Serve residential and commercial clients
Mandatory three-year contracts
Both companies handle emergencies primarily the same way: they utilize cellular service to support their emergency connectivity and send notifications via text message or through their mobile app (a big win in this age of mobile connectivity).
Did You Know? ADT and Vector will both notify the proper authorities in the event of an emergency. But we must say, we've found ADT's monitoring to be more reliable and responsive compared to Vector Security, in part because ADT has six monitoring centers around the country that can cover for each other in case of outages.
As you can see, these popular brands do share some key similarities. But, let's take a look at how ADT and Vector Security differ after going toe-to-toe with one another.
What Sets ADT Apart
We, like many of you, are well aware of ADT's legendary status across the field of home security. They are easily the most established and recognizable security company across the nation, with over 145 years of experience in the industry. They place a lot of value in their reputation, and, after having tested and reviewed ADT, we can see why.
ADT provides:
Cellular and landline connectivity: This makes for reliable emergency connections when needed (especially for folks who live in rural areas). Several package options: Instead of selling only a few packages and plans, you can customize your ADT system to suit your tastes, and even add advanced features such as home automation.
Coast-to-coast service: This is an ideal option for those who often relocate and want to maintain their security system without a big headache. ADT will even help you out in setting up a new ADT system at your new address with discounts and special deals.
Professional installation: ADT has one of the best professional installation teams we've ever come across. It's fast and painless, and the technician will stick around to show you how to work your new system.
When it comes to pricing, ADT offers three base packages with a $125 startup cost for each. Keep in mind, however, that you can upgrade each of these packages to your heart's content.
The Traditional Package: Comes with 24/7 monitoring and runs about $28.99 per month.
The Control Package: Comes with 24/7 monitoring and home automation and runs about $36.99 per month.
The Video Package: ADT's most comprehensive package, this one comes with 24/7 monitoring, home automation, and video options and runs $55.99 per month.
Each ADT home security package starts off with a keychain remote, a control panel, three entry sensors, a motion detector, a siren, a backup battery, and signage. The number of devices increases with each package, and you can also purchase a video doorbell with two-way communication.
FYI: ADT requires either a 24- or 36-month contract, depending on where you're located. What we like about ADT's agreement is that they offer a six-month money-back guarantee. So while contracts aren't our favorite, at least you have a cushion to fall back on in the event it doesn't work out.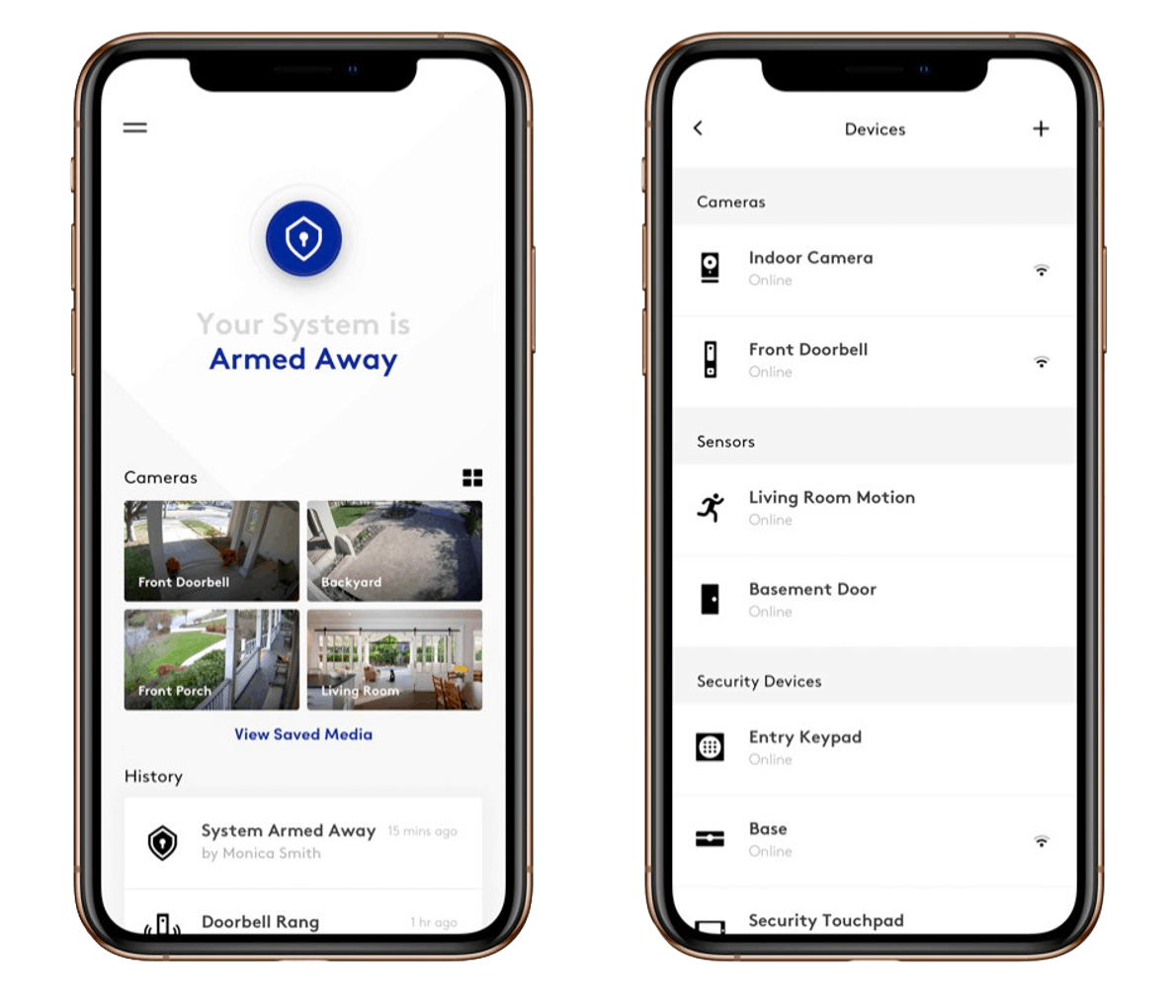 Although it's not a perfect system (for instance, they don't offer self- monitoring), having ADT signs in your front yard definitely adds an additional feeling of security. Would-be burglars just might see your imposing ADT sign next to Larry the Lawn Gnome and keep on walking. At any rate, there are a number of reasons why ADT perennially makes our top 10 best security systems list.
What Sets Vector Security Apart
Although Vector does provide many of the same features as ADT, there are some important things to consider before pulling out your pocketbook or purse.
First off, while ADT is nationwide, Vector Security is licensed in just 32 states (in the Midwest, the East Coast, and the Southern U.S.). This can become a significant issue for those homeowners looking to make a change in scenery. Vector Security offers relocation services, but it can be challenging if you decide to move out of Vector's service area. To add to this worrisome news, contracts are not always available for relocation, meaning you could be hit with some pretty excessive cancelation fees as a result.
When it comes to pricing, we're afraid we can't give you exact numbers here. Vector does not release prices for any equipment or packages until the initial home evaluation/consultation. However, we were able to dig up that their monitoring fees run approximately $40 per month.
Pro Tip: Want to know how much Vector costs? You'll have to schedule a home evaluation. It's the only way to get an exact figure. With this in mind, you might be better off choosing from our top-rated DIY home security companies that are transparent with their pricing.
Vector Security also claims to have no up-front costs, but again, no exact prices are given until consultation. To round things out, a five-year contract option is available in addition to the required three-year contract. Honestly, with respect to pricing and terms of contract, Vector is right in line with ADT.
On a positive note, similar to ADT, each package that Vector offers can be customized to meet your needs, and no two packages are ever the same. We really like the flexibility and abundance of options here.
FYI: Vector offers cloud storage for video clips and surveillance footage. Like ADT, they also have smart lights and thermostats for energy savings, as well as other state-of-the-art technology for home automation.
ADT vs. Vector Security: So Which Is Best?
The answer depends on you and what you're looking for. If you're seeking a branded, well-known security company, believe you'll be relocating at some point, and feel comfortable paying a slightly higher price, then ADT could be a great fit for you.
On the flip side, Vector Security does offer quality equipment with state-of-the-art technology and can provide excellent home automation for those who know they'll be staying put in Vector's service area.
The way we see it, you'll likely be secure and content with whoever you choose. It all boils down to what you're looking for to best protect you, your family, and your hard-earned investments. With that said, we have to give the edge to ADT. The company is much more established, their 24/7 monitoring is top-notch, and they have one of the best professional installation services we've seen.