Alert Systems & Monitoring Plans
One Call Alert offers five alert systems, each with their own features and devices. I am going to dive into each below, starting off with the at-home category, which is a great option for seniors who mainly stay close to home. Then, it is on to the mobile alert systems for seniors who live a more active lifestyle and would like the freedom to travel with confidence and added protection.
Finally, I'll also look at their mobile bundled plan, which adds coverage for another person in the home, as well as a more comprehensive subscription that combines in-home and on-the-go coverage.
FYI: One Call Alert includes the cost of equipment in their monthly plan price, so you don't have to worry about an additional up-front fee. However, you'll have to return the equipment once the contract is canceled.
At-Home Alert Systems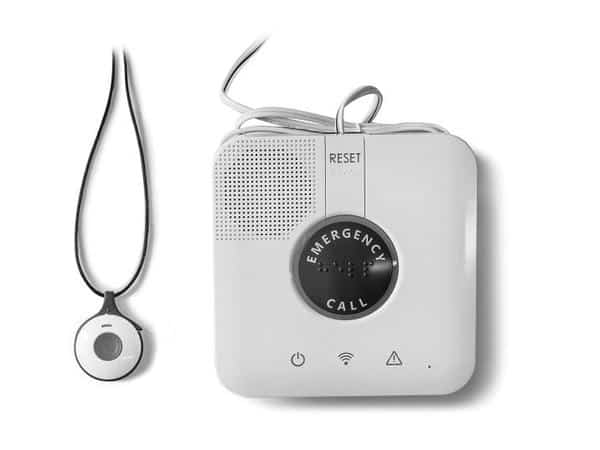 In-Home Landline
This system includes a base station and your choice of wrist or necklace pendant help button. It's a no-frills design, in our opinion, but it provides reliable coverage with 1,300-ft. range at a low price of $24.95 per month. While we consider it to be a fairly bare-bones plan, we think it offers similar value compared to Medical Guardian's $30 per month standard system.
Who It's Best For: One Call Alert's In-Home Landline is best suited for seniors who prefer the comfort of home and have a landline.
In-Home Wireless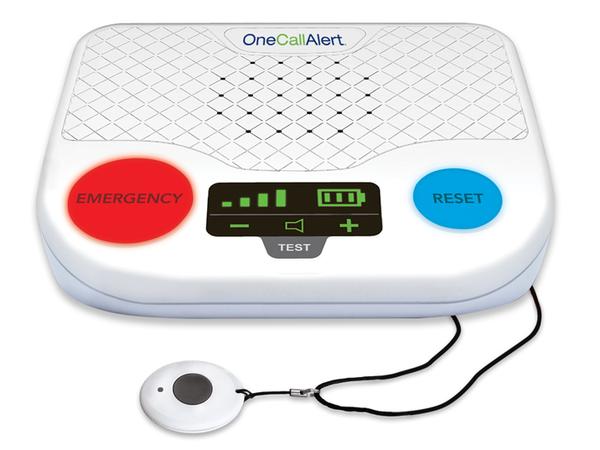 We appreciate the reliability of this cellular-based at-home system, which doesn't require you to have a landline or internet connection. At $19.95 per month, we've found it to be a pretty good deal for the industry. We think it compares well to Bay Alarm Medical plans, also starting at $19.95 per month.
With One Call Alert's In-Home Wireless unit, you get the same high-quality base station and waterproof wearable button, as well as slightly more range at 1,400 feet. Not bad! That said, they do charge a one-time $49.95 up-front fee in order to subscribe. That fee is waived if you opt for the annual payment plan. Definitely something to bear in mind.
Who It's Best For: In-Home Wireless is best for seniors who want the reliability of cellular monitoring and a little extra coverage at home.
Mobile Alert Systems
Mobile On-the-Go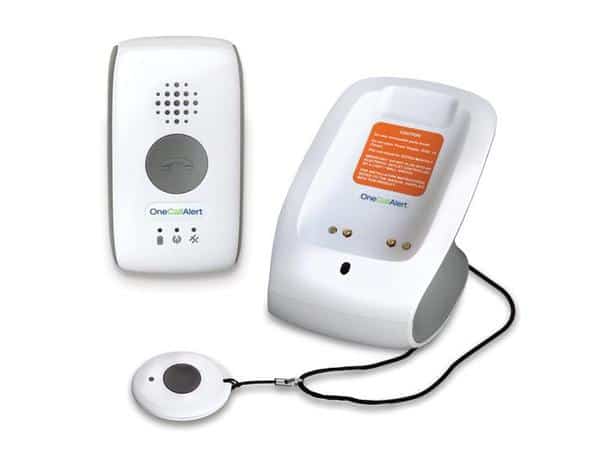 This all-in-one alert system keeps you protected both at home and when you're out and about. It's a little on the clunky side, but its GPS tracking technology gives you the flexibility to live an active lifestyle so that you feel more confident running errands or meeting with friends. At $37.95 per month, this system is on the lower end of the price range that I see for mobile alert systems. However, for the same price point, or just a tad higher, you can find a device with a sleeker design.
Who It's Best For: The Mobile On-the-Go is best for seniors looking for nationwide cellular coverage to travel with more peace of mind.
FYI: Both the wrist button and pendant have a 600-foot range with One Call Alert's mobile device. While not as impressive as the at-home system range of up to 1,400 feet, it is still nearly the length of two football fields!
Mobile Double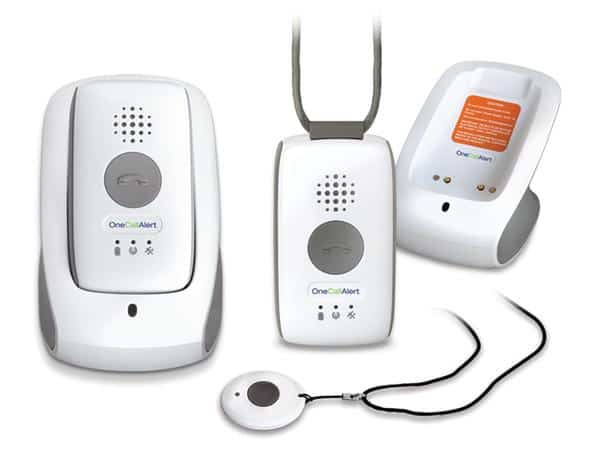 This is One Call Alert's most expensive alert system, but it allows you to bundle your On-the-Go plan to include coverage for a spouse or loved one. At $44.95 per month, it's not cheap; yet it's still relatively affordable for a system that will protect two seniors. You'll receive two waterproof devices that don't require a landline or internet, plus your choice of one wearable help button. I like that a system for couples is offered but wish that One Call Alert would include a second help button with the order. Mobile Double does come with features like two-way talk and the free key lockbox perk we mentioned.
Who It's Best For: Mobile Double is best for active seniors who would like to ensure another loved one is protected while away from home.
Complete Protection
This is One Call Alert's most comprehensive system, offering complete emergency protection at home and on the go, with no landline or cell phone required. The subscription costs $41.95 per month and comes with a two-way talk base unit and mobile device with GPS tracking.
While I do question the need for a separate base unit when the mobile device essentially can act like a base unit while in the home, I do like that it comes with a 32-hour battery backup for an added layer of protection. This plan also includes one waterproof wearable help button (wrist or lanyard style), as well as free ground shipping.
Who It's Best For: Complete Protection is best for high-risk seniors who want full protection for at-home and on-the-go coverage.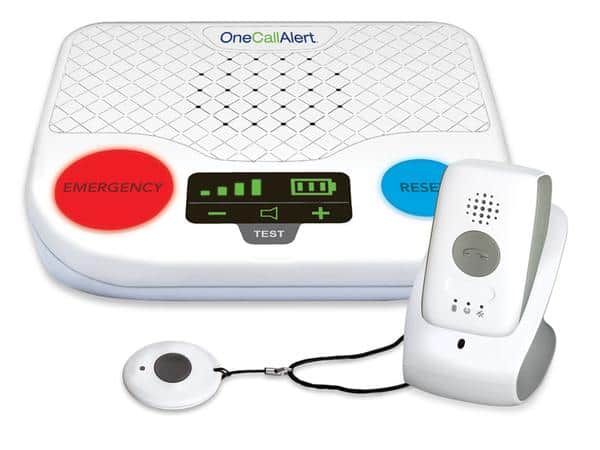 Pro Tip: One Call Alert's caregiver portal, MobileHelp Connect, enables caregivers to receive alerts when their loved one presses the help button, as well as allows them to access location detection through GPS.