You probably know Comcast for its high-speed internet, phone, and cable services. But this telecommunications giant also offers home security through their subsidiary called Xfinity. It's called Xfinity Home — and from our research and testing, these intelligent systems provide total home protection and smart home automation. While it's not exactly cheap, their packages and plans are straightforward and easy to understand. Best of all, Xfinity offers deals if you bundle their other services with home security. But how do the packages, plans, and pricing compare to other brands on the market? Let's take a look.
Key Features
Remote Control
Home Automation
Medical Response
Intrusion Protection
Wi-Fi and 3G Cell Alerts
Professional Installation
Low Monitoring Fees
Xfinity Home Security Pricing
Xfinity Home systems can be a bit pricey if you don't bundle. They offer two main equipment packages and two monitoring plans. You can finance the equipment packages interest-free for 24 months, costing you only $15 or $20 per month, depending on the kit you choose. You can also purchase the equipment upfront for $360 or $480 to dodge those monthly payments.
| Xfinity Home Security Equipment | Price |
| --- | --- |
| Base Home System | $15 per month or $360 upfront |
| Complete Home System | $20 per month or $480 upfront |
We'll discuss these two packages in more depth, detailing exactly what you get for the money. But for now, it's important to know that these prices are about 15% higher than the industry average. This cost wasn't a deal-breaker for us, as we expected Xfinity to perform well with modern devices like touchscreen control panels and advanced smart home automation features.
Now, it would be nice if all you had to pay was $15 or $20 per month for home security and automation. Unfortunately, that's just the tip of the iceberg with Xfinity Home. Customers are also required to sign a two-year professional monitoring agreement. This arrangement will set you back another $40 or $50 per month, bringing your total costs for equipment and monitoring to $55 per month on the low end and $70 per month on the high end, if you finance your equipment.
| Xfinity Monitoring Plans | Price |
| --- | --- |
| Home Security Plan | $40 per month |
| Home Security Plus Plan | $50 per month |
If your budget allows for it, we recommend biting the bullet and buying the equipment outright. If you go this route, you'll only pay $40 or $50 per month for Xfinity's 24-7 professional monitoring. We'll dive deeper into the value of their monitoring plans, but you can expect features like smart home controls, real-time alerts, live HD video, and a nifty feature that lets you control your security system with your TV remote.1
Overall, we found Xfinity's monthly monitoring costs to be on par with the industry average. But keep in mind, you're required to sign a two-year contract, which we never like to see. Also, Xfinity's customer service could use some improving. You can read more about this in our full review of Xfinity.

Pro Tip: If you purchase Xfinity equipment upfront, you own the equipment, allowing you to switch monitoring services when your two-year agreement ends.
Here are a few other Xfinity features to consider:
Xfinity Home Features
| | |
| --- | --- |
| Fully Monitored? | Yes |
| Contract Required? | Yes |
| Monthly Cost | $30+ |
| Best For | Bundling |
Xfinity Home Equipment Packages
Xfinity offers several bundle package variations, but they recently simplified their core offerings down to two equipment packages: Xfinity Base Home and Xfinity Complete Home. For the price, we actually like what these packages bring to the table.
Their user-friendly touchscreen control panel looks and feels much better than the plastic panels many other brands offer. Even their base package comes with a small handful of entry sensors, while most companies only include one sensor in their base kit. Another thing to consider is that Xfinity requires professional installation, meaning a technician must visit your home to install the system.
Xfinity Base Home System – $15 per month or $360 upfront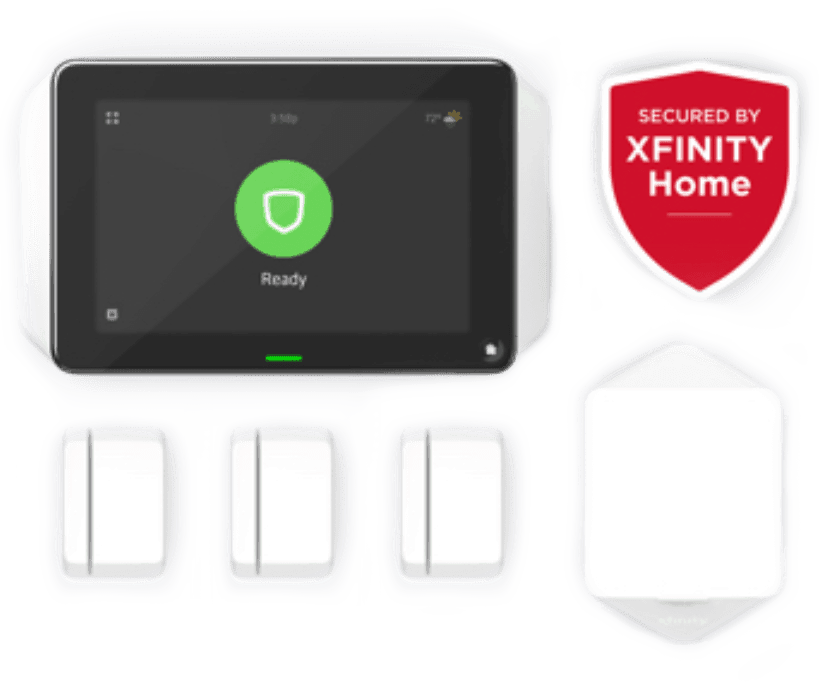 The Xfinity Base Home System includes everything you need to secure a small home. It's battery-powered with a cellular backup feature. It also allows you to access and control your system using the Xfinity mobile app on your smartphone.2 However, if you have more than three entryways into your home via windows or doors, you'll need to purchase extra sensors, which can get expensive with Xfinity. The Xfinity Base Home System includes:
1 touchscreen control panel
3 window or door entry sensors
1 pet-friendly motion sensor
1 Xfinity Home Security yard sign
Xfinity Home app for remote control
Battery and cellular system backup
Did You Know: A pet-friendly motion sensor is capable of ignoring dogs and other pets, which helps to reduce false alarms.
Xfinity Complete Home System – $20 per month or $480 upfront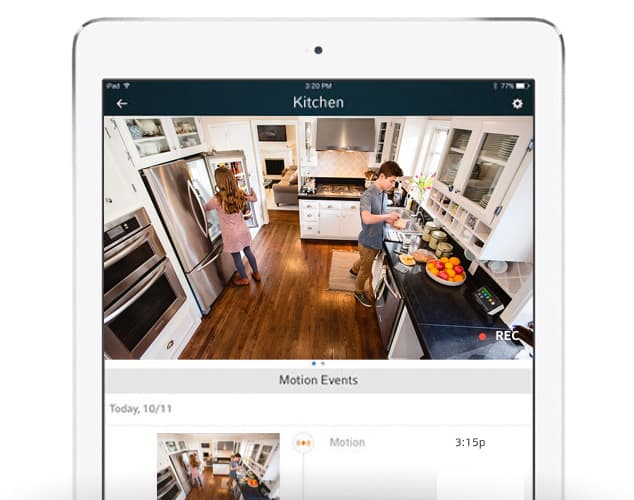 The premium equipment package offers everything in the Base package, plus two additional door and window sensors, a wireless keypad, and an HD indoor and outdoor Xfinity camera. If you can swing it, we recommend this package over the Base package. The price difference is $120, but you get an additional $200 worth of devices. In our experience, installing a security camera takes home protection to another level. The Xfinity Complete Home System includes:
1 touchscreen control panel
5 window and door entry sensors
1 pet-friendly motion sensor
1 wireless keypad controller
1 indoor or outdoor HD Xfinity camera
1 Xfinity Home Security yard sign
Xfinity Home app for remote control
Battery and cellular system backup
As far as equipment quality goes, Xfinity just makes the grade. There's nothing really special about their equipment design or build. During testing, we examined the products from every angle. The devices felt decent in our hands, but only slightly better than more affordable systems like Ring or SimpliSafe. And they didn't quite compare to the likes of Vivint or ADT when it came to quality of construction.

FYI: You really don't need equipment that lasts a lifetime, especially if most of the equipment is installed indoors, as is the case with Xfinity Home.
Xfinity Home Monitoring Plans
Once you choose an equipment package, you'll need to decide on a monitoring plan. Xfinity monitoring provides around-the-clock protection, keeping you connected to their professional monitoring center at all times. If a break-in occurs, their agents will reach out and dispatch emergency responders if needed. This service comes standard with each Xfinity plan. And it's decent — we experienced 30 second response times on average, which is typical in the industry. But both plans offer more than just monitoring. Here's what they include:
Xfinity Home Security Plan – $40 per month
This "basic" plan will get you up-and-running with a few extra features. These features include:
24-7 professional monitoring
Smart home automation
Instant mobile alerts
Cellular system backup
Live HD video monitoring
Remote control via their mobile app
Works with Xfinity X1 to view cameras on your TV
It's rare to see a base monitoring plan include home automation and live video monitoring capabilities (hence "basic" in quotes). At a $40 price point, we think it's a good deal. But you have to ask yourself: do I want more advanced features like motion-activated video recording and artificial intelligence for a little extra per month? If so, you'll want to check out Xfinity's Plus plan.

Keep in Mind: Although Xfinity offers Live HD video monitoring in their base plan, accessing this feature requires the purchase of their camera(s).
Xfinity Home Security Plus Plan – $50 per month
This plan includes everything in the $40 per month plan, plus the following features:
24-7 video camera recording
Motion-triggered recording
Built-in artificial intelligence (AI)
AI distinguishes between people, vehicles, and pets
While it's not cheap, $50 per month is a decent deal for total home protection, plus smart home automation and advanced video options. Brands like Vivint and ADT charge about $60 per month for similar monitoring plans.
Add-On Equipment Costs
Xfinity Home Security is similar to other high-tech brands when it comes to add-ons and customizations. That is, you can enhance your system with a number of additional devices. These upgrades include everything from smart smoke detectors and thermostats to cameras and keypads. While you do have some freedom to customize, we would specifically like to see more Xfinity cameras offered in their lineup.
Xfinity Add-On Equipment Overview
| Xfinity Equipment | Add-On Equipment Type | Cost |
| --- | --- | --- |
| Indoor and Outdoor Cameras | Camera | $120 |
| Zen Thermostat | Thermostat | $120 |
| Smoke Detector | Smoke Alarm | $70 |
| Outlet Controller | Automation | $50 |
| Door and Window Sensor | Sensor | $20 |
| Door and Window Sensor | Sensor | $20 |
| Wireless Keypad | Controller | $40 |
Xfinity Home Security Features
Smart home enthusiasts will find good value in Xfinity Home Security. Similar to advanced systems like Vivint, you'll enjoy remote access and controls using Xfinity's sleek mobile app.3 Also, Xfinity systems work with third-party home automation devices, so you can customize your smart home ecosystem to suit your needs and personal tastes.4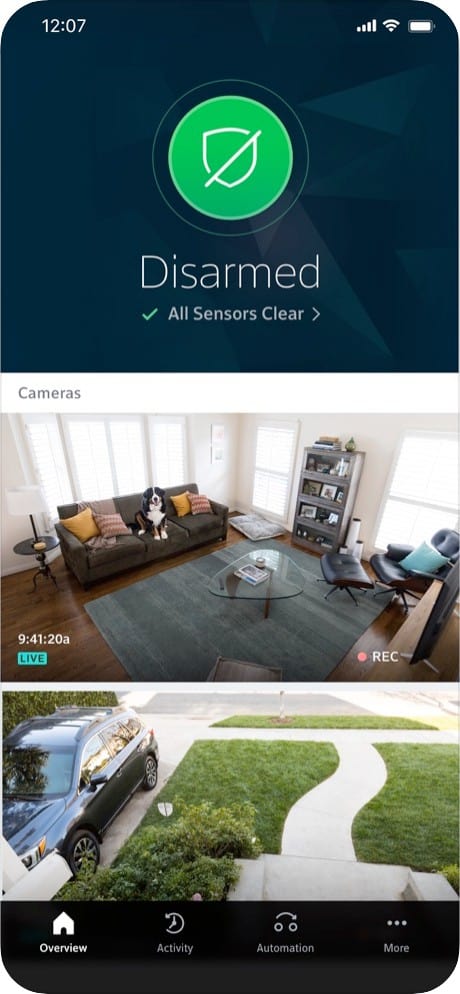 If you're a current Comcast customer, or if you bundle their cable package, you'll be able to control your entire system using the same remote control that you use for your cable. From our experience, it's a nice touch. It's certainly more convenient than pulling out your smartphone and opening the companion app to arm or disarm your system or control other commands.5 Overall, Xfinity Home delivers quite the feature-set. But again, we would like to see more security camera options added to their offerings. Also, a DIY installation option would be nice.

| | |
| --- | --- |
| MOBILE ALERTS | With Xfinity Home, you can set up real-time alerts for instant notifications of things happening in your home. You can customize these alerts to your needs. |
| SURVEILLANCE CAMERAS | Xfinity offers indoor and outdoor cameras for your home. You can keep tabs on your home from anywhere with Xfinity's live video recording, allowing you to record, rewind, and review up to 10 days of footage. |
| REMOTE CONTROL | You can control your Xfinity security system using the same remote control that you use for your Comcast cable. The remote responds to voice commands, as well. |
| PROFESSIONAL INSTALLATION | Xfinity Home security system is installed by a trained technician. The professional installation comes with a variety of advantages and extras. A Comcast technician will come out and provide a personal assessment of your home. You'll get a customized security recommendation and a tutorial to help you use your system. |
| 24-7 MONITORING | Professional monitoring is included with every Xfinity Home security system. The response time is quick and reliable. |
| POWER OUTAGE PROTECTION | Battery and cellular backup are included at no extra charge with this system. |
| DISASTER PROTECTION | Various types of disaster and environmental protection are available from Xfinity. With the purchase of optional equipment, Xfinity Home can monitor for smoke, fire, and carbon monoxide poisoning. |
| SMART HOME OPTIONS | Xfinity works with a variety of third-party devices to transform your house into a smart home. Options include LIFX smart lighting, Kwikset Smart Locks, Nest thermostats, and more. |
| REMOTE GARAGE CONTROL | Xfinity Home is compatible with the myQ Garage remote controls by Chamberlain. Connect your Chamberlain garage door opener to your Xfinity Home system to control it from afar. Using the Xfinity app, you can see if you have left your garage door open, or you can open it for your kids when they come home from school. |
Current Deal
New users can expect to pay between $40 and $70 per month for Xfinity Home Security without bundling. Thankfully, Xfinity offers ongoing deals and discounts. We've seen deals like the Xfinity Home Secure package going for $29.99 per month for the first 12 months with an increase to $39.95 per month for the remaining months. We've also heard of 50% off each Xfinity camera (up to four) when you add video recording for $9.95 per month. You can read all about the latest available Xfinity deals and promotions on our dedicated page.
Overall Value of Comcast Xfinity Home Security
From our experience, Comcast Xfinity Home has the equipment and monitoring plans needed to secure your home from top to bottom. The value is certainly there, especially when you factor in their home automation and video monitoring features.
And remember, Comcast Xfinity is a big-name cable company. We found that the Comcast Internet availability area covers 39 states and provides service to a whopping 111.6 million people.6 So needless to say, you shouldn't come across any connection issues with your Comcast Xfinity home security system. The company is connected!
Of course, their equipment isn't the most affordable, but they do offer interest-free financing to help soften the blow.
A couple of things we don't like about Xfinity are the required two-year contracts and no options for do-it-yourself installation. Also, a few more security camera options would be nice. But all in all, if you're searching for straightforward packages and monitoring plans that won't drain your bank account, then Xfinity Home might be a good fit for you.
Xfinity Security FAQs
How much does Xfinity home security cost?
Xfinity home security starts at $29.99 a month and can be bundled with other Xfinity services.
What is included in an Xfinity home security package?
The most basic Xfinity Home Secure package includes professional monitoring, three door and window sensors, a touchscreen control, motion sensor, and a keypad. Additional services and pieces of equipment can be added on to create a more tailored system.
Does Xfinity offer professional monitoring?
Yes, all Xfinity security systems come with 24 hour professional monitoring. If an alarm triggers an event, the system will notify the police or other emergency services.
How do I view my Xfinity security cameras?
Xfinity provides an app that allows users to monitor their system from a distance.
Does Xfinity home security include environmental controls?
Yes, depending on the system you select, you can purchase environmental controls for Xfinity. This includes smoke monitoring.
Does Xfinity security offer outdoor cameras?
Yes, Xfinity offers outdoor home security cameras.
Do Xfinity home security cameras have night vision?
Yes, some Xfinity cameras include night vision.