Our Experience with Protect America
Choosing a Plan
To get started with Protect America, we used the "Build Your System" tool on their website, but you can also call in to order. Since we had to secure a 2,500-square-foot home, we opted for their premium Platinum package. Note that the biggest difference between the options is the number of entryway sensors included. The more you pay, the more you'll get (that's life!). And with the upper-tier plans, we had the choice to go with the push-button Simon XT panel or the new touchscreen Simon XTi-5. That was a no-brainer. Of course, we went with the touch screen panel. Here's a roundup of what you can expect:
The Copper Kit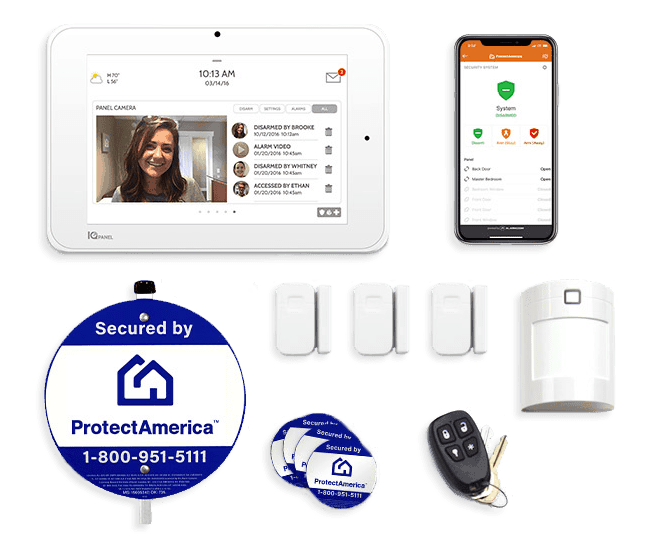 1 Push-Button Control Panel
3 Door or Window Sensors
1 Motion Sensor
4 Door or Window Stickers
1 Yard Sign
The Silver Kit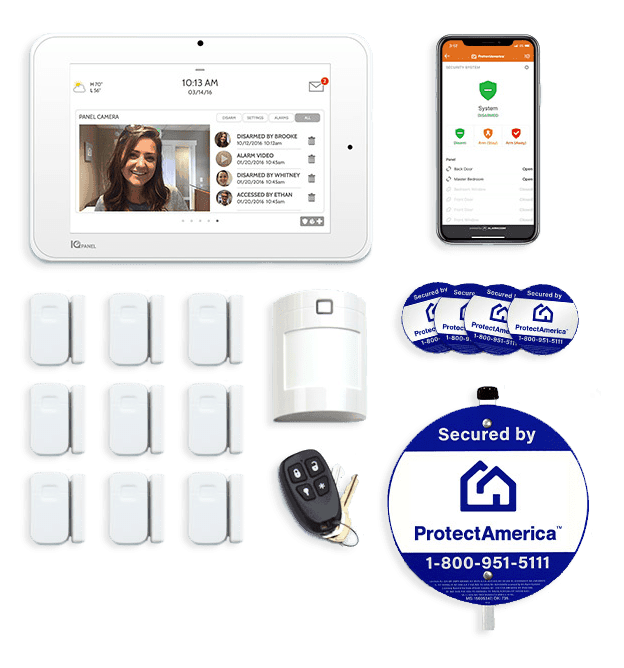 1 Standard or Touchscreen Panel
9 Door or Window Sensors
1 Motion Detector
4 Window or Door Stickers
1 Yard Sign
The Platinum Kit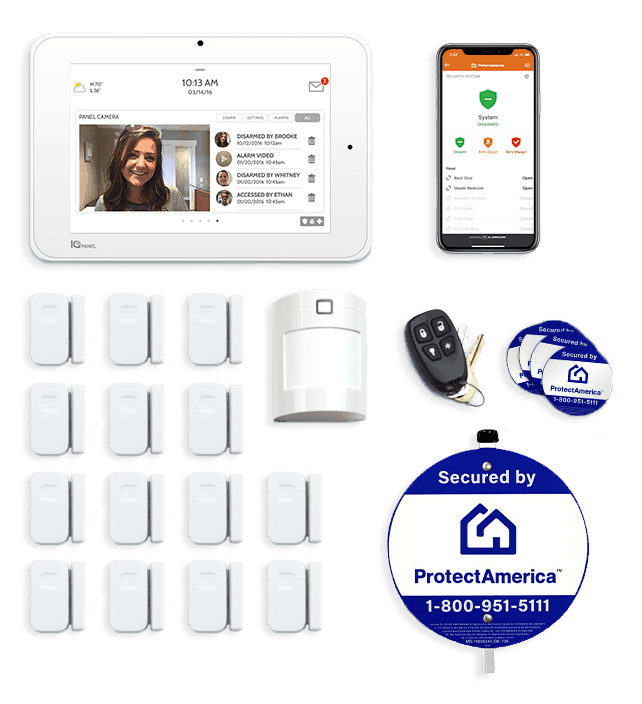 1 Standard or Touchscreen Panel
14 Door or Window Sensors
1 Motion Detector
4 Window or Door Stickers
1 Yard Sign
If you live in a smaller home or apartment, the Copper kit might do the trick. But chances are you have multiple entry points that only the Silver or Platinum kits will cover.
Once we chose our equipment package, we then had to decide on a monitoring plan. We go over the three different monitoring options in our Monitoring section below. But for now, just know that you can choose between landline, broadband, or cellular monitoring. We went with cellular monitoring, even though it was the most expensive option. All in all, we were out of the (virtual) door with total home security + home automation for about $55 per month. Not bad at all.
FYI: If you want smart home automation or video support, you'll have to choose either the broadband or cellular monitoring option. The landline option does not support these features.
Contracts
We've tested more than a hundred security systems over the years, so we know how important it is to look over terms and conditions with a fine-toothed comb. The fact is, sometimes you can't avoid contracts or disappointing cancellation policies. Protect America has plenty of both. They require a 36-month contract, love it or leave it (oh wait, you can't leave it!). They also require written notice at least 60 days before your contract expires, lest they roll your contract right into auto-renewal. Honestly, this requirement wasn't a deal-breaker for us, and it shouldn't be for you.
Pro Tip: Always read the fine print! Most company policies — like long-term contracts and tricky cancellations — aren't so bad if you prepare for them.
We did like Protect America's 30-day cancellation policy for new customers. We had the freedom to cancel our service at any point in the first month, knowing they would waive the restocking fee and only charge us for the return shipping of the equipment. We're seeing this 30-day to 60-day grace period more and more these days. And we must say, we like it!
Installing the System
Thankfully, all of Protect America's wireless security systems offer easy DIY installation. The devices come pre-configured and ready-to-go right out of the box. It took us about 20 minutes to set up the base station and mount our door and window sensors around our house. No drilling or wiring was necessary, which is standard for do-it-yourself systems across the industry. Because let's be honest, we're a nation of DIYers, but don't make us sweat for it!
Everyday Use
Compared to other devices we've tested, we found Protect America's Simon XTi-5 touchscreen control panel to be a little bulky with a much smaller display screen of 3.5 inches. We didn't really like the way it looked mounted on our wall (it jutted out a good bit), so we just placed it on the counter. To be honest, we weren't impressed with the product design, but it did perform great for us. We'll touch more on that in just a bit.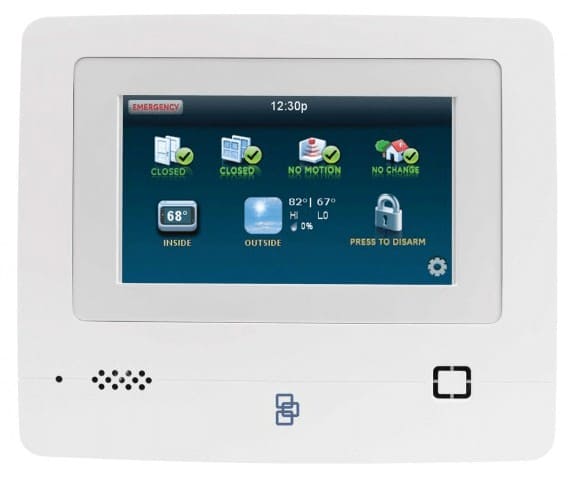 Remember that Protect America is now owned by Brinks, and alarm.com provides the equipment.5 This collaboration is both good and bad. We think it's good because it's easy to use and high-quality. But it's bad because it lacks the innovative features we like to see. Brands like Alder, for instance, make their own equipment and innovate 'til the cows come home.
Controlling the System
We were able to control our system using the company's SMART Connect mobile app. When the alarm tripped, we received instant alerts via the app, and if we had a camera installed, we'd be able to tap into the live feed video using our smartphone from pretty much anywhere.6 Now, this technology isn't exactly ground-breaking. In fact, you can expect app-based controls from 95% of DIY home security systems these days.
However, we do think Protect America is on to something with their Simon XTi-5 touchscreen control panel. If you can look past the clunky design, we think you'll like the voice-alerts, custom chimes, automatic system checks, and the way you can control smart home features, such as smart door locks and smart lights, right from the panel. There's also a built-in panic button in the upper-left corner of the device to summon help when you need it most. Overall, the system is a cinch to control.

FYI: Using Protect America was easy, but not as easy as other DIY competitors like Ring or SimpliSafe.
Customer Service
During our initial research, we did come across a handful of negative reviews. But this is to be expected. Most complaints filed against Protect America involved contract disputes. However, in our experience, they were easy to deal with, and their agents were friendly and professional. The customer support team is available from 8 a.m. to 9 p.m. CT Monday through Friday, and from 9 a.m. to 7 p.m. on weekends. It's important to note that Protect America holds an A+ rating with the BBB.7 And that's nothing to sneeze at!