Hands-On Experience with CPI Security
Getting Started
The sign-up process for CPI Security was fairly straightforward. First, we spoke with a sales rep on the phone to learn about our options. Then we chose an equipment package (we went with the Edge package) and a monitoring plan. At $49.99 per month, the monitoring plan wasn't cheap, but that's the going rate for security + video + home automation these days.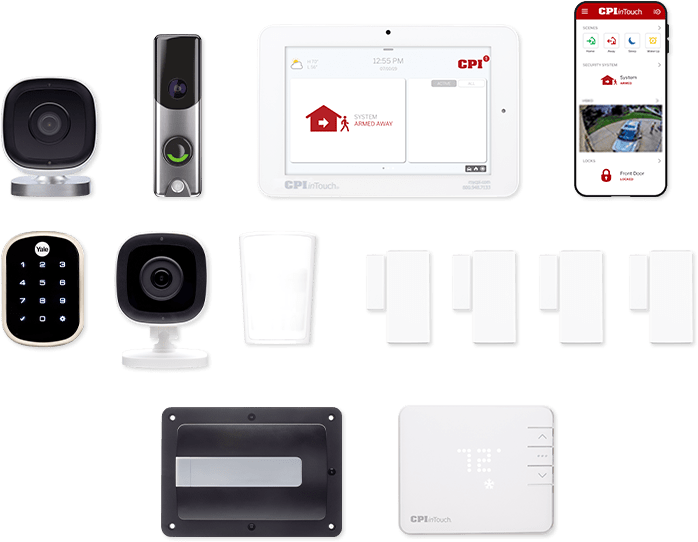 Now, remember how we mentioned that CPI Security only has limited availability? Well, here's something to chew on. If you don't live in the following 12 states, then you're out of luck, as CPI only offers service in these areas:
North Carolina
South Carolina
Georgia
Tennessee
Alabama
Mississippi
Arkansas
Florida
Virginia
Kentucky
Maryland
Delaware
Another thing to keep in mind is that CPI Security doesn't offer a money-back guarantee. In our experience, we're used to decent offers here — like 30-day or, 60-day money-back guarantees. The well-established security company ADT actually offers a 6-month, money-back guarantee! Knowing that a company stands behind its products helps to instill trust. Alas, CPI doesn't guarantee anything.

FYI: Although CPI Security doesn't offer a money-back guarantee, you can exercise your three-day "right of rescission." This is a federal law stating that you can return your purchase for a full refund within three days of the sale date. It pays to know your rights!4
Installation
We like options, and it's nice to at least have the option for DIY setup. So, we were somewhat disappointed to learn that CPI Security requires professional installation. That said, we've almost come to expect it with top brands like ADT and Vivint. Just know that you'll have to schedule a date and time for a CPI technician to visit your home and get your system up and running.5
Depending on the system and how many devices you purchase, installation can take anywhere between 30 minutes and a couple of hours. So just be prepared. One nice thing about professional installation, though, is that the system is more likely to be installed correctly the first time around. Why break a sweat if you don't need to? We live by that motto.
Daily Use and Performance
We found that CPI's equipment was surprisingly well-made — especially compared to the low-end DIY systems out there. They are also somewhat inconspicuous. They didn't stand out at all against our white walls, which is good for two reasons: It makes them harder to spot for burglars, and it's less of an eye-sore for us.
We had some gripes with the entry sensors and motion sensors, though. The entry sensors were tricky to pair with the control panel when we reconfigured the system. They refused to reconnect even though they were connected just a few moments ago. And the motion sensors? They were a bit "trigger happy" or oversensitive. They'd sound the alarm for things like pets and even our robot vacuums. Those aside, we actually liked the equipment. Don't worry, we'll dig into our experience with the cameras in just a bit.
As far as the controls go, we think you'll like the touchscreen control panel and mobile app. Remember, all their packages (except the base Essentials package) come with the touchscreen InTouch™ panel. It's a sleek way to arm and disarm your system, view your live video feed, and automate your home with smart features.
As for the app, it's nice to have control of your system from anywhere using your smartphone.6 We were able to access all the features the inTouch™ panel offers, but from the convenience of our phone. However, we think the interface could use some work. It's definitely not as sleek or easy to use as, say, Ring Alarm's mobile app or Frontpoint's app.
One gripe we have with the app is that it's unnecessarily difficult to navigate. It was easy enough to use to arm and disarm the system, but when we wanted to really dig in and personalize the system – for example, to set up different notification sounds for different types of alerts so we know when it's urgent to check our phones – things got complicated real fast.
It's also worth mentioning that CPI Security has a web app, which you can access from a browser. Compared to the smartphone app, the web app offers more functionality and a wider scope of customizations, but its major limitation is that it works best with a desktop or laptop. We found little to no use for the web app because of that.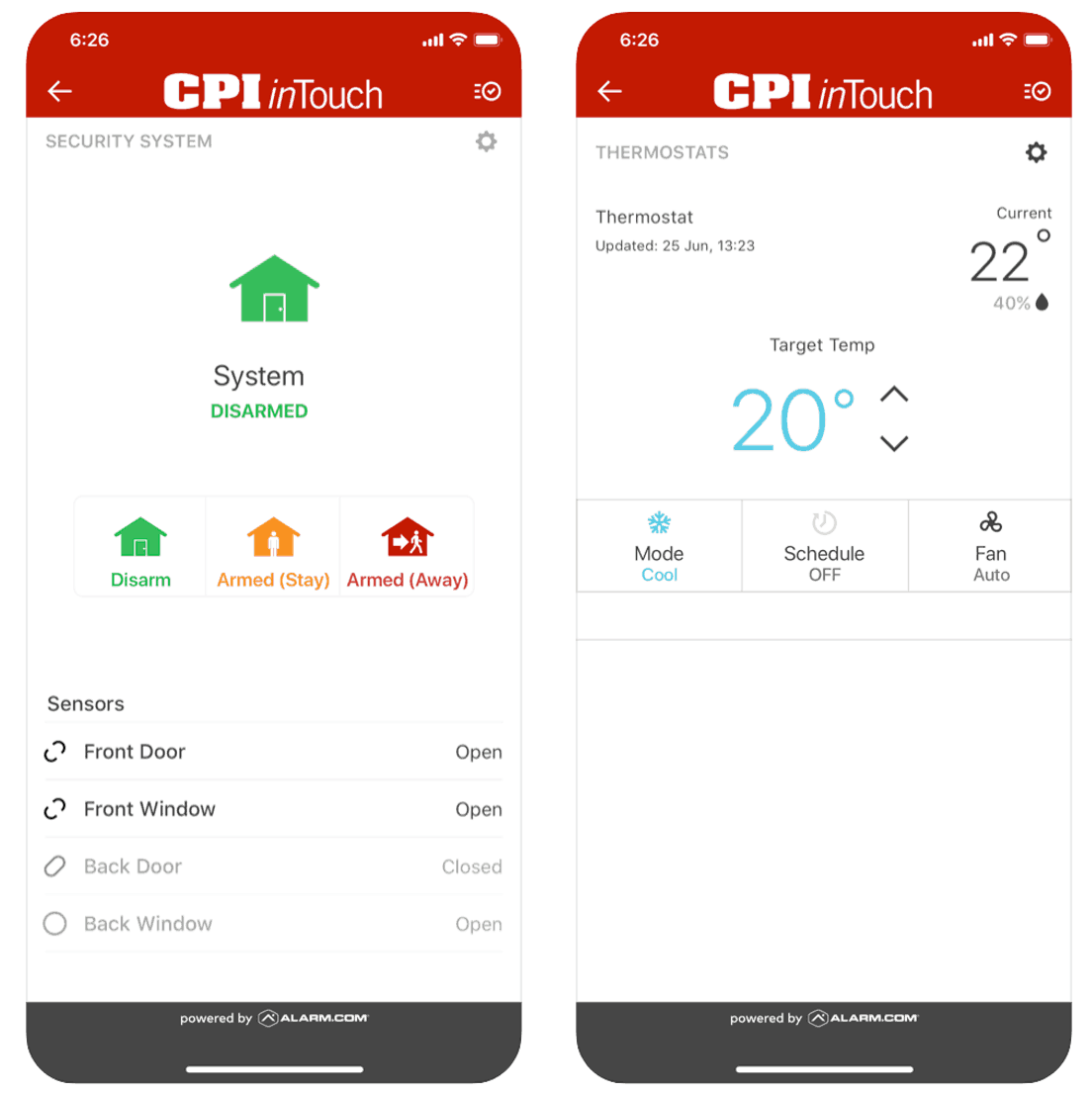 And what about the 24-7 professional monitoring? Well, one look at the CPI Security website, and you'll see they really hype-up their monitoring center. Sure, it's award-winning. And yes, it's a UL-listed facility with a TMA 5-Diamond Certification.7 But aren't most of them? We wanted to know how CPI Security performed in real-world situations. So, we simulated some break-in and package theft scenarios to find out!
Overall, we experienced lackluster response times of about 40 seconds (pretty anticlimactic, right?). However, the video doorbell worked decently. In our fake package theft scenario, it picked up our movement as soon as we walked into frame. We also liked that all CPI cameras offer 1080p HD video and night vision, offering clear footage day and night.
Pro Tip: UL-listed, TMA 5-Diamond Certification are the industry designations for legitimate monitoring centers, staffed by trained professionals. Most of the larger home security brands meet these standards just fine.
Customer Service
You'll see that CPI Security offers three main ways to get in touch: phone, online chat, and email. We've seen user complaints regarding customer service. Again, we like to get in the trenches and find out for ourselves. Well, what we found was average to less-than-average customer service.
Although CPI's call center is open 24-7, our wait times varied, but it sure wasn't fast. One time, we were on the phone for more than 10 minutes. And the online chat function seemed impersonal. It felt like we were chatting with a bot – and maybe we were – because the answers were generic even when we tried to squeeze out more specific replies.
There is a Customer Care Help Center tab on their website, but it only has a few resources, none of which we found helpful. It got us wondering how CPI Security earned itself an A+ BBB rating.8 We'd give them a B+ in this category.