Our Experience with Cox Homelife
Getting Started
As mentioned, we actually found it pretty simple getting started. They only have a couple of options, so checkout was fast and easy. Remember, you'll have to sign a two-year contract before scheduling your installation date and time. Bear in mind that contracts are standard with security systems that include "free" (technically leased) equipment. Another thing to consider is your location, as Cox doesn't serve most states. We won't list them all here, as we've found that the regional availability is constantly changing.
Also, we recommend reading the fine print. We found several hidden fees that we wouldn't have seen otherwise. For instance, if you happen to live in Las Vegas, you'll pay an additional $4 per month for "verified response."3 We won't get into what this means, just know that it costs $4 per month or $48 over the year. And you could've used that $48 to buy one drink on The Strip. You win some, and you lose some.
Installation
Here's another thing we didn't love about Cox Homelife. Now, don't get us wrong, we do think professional installation has its benefits. But we don't like that it's a hard-and-fast requirement. We live in America after all, the land of "roll up your sleeves and do-it-yourself!" That's why we naturally gravitate to DIY systems like SimpliSafe. The good news is that our Cox technician was friendly and professional, and he even gave us a walkthrough of our new system once it was up and running. Also, compared to the industry-standard cost for a professional install, which is about $100, Cox Homelife is pretty cheap at $50.
How It Performed for Us
This juncture is where the rubber meets the road. Once our system was installed, we put it through several break-in scenarios. All in all, it performed well, and we experienced average response times of about 40 seconds. Note that 40 seconds is on the upper end of what's acceptable, but it did squeak by to meet our standards.
The equipment was well made, and the door and window sensors were responsive. In fact, they were slightly sensitive compared to most systems we've tried. Another thing we thought was odd is that the Homelife Hub (the base station), didn't have a push-button keypad or touchscreen controls. It's just, well… a hunk of plastic. If you want the touchscreen control panel, you'll have to purchase it separately.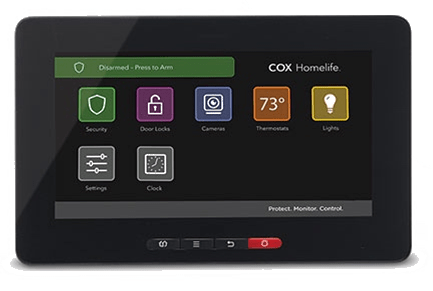 Thankfully, we were able to control our system using the Cox Homelife mobile app.4 The app wasn't anything special, but it allowed us to arm and disarm our system remotely, as well as tap into the live feed of our HD camera. We think you'll like the indoor/outdoor camera and live-video feature. We're still a little surprised that it's included in the free standard package. Also, we were able to control home automation features — like smart lighting and other devices — using our smartphone, which is always nice. That said, Cox Homelife doesn't work with Amazon Alexa or Google Assistant, which is disappointing.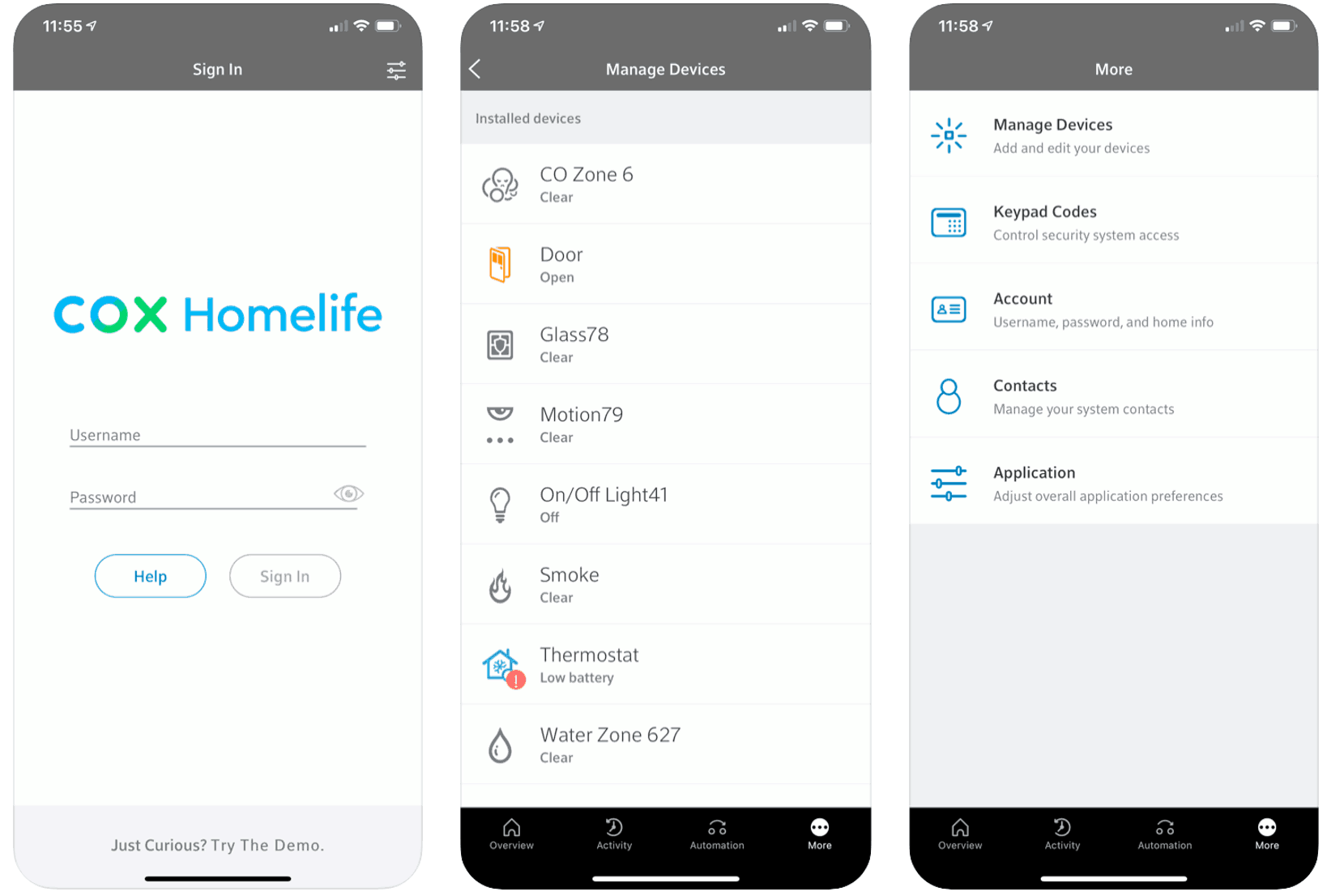 One last thing to note is that Cox Homelife is a Wi-Fi-based security system. That is, it uses your existing Wi-Fi to function, send signals, etc. And there is a battery backup option that keeps you connected to the monitoring center if a power outage occurs. Of course, we always prefer cellular monitoring systems (like those offered by Frontpoint Security), as they're typically faster and more reliable than Wi-Fi monitoring. On the other hand, we've found Wi-Fi connections to be superior to landline connections. So, it's all relative. Overall, we didn't experience problems with our system staying "live" and connecting to emergency personnel.

FYI: Cox Homelife offers 24-7 professional monitoring from a UL-listed TMA Five Diamond Certified monitoring center, which is the gold standard for professional monitoring.
How It Performed for Us
Cox Homelife gets mixed reviews when it comes to customer service. The parent company, Cox Communications, holds an A+ BBB As you'll see, they've been around for a long time. But in our experience with Cox Homelife, we weren't exactly blown away by their customer service. While they do offer an extensive self-service portal — with troubleshooting guides, how-to articles, the works — they actually gave us the run-around when trying to call in for support. We were rerouted a few times before finally reaching someone in the Homelife division. So, this shortcoming is something to keep in mind. A company as big as Cox is bound to be a little slow and clumsy in the customer service department.

Did You Know: You can also find answers to your questions via live chat, Facebook, Twitter, and user forums. Cox Homelife provides several avenues for online support.