ADT is a highly-reputable brand with a century's worth of industry experience and reliability. We've tried out their products over the years, and we can say that ADT doesn't disappoint when it comes to great customer service and reliable monitoring. The ADT Health medical alert system offers three different options for seniors who wish to regain their independence.
We found their plans to be fairly affordable with fast response times, and note that both in-home and on-the-go monitoring are available. ADT Health also has customer-friendly policies like no long-term contracts and helpful features like a fall detection service.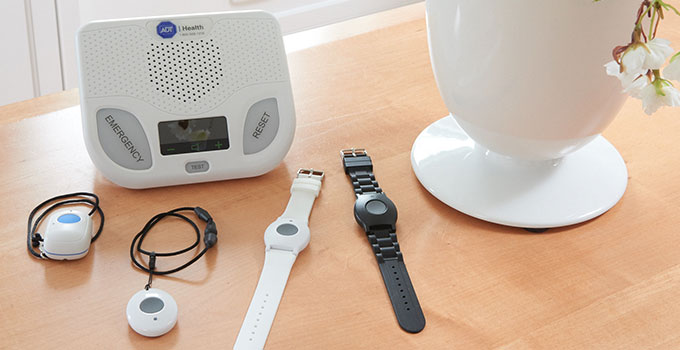 The monthly rate starts on the pricey side at $29.99, but keep in mind there are no hidden fees to worry about. What really sets ADT Health apart from the rest is their special ForeveRate™ feature.1 This price-lock guarantee means that the price of monitoring will never increase, which is great if you're looking for long-term coverage. We're going to dive into their plans, packages, and pricing to find out if ADT Health is right for you or your loved one.
Key Features
The best features of this system
Cellular & Landline Monitoring
In-Home & Mobile Monitoring
Fall Detection
GPS Location Tracking
Low Monitoring Fees
Nationwide Coverage
No Contracts
ADT Medical Alert Packages & Pricing
We like the fact that ADT Health doesn't require long-term contracts. They also
offer easy-to-use alert systems with optional fall detection, and a convenient month-to-month agreement. Thankfully, you won't see any hidden fees as they don't charge for shipping or activation.
As mentioned, the prices are a bit higher compared to other brands in the industry, but in our experience, their fast response times justify the costs. Here is what you can expect to pay for their different plans and rates:
Package Pricing Snapshot for ADT Medical Alert
| ADT Medical Alert Systems | System Type | Monthly Plan Cost |
| --- | --- | --- |
| Medical Alert Basic | At-home Landline Alert | $29.99 per month |
| Medical Alert Plus | At-home Cellular Alert | $35.99 per month |
| On-The-Go | Cellular Mobile Alert | $39.99 per month |
Equipment Upgrade Costs & Freebies
One thing to bear in mind is that ADT Health allows you to customize your alert system, but the upgrade and add-on options are limited. That said, we were glad to see they offer fall detection with their plans, as some brands like Life Alert don't include this service. In our experience, it's a lifesaving investment worth the $5 per month fee (most companies charge $10 per month for fall detection).
| ADT Medical Alert Add-Ons | Device Type | Price |
| --- | --- | --- |
| Waterproof Button | Indoor Help Button | $14.99 |
| Fall Detection | Service | $5 per month |
| Foreverate | Price-Lock Feature | Free |
FYI: With ADT Health's Foreverate price-lock guarantee, you don't have to worry about your monthly cost going up. The price you pay when you sign up is the same when you cancel.
Alert Systems & Packages
ADT offers three main alert systems depending on your needs: in-home only with or without a landline, and a portable mobile device you can take with you on-the-go (great for active seniors). You can learn more about each system and package below. We'll start with the at-home plans first, and then move on to the mobile alert system with GPS tracking.
At-Home Alert Systems
Medical Alert Basic
This system includes a base station with 300-ft coverage, a wearable help button (pendant or bracelet) in either black or white design. For $29.99 per month, you also get ADT Health's home temperature monitoring and their Foreverate price-lock guarantee. We do think the price for this barebones system is a bit steep. Other brands, like Medical Guardian, offer better range for the same price. In fact, Medical Guardian provides 1,300-ft. range for $29.95 per month. Not bad.
Who It's Best For: ADT's In-Home Landline is best suited for seniors who mostly stay around the house and have a phone line.
Did You Know: All of the emergency alert buttons from ADT Health are 100% waterproof. This gives you the freedom to wear help buttons and pendants in the bathtub or shower.
Medical Alert Plus
ADT's Plus system comes with the same standard base unit and waterproof wearable help button, but no landline is required as it works with cellular monitoring. For $35.99 per month (only a few extra dollars per month), you get more range with 600-feet, so you'll enjoy some yard coverage as well. It's also worth mentioning that we've found cellular monitoring to be more reliable with faster response times compared to landline-based alerts. So we prefer this plan over the Medical Alert Basic option.
Who It's Best For: Medical Alert Plus is best for seniors who enjoy being outside, gardening, and would like the flexibility of wireless monitoring.
Mobile Alert Systems
On-The-Go
The On-The-Go system is ADT Health's most expensive plan at $39.99 per month. It comes with a mobile base unit, as well as a wearable pendant or bracelet. This system uses GPS location tracking so you feel safe when away from home, but keep in mind you must stay within 100 feet of the small response device to remain covered. We didn't find anything truly exceptional about this system, but for just under $40 per month, it's not a bad deal. With that said, some brands like Bay Alarm Medical offer mobile coverage for much cheaper.
Who It's Best For: Active seniors who frequently leave home and could benefit from GPS tracking in the event of an emergency.
Keep In Mind: All ADT Health's medical alert systems have a lifetime warranty. So, if your system is ever damaged or defective, ADT will replace it at no extra cost.
Current Deal
ADT Health is currently offering free next day shipping, month-to-month agreements, and a price-lock guarantee with their Foreverate. Plus, if you purchase an ADT Health medical alert system before 2 pm on any given day, you'll enjoy free one-day shipping. We appreciate the speedy shipping; it's the pits having to wait around for something you've already paid for.
Medical Alert Basic
Medical Alert Plus
On-the-Go
$29.99

/mo

$35.99

/mo

$39.99

/mo

View Packages
View Packages
View Packages
Services

---

Services

---

Services

---

In-Home Monitoring

In-Home Monitoring

In-Home and Mobile Monitoring

Temperature Monitoring

Temperature Monitoring

Temperature Monitoring

GPS Location Services

Equipment

---

Equipment

---

Equipment

---

Landline Medical Alert Systems

Wireless Medical Alert System

Portable Mobile Device with Two-Way Voice

Waterproof Wristband or Pendant

Waterproof Wristband or Pendant

Wireless Waterproof Wristband or Pendant

Cradle Charger with Power Cord

Mobile Carrying Case

Options

---

Options

---

Options

---

Up to Three Additional Wearable Help Buttons

Waterproof Fall Detection Pendant

Waterproof Fall Detection Pendant

Up to Three Additional Wearable Help Buttons

Up to Three Additional Wearable Help Buttons
Overall Value of ADT Medical Alert
ADT Health's alert systems are a little more pricey compared to other brands we've tested, but their monitoring is first-rate and highly-recommended. We think the at-home systems could offer better overall coverage and more features in their plans.
Our biggest gripe was with ADT's lackluster range on their at-home systems. The 300-600 ft. range just doesn't measure up to other options, such as LifeFone's 1,300-ft. at $24.95 per month. On the other hand, we found ADT Health's response times to be pretty solid and faster than the industry average. Our calls were fielded within 20 seconds every single time. That's not as lightning-fast as Lifeline, but still, 20 seconds is nothing to sneeze at.
ADT's On-The-Go package might be a safe bet if you're always on the move and would like the added protection of GPS tracking. Another thing you can get from ADT Health is an optional fall detection feature which is a great value at only $5 per month. Even if the technology isn't 100% accurate, we recommend signing up for a little more peace of mind.2
Did You Know: ADT Health's average emergency response time was faster than the industry average. We had an agent on the line within 20 seconds of pressing the help button, and they stayed with us until we no longer needed them.
ADT Medical Alert Background
ADT Health medical alert systems are brought to you by ADT, a well-known leader in the home security field. They are widely known for their quality service and have been providing home security services for more than 140 years to customers throughout the United States and Canada.
Today, the company serves more than 6 million customers nationwide.3 Something to note is that ADT prioritizes their customers' trust, and this care really comes across in the brand's ethics-based programs and focus on social responsibility.4 You can learn more about the company's offerings in our full review of ADT Health here.
ADT Medical Alert FAQs
Is my mobile device waterproof?
The mobile device is water-resistant. It can be used in the shower but should not be submerged.
What happens if I move to a new home?
The system can move with you. Contact ADT Health at least 30 days prior to your move so that the company can transfer the system. Also, note that you may be charged a fee.
Does ADT Health offer a free trial?
ADT Health does not offer a free trial period. They will reimburse any unused days in the monthly billing cycle upon return of the equipment. They also send a prepaid mailing label that can be used to return the devices.
Can I use my mobile device on an airplane?
While traveling by air, you will need to turn your device off. This can be done by pressing the on/off button on the lower side of the device.
Does the ADT Health Medical Alert system come with a warranty?
Yes, a lifetime warranty covers parts, labor, and service for normal wear and tear. It doesn't cover lost or damaged items.