Services and Features
Zander Insurance's features are heavily focused on recovery — as mentioned above, the insurance coverage is the big deal here. But Zander Insurance does offer some monitoring, plus a few other features. They're a bit limited compared to the recovery stuff, but we'll cover all of them below.
Recovery
Recovery is the name of the game with Zander Insurance, which offers relatively bare-bones monitoring and alerts and makes a point of emphasizing its "full-service restoration" and insurance safety net for victims of identity theft.
What does "full-service restoration" mean? It means that Zander Insurance's experts will help you do things like contact banks and other issuing agencies to let them know you've lost your credit cards, bank cards, membership cards, and so on. They'll also contact the cops for you and check your credit report (better late than never, right?). Finally, Zander Insurance's pros will help you freeze your credit and file fraud claims.
Then there's the insurance, which seems pretty vital for a company with the word "insurance" in its name. Identity theft can result in big losses for its victims. Thieves can make off with money from your bank accounts, but it's not just that: identity crooks can also take out loans, run up credit card bills, and more. You could lose money in other ways, too: for instance, you could lose wages or pay big bucks for childcare as you take time to focus on fixing the messes that the identity crime has caused. Plus, there's a good chance that you'll have to hire a lawyer — and Lord knows that they don't come cheap. Happily, all of this and more is covered by the insurance that you'll get through (but not exactly from, as it's a brokerage, not a provider) Zander Insurance. Be sure to read the fine print about exceptions, though.
It's hard to say for sure without being a lawyer and/or insurance expert, but the exceptions in Zander Insurance's fine print looked a little less extensive than those that I've seen in some competitors.
Monitoring and Alerts
While Zander Insurance's offerings are decidedly focused on recovery rather than monitoring, they don't neglect monitoring entirely. Zander Insurance offers Social Security number monitoring and a decent selection of other monitoring services.
However, there's one big thing that Zander Insurance does not monitor: your credit. Zander Insurance doesn't check in with any of the three major credit reporting bureaus, nor does it offer you any credit scores and reports for your own use. Zander Insurance's other monitoring services will likely catch major crimes, but this is still an unusual omission for a service of this type.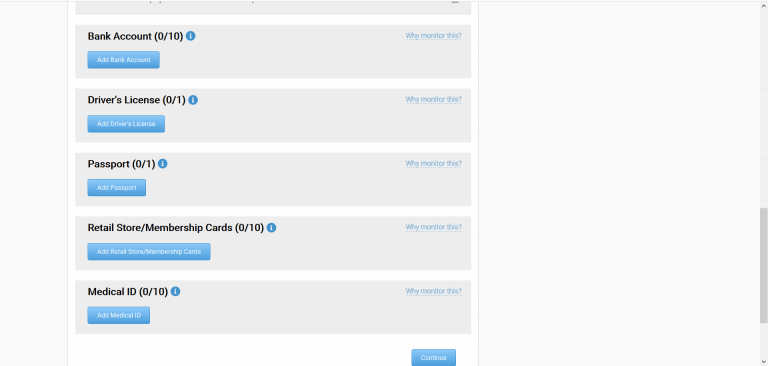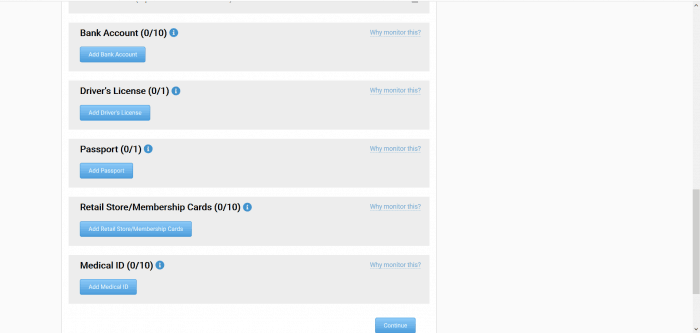 The obvious omission notwithstanding, Zander does monitor a bunch of stuff. On top of the Social Security number monitoring mentioned above, Zander allows customers to enter additional information for monitoring purposes. I was able to add up to ten bank accounts on my individual account, as well as my driver's license, passport, and up to ten retail or membership cards. I could also monitor up to ten medical ID numbers.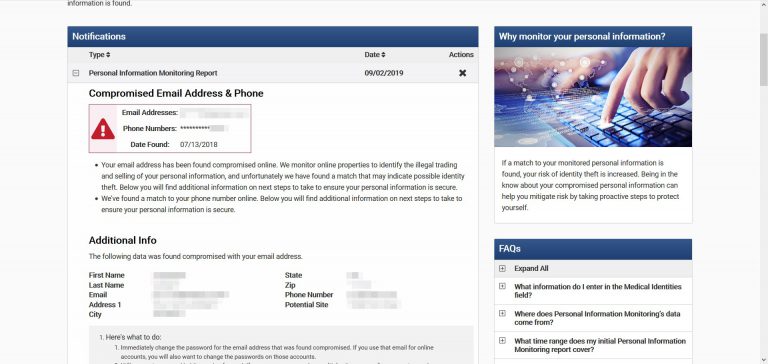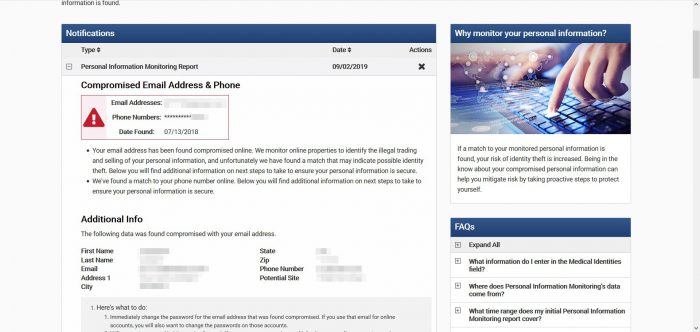 The moment I set up my Zander account, I got my first alert. Zander had found that my email address and some other details were compromised via my accounts with a few websites I hadn't visited in ages. The list matched up with the one I got from LifeLock when researching our Safehome.org LifeLock Review. Not every service has mentioned these past breaches, so count this as a win for Zander.
Other Features
Zander Insurance offers a few other perks on top of its basic monitoring, alerts, and restoration services.
Among those is help for getting things fixed up after you lose your wallet or purse. Zander's "wallet protection" service will help you cancel your credit cards and bank cards quickly, in hopes of cutting off access before the crook who stole your wallet can get their hands on your cash.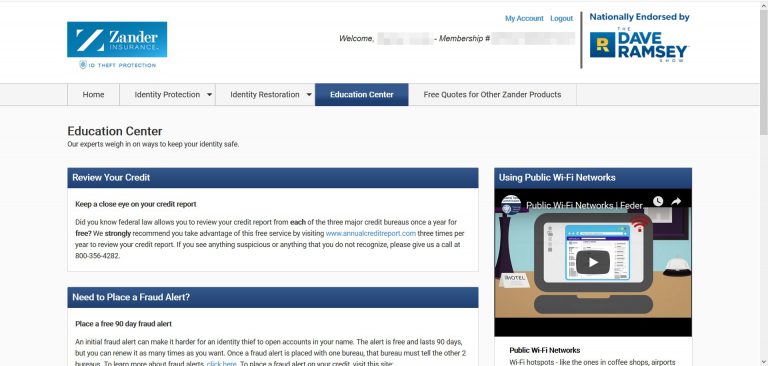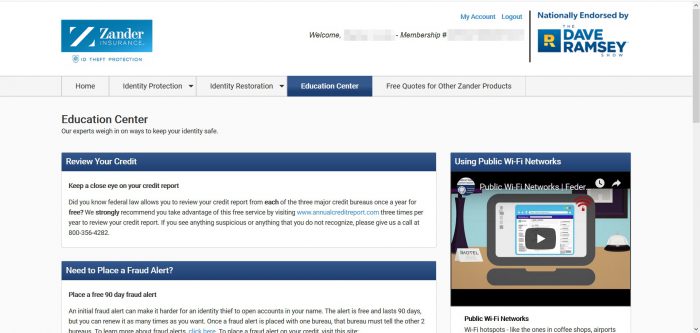 Zander also has an "Education Center" under one tab in its dashboard. Here, customers will find tips and how-tos that are designed to help them prevent and spot identity theft. At the top of the page are instructions for checking your credit, along with Zander's strong recommendation that you do so. Again, an annual credit score and report from each of the three major credit reporting bureaus is something that most of these services offer and which Zander does not; but it's also something that you can get for free, anyway, as Zander's instructions on this page make plain.
Plans and Pricing
Dave Ramsey is not real big on spending money, so it makes sense that Zander Insurance is a decidedly budget option compared to more comprehensive monitoring, alerts, and recovery services that we've reviewed in the past. Here, the focus is on recovery at the expense of monitoring, and the price reflects it.
Let's take a look at what's offered by Zander Insurance's identity plans.
Individual plan:
24/7/365 customer service
Social Security number monitoring
Change-of-address monitoring
Personal information monitoring (including driver's license monitoring, medical ID monitoring, and more)
Financial accounts monitoring
Full-service identity restoration
$1 million in insurance coverage for identity theft losses
Lost wallet protection
Family plan:
All of the above, plus monitoring for your children (up to 18 years of age)
Like its competitors, Zander Insurance offers identity theft coverage on a monthly or annual basis.
Individual plan: $6.75 per month OR $75 per year
Family plan: $12.90 per month OR $145 per year
Zander's appeal here as a budget option is obvious. Identity theft coverage from leading companies like LifeLock and IdentityForce can easily cost $20 or more. And while there are some cheaper options, it's tough to find a price as low as the $75-per-year rate Zander is offering.