It's a dangerous world out there, folks. It's vital to protect yourself, but you wouldn't have much free time if you took it upon yourself to personally stand watch against every threat facing you, your loved ones, and your wealth. In fact, that would be just about impossible to accomplish — which is why there are products and services out there designed to take security concerns off of your place. In this Zander review, we'll take a closer look at Zander Insurance and the services that they offer to potential victims of identity theft — potential victims like you or me!
Common sense and adherence to some simple best practices can cut down on the odds that you become a victim of identity theft, but nothing can completely eliminate the threat from your life — which is why most identity theft-related services focus on monitoring and recovery, rather than prevention. Zander Insurance has some things in common with other identity theft monitoring services, but it's also a little different. Let's take a look at what Zander is and how it works, then dive into the heart of our Zander Insurance review.
What is Zander Insurance?
Most identity monitoring solutions offer the same services: they take your identifying information (like your social security number and, in some cases, your bank account numbers) and keep an eye out for warning signs of identity theft. These companies check your credit, watch Dark Web hotspots for the sale of your information, and use a variety of other means to keep tabs on your information. When they spot an issue, you get an alert. If you become a victim of an identity crime, you can take advantage of these companies' "recovery services," which include help with things like freezing your credit, re-securing your accounts, and so on. Finally, these companies generally have insurance coverage that may — there are, of course, exceptions — bail you out financially after an identity theft crime. It's important to note that major services of the type we're describing here, including LifeLock and Identity Force, are not insurance providers; they outsource the insurance coverage part of their offerings to companies that specialize in it.
Zander Insurance is marketed at people who are concerned about identity theft, and it is clearly in competition, in some ways, with LifeLock, Identity Force, and the rest of the monitoring-and-recovery gang. The big difference here is that Zander Insurance is primarily an insurance broker. Like the other identity companies, Zander Insurance isn't the source of your insurance; but, in this case, the insurance is the main point of the service. Zander does offer some monitoring and alerts, but they're pretty limited — the company does not monitor your credit or provide you with a credit report.
This is far as we can go before mentioning Dave Ramsey, so let's get that out of the way. The famous personal finance guru has endorsed Zander Insurance to listeners of his Dave Ramsey Show, a radio program that is broadcast nationwide. Ramsey endorses the company as a whole, not just the identity theft coverage. Zander Insurance is a paid advertiser on Ramsey's show, but Ramsey's reputation relies on his financial advice, so you may not need to be too skeptical on this front. Whether or not we agree with Ramsey is something we'll find out over the course of this Zander Insurance review.
Zander Insurance also sells other forms of insurance, including home and auto insurance. But we'll be sticking to the identity theft stuff here, of course.
Services and Features
Zander Insurance's features are heavily focused on recovery — as mentioned above, the insurance coverage is the big deal here. But Zander Insurance does offer some monitoring, plus a few other features. They're a bit limited compared to the recovery stuff, but we'll cover all of them below.
Recovery
Recovery is the name of the game with Zander Insurance, which offers relatively bare-bones monitoring and alerts and makes a point of emphasizing its "full-service restoration" and insurance safety net for victims of identity theft.
What does "full-service restoration" mean? It means that Zander Insurance's experts will help you do things like contact banks and other issuing agencies to let them know you've lost your credit cards, bank cards, membership cards, and so on. They'll also contact the cops for you and check your credit report (better late than never, right?). Finally, Zander Insurance's pros will help you freeze your credit and file fraud claims.
Then there's the insurance, which seems pretty vital for a company with the word "insurance" in its name. Identity theft can result in big losses for its victims. Thieves can make off with money from your bank accounts, but it's not just that: identity crooks can also take out loans, run up credit card bills, and more. You could lose money in other ways, too: for instance, you could lose wages or pay big bucks for childcare as you take time to focus on fixing the messes that the identity crime has caused. Plus, there's a good chance that you'll have to hire a lawyer — and Lord knows that they don't come cheap. Happily, all of this and more is covered by the insurance that you'll get through (but not exactly from, as it's a brokerage, not a provider) Zander Insurance. Be sure to read the fine print about exceptions, though.
It's hard to say for sure without being a lawyer and/or insurance expert, but the exceptions in Zander Insurance's fine print looked a little less extensive than those that I've seen in some competitors.
Monitoring and Alerts
While Zander Insurance's offerings are decidedly focused on recovery rather than monitoring, they don't neglect monitoring entirely. Zander Insurance offers Social Security number monitoring and a decent selection of other monitoring services.
However, there's one big thing that Zander Insurance does not monitor: your credit. Zander Insurance doesn't check in with any of the three major credit reporting bureaus, nor does it offer you any credit scores and reports for your own use. Zander Insurance's other monitoring services will likely catch major crimes, but this is still an unusual omission for a service of this type.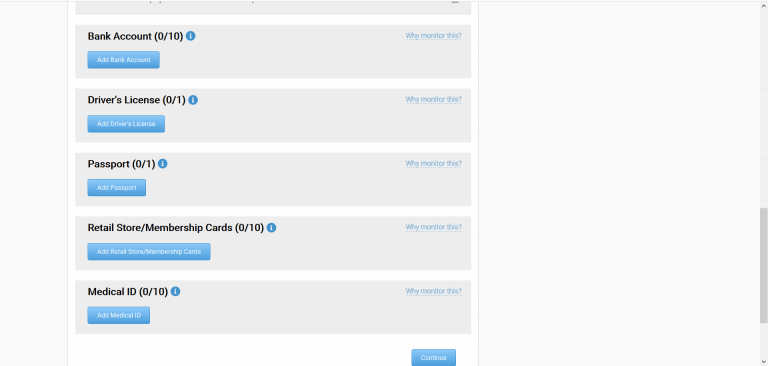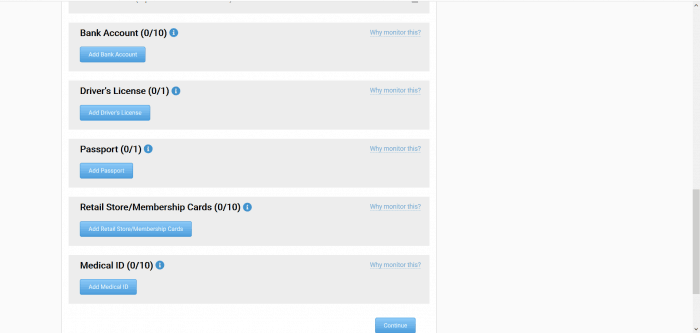 The obvious omission notwithstanding, Zander does monitor a bunch of stuff. On top of the Social Security number monitoring mentioned above, Zander allows customers to enter additional information for monitoring purposes. I was able to add up to ten bank accounts on my individual account, as well as my driver's license, passport, and up to ten retail or membership cards. I could also monitor up to ten medical ID numbers.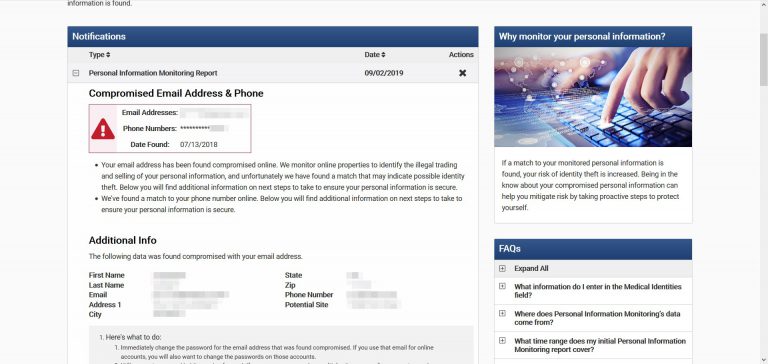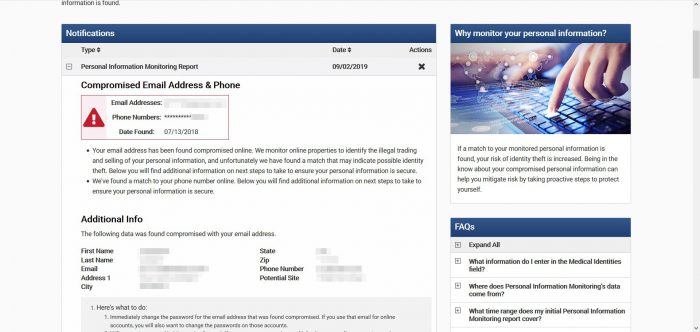 The moment I set up my Zander account, I got my first alert. Zander had found that my email address and some other details were compromised via my accounts with a few websites I hadn't visited in ages. The list matched up with the one I got from LifeLock when researching our Safehome.org LifeLock Review. Not every service has mentioned these past breaches, so count this as a win for Zander.
Other Features
Zander Insurance offers a few other perks on top of its basic monitoring, alerts, and restoration services.
Among those is help for getting things fixed up after you lose your wallet or purse. Zander's "wallet protection" service will help you cancel your credit cards and bank cards quickly, in hopes of cutting off access before the crook who stole your wallet can get their hands on your cash.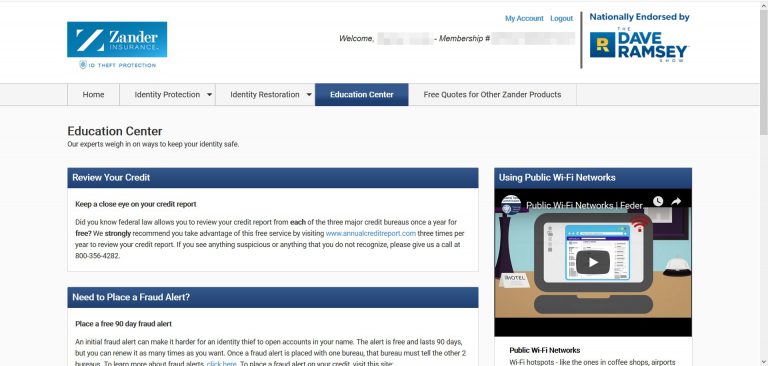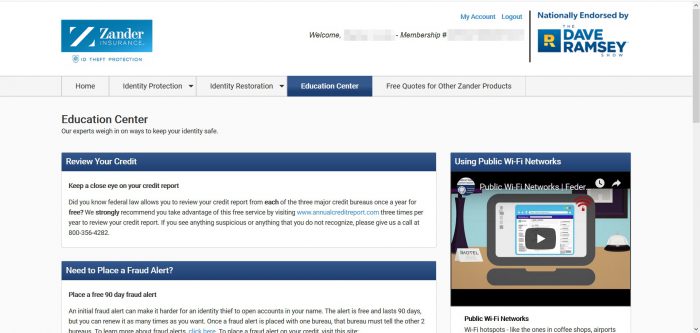 Zander also has an "Education Center" under one tab in its dashboard. Here, customers will find tips and how-tos that are designed to help them prevent and spot identity theft. At the top of the page are instructions for checking your credit, along with Zander's strong recommendation that you do so. Again, an annual credit score and report from each of the three major credit reporting bureaus is something that most of these services offer and which Zander does not; but it's also something that you can get for free, anyway, as Zander's instructions on this page make plain.
Plans and Pricing
Dave Ramsey is not real big on spending money, so it makes sense that Zander Insurance is a decidedly budget option compared to more comprehensive monitoring, alerts, and recovery services that we've reviewed in the past. Here, the focus is on recovery at the expense of monitoring, and the price reflects it.
Let's take a look at what's offered by Zander Insurance's identity plans.
Individual plan:
24/7/365 customer service
Social Security number monitoring
Change-of-address monitoring
Personal information monitoring (including driver's license monitoring, medical ID monitoring, and more)
Financial accounts monitoring
Full-service identity restoration
$1 million in insurance coverage for identity theft losses
Lost wallet protection
Family plan:
All of the above, plus monitoring for your children (up to 18 years of age)
Like its competitors, Zander Insurance offers identity theft coverage on a monthly or annual basis.
Individual plan: $6.75 per month OR $75 per year
Family plan: $12.90 per month OR $145 per year
Zander's appeal here as a budget option is obvious. Identity theft coverage from leading companies like LifeLock and IdentityForce can easily cost $20 or more. And while there are some cheaper options, it's tough to find a price as low as the $75-per-year rate Zander is offering.
User Experience
Signing up for Zander Insurance was pretty easy, and logging into the web app was easy, too. The web app is pretty sleek and includes pretty much all of the features that you'd expect. The main page shows alerts and a list of the information that Zander is monitoring for you. The other tabs provide information and access to recovery services, lost wallet services, and stuff like that. There's also an "Education Center," which (as mentioned in our Services and features section) is full of helpful information like instructions for checking your own credit.
There is also a mobile app for Zander Insurance — or, actually, a few of them. One ("Zander Insurance App") is for Zander Insurance products in general. Another ("Zander ID Theft…") looked to me to be the right one — until I downloaded it, realized I couldn't log in, and belatedly bothered to read the full name on the app download page (everywhere else, it's cut off): "Zander ID Theft: Group Benefit." Whoops.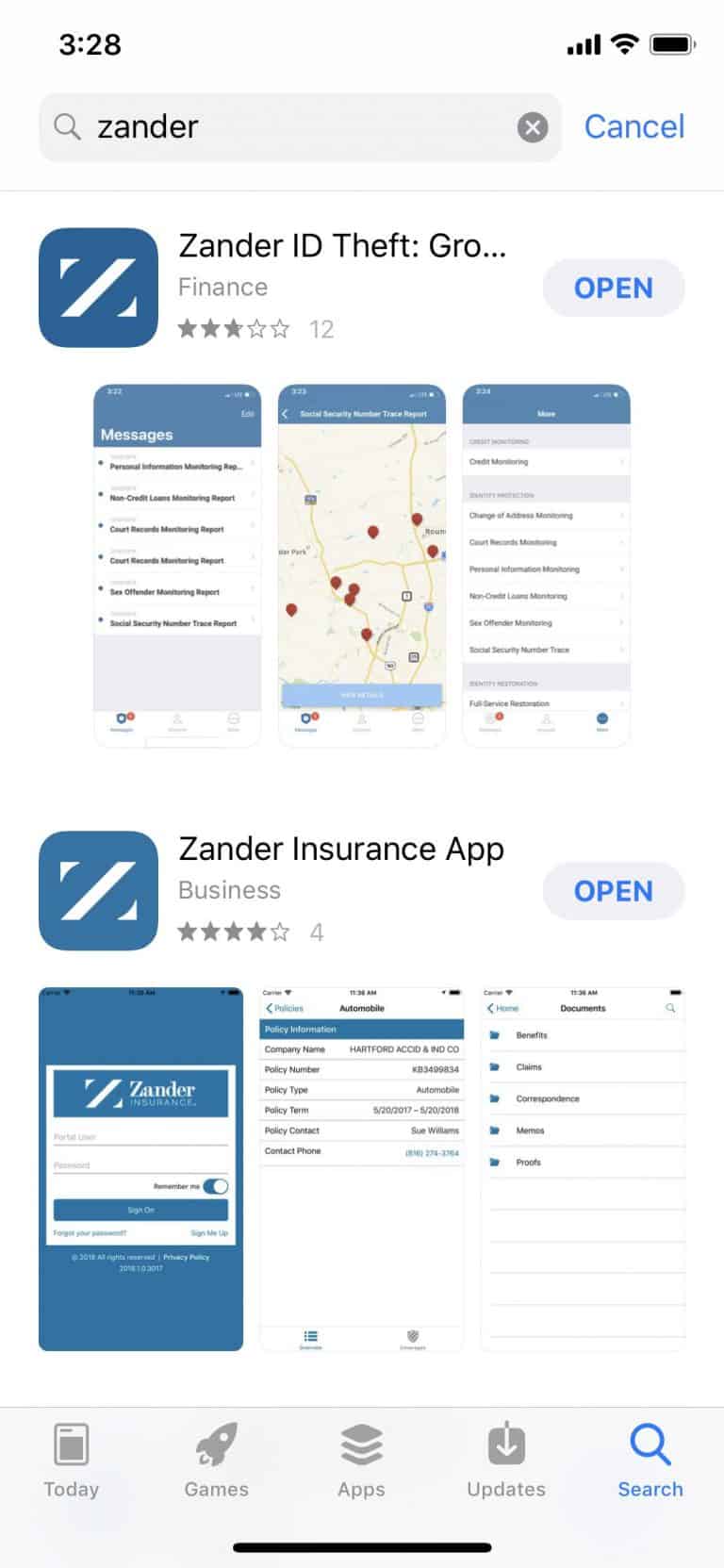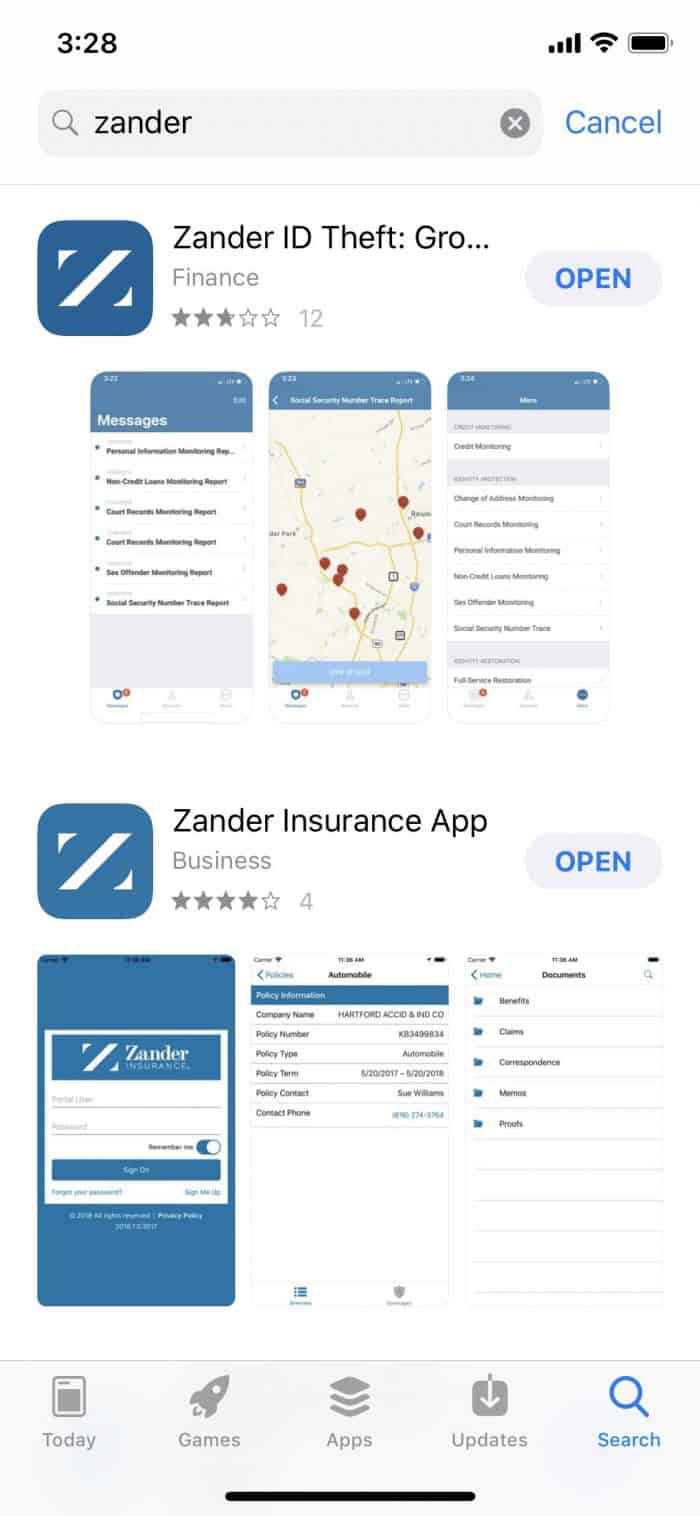 Eventually I found the correct app: "Zander ID Theft Protection."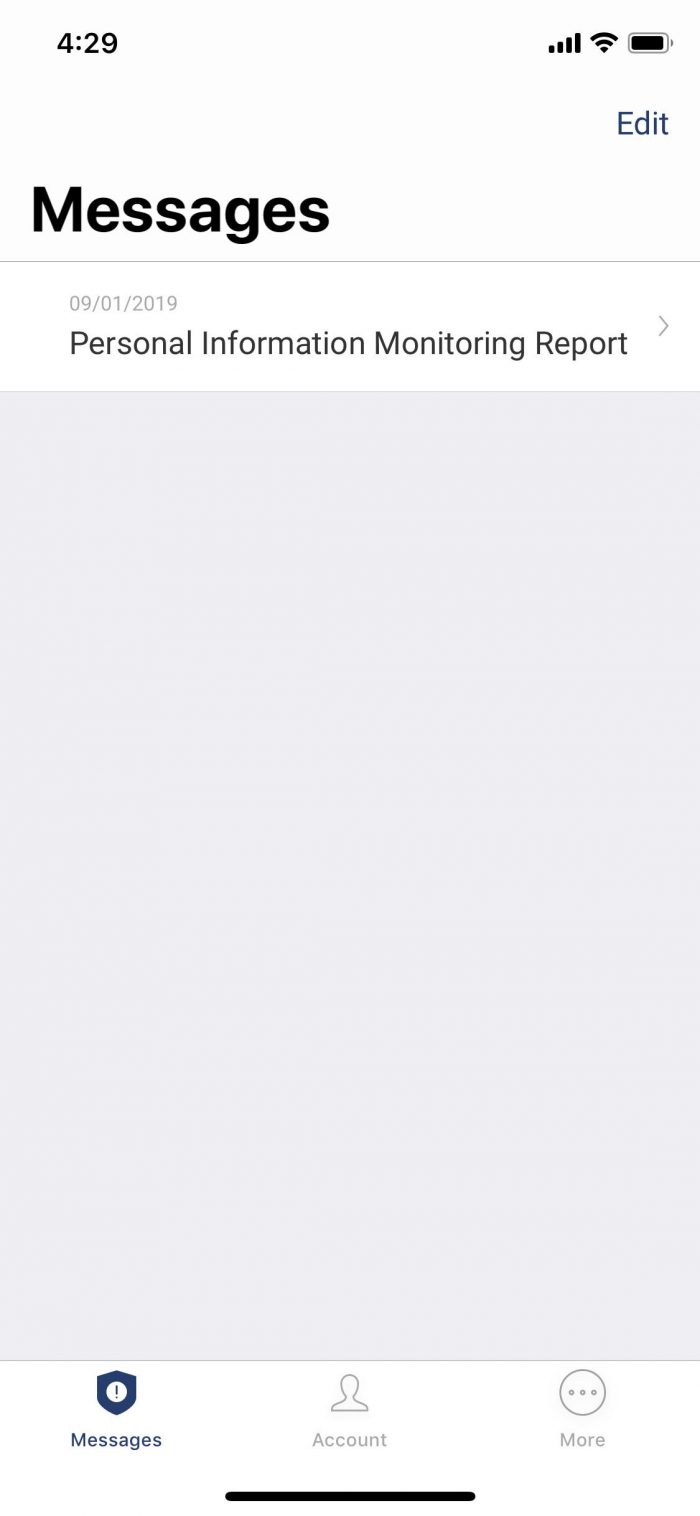 The Zander app is pretty no-frills. There are three taps: "Messages," which shows your alerts, "Account," which shows your account information and your subscription details, and "More," which includes everything else. The app is functional, but nothing special. You can set it up to log you in with Apple's Face ID, if you have that.
Our Verdict
All in all, how does Zander Insurance stack up? In my view, the answer all depends on what you're looking for out of this sort of service.
If you want extensive monitoring, then you're going to find Zander Insurance wanting. It simply doesn't offer the same kind of robust monitoring that you'd get out of, say, IdentityForce. Nor does it offer defense measures like Norton 360, the antivirus software that comes with LifeLock.
But if you're just looking for a safety net, you could do worse than Zander Insurance. It's hard to evaluate an insurance company without actually filing a claim (and I haven't had to do that yet — knock on wood), but Zander Insurance's coverage seems very comparable to the coverage you'd get from the competition. The promised recovery services are similar, too.
And Zander Insurance offers this stuff for a lot less than most of its competitors charge. At just $75 a year, its individual plan is a remarkably cheap way to get a little peace of mind and protect against a potential disaster that could be very, very costly.
In short, Zander Insurance makes a great budget option for those who want bare-bones, "set it and forget it" monitoring and feel better having a safety net to protect them if and when they become the victim of an identity crime.