Most security measures are designed to protect the wealth that you already have. But the hard-earned cash in your bank account is not all that you stand to lose. With the right information, crooks could take out loans in your name, run up debt on your credit cards, and pull all sorts of other stunts that effectively steal cash that you don't even have. And crooks can do all of this without ever meeting you face to face or daring to break into your home. It's a heck of a deal for the bad guys, so it's no wonder that identity theft is a growing danger — a danger that services like IDShield and its peers try to manage. In this IDShield review, we'll break down the basics on IDShield and its features, check out its plans and pricing, and explore the apps and interfaces that make up the IDShield experience. When all is said and done, we'll know how IDShield measures up to the best of the identity monitoring and identity theft recovery services.
What is IDShield?
Readers of our prior reviews and our other coverage of identity monitoring services probably already know what IDShield is trying to provide, but let's go back over the basics real quick before we move on. Companies like IDShield offer identity monitoring and identity theft recovery. That means that you give IDShield a bunch of your personal information, including your Social Security number, and IDShield then monitors things like your credit and checks to see if your personal information pops up anywhere that it shouldn't, such as in a change-of-address form you didn't fill out or on the shady websites that lurk on the Dark Web.
If a service like IDShield spots anything out of the ordinary, it alerts the customer to the issue. And if an IDShield member becomes the victim of identity theft, IDShield will provide a recovery team to help handle chores like notifying banks and financial institutions. As is the case with many competitors, IDShield also comes with insurance coverage for identity theft losses and related expenses.
Get the gist? Great! Then let's move on to take a closer look at some of those features we just mentioned.
Services and Features
As explained above, the core of IDShield's features are the two basic things that you'd expect from this sort of service: monitoring/alerts and identity theft recovery. IDShield also has some extra perks that are worth mentioning. Let's tackle these categories one at a time.
Monitoring and Alerts
IDShield's monitoring covers the vital stuff: it keeps tabs on its members' Social Security numbers and credit. IDShield allows users to add financial accounts for transaction monitoring and alerts. The service also promises to check for payday loan applications in your name, court records that mention you, local sex offenders in your area, and more.
IDShield's monitoring is not as extensive as the monitoring available from some leading competitors. The crucial stuff is covered, but IDShield doesn't seem to be able to monitor your driver's license or passport (even though there's an image of a passport on the web app's home screen), among other omissions. However, IDShield does offer monitoring for social media accounts. That's something that not all competitors can match, and the feature could be particularly useful for families: IDShield will notify you if your personal information is shared in a social media post from one of your monitored accounts (that is, one of your accounts or the account of a family member that you have provided IDShield with the login for). The service also promises to watch out for posts that could damage your reputation, though it wasn't immediately clear to me how that part worked.
One feature that impressed me was the "Monthly Score Tracker" available in IDShield's apps. The Monthly Score Tracker puts your credit scores from each month on a graph. It's not useful right away — the scores start with the first month you were an IDShield member, of course — but it's a cool long-term tool that could help an IDShield customer spot concerning trends or unusual movement in their credit score. The monthly tracking only goes back one year, though. Impressively, IDShield also offers a credit report every month.
IDShield sent my alerts via email and also flagged them on the app; the mobile app can send push notifications if you let it. I didn't see a straightforward way to change my settings to, for instance, ask for text message alerts or stop IDShield from emailing me.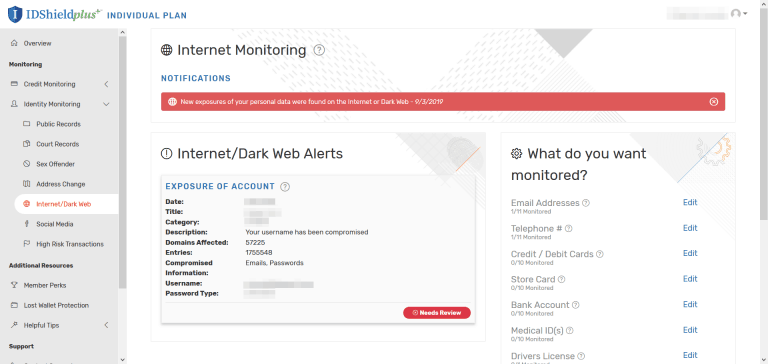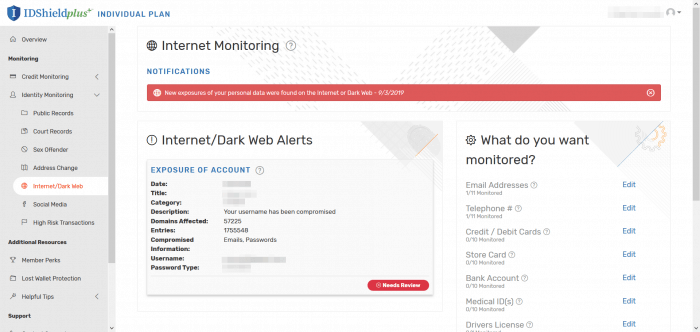 IDShield notified me of a potential leak of my information on the Dark Web due to a breach at a website I had made an account for ages ago. Not every service I've reviewed has notified me of this breach, so that's a point in IDShield's favor; on the other hand, IDShield seemed to miss two other similar breaches that were caught by other services that I've reviewed.
Recovery
Like its competitors, IDShield promises to help members recover in the event that they become a victim of an identity crime. That includes on-call recovery experts who will manage the process and help you tackle chores like freezing your credit. It also includes $1 million in insurance coverage. With some exceptions (always read the fine print!), this insurance coverage will reimburse you for stolen funds and expenses incurred due to an identity crime.
Other Features
IDShield customers will find a few useful items under "Additional Resources" in the IDShield web app. Like some other identity monitoring companies, IDShield offers "Lost Wallet Protection" — meaning that their pros will help you cancel credit cards and handle other chores of that nature if you let them know that you've lost your wallet. The app also includes a section of "Helpful Tips," including basic information about identity theft and risk reduction, links to government websites that will allow you to opt out of telemarketing calls and junk mail (in theory, anyway), and primers on data breaches and medical identity theft.
IDShield offers "unlimited consultation" with its security experts; if you have questions about how to protect yourself, you can just ask them.
There's also a menu item labeled "Member Perks." Click on this, and you'll be whisked off to a fresh browser tab and asked to create an account for your "LegalShield MEMBERPerks Program."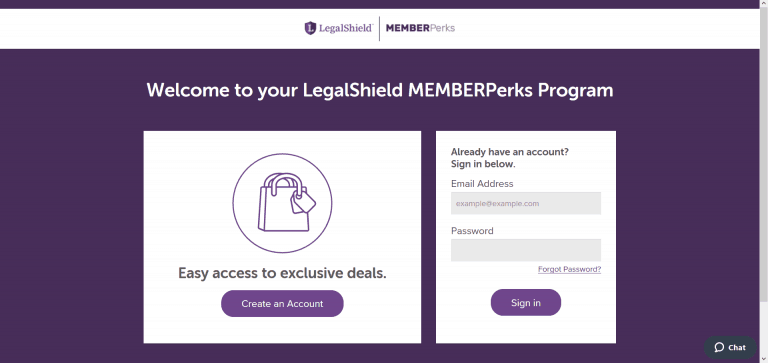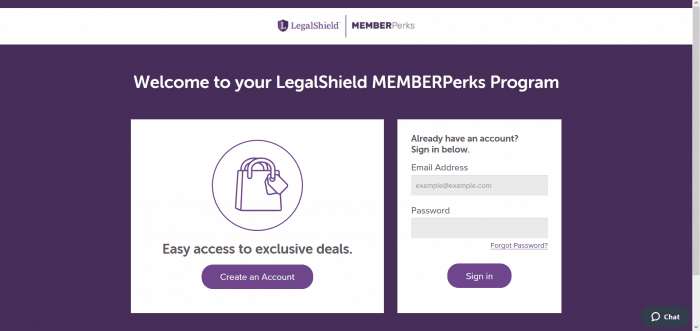 This appears to just be a way to opt into a mailing list for two email newsletters: one for "exclusive perks and discounts" and another for tips on "how to excel in the 21st century workplace." I did not sign up.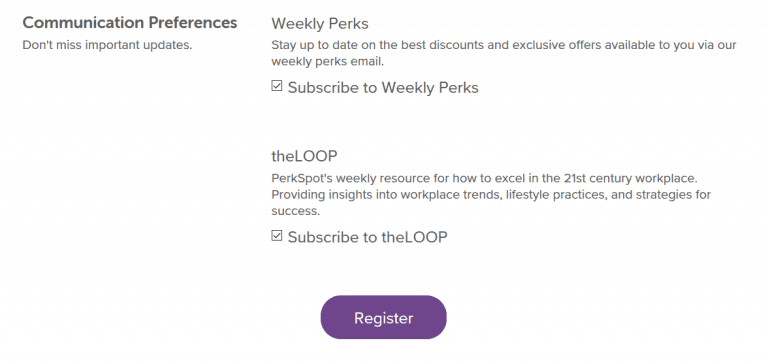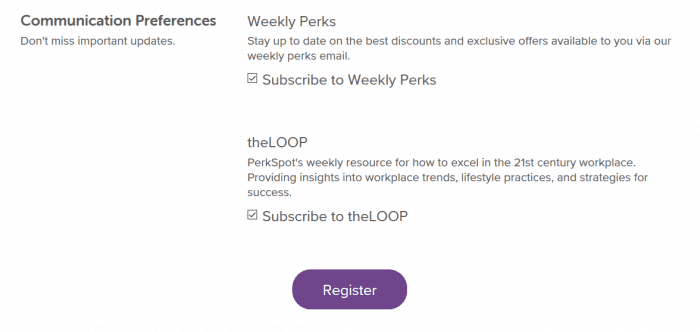 The most impressive of IDShield's bonus features is the monthly credit report that it provides. Getting a credit report every month is a pretty great deal for the price — which, by the way, is what we're talking about next.
Plans and Pricing
IDShield is more of a budget option than a top-shelf competitor to the likes of LifeLock. But it's also not super cheap in the way that, for example, Zander Insurance is. Let's take a look at the plans and prices.
All plans include:
Unlimited consulting
$1 million identity theft insurance
12-month credit score tracking history
Social Security number monitoring
24/7 credit monitoring and alerts
Dark web monitoring
Payday loan monitoring
Financial account monitoring
Sex offender alerts
Court records and bookings monitoring
24/7 customer support
Identity restoration services
Shoppers can build a plan to add to their cart by making two choices: whether the plan will be for an individual or a family, and whether the plan will monitor all three major credit reporting bureaus or just one. If you opt for the one-bureau plan, the one bureau that you get will be TransUnion.
Let's check out the plan options and pricing.
Individual, one-bureau plan: $12.95 per month
Individual, three-bureau plan: $17.95 per month
Family, one-bureau plan: $25.95 per month
Family, three-bureau plan: $32.95 per month
IDShield specifies that these are the prices that coverage "starts at," and I had to tell the company my home state before adding my chosen plan to my cart. Does this mean that IDShield's prices vary by location? Maybe! I'm honestly not really sure. And this would not be the last point of confusion in the IDShield sign-up process, as I'll talk more about in the User experience section.
Perhaps the "starts at" phrasing just reflects IDShield's hope that you'll sign up for extra stuff. You can sign up for additional services, too, though they're not really add-ons (or even related) to the identity monitoring plans and are therefore a bit outside the scope of this review. As soon as you complete your purchase of IDShield, its parent company LegalShield will pitch you on its eponymous service. LegalShield offers you "access to legal advice for just $20/month." We won't be covering that service in this review.
User Experience
Setting up my IDShield account wasn't too tough, though I was surprised to find that the signup form wasn't prepared to handle addresses with apartment numbers. I added mine after a comma on the first line, but I was forced to delete the comma after IDShield's system demanded the input be alphanumeric. ID Shield is allegedly monitoring my address, so I hope they were able to figure out where I live.
Once I created my account, I was asked to activate it by entering my "membership number," last name, and zip code before checking a few boxes. But I didn't know my membership number, and there was nothing in my email inbox.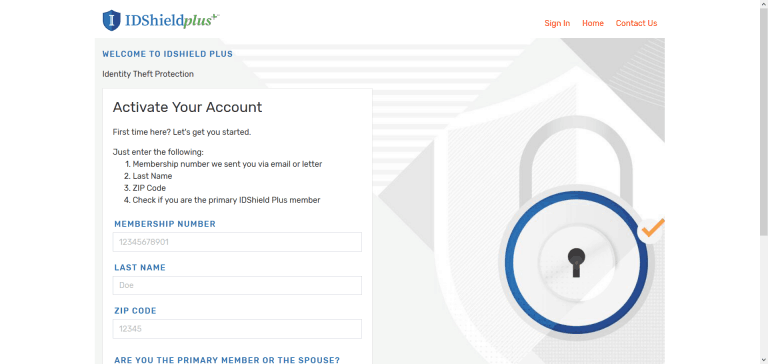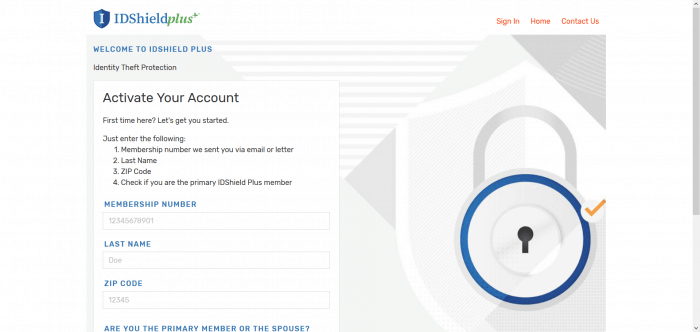 It was hours later when I finally got an email with the subject like "Activate Your Improved IDShield Service!" and found within my IDShield membership number. When I put everything into the form, I got an error message: "This account has already been activated. Please visit the Sign In page and log in using your credentials."
That was news to me, but I dutifully headed over to the sign-in page, where I was able to log in using the password I'd created back when I was first making my account. Why IDShield sent me on the membership number wild goose chase remains a mystery.
Once logged in, it was time for me to "complete my profile" with some extra information that IDShield had not asked me the first time around: my middle name and mobile phone number. That's it! That's all they wanted. Everything else was already filled in, presumably because I'd provided it upon initial sign-up.
Completing this page got me yet another email. "Email verification sent!" IDShield proudly proclaimed. "Check your email to verify." Mercifully, the email arrived pretty much right away this time around. I clicked the button within the email to verify my email address, and that was that.
Ha ha, no, just kidding. IDShield had more registration-type tasks waiting for me. I chose three security questions and corresponding answers, then verified my identity by answering a few questions. Then, at long last, I was dropped into IDShield's web app.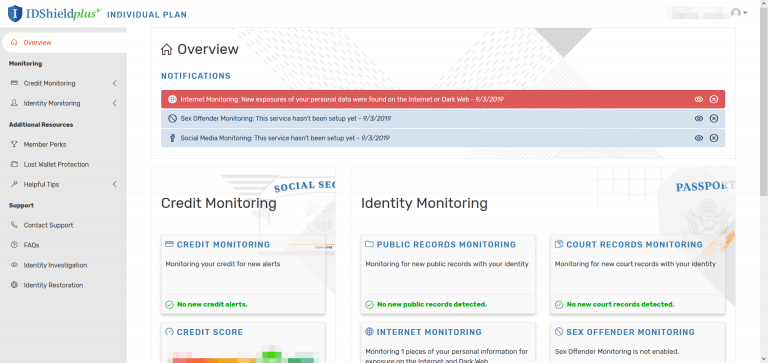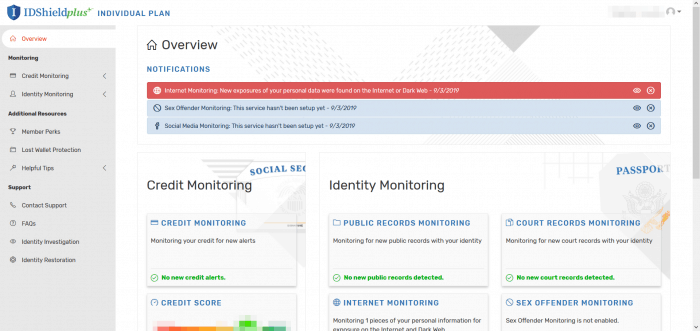 In case I haven't made it clear yet, I found IDShield's sign-up process unnecessarily clumsy. Why not just have me provide all of the requisite information at once, and then verify things with a single email? What was with the membership number nonsense?
At any rate, once in the IDShield web app, I was reasonably happy with the service's offerings. The web app wasn't quite as crisp and minimalist as some competitors' offerings, but it was perfectly functional.
There are also two IDShield apps in mobile app stores: "IDShield" and "IDShield Plus." In emails and the web interface, IDShield calls my subscription "IDShield Plus" — though I don't recall seeing that branding when I picked out my plan — so I downloaded the "Plus" app. Happily, it was the correct one.
The IDShield Plus app asked me if I wanted to enable "biometric ID." (Maybe this was Apple's face ID, or the thumbprint one? I wasn't sure.) It let me set up a passcode for quick login, too. Then it served up a tutorial, which was a nice thought, though not really necessary for such a simple app and, ultimately, not very impressive. For some reason, the text on each slide of the tutorial was cut off, resulting in helpful tips like "Menu button brings up a new navigation men [sic]."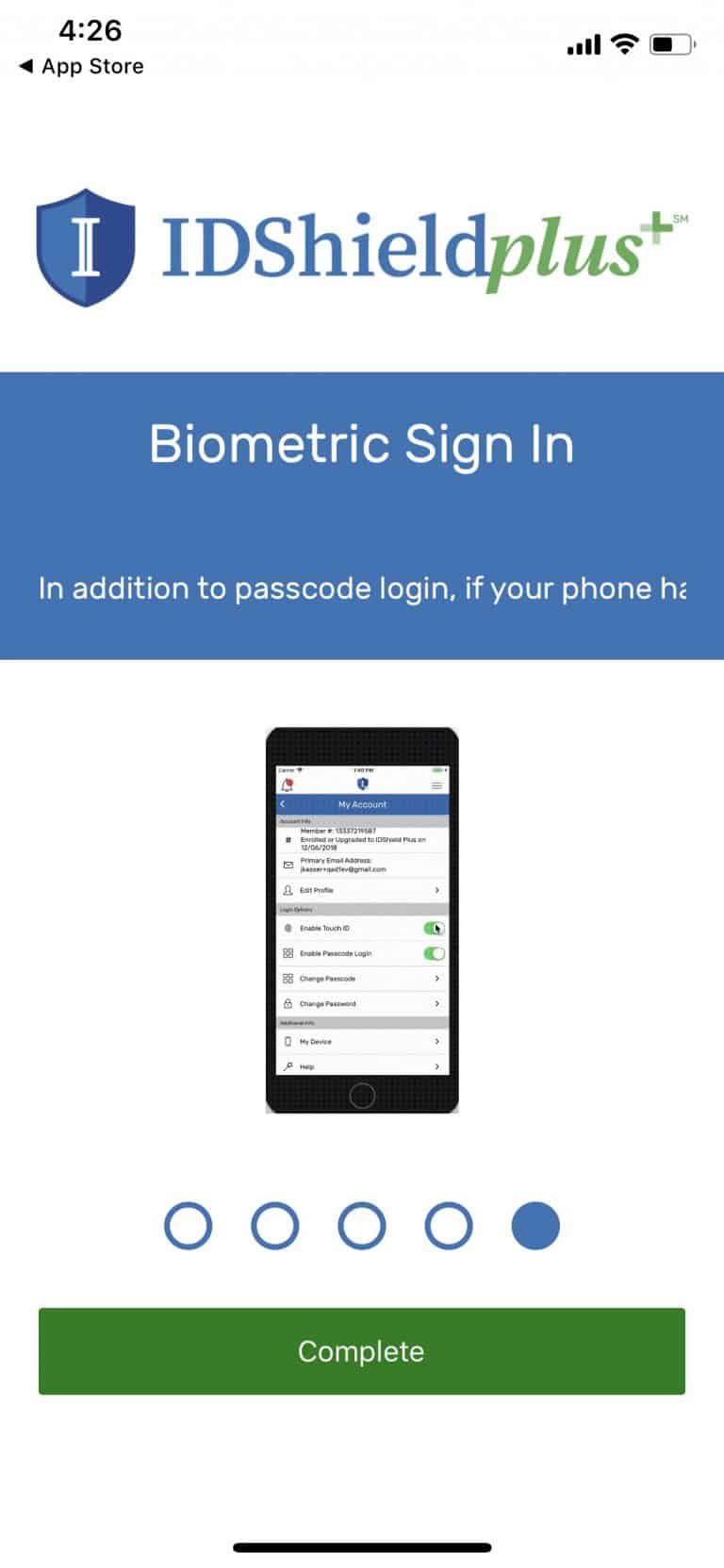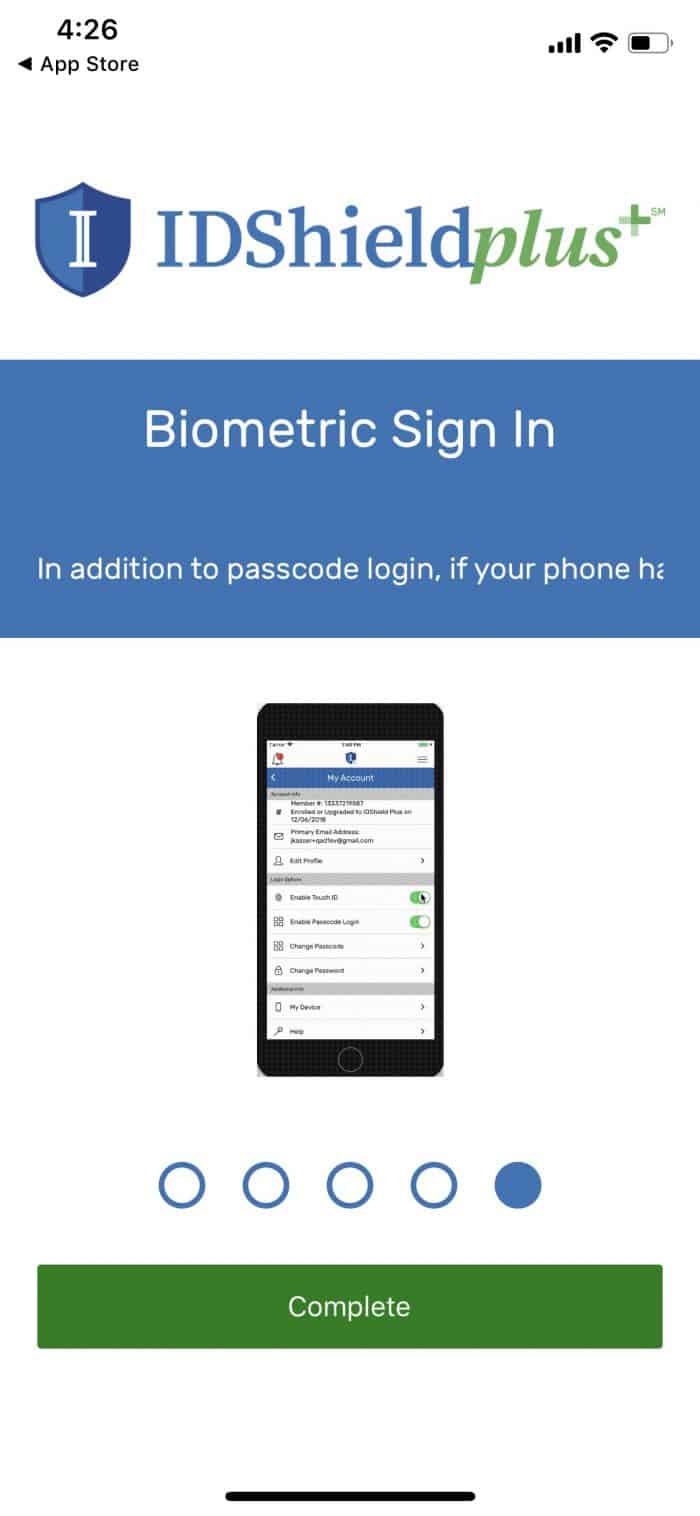 The app itself is fine. A menu button in the top right opens up a menu that mirrors the one in the web app.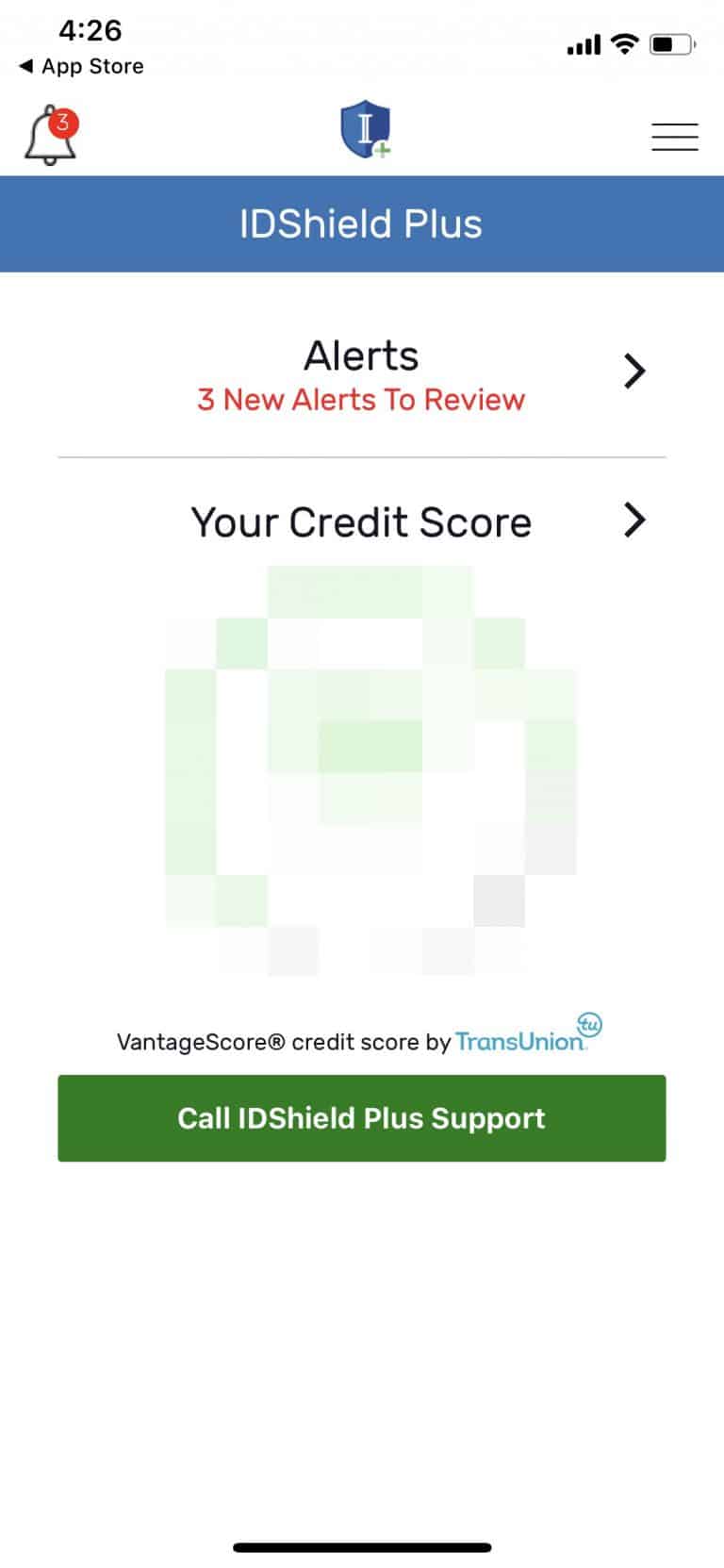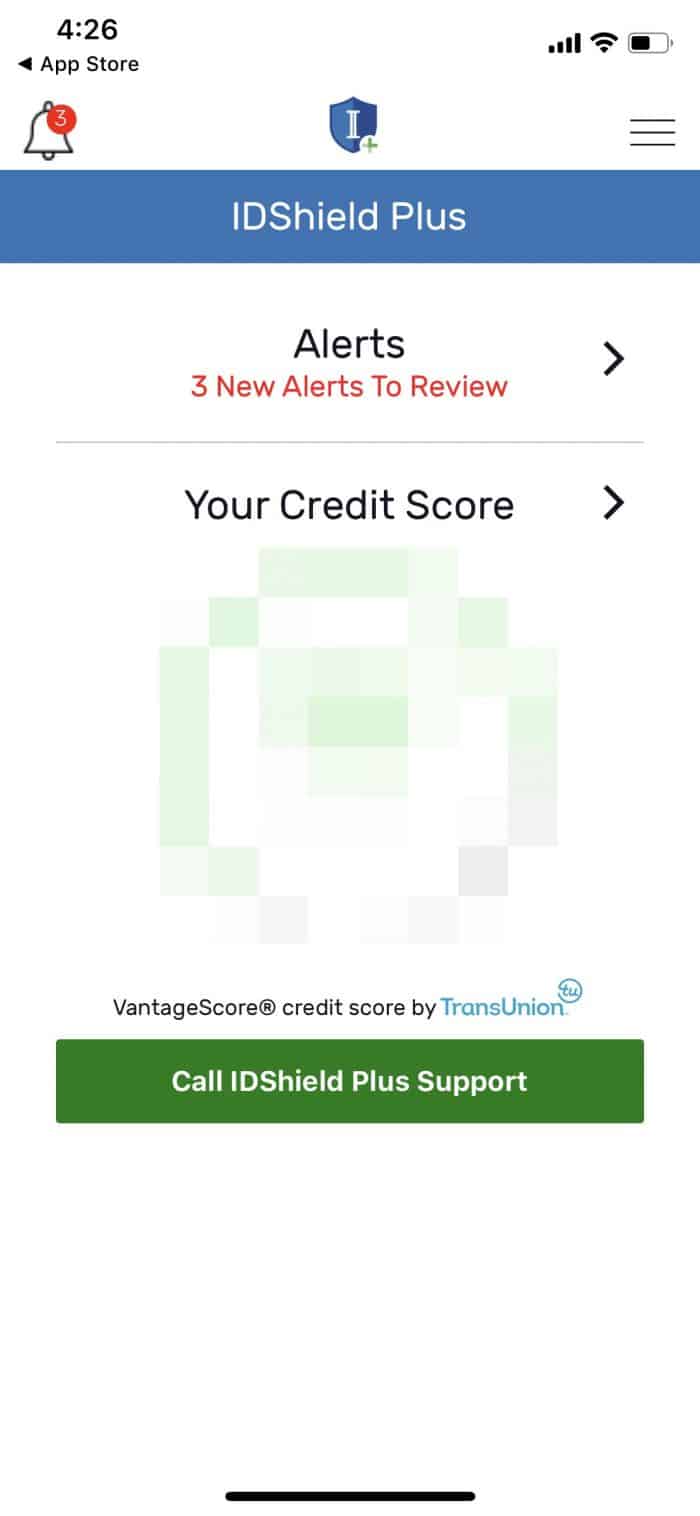 I found it a bit curious that the app defaulted to a screen that showed just my credit score — the alerts were tucked on a different page, though the app does at least put a little icon in the upper-left corner that gets a red badge with a number when there are alerts in your inbox. Tapping that icon takes you directly to the Alerts page within the app, which you can also get to through the menu.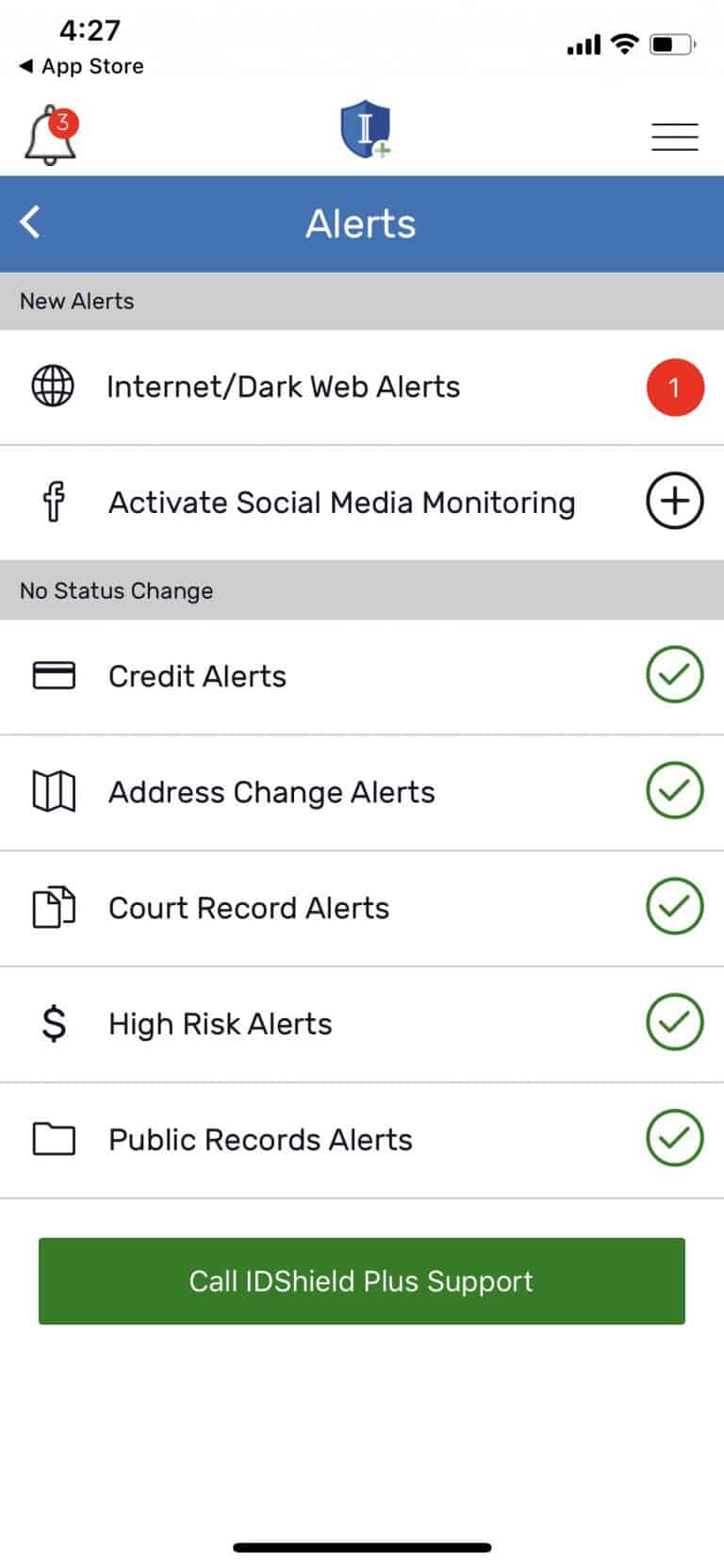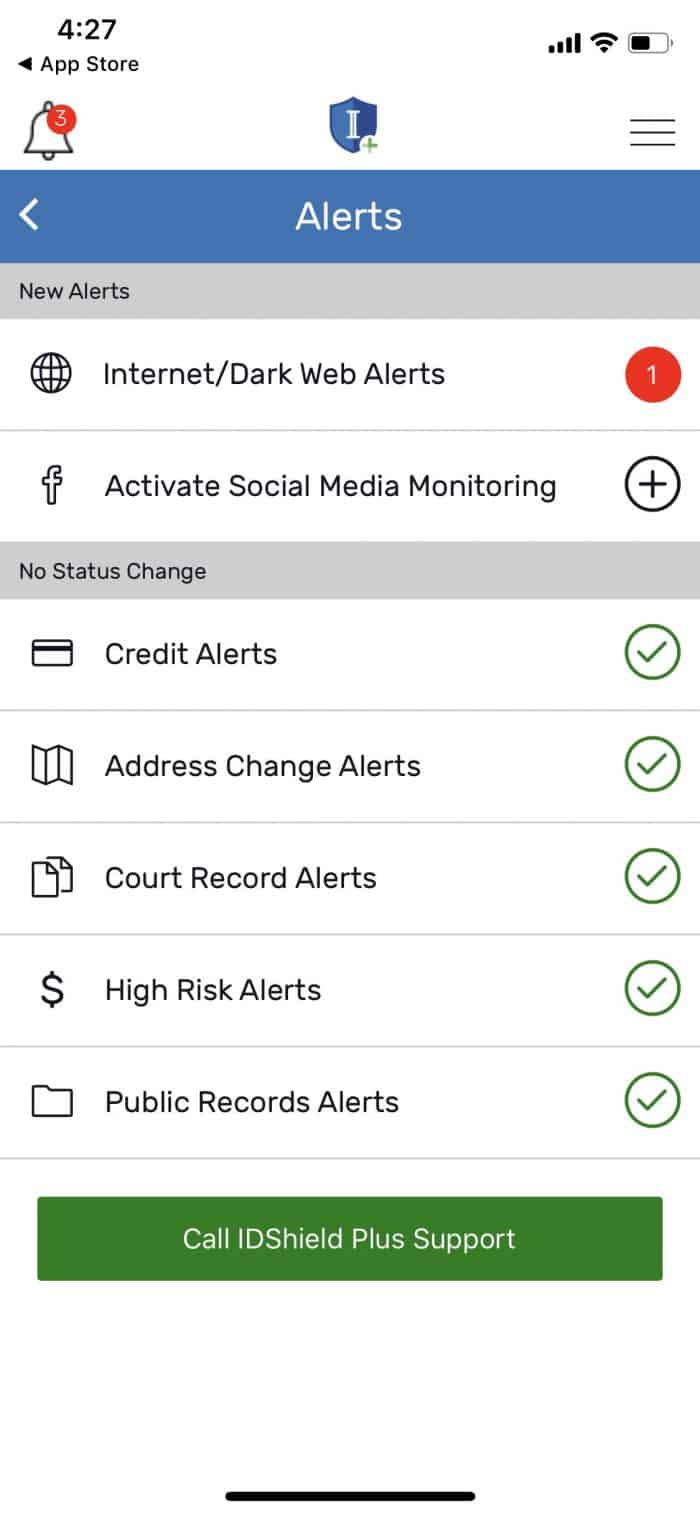 Verdict
The services that promise to monitor your identity and help you recover in the event of an identity crime all boast fairly similar features. Social Security number monitoring is a given, and credit monitoring is included in all but the most bare-bones services; 24/7 access to "recovery experts" is typical; and $1 million in insurance coverage for losses related to identity crimes seems to be the industry standard. The difference between these services comes down to price points and user experience more often than it depends on meaningful differences in features.
IDShield offers reasonable identity monitoring coverage for a reasonable price. Its inclusion of monthly credit reports is impressive. But its user experience leaves a lot to be desired. Compared to its peers, it's more of a pain to sign up for and offers mediocre apps. Canceling the service requires you to call the company.
All of that makes IDShield an acceptable, but clearly weaker, alternative to industry leaders like LifeLock and Identity Guard.