Services and Features
As explained above, the core of IDShield's features are the two basic things that you'd expect from this sort of service: monitoring/alerts and identity theft recovery. IDShield also has some extra perks that are worth mentioning. Let's tackle these categories one at a time.
Monitoring and Alerts
IDShield's monitoring covers the vital stuff: it keeps tabs on its members' Social Security numbers and credit. IDShield allows users to add financial accounts for transaction monitoring and alerts. The service also promises to check for payday loan applications in your name, court records that mention you, local sex offenders in your area, and more.
IDShield's monitoring is not as extensive as the monitoring available from some leading competitors. The crucial stuff is covered, but IDShield doesn't seem to be able to monitor your driver's license or passport (even though there's an image of a passport on the web app's home screen), among other omissions. However, IDShield does offer monitoring for social media accounts. That's something that not all competitors can match, and the feature could be particularly useful for families: IDShield will notify you if your personal information is shared in a social media post from one of your monitored accounts (that is, one of your accounts or the account of a family member that you have provided IDShield with the login for). The service also promises to watch out for posts that could damage your reputation, though it wasn't immediately clear to me how that part worked.
One feature that impressed me was the "Monthly Score Tracker" available in IDShield's apps. The Monthly Score Tracker puts your credit scores from each month on a graph. It's not useful right away — the scores start with the first month you were an IDShield member, of course — but it's a cool long-term tool that could help an IDShield customer spot concerning trends or unusual movement in their credit score. The monthly tracking only goes back one year, though. Impressively, IDShield also offers a credit report every month.
IDShield sent my alerts via email and also flagged them on the app; the mobile app can send push notifications if you let it. I didn't see a straightforward way to change my settings to, for instance, ask for text message alerts or stop IDShield from emailing me.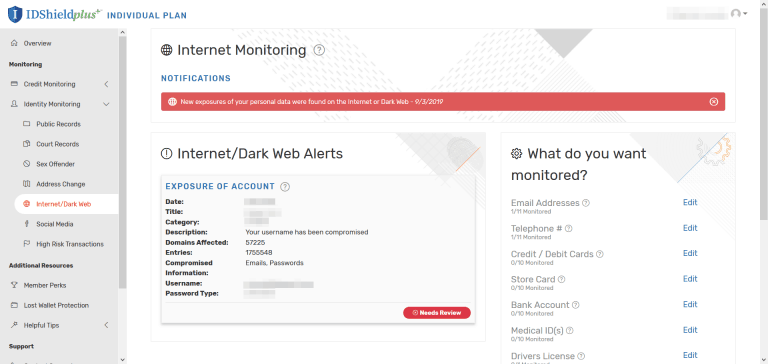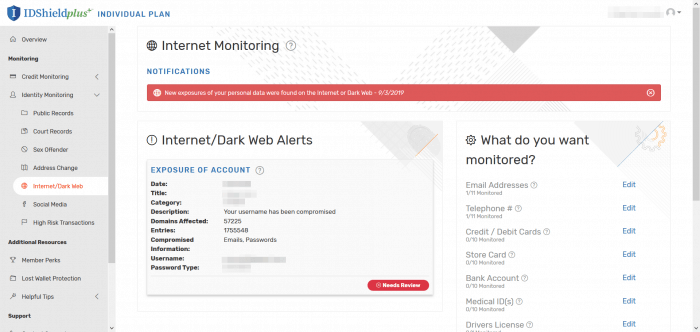 IDShield notified me of a potential leak of my information on the Dark Web due to a breach at a website I had made an account for ages ago. Not every service I've reviewed has notified me of this breach, so that's a point in IDShield's favor; on the other hand, IDShield seemed to miss two other similar breaches that were caught by other services that I've reviewed.
Recovery
Like its competitors, IDShield promises to help members recover in the event that they become a victim of an identity crime. That includes on-call recovery experts who will manage the process and help you tackle chores like freezing your credit. It also includes $1 million in insurance coverage. With some exceptions (always read the fine print!), this insurance coverage will reimburse you for stolen funds and expenses incurred due to an identity crime.
Other Features
IDShield customers will find a few useful items under "Additional Resources" in the IDShield web app. Like some other identity monitoring companies, IDShield offers "Lost Wallet Protection" — meaning that their pros will help you cancel credit cards and handle other chores of that nature if you let them know that you've lost your wallet. The app also includes a section of "Helpful Tips," including basic information about identity theft and risk reduction, links to government websites that will allow you to opt out of telemarketing calls and junk mail (in theory, anyway), and primers on data breaches and medical identity theft.
IDShield offers "unlimited consultation" with its security experts; if you have questions about how to protect yourself, you can just ask them.
There's also a menu item labeled "Member Perks." Click on this, and you'll be whisked off to a fresh browser tab and asked to create an account for your "LegalShield MEMBERPerks Program."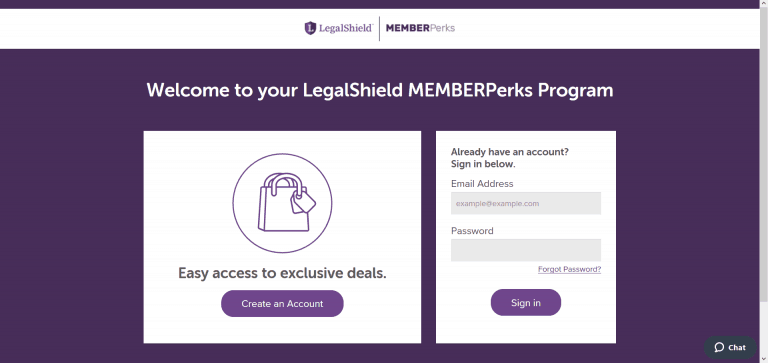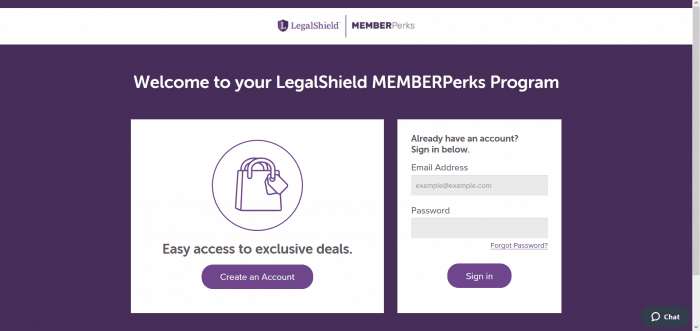 This appears to just be a way to opt into a mailing list for two email newsletters: one for "exclusive perks and discounts" and another for tips on "how to excel in the 21st century workplace." I did not sign up.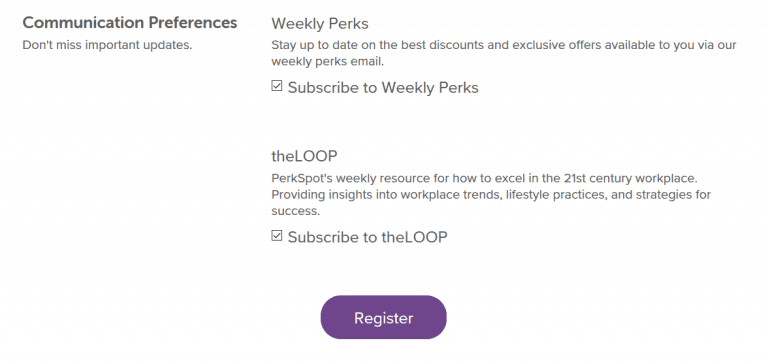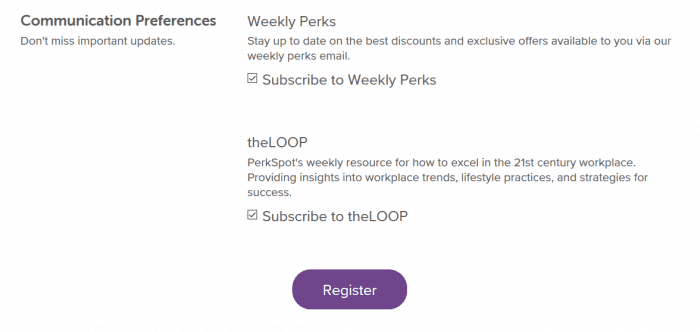 The most impressive of IDShield's bonus features is the monthly credit report that it provides. Getting a credit report every month is a pretty great deal for the price — which, by the way, is what we're talking about next.
Plans and Pricing
IDShield is more of a budget option than a top-shelf competitor to the likes of LifeLock. But it's also not super cheap in the way that, for example, Zander Insurance is. Let's take a look at the plans and prices.
All plans include:
Unlimited consulting
$1 million identity theft insurance
12-month credit score tracking history
Social Security number monitoring
24/7 credit monitoring and alerts
Dark web monitoring
Payday loan monitoring
Financial account monitoring
Sex offender alerts
Court records and bookings monitoring
24/7 customer support
Identity restoration services
Shoppers can build a plan to add to their cart by making two choices: whether the plan will be for an individual or a family, and whether the plan will monitor all three major credit reporting bureaus or just one. If you opt for the one-bureau plan, the one bureau that you get will be TransUnion.
Let's check out the plan options and pricing.
Individual, one-bureau plan: $12.95 per month
Individual, three-bureau plan: $17.95 per month
Family, one-bureau plan: $25.95 per month
Family, three-bureau plan: $32.95 per month
IDShield specifies that these are the prices that coverage "starts at," and I had to tell the company my home state before adding my chosen plan to my cart. Does this mean that IDShield's prices vary by location? Maybe! I'm honestly not really sure. And this would not be the last point of confusion in the IDShield sign-up process, as I'll talk more about in the User experience section.
Perhaps the "starts at" phrasing just reflects IDShield's hope that you'll sign up for extra stuff. You can sign up for additional services, too, though they're not really add-ons (or even related) to the identity monitoring plans and are therefore a bit outside the scope of this review. As soon as you complete your purchase of IDShield, its parent company LegalShield will pitch you on its eponymous service. LegalShield offers you "access to legal advice for just $20/month." We won't be covering that service in this review.