IDnotify Plan Options
We're going to unpack all three IDnotify plans: the Essential Plan, the Select Plan, and the Premier Plan. Keep in mind that most brands offer a three-option menu like this. We appreciate the simplicity here, as shopping for identity theft protection can feel overwhelming if it's your first time.
One thing we always look for when considering plan differences is how each one handles credit monitoring. In our experience, credit monitoring is the biggest factor that separates service tiers. With IDnotify, the Essential Plan has no credit monitoring. The Select Plan has credit monitoring for one bureau. And the Premier Plan covers all three major credit bureaus. As you'll see, we're big fans of three-bureau credit monitoring.
Credit monitoring aside, there are other differences, too. But don't worry, we're going to take a closer look at each IDnotify plan to see which one (if any) makes sense for you. Let's start with the essentials!
Essential Plan
In our experience, it's fairly common for entry-level plans to skip credit monitoring. We're used to seeing it, and that's exactly what you get (or don't get!) with the Essential plan. But you have to keep in mind that it's a budget-option under $10 per month — so you get what you pay for.
The Essential Plan from IDnotify is also missing some other identity monitoring features. For instance, there's no social security number trace and no monitoring of public records like court filings or change-of-address requests.
FYI: You can add child monitoring to any of IDnotify's plans. But at $5.95 per month, their child monitoring is expensive compared to the competition.
It does include social media monitoring, which is nice. From what we've seen, it's rare that a basic plan offers a more advanced feature like social media monitoring. So kudos to IDnotify for this.
Last but not least, the plan includes some nice recovery services. But if you're looking for identity theft insurance, you'll have to upgrade to the Select Plan.
Who it's best for: This budget option didn't impress us in our IDnotify review. We recommend either upgrading or looking at affordable plans from other providers.
Select Plan
With IDnotify's $17.99 per month Select Plan, we start to see the services we've come to expect. The Select Plan covers us with credit monitoring for one bureau and includes our one-bureau credit score and report once per year. It also gives us more extensive identity monitoring services, like public records monitoring.
FYI: There are no guarantees, but $1 million in insurance coverage should be more than enough to cover most identity theft incidents. It also happens to be the industry standard. We almost always see $1 million in coverage from services like IDnotify.
The Select Plan includes recovery services, just like the Essential Plan. But it also adds identity theft insurance coverage. This insurance covers us for up to $1 million in identity theft-related losses. We always recommend choosing a plan with an insurance policy, as you never know if (or when!) you might fall victim to a fraudster's schemes.
Who it's best for: The Select Plan is for folks looking for affordable middle-of-the-road coverage that covers the essentials.
Premier Plan
IDnotify's fanciest option is the Premier Plan at $25.99 per month. This plan will give you everything that's included in the cheaper plans, plus a few nice perks. For instance, the credit monitoring you'll get with the Premier Plan covers all three major credit bureaus. You'll also get annual three-bureau credit scores and reports, plus a monthly one-bureau VantageScore update.
Pro Tip: Three-bureau coverage is stronger than one-bureau coverage. That's because the major credit bureaus don't share information with one another. And however unlikely, it's possible that a key piece of information will reach just one or two of the bureaus instead of all three. So to cover your bases, we recommend three-bureau credit monitoring.
If you choose IDnotify's Premier Plan, we think you'll also like the additional monitoring features, such as financial accounts monitoring and sex offender registry monitoring. When we took the Premier Plan for a test drive, we really appreciated the credit simulator and financial planning tools. These extra bells and whistles will come in handy if you're striving after financial goals.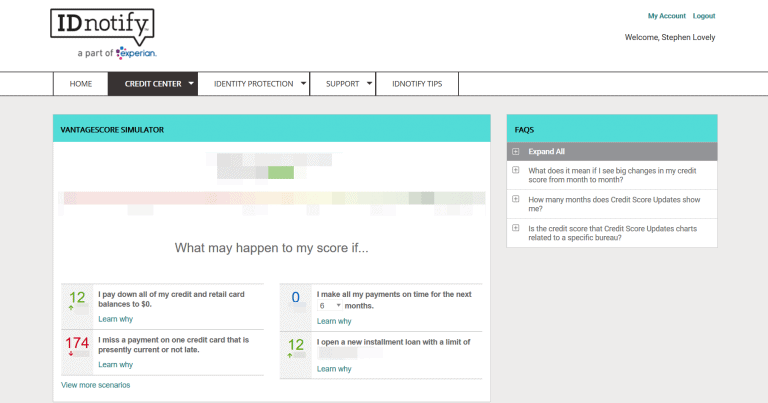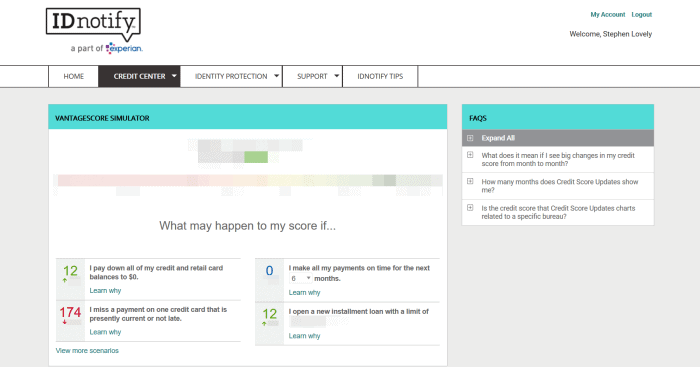 Who it's best for: The Premier Plan is best for people looking for the full three-bureau coverage we recommend, as well as anyone who wants solid personal finance tools included in their identity protection plan.
All of these plans have something to offer, but we recommend that you focus on finding a plan that includes all of our must-have features: credit monitoring, social security monitoring, recovery services, and insurance. With that said, IDnotify's Select Plan and Premier Plan look strongest to us.