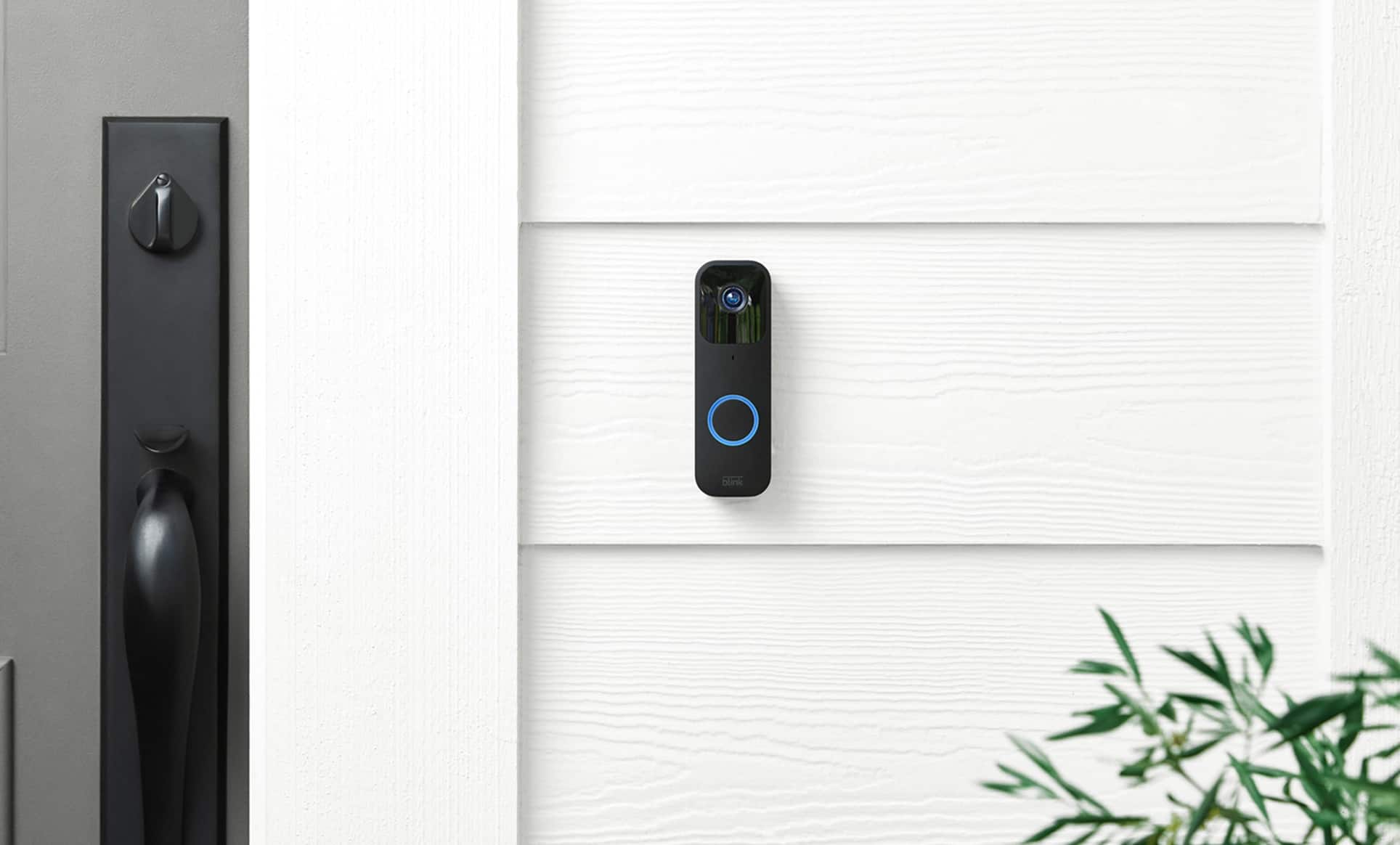 As part of Amazon's big product announcement on Wednesday, Blink unveiled two new devices, the Blink Video Doorbell and the Blink Floodlight. The brand of affordable, easy-to-use cameras is pricing its new doorbell at an industry-low $49.99, which sounds pretty enticing. But if you know Blink, you know this is par for the course.
If you don't know Blink, head to our review of Blink cameras to learn all about it. These cameras aren't super sophisticated or packed with sharp-as-a-tack video and advanced AI like Google's Nest cameras, but they handle the essentials of home security as well as the top wireless security cameras on the market today. Here's what we know about Blink's new devices so far:
Blink Video Doorbell
Like Blink's other cameras, the new Blink Doorbell records in full HD and offers wireless installation, two-way talk, person detection, and other useful features. And like its sister company, Ring, storing video footage with Blink is easy and inexpensive.
Thanks to infrared night vision, you'll see faces and details clearly with Blink's doorbell. You can set up the doorbell to work with your existing doorbell wiring, but it's not required. Alternatively, you can pair the device with a Blink sync module, which is not included in the doorbell camera package.
When you've got the doorbell connected to a sync module, you can pull up live video on demand on your smartphone. The device also works with the Blink Smart Home skill in the Alexa app, so you can pair it with Amazon Echo and Fire devices to monitor your Blink cameras using voice commands. Learn more about automating your home with Alexa and other devices in our full smart home automation guide.
Many renters choose Blink for effective apartment security, and the Blink Video Doorbell promises to be no exception. But do keep in mind that if you install the doorbell wirelessly, you won't be able to connect it to your existing doorbell's chime.
Blink Floodlight
Blink's new floodlight mount includes a pair of battery-powered, motion-triggered, 700-lumen LEDs that attach to any Blink Outdoor camera.
The Ring Floodlight Cam, though it costs a bit more than Blink's floodlight, is still the higher-quality option, for two key reasons: Ring floodlights max out at 1,800 lumens, and the whole device can be wired into your existing lighting so that you'll never have to bother with batteries.
But if affordability is top of mind for you, Blink is a solid option.
Blink Solar Panel Mount
The Blink Solar Panel Mount fits the Blink Outdoor camera like a glove. It's easy to install the mount with the camera firmly attached, as seen in the photo above. Both the camera and the solar mount are built to withstand rain, wind, and other inclement weather. And when you've got a camera attached to a solar panel, one thing is certain: You won't have to mess with batteries.
Pricing on Blink
Blink's camera and subscription costs are low across the board. The new doorbell, as we mentioned above, starts at $49.99. With it, you'll get package detection and other features free for the first 30 days thanks to a free Blink Home Monitoring trial. From there, you can choose from a short list of low-cost monthly subscription plans1 to store video, fine-tune your motion detection, and experience everything Blink's cameras can do.
Blink's Floodlight mount costs $39.99; bundling it with Blink Outdoor costs $139.98. The new Blink Solar Panel Mount bundled with Blink Outdoor costs $129.98. The Blink Video Doorbell, Floodlight, and Solar Panel Mount are all available for pre-order.
If you're wondering about Blink's existing inventory, the compact, plug-in Blink Mini camera is only $35, one of the cheapest cameras available. The Blink Indoor is $79.99, and the most popular of the bunch, Blink Outdoor, is $99.99. Again, in our tests of these devices, Blink's low prices certainly didn't mean low quality. And since Blink is owned by Amazon, shipping is free for Prime members.2
Final Thoughts: Is the New Blink Doorbell Worth It?
With a Blink Video Doorbell, you can see, hear, and speak to visitors right from the Blink Home Monitor app no matter where you are or what you're up to. It's similar to other leading doorbell cameras, but its low price sets Blink's doorbell apart. Stay tuned for our full review of this device.