Life Alert and the Apple Watch both offer features that allow them to connect with emergency services getting you the help you need if you've fallen or been injured. Although both are effective, the Apple Watch was not designed to be a medical alert device. It does offer certain features that make it easy to use when an emergency occurs. Life Alert, however, is the leader when it comes to medical alert systems and is the best choice if you want true peace of mind.
Looking for the right medical alert system for yourself or a loved one? If so, your search might lead you to the latest Apple Watch. These smartwatches are sleek, simple to use, and chances are you already own and know how to use Apple products. It seems like the easy choice. But you should know that there is more to a medical alert system than just calling for help in an emergency. Life Alert, a longtime leader in medical alert systems, is made specifically to call for help in emergency situations.
When it comes to deciding on which option is best for your family—Life Alert or Apple Watch—keep in mind that Apple Watch, though beautiful and functional, was not intended as an emergency medical alert device. With that said, there are some nifty features offered by Apple that Life Alert just doesn't have. Don't worry, we're going to compare the features, along with pricing, customer service, and much more. So keep reading to learn how Life Alert and Apple Watch stack up against each other.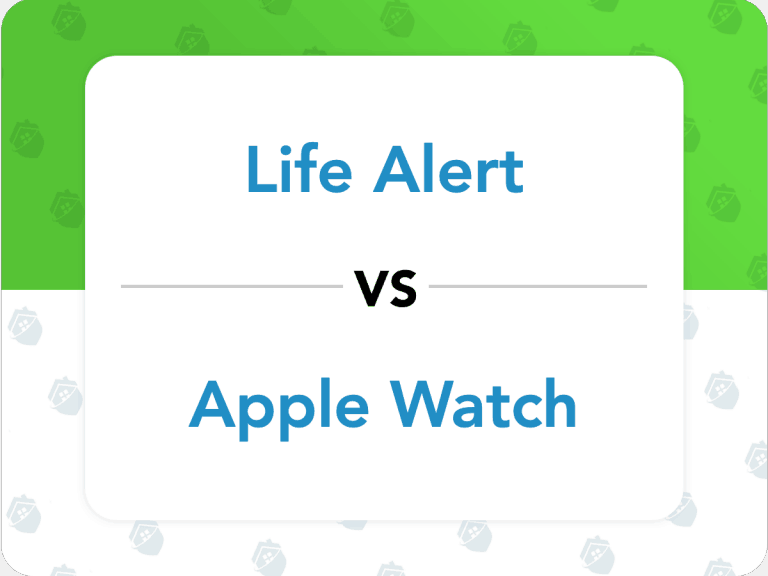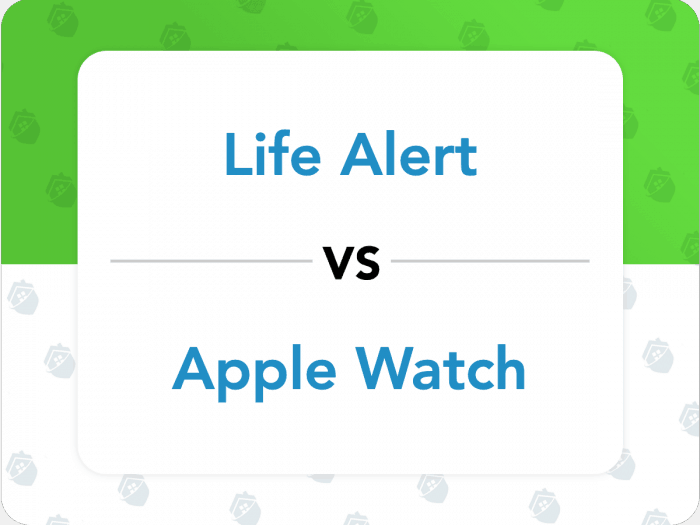 Overview of Services
Life Alert is a medical alert company that uses in-home and GPS-ready devices to monitor your loved one 24/7 (and has been doing so for over 30 years!). On the other hand, Apple Watch is the new kid on the block — it's a smart device that includes a monitoring app with automatic fall detection that can alert emergency services if you're in need of assistance.
Life Alert requires a 3-year contract
Apple Watch requires a cellular contract if you want to use all of its features
If you have the Apple Watch app, you may not need to purchase an additional contract
Life Alert offers water-resistant devices that can be worn in the shower
Life Alert connects you to a certified call center instead of only calling 911
Comparing The Similarities
When we tested the devices, we didn't find many similarities between Life Alert and Apple Watch. Life Alert, a brand that is well-known for their commercial tagline "Help, I've fallen and I can't get up!" has been working with seniors and their families for decades. And Apple Watch has only recently begun offering emergency alert-type services; otherwise, the smartwatch is an all-encompassing device that's not made specifically for seniors and their needs.
That being said, they both offer wearables, including apps, and can contact emergency services should you need immediate help. With the touch of a button (or screen!), both Life Alert and Apple Watch can help in a time of crisis and alert family and friends. Plus, they're both water-resistant and can be used in the shower or bath.
Devices contact emergency services
Help can be accessed with the touch of a button
Mobile apps for improved user experience
Waterproof wearables
Well-established companies (Life Alert and Apple)
Old vs New, How Life Alert and Apple Watch Differ
You'll start to see more differences as we dig deeper into Life Alert versus Apple Watch. They are fundamentally different devices, with different systems and uses. If you want to gift a smartwatch to your aging parent, and enjoy added emergency features like automatic fall detection, then we think the Apple Watch is a good fit. But if you're looking for 24/7 professional monitoring for a loved one who needs extra care when alone in their home, Life Alert was specifically made for this purpose.
Note that Apple Watch does not offer any programs or service plans. A cellular plan must be purchased to access the smart device's mile-long list of features. And each cellular carrier has its own prices, specials, contracts, and fees.
All the while, Life Alert offers in-house plans and rates that include everything you need to get started, including service and equipment. In other words, think of Life Alert as a one-stop-shop for an alert system; whereas the Apple Watch is a powerful tool that needs some configuring to get started.
It's also important to remember that Apple Watch will only call emergency services or 911, while Life Alert will connect the senior with dispatchers who can send emergency services, contact a family member, or just check-in to make sure all is well.
A cellular plan is required to access Apple Watch emergency alert features
Apple Watch includes automatic fall detection, Life Alert does not offer this as an option
Apple Watch can only contact emergency services or 911
Life Alert was designed to be a medical alert system for seniors, while it's only one feature of the Apple Watch
Life Alert owns and operates U.S.-based Monitoring Centers so help can be summoned 24/7 at the push of a button
Apple innovates some of the best devices and technology we've ever seen
Standout Features of Life Alert and Apple Watch
When it comes to features, pitting Apple Watch against Life Alert seems almost unfair. Obviously, Apple Watch has more applications—that's what it was designed for. It has a compass, fitness app, text messaging, and you can listen to music or call a friend (among thousands of other uses). But when viewing it as a medical alert device, we think these bells and whistles are pretty useless. That said, we're big fans of the health-related apps like the pedometer and heart monitor, which are great for seniors.
On the other hand, Life Alert won't let your parents text their friends, or play their favorite Beatles album (ahem, Help!). But that won't matter if you're just looking for 24/7 monitoring by a pioneer in the medical alert field. Life Alert devices connect to emergency dispatchers with the touch of a button. And your loved one won't have to worry about finding the right app in an emergency or while under duress. There's only one button, and all they need to do is press it, that's it!
Winner: Tie!
Ease Of Installation
Medical alert systems are meant to be easy to set up and easy to use. So you'll want to keep in mind that Apple Watch is not a plug-and-play device. Sure it can be set up fairly easily with the help of a family member (or at the Apple store or with your cellular carrier). But it's more involved to get started when compared to Life Alert. Tech-savvy seniors won't have a problem, but others shouldn't be surprised if they need a little extra help.
By comparison, Life Alert is actually pretty vague about their installation process. They merely state "professional installation is available" on their website. So bear in mind that additional fees for professional installation can cost a minimum of $95 — and it may be required. This is disappointing to us, as very few alert companies require an installation fee these days. And when they do, it's typically less than $50.
Winner: Apple Watch
Comparing Equipment
When it comes to equipment, Life Alert and Apple Watch are night-and-day different. Life Alert offers equipment for every use you might need—an in-home unit, a shower button, a GPS wearable, and even a phone app that can connect you right to dispatchers. Which option is best for you depends entirely on your needs and lifestyle. With the Apple Watch, all of these are combined into one wearable device that's sleeker and so much better looking to wear, even if it's more difficult to use at first.
It's worth mentioning again that Life Alert's equipment is not outfitted with automatic fall detection, so the button must be pressed to contact emergency dispatchers. On the other hand, automatic fall detection is built right into the Apple Watch, which is a very good thing. Even though it's not always 100% accurate, fall detection saves lives.
Comparing the equipment offered by Life Alert and Apple Watch is like comparing apples to oranges (no pun intended). But if we're looking for neat technology, elegant hardware, and an intuitive operating system, Apple easily takes the cake here.
Winner: Apple Watch
Everyday Use – Which is More Intuitive
While Apple Watch and Life Alert vary dramatically in most categories, they perform very similar basic functions, which is to connect you or your loved one with emergency services. Life Alert can be at-the-ready in the background for when it's needed most, whereas the Apple Watch is a multi-tasking device that can do a little bit of everything all the time. You can use it consistently throughout the day for everything from checking your calendar to listening to your favorite music, and more.
So… which one is easier to use and more intuitive? Life Alert of course. All you have to do is press a button and help is on-the-line. In fact, if you or your aging parent is averse to new technology, we'd recommend steering clear of the Apple Watch. Even though it's completely intuitive and easy to use, it does have a slightly steeper learning curve when compared to Life Alert.
Now, if you don't mind riding the learning curve (it's really not so bad), the Apple Watch was made to be stylish, highly-functional, and fun to wear. Instead of a clunky block around your neck, the Apple Watch makes quite the fashion statement. It can also be dressed up with different straps and hardware to match your outfit or personal style. And it's discreet, so there's the bonus of not having to wear a medical alert system.
Winner: Life Alert
Response Times – Which is Faster
The hope with any alert system is that you'll be able to reach help immediately if (or when!) an emergency occurs. With Apple Watch, there's a direct call to 911—which is your only option—and response times are almost instantaneous. But Life Alert is a bit different. Their dispatchers can contact friends or family, talk users through medical emergencies and other crises, or send emergency services directly to your home.
When testing the Life Alert help button, we experienced 20-second response times on average. This is actually faster than most medical alert companies in the industry. So Life Alert makes great marks when it comes to response times. Sure, 911 is faster to get on the line (usually within a few seconds), but Life Alert is far more flexible, and pretty quick, too!
Winner: Tie!
Comparing Emergency Connections
While each device offers a different way to reach emergency services, you are able to quickly and effectively get the help you need with either Apple Watch or Life Alert. Note that Life Alert owns and operates its own monitoring centers all within the U.S., and they are Five Diamond certified with the International Central Station Alarm Association. Also, their devices use either a landline or cellular connection.
Apple Watch can also contact your friends and family in combination with your Medical ID and saved emergency contacts. Who you want to alert and what information you wish to disclose to them can be pre-set in your Apple Watch medical app. But keep in mind that since Apple Watch only calls 911, their service really can't be used in the event of a nonemergency.
Winner: Life Alert
Customer Service – Which is Better
Apple is known for having all-around great customer service and a stellar warranty if you choose to cover your device with Apple Care when you purchase it. Repairs can also be made quickly and efficiently at your local store (with an appointment!), or after a quick call to customer service. With that said, Life Alert is known for its great service, too. They're an Accredited Business with the BBB with an A+ Rating, and they get positive user reviews online.
Winner: Tie!
Pricing & Contracts – Life Alert vs Apple Watch
Deciding which pricing plan is better, Life Alert versus Apple Watch, comes down to individual needs, cellular plans, discounts, and add-ons. The Apple Watch Series 5 can cost between $399 and $799 for the device alone (not cheap!). This doesn't include the cellular service that's needed for a fully-functional device. Depending on the carrier you choose, it's possible to get a discount on the device or even break up the cost into smaller installments.
While most cellular plans require a two-year contract, Life Alert requires a three-year contract. Their 36-month "membership" ranges between $69.90 to $89.85 per month depending on the device(s) you purchase and add-ons you choose. Additionally, there's a $198 one-time membership fee. Unfortunately, Life Alert's pricing is not available on the company's website, but a quick call with customer service can help you find the plan you need.
Keep in mind that Life Alert is by far one of the most expensive medical alert companies we've used. And we rarely (if ever!) are required to pay for a membership fee, so we don't love that Life Alert requires one. But remember, this is one of the most trusted and reliable brands in the industry. So we see the high price as somewhat of a trade-off — it's expensive, but it's not necessarily a deal-breaker.
Winner: Apple Watch
Our Verdict: Apple Watch vs Life Alert
Both Life Alert and Apple Watch offer high-quality devices with a reliable connection to emergency services. But the option that's best for you really depends on your lifestyle and the level of care you or your loved one needs. We're really partial to the Apple Watch for looks and functionality. But when it comes to a dedicated medical alert system, we think Life Alert is the better choice.
Folks who might benefit from having 911 ready at the touch of a tiny screen, while still enjoying useful features, fun games, and other apps, will really like the Apple Watch. On the other hand, seniors who need more specialized care, more comprehensive monitoring, and other senior-related services will really value the reliability and industry expertise that comes with Life Alert's medical alert system.
| | WINNER | |
| --- | --- | --- |
| Brand | Life Alert | Apple Watch |
| Starting Price | $69.90 per month + Installation Fee + Membership Fee | Price of watch and/or monthly cellular service |
| Installation | Professional installation | DIY |
| Minimum Contract Length | Three years | Length of cellular service contract |
| Connection | Emergency Monitoring Center | 911 Only |