Services and Features
As is the case with all services of its type, the backbone of IdentityForce's offerings are its monitoring services and the alerts that it sends when it notices something amiss. But it's worth going into more depth on these services and checking out a few of the peripheral offerings that IdentityForce has.
Monitoring
IdentifyForce monitors a wide range of personal information and indicators. In fact, IdentityForce's monitoring is more comprehensive than any other that I've encountered so far.
Like virtually all of its competitors, IdentityForce says it will monitor the Dark Web for any sign of personal information, such as your social security number, being posted or offered for sale. Depending on your plan (more on that in a moment), IdentityForce will also monitor your credit and give you reports and scores so that you can see for yourself how you're doing on that front. IdentityForce will also look out for fraud, like loans including dangerous payday loans) taken out in your name.
In addition to these relatively common monitoring services, IdentityForce checks some stuff that not all competitors do. IdentityForce tracks sex offender registries for people fraudulently using your name, allows you to set up alerts for large transactions to and from your bank, credit card, and investment accounts, and checks court records for crimes committed in your name. (Some competitors also check for crimes committed in your name, and it's important to note that IdentityForce's phrasing — "court records monitoring" — is more forthcoming than the general "crimes committed in your name" phrasing. In most cases, police reports are not public records by default. Court records are really the only things that these sorts of companies can monitor in order to "find crimes committed in your name," so it's not as if any of these companies is going to let you know in a matter of hours if someone in a faraway state pretends to be you after breaking into a bank. You'd probably find out when charges are filed, at the earliest.)
Alerts
If IdentityForce spots something out of the ordinary, it will let you know. You can set your own preferences and decide how you want to get your alerts: they can come in as text messages, automated phone calls, mobile alerts, and/or emails. I found that IdentityForce sent me a fair number of alerts — more than most competitor services I've reviewed have sent — in part because of the sheer volume of information the IdentityForce was tracking. IdentityForce frequently wanted to tell me about sex offenders moving into my area (not a huge surprise, since I live in New York City and within walking distance a couple million people), for instance, and many other services don't even track that. I was happy that IdentityForce gave me tools to customize my alerts.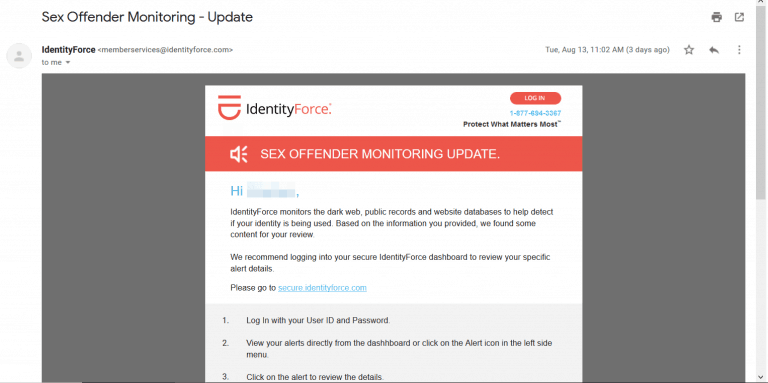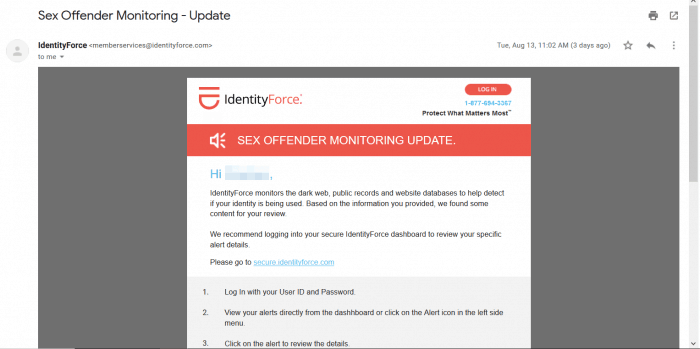 IdentityForce also allows you to set up alerts on your financial accounts manually (by default, of course, IdentityForce doesn't have access to your bank and credit card accounts — you have to give it access to get this feature).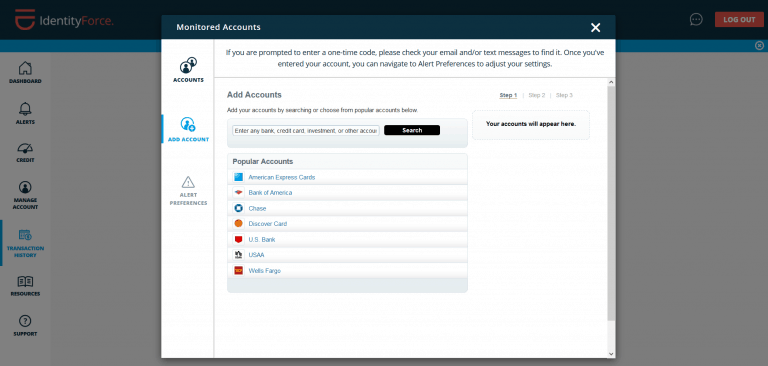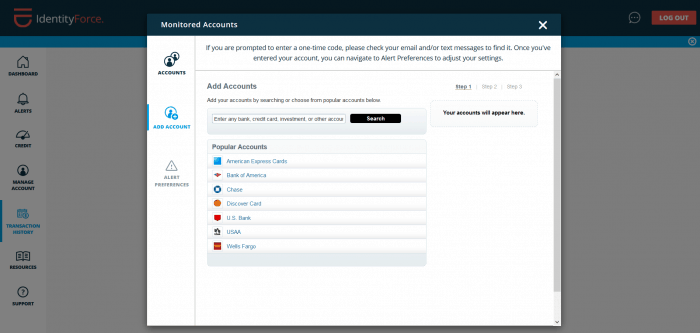 Other Features and Services
IdentityForce, like most companies of its type, is primarily focused on identity monitoring and alerts. But it also offers some other perks, including a junk mail opt-out and assistance with lost wallets (if you've ever lost a wallet, you know that calling all the banks and credit card companies that need to know about it is a real pain).
IdentityForce also offers a suite of PC protection tools. It's not quite the Norton 360 subscription that comes with competitor LifeLock, but it's something.
Plans and Pricing
IdentityForce offers a lot to its subscribers, but which of the features and perks you'll receive will depend on which IdentityForce plan you subscribe to. Happily, IdentityForce's plans and pricing structure are pretty straightforward.
Let's start with the plans. IdentityForce has just two. The basic plan, Ultrasecure, offers all of IdentityForce's monitoring and alerts besides those related to credit. The beefier plan includes everything that first one has, plus credit reports, scores, and monitoring. That one is called, aptly enough, Ultrasecure + Credit. For an additional price, you can have IdentityForce monitor your children with the Childwatch add-on package.
Ultrasecure
Advanced fraud monitoring
Change of address monitoring
Court records monitoring
Dark Web monitoring
Pay day loan monitoring
Sex offender monitoring
Social media identity monitoring
Smart SSN tracker
Alerts for bank, credit card, and investment account transactions
Junk mail opt-out
Medical ID fraud protection
Lost wallet assistance
Identity theft insurance coverage of $1 million
Fully managed identity theft restoration
Toll-free customer service support
Ultrasecure + Credit
Everything included in Ultrasecure, plus:
3-bureau credit monitoring
3-bureau credit reports
3-bureau credit scores
Credit score tracker
Credit score simulator
Childwatch
(Childwatch must be added to an Ultrasecure or Ultrasecure + Credit plan)
Childwatch is identity monitoring for your children.
The feature suite here is impressive overall, but it's hard to take the baseline package too seriously without any sort of credit monitoring. Credit monitoring is one of the main reasons that these sorts of services exist in the first place. In my view, Ultrasecure + Credit is far and away the better way to go here.
Let's take a look at how these packages are priced:
Ultrasecure: $17.99 per month OR $179.90 per year
Ultrasecure + Credit: $23.99 per month OR $239.90 per year
These prices are more or less in line with what we'd expect from an identity monitoring service. Comparable plans from LifeLock will cost you more (though, of course, LifeLock includes Norton 360), and some budget services offer coverage for less. If there's anything to knock IdentityForce for here, it's that the company doesn't offer anything at the $10 to $15 price point — but, for my money, the budget options that come in at that price point don't offer much for the money. IdentityForce's UltraSecure + Credit subscription is the right value.