Identity theft is a constant threat in our modern, connected world. The good news is that you can find out quickly whether your information has been compromised by checking indicators like your credit score and your financial transactions. The bad news is that checking all of these things regularly enough to effectively track all possible threats is time-consuming and, for many people, totally impractical.
Enter services like IdentityForce and its many competitors. These identity monitoring services are designed to track everything from credit scores to changes in address, and they'll notify you promptly if anything alarming crops up in a review of your personal information. But which of these services is the best? It may very well be IdentityForce, the widely-acclaimed competitor to peers like LifeLock. In this IdentityForce review, we'll take an in-depth look at how IdentityForce measures up against its stiff competition.
What is IdentityForce?
First, let's establish some basic things: What is IdentityForce? What does it do?
As we established earlier, IdentityForce is an identity monitoring service. Services of this type can't completely prevent identity theft (though many offer some basic protections, such as the anti-phishing software available through IdentityForce) — generally, the idea is that these services will detect identity theft early and protect you from the worst consequences of such a crime. The heart of these companies' service offerings is the tracking of vital personal information like your social security number, credit score, and name.
If an identity monitoring service like IdentityForce sees a loan taken out in your name, a major change to your credit rating, or another warning sign of identity theft, then it will alert you quickly. Like most other services of its type, IdentityForce also offers support services that kick in after an identity theft incident. IdentityForce offers up to $1 million in insurance coverage for identity theft incidents, and its specialists will guide you through the identity theft recovery and restoration process, should the need arise.
Services and Features
As is the case with all services of its type, the backbone of IdentityForce's offerings are its monitoring services and the alerts that it sends when it notices something amiss. But it's worth going into more depth on these services and checking out a few of the peripheral offerings that IdentityForce has.
Monitoring
IdentifyForce monitors a wide range of personal information and indicators. In fact, IdentityForce's monitoring is more comprehensive than any other that I've encountered so far.
Like virtually all of its competitors, IdentityForce says it will monitor the Dark Web for any sign of personal information, such as your social security number, being posted or offered for sale. Depending on your plan (more on that in a moment), IdentityForce will also monitor your credit and give you reports and scores so that you can see for yourself how you're doing on that front. IdentityForce will also look out for fraud, like loans including dangerous payday loans) taken out in your name.
In addition to these relatively common monitoring services, IdentityForce checks some stuff that not all competitors do. IdentityForce tracks sex offender registries for people fraudulently using your name, allows you to set up alerts for large transactions to and from your bank, credit card, and investment accounts, and checks court records for crimes committed in your name. (Some competitors also check for crimes committed in your name, and it's important to note that IdentityForce's phrasing — "court records monitoring" — is more forthcoming than the general "crimes committed in your name" phrasing. In most cases, police reports are not public records by default. Court records are really the only things that these sorts of companies can monitor in order to "find crimes committed in your name," so it's not as if any of these companies is going to let you know in a matter of hours if someone in a faraway state pretends to be you after breaking into a bank. You'd probably find out when charges are filed, at the earliest.)
Alerts
If IdentityForce spots something out of the ordinary, it will let you know. You can set your own preferences and decide how you want to get your alerts: they can come in as text messages, automated phone calls, mobile alerts, and/or emails. I found that IdentityForce sent me a fair number of alerts — more than most competitor services I've reviewed have sent — in part because of the sheer volume of information the IdentityForce was tracking. IdentityForce frequently wanted to tell me about sex offenders moving into my area (not a huge surprise, since I live in New York City and within walking distance a couple million people), for instance, and many other services don't even track that. I was happy that IdentityForce gave me tools to customize my alerts.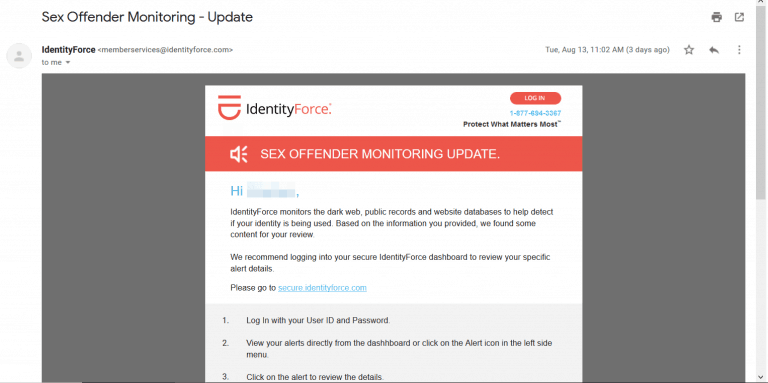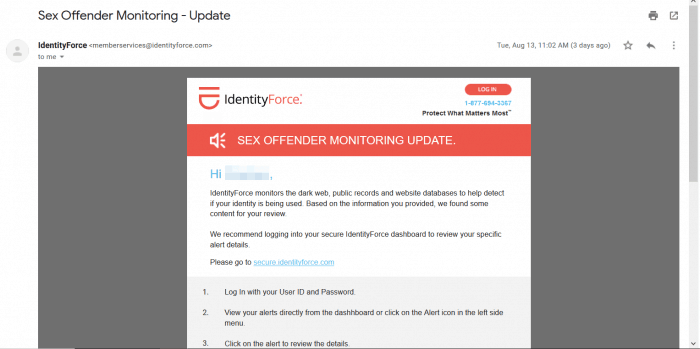 IdentityForce also allows you to set up alerts on your financial accounts manually (by default, of course, IdentityForce doesn't have access to your bank and credit card accounts — you have to give it access to get this feature).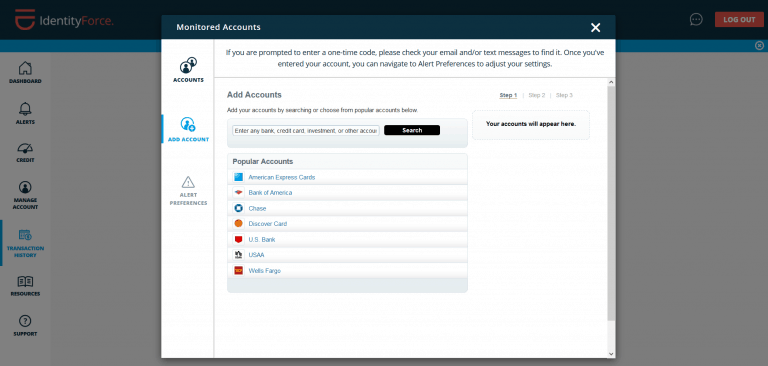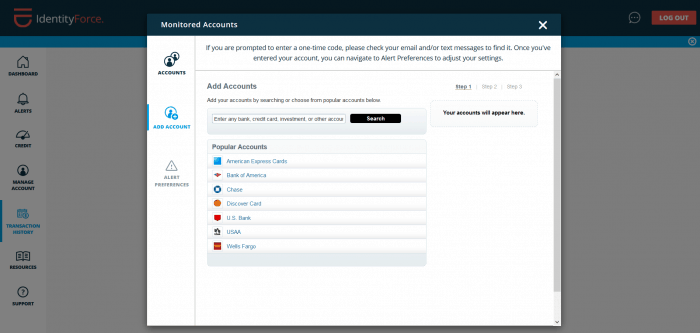 Other Features and Services
IdentityForce, like most companies of its type, is primarily focused on identity monitoring and alerts. But it also offers some other perks, including a junk mail opt-out and assistance with lost wallets (if you've ever lost a wallet, you know that calling all the banks and credit card companies that need to know about it is a real pain).
IdentityForce also offers a suite of PC protection tools. It's not quite the Norton 360 subscription that comes with competitor LifeLock, but it's something.
Plans and Pricing
IdentityForce offers a lot to its subscribers, but which of the features and perks you'll receive will depend on which IdentityForce plan you subscribe to. Happily, IdentityForce's plans and pricing structure are pretty straightforward.
Let's start with the plans. IdentityForce has just two. The basic plan, Ultrasecure, offers all of IdentityForce's monitoring and alerts besides those related to credit. The beefier plan includes everything that first one has, plus credit reports, scores, and monitoring. That one is called, aptly enough, Ultrasecure + Credit. For an additional price, you can have IdentityForce monitor your children with the Childwatch add-on package.
Ultrasecure
Advanced fraud monitoring
Change of address monitoring
Court records monitoring
Dark Web monitoring
Pay day loan monitoring
Sex offender monitoring
Social media identity monitoring
Smart SSN tracker
Alerts for bank, credit card, and investment account transactions
Junk mail opt-out
Medical ID fraud protection
Lost wallet assistance
Identity theft insurance coverage of $1 million
Fully managed identity theft restoration
Toll-free customer service support
Ultrasecure + Credit
Everything included in Ultrasecure, plus:
3-bureau credit monitoring
3-bureau credit reports
3-bureau credit scores
Credit score tracker
Credit score simulator
Childwatch
(Childwatch must be added to an Ultrasecure or Ultrasecure + Credit plan)
Childwatch is identity monitoring for your children.
The feature suite here is impressive overall, but it's hard to take the baseline package too seriously without any sort of credit monitoring. Credit monitoring is one of the main reasons that these sorts of services exist in the first place. In my view, Ultrasecure + Credit is far and away the better way to go here.
Let's take a look at how these packages are priced:
Ultrasecure: $17.99 per month OR $179.90 per year
Ultrasecure + Credit: $23.99 per month OR $239.90 per year
These prices are more or less in line with what we'd expect from an identity monitoring service. Comparable plans from LifeLock will cost you more (though, of course, LifeLock includes Norton 360), and some budget services offer coverage for less. If there's anything to knock IdentityForce for here, it's that the company doesn't offer anything at the $10 to $15 price point — but, for my money, the budget options that come in at that price point don't offer much for the money. IdentityForce's UltraSecure + Credit subscription is the right value.
User Experience
I found it very easy to set up my account with IdentityForce. Unlike some competitors, IdentityForce doesn't ask for things like your social security number until after you've checked out. I suppose that could cause issues with uninformed customers who might be upset to learn that they have to share this private information, but I preferred it this way. I don't want companies to be able to learn my social security number from an abandoned online shopping cart.
Once I paid for my membership, I was pushed on to a page asking for all the personal information that IdentityForce wanted to monitor. I was impressed by the breadth of IdentityForce's monitoring: I could add things like my driver's license number and passport number, for instance.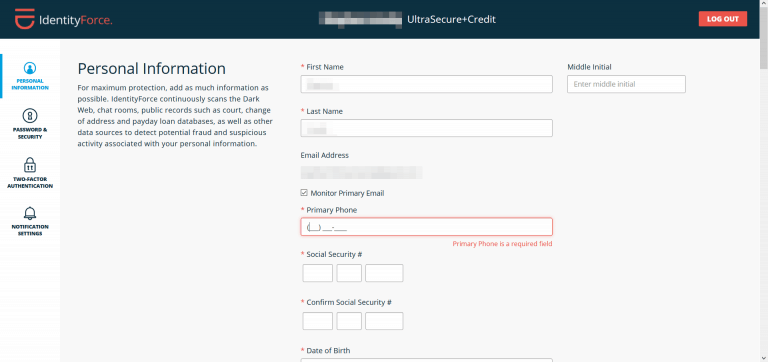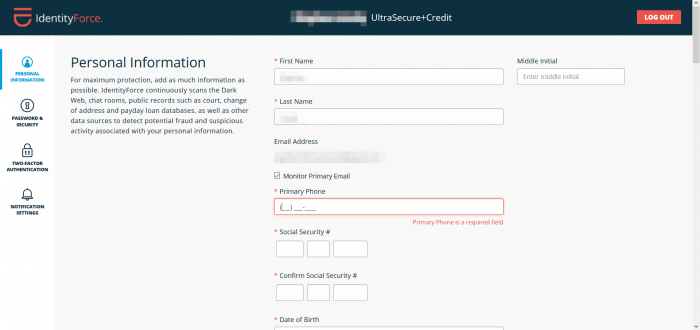 Of course, if you give a company all of this information at once, it's fair to worry about how secure it is. IdentityForce doesn't have the prior scandals that competitor LifeLock does, but it's still a little nerve-wracking to have one account with all of this information attached to it. And a hack of IdentityForce isn't the only thing to fear: with any of these services, you also have to worry about someone cracking things from your end somehow. What if someone cracks your password?
Given these natural concerns, I was happy and impressed to see that IdentityForce defaults to two-factor authentication. In fact, I didn't see a way to turn it off! Two-factor authentication can be a minor chore, but it's far and away the smarter choice when it comes to protecting accounts as important as this.
Entering my information, setting up two-factor authentication, choosing a password, and the rest of the stuff that IdentityForce's welcome screen demanded only took me a few minutes (it might take you a bit longer if you don't have things like your passport handy, though you could always just skip some of the boxes). When I reached the end, IdentityForce still hadn't asked me about financial accounts like my credit card and bank account. But when I submitted my answers and was brought to IdentityForce's web app, I saw that I could add those financial accounts under the "Transaction History" tab. Maybe IdentityForce figured that information was a little too involved to include in the introductory screen. At any rate, adding the requisite information didn't take long and added to the already long list of information that IdentityForce was monitoring for me.
I was also impressed with the little perks that IdentityForce adds to its baseline offerings. The bonus stuff that these services add can go a long way toward differentiating what are, at the end of the day, pretty similar monitoring and alert services. IdentityForce's perks included a whole "Resources" tab full of tools like loan comparison calculators and debt consolidation tools. It was an impressive financial resources dashboard that could definitely help a dedicated self-starter improve his or her financial picture.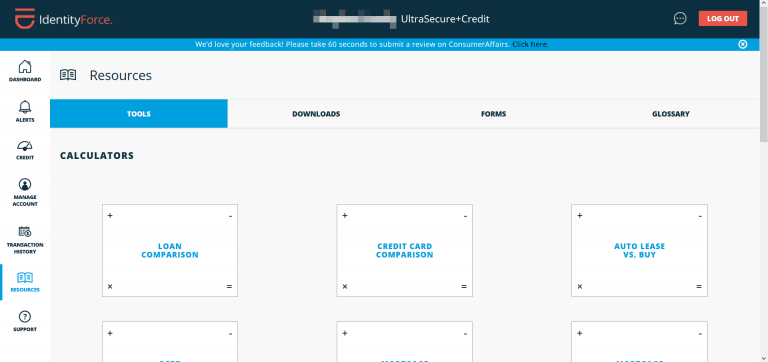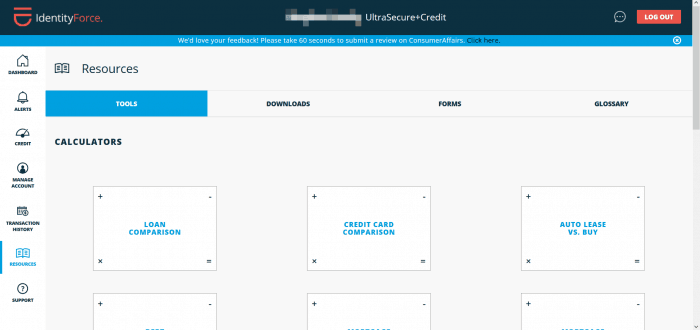 IdentityForce's mobile app is pretty sleek. It includes most of the main features from the web app. I did notice that you can only add new bank accounts to be monitored on the web app, though; the mobile app is more for checking on things than for setting IdentityForce up in the first place. With the latest update comes some great new features including Mobile Attack Control™ which monitors and alerts users to a wide array of threats including rogue apps, spyware, unsecured Wi-Fi connections, and even recognizes fake or "spoof" networks. Also, members now have rapid access to identity restoration experts along with facial recognition and Touch ID sign-in for increased security.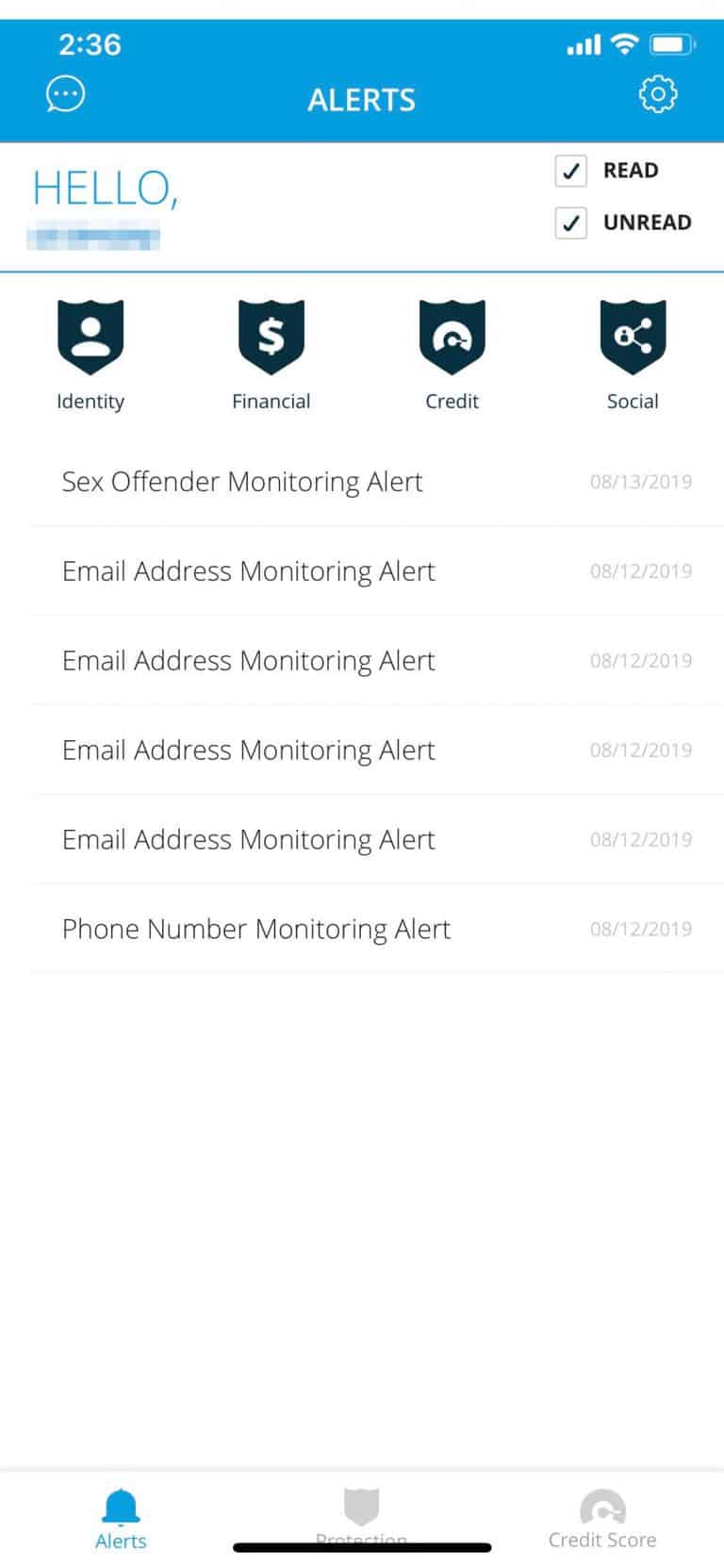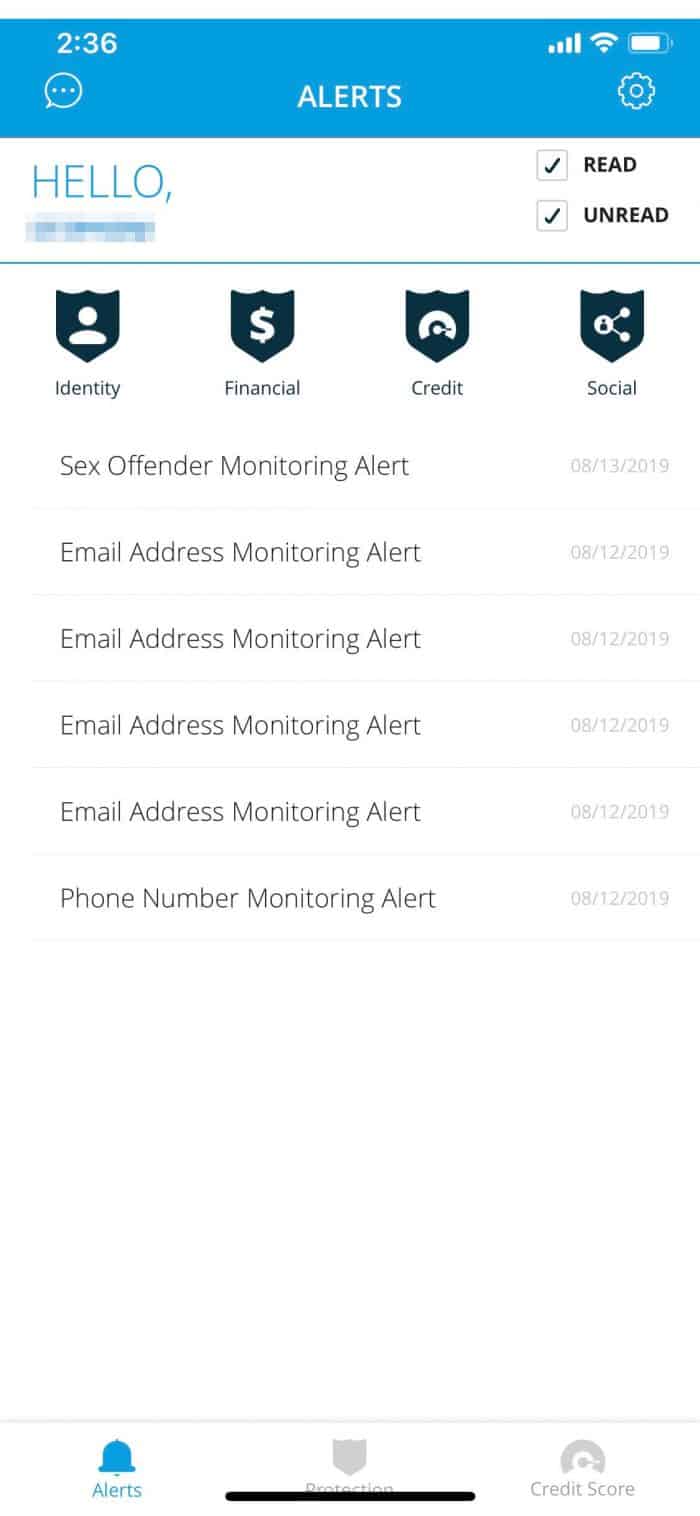 All in all, I was very impressed with the user experience that IdentityForce had to offer.
Our Verdict
IdentityForce makes a strong case for being the very best of the identity monitoring services. Its monitoring is extensive, its alerts are easily customizable, and its app is a breeze to use. Setup is easy, and the price — if not quite a steal — is a fair one to ask. If you're looking for an identity monitoring service, you should strongly consider IdentityForce in general and the Ultrasecure + Credit plan in particular.
IdentityForce has fared well in reviews, and you can add our voice to the chorus. This is clearly one of the very best identity monitoring services on the market.