Features & Services
Like its peers and competitors, AllClear ID focuses mainly on two types of offerings. First, there's the identity monitoring and the attendant alerts. Then there are the things that AllClear ID offers to those who have been victimized by identity crimes. Let's take each category in order.
Monitoring and Alerts
AllClear ID is missing a few features that are common among competitor services. AllClear ID will not allow you to add your bank accounts to your monitoring services. With other identity monitoring services, adding these sorts of accounts usually just means setting automatic alerts for transactions of certain types and amounts, but that can be a useful feature, and AllClear ID is missing it. AllClear does allow you to connect credit card accounts, though.
AllClear ID monitors its subscribers' credit, which is the most important aspect of identity monitoring. However, AllClear ID's monitoring reach pretty much ends there. Things like sex offender registries and court records are not checked by AllClear ID.
AllClear ID offers an annual credit report from TransUnion, as well as an annual VantageScore (VantageScore is the credit bureaus' answer to the better-known FICO).
AllClear ID has a child monitoring service called "ChildScan." You can add children to your account for an extra fee.
If and when AllClear ID spots an issue with your private information, it will alert you via telephone call. As far as I can tell, there's no way to change this to email or text.
Monitoring and alerts are the core offerings of any identity monitoring service. It's where the services are really set apart. Recovery services will (hopefully) rarely be used, and the insurance coverage is provided by an outside insurance company (plus, those outside policies tend to look very, very similar, whether you're looking at LifeLock, AllClear ID, or one of the other identity monitoring services). In other words, this is the part of AllClear ID's services that AllClear ID actually does itself. And, frankly, AllClear ID's efforts in this department are pretty underwhelming. AllClear ID monitors fewer things than its peers, offers fewer options for alerts and for adding financial accounts, and is pretty stingy with the credit scores and reports.
Recovery
The insurance coverage that customers get through AllClear ID covers up to $1 million in qualified costs and damages, but — as always — there are limits and exemptions. For instance, an insurance award will cover no more than $1,000 in certified public accountant costs.
The recovery process is the toughest thing about these sorts of services to review. My identity wasn't stolen, so I didn't have any interactions with the recovery specialists at AllClear ID.
Other Features
Like many competitors, AllClear ID offers "lost wallet protection." That usually means that you can back up your important information (like credit card numbers and driver's license ID numbers) in your account to make it easier to track down all of the various banks, credit card companies, and government agencies that you'll have to call if and when you misplace your wallet full of all of this stuff. Generally, it also means that the service will use this information to act on your behalf and do the legwork it takes to reissue bank cards and such. Bizarrely, though, AllClear ID doesn't let you punch in all of your information in its web app. Instead, you're supposed to print out a paper form and fill it out.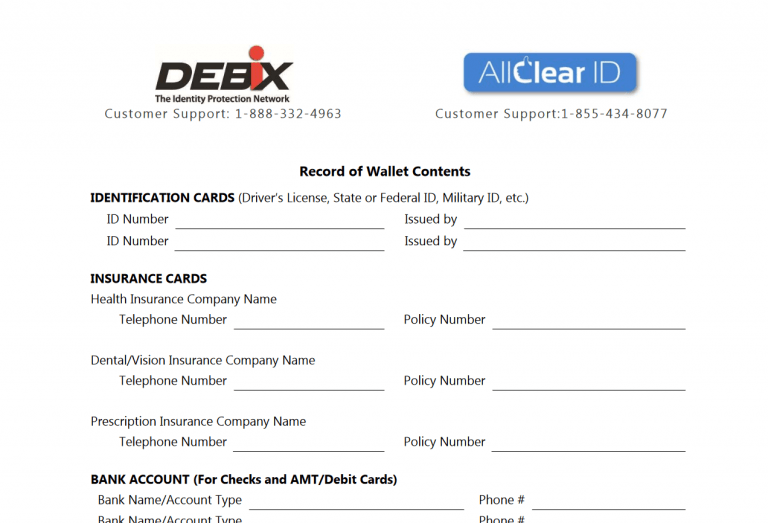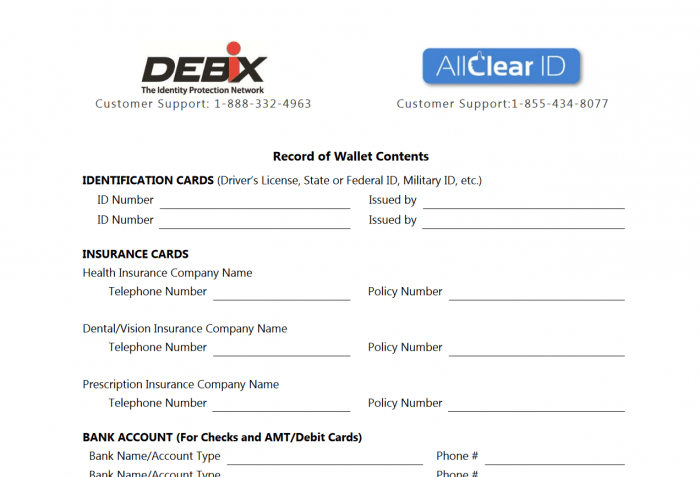 Lost wallet services are already kind of minor things — you can just as easily write down your ID number and other information on a piece of paper and stick it in a filing cabinet, and it doesn't take all that much time to call a credit card company and say you need a new card — but most services at least make the process more convenient by keeping all of the information in the app. Here, you're literally just supposed to write down the stuff on your wallet like you could on a piece of loose-leaf paper.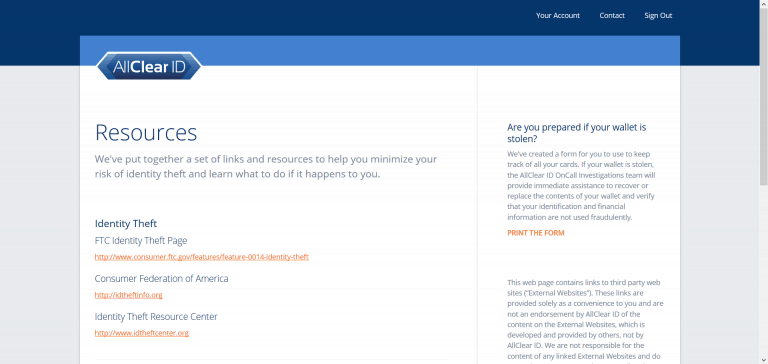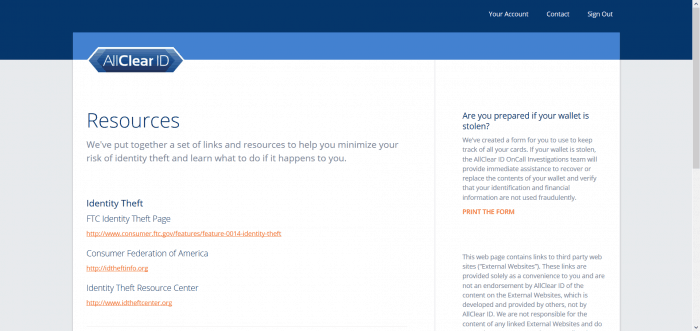 AllClear ID's web app also has a "resources" page, where you can opt out of junk mail and learn more about identity theft and best practices that could help protect you.