Overview
Security isn't about paranoia. On the contrary, It's about peace of mind. Investing in security measures helps you rest easy knowing that the life you've built is protected. In a high-tech era that makes it all too easy for you to be paranoid about your privacy, identity monitoring services have a vital role to play in your security solutions. In our AllClear ID review, we'll see whether AllClear will give you the peace of mind that you deserve, as well as how it stacks up against its many competitors.
Identity monitoring services of the sort that AllClear ID offers are very important these days. Crooks are everywhere online, and even the big tech companies that hoard so much personal and financial information about you can't always be trusted to keep that information secure. An identity monitoring service can help you keep track of the data that you don't want getting out — and can also give you better options if and when you become a victim of an identity crime.
What is AllClear ID?
AllClear ID is an identity monitoring service — but what, exactly, does an identity monitoring service do? Contrary to popular belief, identity monitoring services don't usually do much to prevent your personal information from falling into the hands of crooks. Only the FBI spends much time doing that; aside from following best practices and knowing the warning signs of phishing attempts and other scams, there's not all that much that you can do to keep the bad guys from stealing your identity. While some identity crimes would have been prevented had the victims been a little more savvy, there are also plenty of identity theft incidents in which the victims are entirely blameless. Even huge and important organizations like Equifax can suffer breaches that expose the private personal and financial information of blameless citizens.
This is why identity monitoring services focus primarily on detection and recovery, rather than prevention. AllClear ID and its peers keep tabs on your information, monitoring things like your credit report and keeping an eye out for things like your social security number. If an odd-looking loan is suddenly taken out in your name or if your social security number pops up on the dark web, AllClear ID will let you know so that you can react and try to limit the impact of the identity crime. AllClear ID's specialists will help you through the recovery process, and an insurance policy will act as your financial safeguard against theft and the expenses of identity recovery.
AllClear ID offers its services to individuals as well as to businesses. For businesses, AllClear ID focuses on "customer security." That's typically a euphemism for making things right with customers who may have been affected by data breaches; if your company just lost a bunch of your customers' private data to hackers, then you might want to give AllClear ID a call as you seek to make things right.
Features & Services
Like its peers and competitors, AllClear ID focuses mainly on two types of offerings. First, there's the identity monitoring and the attendant alerts. Then there are the things that AllClear ID offers to those who have been victimized by identity crimes. Let's take each category in order.
Monitoring and Alerts
AllClear ID is missing a few features that are common among competitor services. AllClear ID will not allow you to add your bank accounts to your monitoring services. With other identity monitoring services, adding these sorts of accounts usually just means setting automatic alerts for transactions of certain types and amounts, but that can be a useful feature, and AllClear ID is missing it. AllClear does allow you to connect credit card accounts, though.
AllClear ID monitors its subscribers' credit, which is the most important aspect of identity monitoring. However, AllClear ID's monitoring reach pretty much ends there. Things like sex offender registries and court records are not checked by AllClear ID.
AllClear ID offers an annual credit report from TransUnion, as well as an annual VantageScore (VantageScore is the credit bureaus' answer to the better-known FICO).
AllClear ID has a child monitoring service called "ChildScan." You can add children to your account for an extra fee.
If and when AllClear ID spots an issue with your private information, it will alert you via telephone call. As far as I can tell, there's no way to change this to email or text.
Monitoring and alerts are the core offerings of any identity monitoring service. It's where the services are really set apart. Recovery services will (hopefully) rarely be used, and the insurance coverage is provided by an outside insurance company (plus, those outside policies tend to look very, very similar, whether you're looking at LifeLock, AllClear ID, or one of the other identity monitoring services). In other words, this is the part of AllClear ID's services that AllClear ID actually does itself. And, frankly, AllClear ID's efforts in this department are pretty underwhelming. AllClear ID monitors fewer things than its peers, offers fewer options for alerts and for adding financial accounts, and is pretty stingy with the credit scores and reports.
Recovery
The insurance coverage that customers get through AllClear ID covers up to $1 million in qualified costs and damages, but — as always — there are limits and exemptions. For instance, an insurance award will cover no more than $1,000 in certified public accountant costs.
The recovery process is the toughest thing about these sorts of services to review. My identity wasn't stolen, so I didn't have any interactions with the recovery specialists at AllClear ID.
Other Features
Like many competitors, AllClear ID offers "lost wallet protection." That usually means that you can back up your important information (like credit card numbers and driver's license ID numbers) in your account to make it easier to track down all of the various banks, credit card companies, and government agencies that you'll have to call if and when you misplace your wallet full of all of this stuff. Generally, it also means that the service will use this information to act on your behalf and do the legwork it takes to reissue bank cards and such. Bizarrely, though, AllClear ID doesn't let you punch in all of your information in its web app. Instead, you're supposed to print out a paper form and fill it out.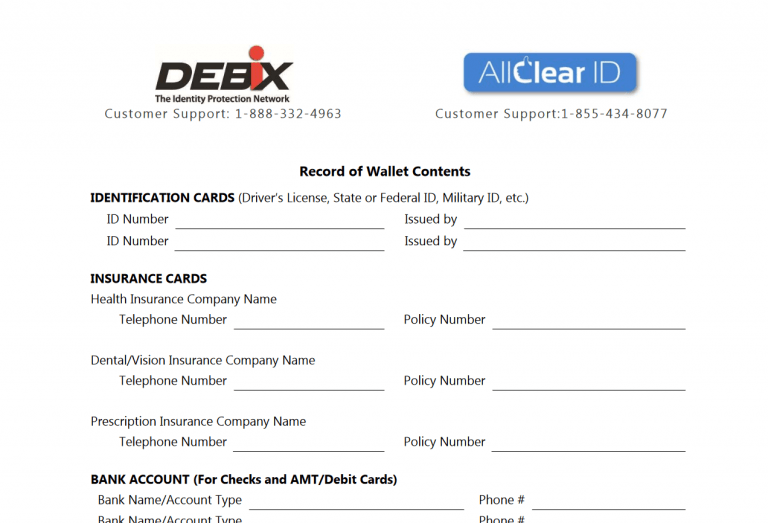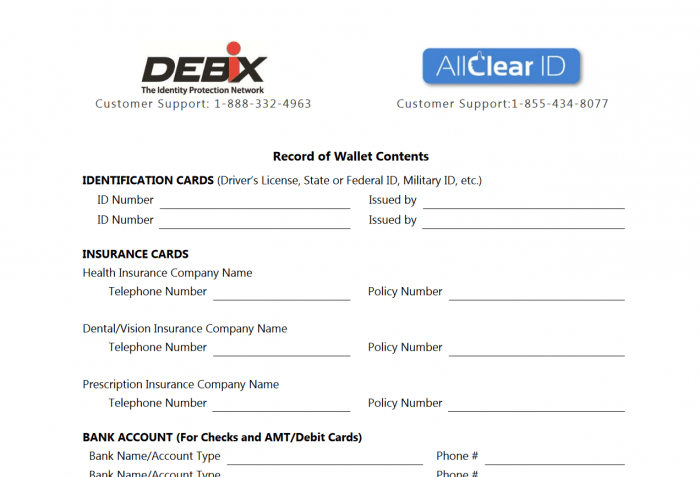 Lost wallet services are already kind of minor things — you can just as easily write down your ID number and other information on a piece of paper and stick it in a filing cabinet, and it doesn't take all that much time to call a credit card company and say you need a new card — but most services at least make the process more convenient by keeping all of the information in the app. Here, you're literally just supposed to write down the stuff on your wallet like you could on a piece of loose-leaf paper.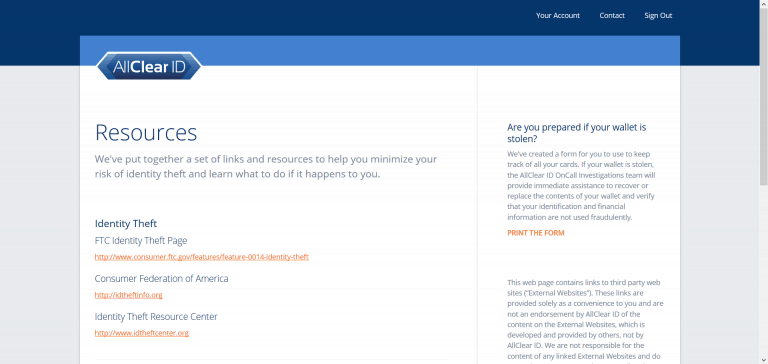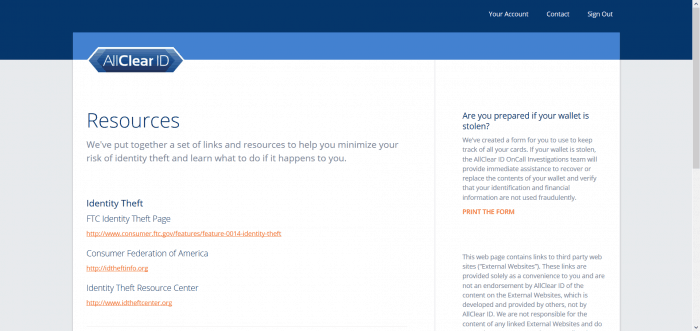 AllClear ID's web app also has a "resources" page, where you can opt out of junk mail and learn more about identity theft and best practices that could help protect you.
Ease of Use
Immediately after signing up for AllClear ID's ProPlus plan, I was prompted to set up "secure sign in" by receiving a phone call from AllClear ID. AllClear ID had me record my name, a "voice key," and a four-digit PIN. The voice key can be any spoken phrase, and it's supposed to function as a verification of AllClear ID's identity; when AllClear ID calls a customer, they play that customer's voice key.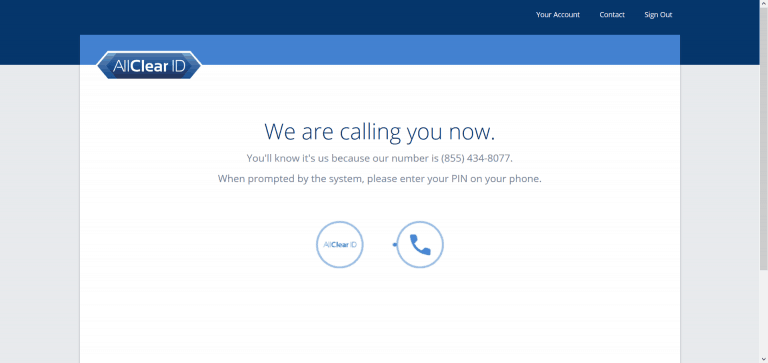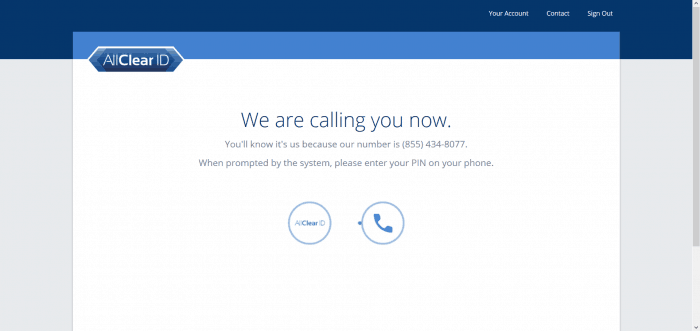 Once I had completed these tasks, I could sign into AllClear ID's web client. AllClear ID immediately called me again, played by voice key, and prompted me to enter my PIN to complete the sign-in process. I did, and I was in. I was happy to see the use of two-factor authentication, though I wasn't sure why it had to be a robo-call (it's more typical these days to do two-factor authentication by text message).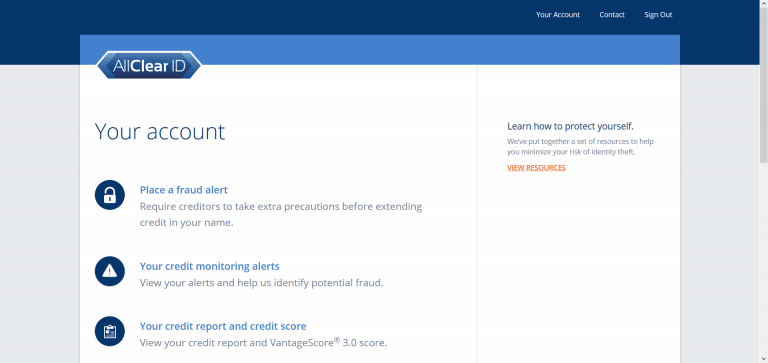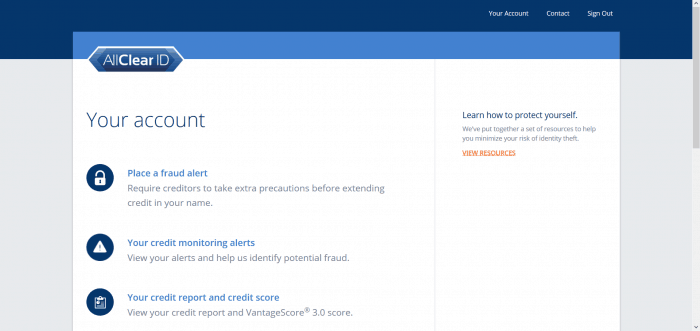 AllClear ID appears to have no mobile app whatsoever, which is extremely unusual in this space.
Using AllClear ID's services, it was hard to forget that the company puts such an emphasis on its B2B business. With other businesses being AllClear ID's real customers — and with the end users left with the choice between using AllClear ID for free or footing the bill themselves for a different service — there appears not to be much incentive for AllClear ID to match the user experience of its peers. AllClear ID lags far behind LifeLock, IdentityForce, and other identity monitoring services in terms of user experience.
Customer Service
AllClear ID excels in stellar customer service. You have highly trained professionals acting as your advocate during incredibly stressful situations. They handle as much of the process as they can on their end, using their expertise to streamline everything for you. You can easily get in touch with an investigator if you suspect that your identity has been stolen.
You will never have to deal with upsells of other services from AllClear ID. All of the call centers are US-based and you have a representative or a team who have been specifically trained in your unique situation.
Value
AllClear ID's plans are somewhat confusing. The company sorts its offerings into three brands: AllClear Identity Repair, AllClear Identity Theft Monitoring, and AllClear Credit Monitoring. If you get AllClear ID via a redemption code given to you by another company (that is, by one of AllClear ID's corporate customers), then you'll get some combination of these three services, depending on the code.
But if you're an independent customer looking to get AllClear ID for yourself, you'll see has two price tiers, Pro Plus and Basic, instead of the three categories mentioned before.
Pro Plus: $14.95 per month
Basic: Free
ChildScan: $4.95 per child, per month
Adding to the confusion, the "Pro Plus" branding seems to reference AllClear Plus and AllClear Pro, the two old brand names of AllClear Identity Theft Monitoring and AllClear Credit Monitoring, respectively; those brand names are not used anymore.
Elsewhere on AllClear ID's website, they refer to Pro Plus as "AllClear Fraud Alerts with Credit Monitoring™ (PRO PLUS)." Pro Plus appears to include the features of all three of AllClear ID's services, not just the two that appear to be referenced in this other name for Pro Plus (AllClear Identity Theft Monitoring and AllClear Credit Monitoring).
(In case it's not clear: It's genuinely tough to figure out how AllClear ID's services and features sort into its various branded offerings.)
AllClear ID's Basic plan does not include identity monitoring, nor does it include any insurance coverage. All it offers are "repair and restoration" services, and it's not really clear what that would entail for a subscriber with a free account. With AllClear's Basic plan, you get pretty much exactly what you pay for.
AllClear ID offers significant discounts — and, sometimes, comped plans — to those with redemption codes or promo codes. The codes are offered by companies, usually as a way to atone for a security breach (or as part of a court settlement following such a breach). Those without such codes can still enroll in an AllClear ID plan, though the company's website warns that you "will not receive any discounts" this way. AllClear ID's ProPlus package isn't particularly pricey for an identity monitoring service, but a full-price subscription looks like a less than appetizing deal when you break down what's actually included — and what isn't. As we noted in our services and features section, AllClear ID's competitors tend to offer much more comprehensive coverage, and many do so at more or less this same price point.
AllClear ID also offers a 30-day free trial, so it's easy to check out the service risk-free.
Summary
A good chunk of AllClear ID's business comes from other businesses buying AllClear ID subscriptions for their customers (usually after a data breach). If this process is how you end up becoming an AllClear ID subscriber, then you might as well use it. But if you're not being provided with a free code, you can safely skip AllClear ID. The service doesn't monitor as many pieces of information as its peers do. Its user experience is mediocre and its features are severely limited. AllClear ID lags way behind competitors like IdentityForce and LifeLock. We do not recommend this service.