Night Owl Pricing and Packages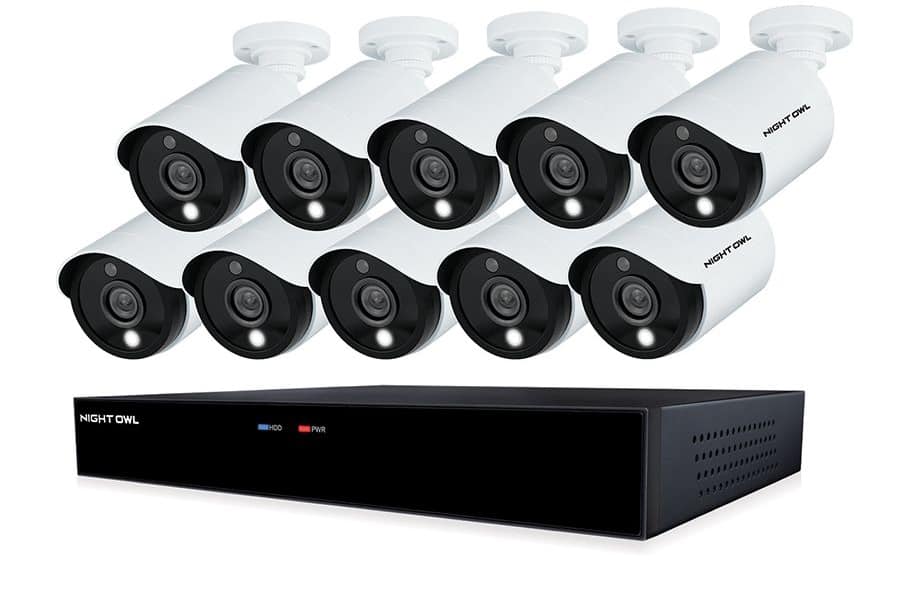 As Night Owl diversifies and fine-tunes their inventory, I'm seeing a trend toward sleeker, more adaptable wireless systems and away from bulky hardware and yards of cables and wires. Traditional security equipment hasn't always been easy on the eyes, so I'm glad to see Night Owl take a more stylish turn in recent years.
The brand does a nice job packaging their equipment, too. For instance, I can buy a four-cam expandable Night Owl package with a corresponding video recorder for about $280, which isn't too shabby if you're on a tight budget.
Compared to, say, a similar camera package from Lorex, I'm almost certain you'll pay less up front with a Night Owl system. Lorex is similar to Night Owl in design and packaging options, but they do have more high-resolution camera systems to choose from, many of them priced higher than Night Owl.
As far as Night Owl systems go, you'll see tons of options. I came across a fun Night Owl indoor device with panoramic views that looks more youthful and sleek than the traditional camera style Night Owl is known for, and for $80, this one's not a bad deal, either.
Beyond that, Night Owl also offers simple two-cam packages for $70, with corresponding recorders sold separately for anywhere between $150 and $300.
Moving into bigger-ticket items, you can buy a 16-channel, 14-camera NVR kit from Night Owl for less than $1,500. While that number might seem high, remember that you're getting 14 cameras in this package, with the option to add two more if you choose. It's still a smart way to buy a large number of cameras at once.
Here's a more detailed cost breakdown of Night Owl:
Camera Model
Price
Key Features
Indoor/Outdoor Wireless 1080p AC Powered Camera
$99.99

100-degree field of view
Compatible with Night Owl NVR, wireless gateway, and hybrid DVR
Night vision with up to 100-ft visibility

Add-On/Stand-alone 1080p AC Powered Wireless Indoor Panoramic Camera
$79.99

Flexible mount w/magnetic base
Two-way audio
Night vision up to 30 ft.
1080p resolution
180-degree field of view
Plugs into standard outlet

8-Channel Wireless Smart Security Hub
$399.99

Up to 300 ft. wireless signal
Two-way audio, 1080p HD video
Includes 4 plug-and-play cameras; no batteries needed
Remote viewing with mobile app or online access

8-Channel 4K Ultra HD Wired Smart Security DVR (2 TB Hard Drive)
$499.99

Includes 6 cameras with built-in motion-activated spotlights
Facial capture and recognition
Up to 100 ft. visibility with night vision
Human detection

6-Channel 4K W2 Fusion Hybrid Security DVR (1 TB Local Storage)
$399.99

Can connect wired and wireless cameras
Includes four 4K Ultra HD wired indoor/outdoor cameras and two 1080p HD wireless indoor cams
Dual sensor technology
L2 color boost to capture full-color in low light

4-Channel HD Wireless Gateway with 16GB MicroSD Card
$249.99

Dual sensor technology
1080p HD video
Two-way audio
Independent wireless network with 300-ft. range

4-Channel HD Wireless Gateway with 2 AC Powered Indoor Wireless Cameras
$149.99

Smart motion detection
Plug-in cameras; no batteries needed
Dual sensor technology
Night vision up to 20-ft. range

1080p Smart Doorbell
$99.99

Remote viewing through app or online access
Local storage