By: SafeHome.org Research Published: April 2021
Key Findings
Forty-eight percent of respondents are more careful about who they let into their home after experiencing a home crime.
Smart security products became more important for 55% of respondents after experiencing a home crime.
Sixty-one percent of respondents living in rural areas locked doors and windows at night and when out in the wake of a home crime, compared to 54% of people in the suburbs and 49% in urban areas.
According to the FBI, there were over 6.9 million home and property crimes across the U.S. in 2019, including burglaries, larceny-thefts, and motor vehicle thefts. In addition to resulting in the loss or damage of personal property and putting residents in danger, a burglary can cause severe emotional distress. Studies show a vast majority of people who experience a burglary or break-in feel emotionally impacted by the occurrence and that it can take several months before they feel safe in their home again (if they ever do).
Perhaps unsurprisingly, people are increasingly invested in their home security, and many are adopting new technologies to help automate home security features and capabilities. In 2021, the global home security market is expected to grow to $2.7 billion to meet growing demand caused by increasing crime rates.
So what happens after your home has been broken into, and how does that change our feelings about adopting smart home security technology? To find out, we surveyed over 400 people who personally experienced some form of home crime and their actions after the occurrence. Read on as we explore how home crimes can affect our relationships with our neighbors; how we think about home security systems; the impact on homeowners and renters insurance; and the way home crimes can influence our general safety behaviors.
Property crimes cover many different kinds of offenses, including theft, robbery, arson, and motor vehicle theft. For the purposes of this study, we were specifically interested in people's responses to crimes that occurred in their home. Throughout the report, the phrase "home crime" in both the survey data and analysis can be taken to mean burglary, property damage, or theft (including attempted theft).
Suspicious Fallout After a Robbery
An overwhelming number of break-ins occur in residential areas. According to the FBI, burglaries of residential homes accounted for nearly 63% of all burglary crimes in 2019. By subcategory, the figures were as follows:
55.7% involved forcible entry.
37.8% were unlawful entries.
6.5% were attempted forcible entry.
So what happens after someone experiences a home crime, and how does that reflect in the way they view their neighbors? We asked victims of home crimes to tell us more about these after-effects, and the results were pretty surprising. Though almost half of all victims of home crimes said they became more cautious of who they invited into their home, over a third of victims said they actually became closer to their neighbors after the incident, especially those who lived in apartments.
Other changes in behavior included starting to track suspicious activity around the neighborhood (34%), developing trust issues with neighbors (30%), and organizing a neighborhood watch (24%).
Women surveyed (36%) were slightly more likely than men (34%) to indicate becoming closer with their neighbors after a home crime occurred, while men (38%) indicated tracking or reporting suspicious activity around the neighborhood more often than women (30%). For women who live alone, it's often recommended to be hyper-aware of local surroundings, including who your neighbors are and how they act toward you. Neighborhood safety should also be an important consideration when deciding where to move in the first place, especially considering the psychological effects can often be the most severe results of a burglary.
Suburban homes are more likely to be burglarized than properties in urban areas, but more than a third of people living in urban areas reported developing trust issues with their neighbors after experiencing a home crime: more than those living in suburban (29%) or rural neighborhoods (25%).
Taking Home Security Seriously
Across the country, most homes lack a security system to help alert residents of a crime or deter would-be criminals. After being victimized during a home crime, many people reported changing their attitude toward home security and monitoring systems.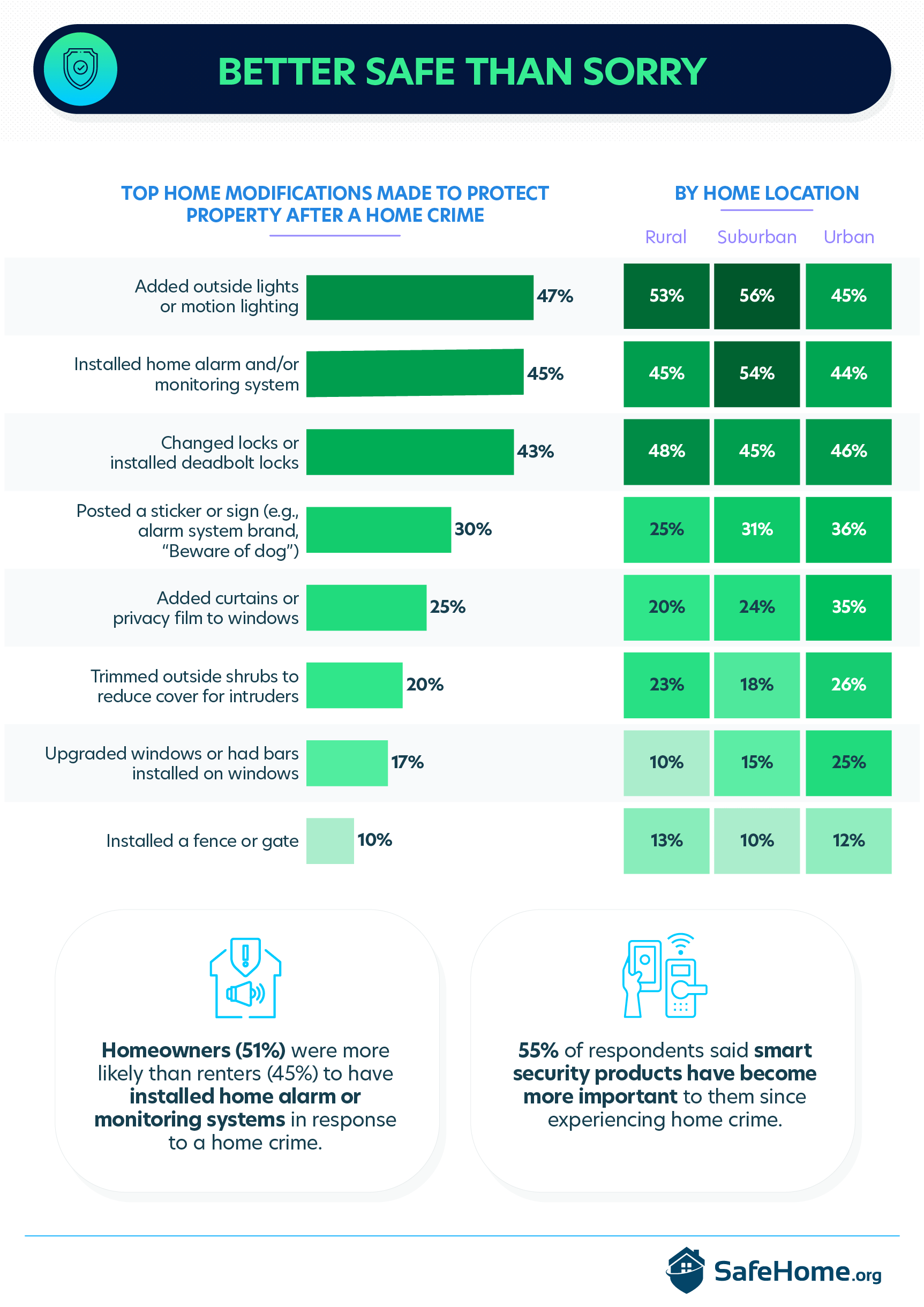 After a home crime occurred, 47% of people said they added outside lights or motion lighting, followed by those that installed a home alarm or monitoring system (45%), changed the locks or installed a deadbolt (43%), put up a sticker or sign for a security brand (30%), and added curtains or privacy film to the windows (25%). People living in suburban areas were the most likely to report adding lights or motion systems (56%) or installing an alarm system (54%) after experiencing a home crime. 
Compared to 45% of renters, 51% of homeowners indicated installing an alarm or monitoring system in their home after a crime occurred. More than half of Americans (55%) said smart security products had become more important to them since personally experiencing a home crime.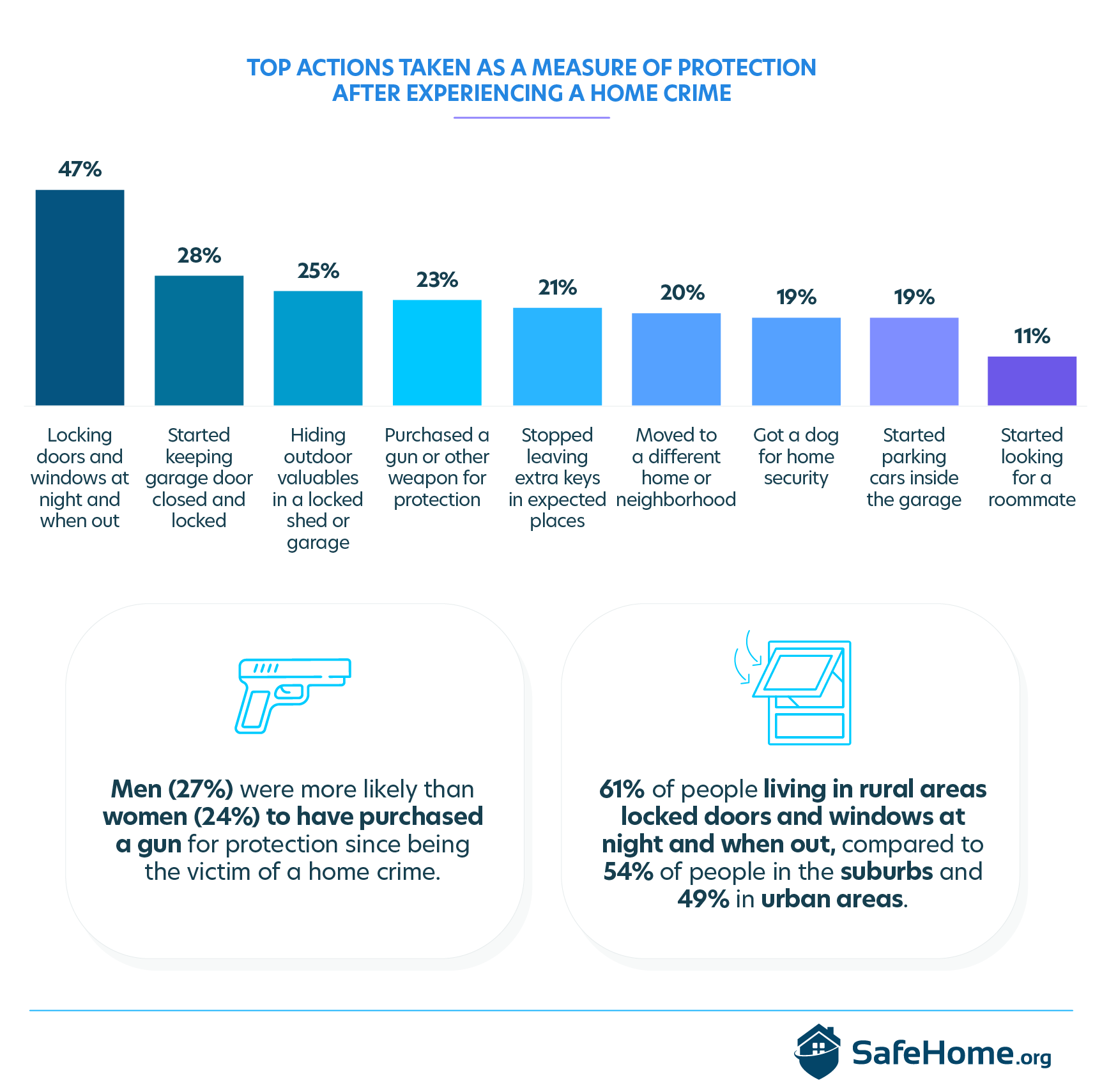 Victims reported making some practical changes in routines and behaviors after experiencing a home crime. Forty-seven percent of respondents said they locked their doors and windows at night and before leaving their residence after a home crime occurred, and 28% started keeping their garage doors closed and locked. In addition to making changes to or around their homes, victims also made some drastic changes in order to protect themselves:
20% of Americans reported moving to a different property or neighborhood after experiencing a home crime.
23% of people purchased a gun or some other weapon for protection in response to a home crime, a reaction higher among men (27%) and those living in rural (31%) and urban areas (32%).
The Value of Property Insurance Coverage
A home crime can be an overwhelmingly emotional experience, but your homeowners or renters insurance can provide some level of support in picking the pieces back up and recovering. Of course, it's crucial to have the right coverage in place before a crime occurs to help ensure you'll be protected in the event of an incident.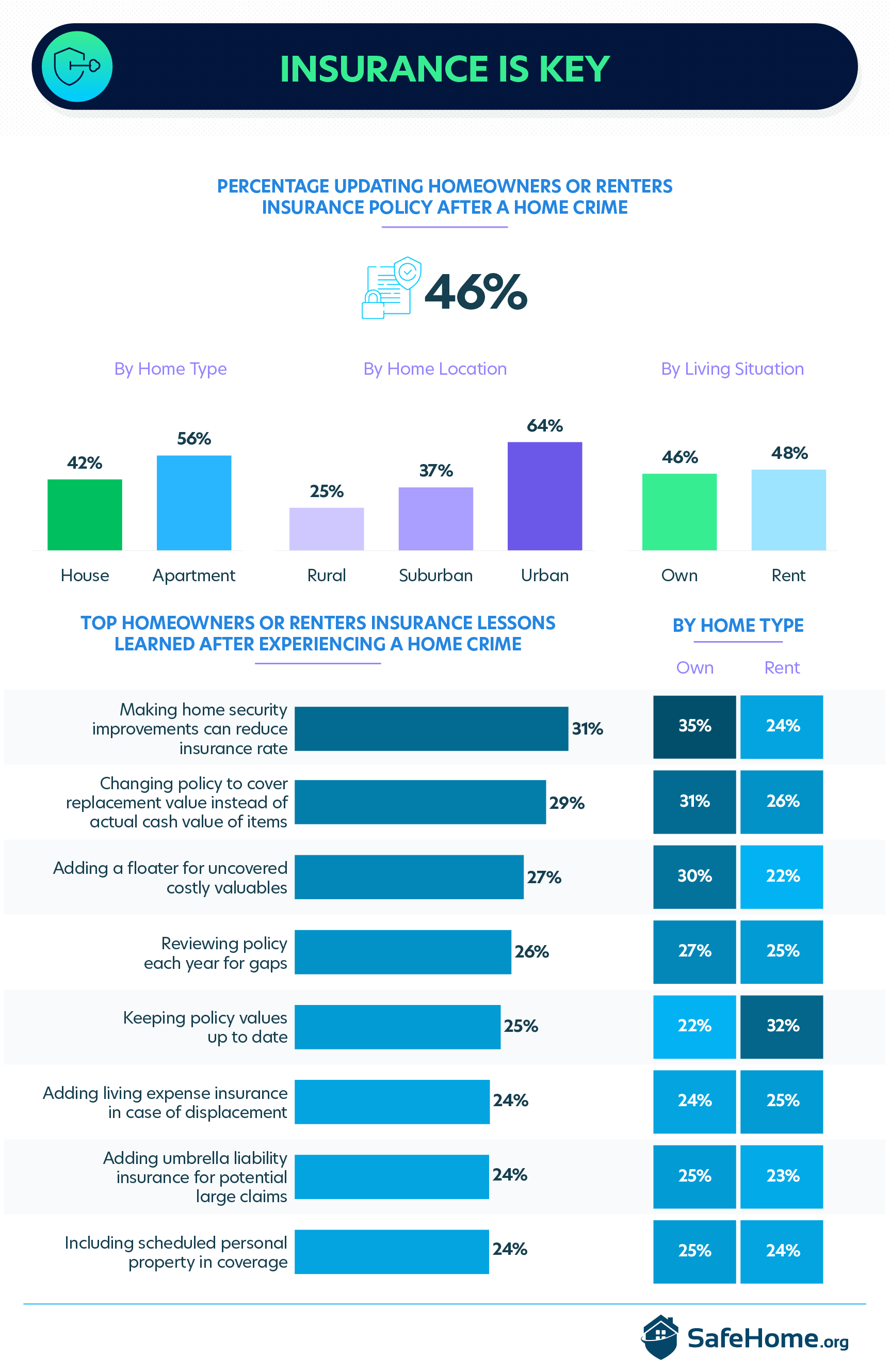 Among those surveyed, 46% of people reported updating their homeowners or renters insurance after experiencing a home crime, including 42% of people living in a single-family home and 56% of people living in an apartment. Home crime victims living in urban neighborhoods (64%) were the most likely to update their insurance, followed by suburban (37%) and rural (25%) residents.
Upon making changes to their insurance plans, 31% of people reported learning that making home security improvements can reduce your insurance rate, and 29% learned to change their policies to cover replacement value rather than the original cash value of possessions. More than a quarter of people who experienced a home crime also said they learned the importance of adding a floater for uncovered costly items (27%), reviewing their policy annually for gaps in coverage (26%), and keeping their policy values up to date (25%).
Changing Your Security Routine After a Crime
Sometimes, the lessons learned from a home crime aren't as obvious as not leaving the windows open or keeping a key in an obvious location. Instead, people who'd experienced home crimes said the most important actions they learned to help guard against loss in the future were things they might not otherwise have considered.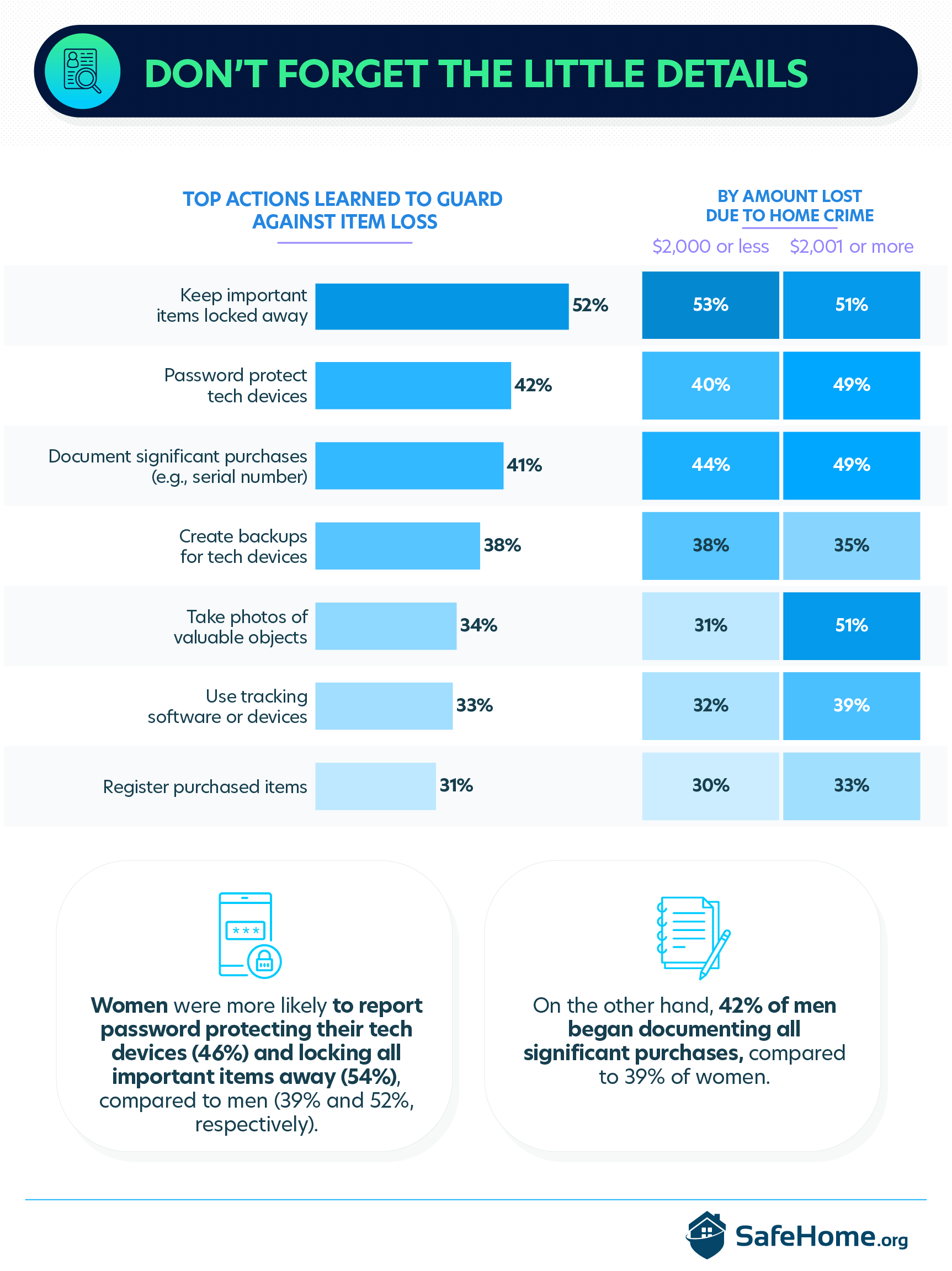 FBI crime statistics show that victims of property crimes collectively suffered losses estimated at $15.8 billion in 2019. Those who participated in our survey learned from the losses they experienced. More than half of Americans said they learned the value of keeping important items locked away, followed by password protecting tech devices (42%), documenting significant purchases (41%), creating backups for tech devices (38%), and using tracking software for their technology (33%). Victims of burglary crimes lose $2,416, on average. In our study, people who lost more than $2,000 as a result of their home crime were more likely to indicate the importance of password protecting their technology (49%), documenting their tech purchases (49%), and using tracking software to help locate their stolen technology (39%).
Even more concerning than the expense of replacing personal tech after a burglary is the risk that stolen computers or smart devices can lead to identity theft. This is especially serious when personal and financial records have been exposed.
With their own experiences in mind, we collected personal recommendations and suggestions from victims of home crimes to help avoid being targeted in the future. Based on their insight, no security precaution could be considered too simple or obvious.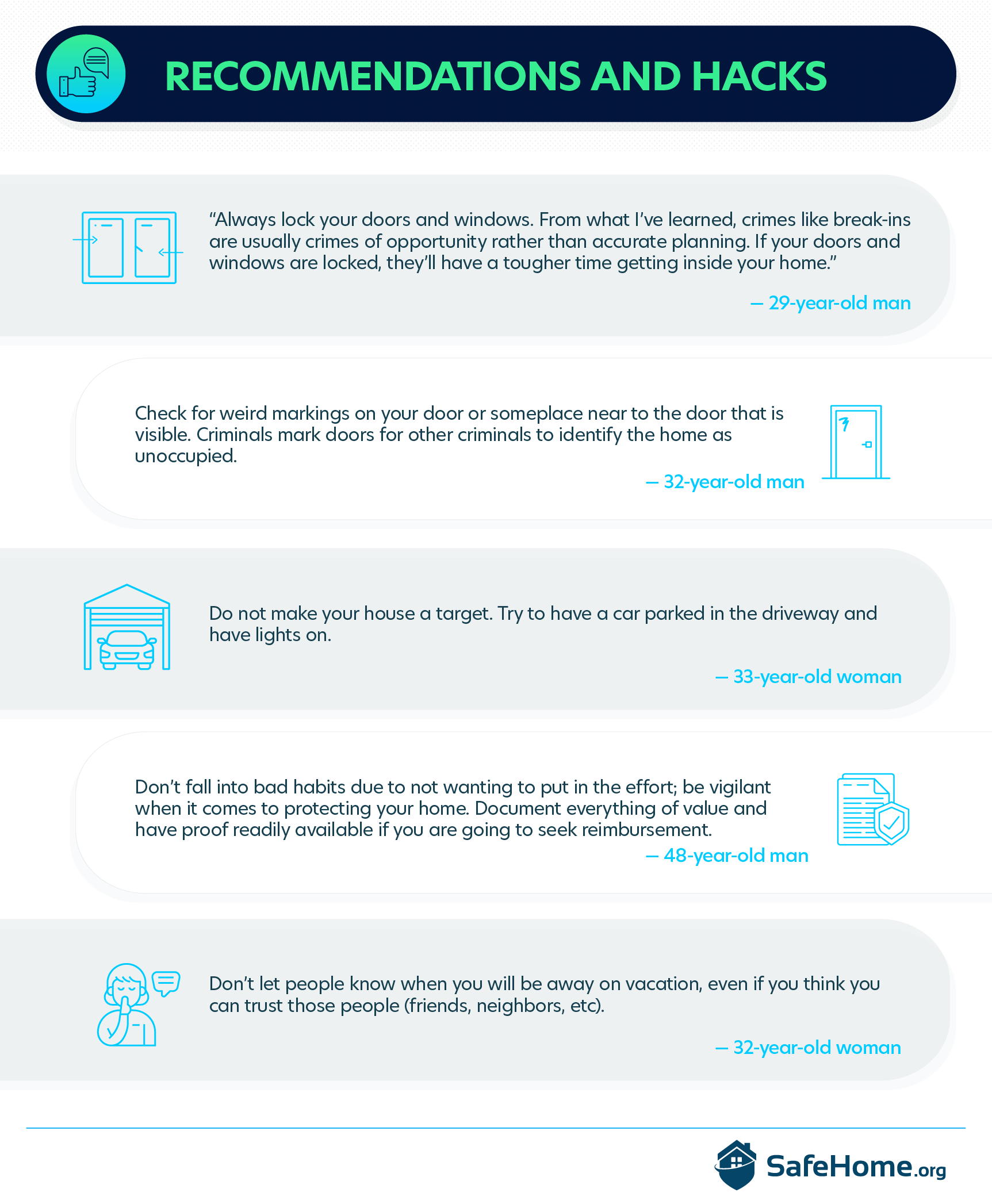 From always remembering to lock your doors and windows, to leaving a car in the driveway or the lights on when you're not home – these tips can help you prevent a home crime of your own. One man even recommended checking your door or home for strange markers that may have been left as signals between criminals, and another woman warned against letting too many people (including your neighbors) know when you're going away on vacation.
Preventing Home Crimes Before They Occur
No one ever anticipates a home crime or knows exactly how they'll respond if it happens to them. These break-ins or burglaries can feel personal and terrifying in a way that makes it difficult to ever feel safe in your own home again.
Using their past experience as a guide, we asked Americans who'd been through home crimes in the past how they reacted and what they recommended as a result of the lessons they learned. Their stories help to illuminate how important having a security system installed in your home can be, and how important it is to understand your insurance coverage and identify any gaps in protection before it's too late. And the next time you're leaving – for a trip to the grocery store or on a summer vacation – it's always a good idea to make sure you double-check that everything is locked and secured – and maybe leave a light or two on while you're away.
Our Data
We surveyed 448 people about their experiences with home crime. 55% of respondents were men, and 45% were women. Respondents' ages ranged from 25 to 64 years old with an average age of 41. Our margin of error was +/- 5%.
For short, open-ended questions, outliers were removed. To help ensure that all respondents took our survey seriously, they were required to identify and correctly answer an attention-check question.
These data rely on self-reporting by the respondents and are only exploratory. Issues with self-reported responses include, but aren't limited to, exaggeration, selective memory, telescoping, attribution, and bias. All values are based on estimation.