Best Identity Theft Protection Services for the Deceased
Don't let identity thieves take advantage of your loss. Here are the best identity theft services we've found that protect the deceased.

1. Identity Guard
Identity Guard is consistently our top-rated service for a reason. Their proactive stance against identity theft coupled with their utilization of IBM's Watson artificial intelligence platform give them a competitive edge in blocking bad actors from accessing the identity of your deceased loved one. When we reviewed Identity Guard we found an impressive list of features that cover everything from credit monitoring to a robust restoration plan. Before we talk about how they can help, let's take a look at their pros and cons.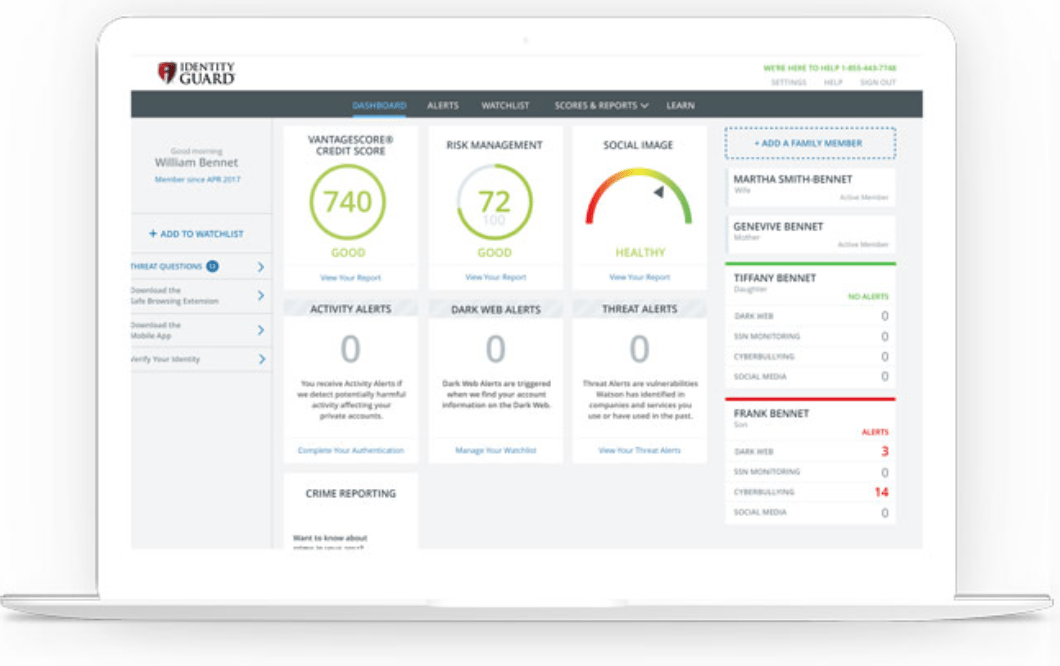 Pros
Monitors for Account Takeovers
Keeps an Eye on Retirement Accounts
Protects Investment Accounts
Robust Social Security Number Monitoring
Triple Bureau Credit Monitoring
Home Title Monitoring
Artificial Intelligence-Based Protections
Cons
A Little Expensive
Mobile App Could be Updated
Lower Service Tiers Lacking Critical Protections
Identity Guard offers impressive coverage, but we want to highlight their family plan which covers everyone living under one roof. This is important for folks with elderly parents who may be approaching end-of-life. When a loved one passes, you don't want to be concerning yourself with contacting credit bureaus and banks — let Identity Guard handle these protections for you.
And their list of protections is extensive. They offer triple-bureau credit monitoring, financial account alerts of all types — including retirement and investment accounts — as well as home title monitoring. Those last two items are particularly important for individuals who've had a family member pass recently. While going through their estate, you don't want to find out that accounts have been drained or a home equity loan has been taken out in their name.
Did You Know: Identity theft of the deceased can also be called "ghosting." It's one of the most insidious forms of identity theft — preying on families when they are the most vulnerable.
Like we said before, their offerings are comprehensive. Our breakdown of Identity Guard's tiers of service will give you a better idea of which protection plan is right for you and your loved ones.
2. NortonLifeLock
With a heavy focus on cybersecurity protections, NortonLifeLock can ensure your family member's information will never get into the wrong hands. Let's give a quick look at NortonLifeLock's pros and cons, and then we'll unpack why they might be a good choice for your recently deceased loved one.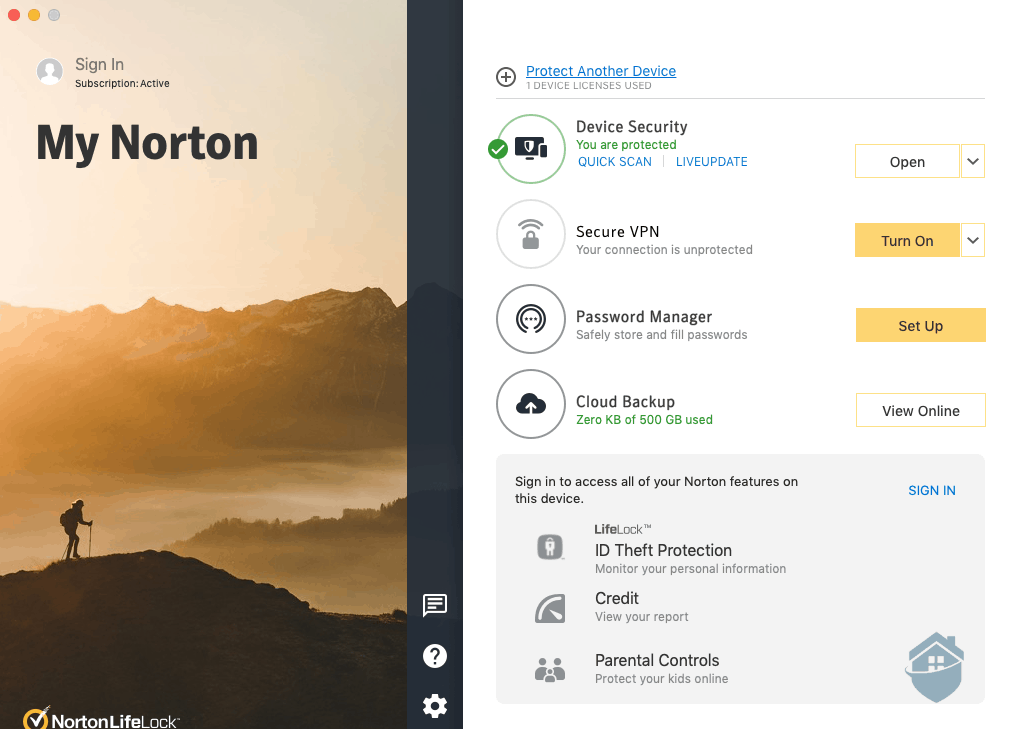 Pros
Extensive List of Features
Triple-Bureau Credit Monitoring
Robust Cybersecurity Protections
Credit Lock Functionality
Financial Account Alerts
Investment and Retirement Account Protections
Home Title Monitoring
Cons
A Touch Pricey
Platform is Slightly Disorganized
Cost Increases After First Year
When we reviewed NortonLifeLock we were immediately impressed by their extensive list of functionality, and their prioritization of their subscriber's cybersecurity. They offer everything from password managers to antivirus software to virtual private networks (VPN) to keep your online activities secure.
While this might not sound important for directly protecting the deceased, hackers will use any means necessary to break into their accounts. By hardening your network, you can be sure that the recently deceased's data will remain secure.
Did You Know: VPNs work by spoofing your physical location and routing your internet traffic through non-local servers. For all intents and purposes, this makes it extremely difficult for hackers to pin down your location and makes it virtually impossible to break into your network.
This company's offerings are extensive, so we've drawn up a guide to NortonLifeLock's pricing and protections to help you get your arms around what they're bringing to the table.
3. IdentityForce
IdentityForce is a great service for all-around identity protection for the deceased. They offer comprehensive core services as well as some bonus features like financial planning resources and credit score simulators to round out their functionality. Before we get into why they're a great choice for protecting the deceased, though, let's take a look at the company's pros and cons.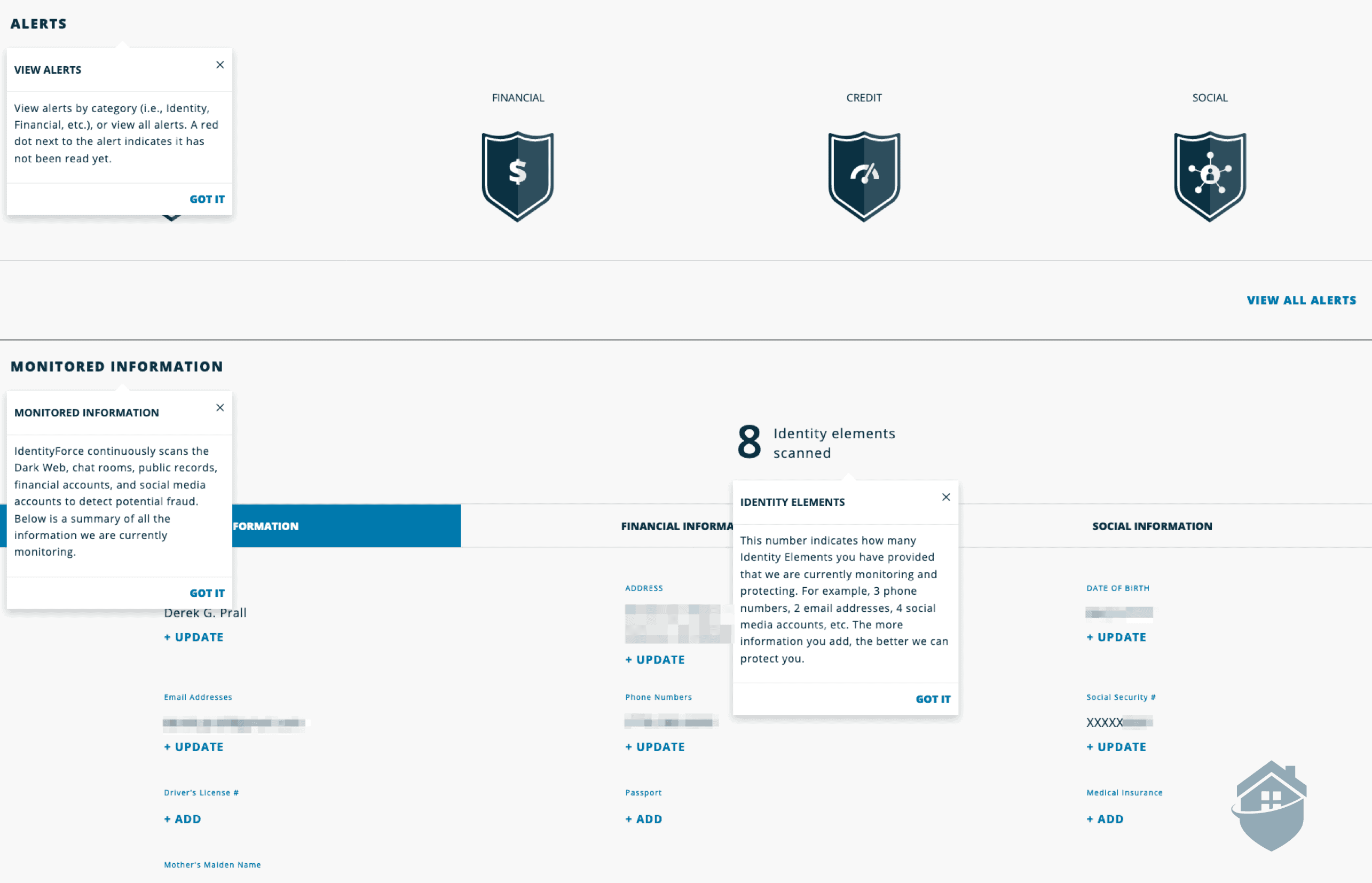 Pros
Deceased Family Member Fraud Remediation
24/7 Access to Fraud Recovery Specialists
Investment Account Monitoring
Advanced Fraud Monitoring
Medical ID Fraud Protection
Credit Freeze Resources
Triple- Bureau Credit Monitoring
Cons
Outdated App
A Little Expensive
Slightly Confusing Setup
When we tested and reviewed IdentityForce, we found they do an excellent job with the core functions of an identity theft protection services. They offer various financial account monitors, multi-bureau credit protections, and robust dark web scanning. Their bonus features aren't anything to discount, either. They offer some of the best social media monitoring in the industry and financial planning tools to boot.
However, the reason they're included on our top-three list is the fact they specifically offer fraud remediation for deceased family members. This is a unique offering and one we don't see that often. This service alone makes IdentityForce an excellent choice for anyone dealing with the death of a loved one.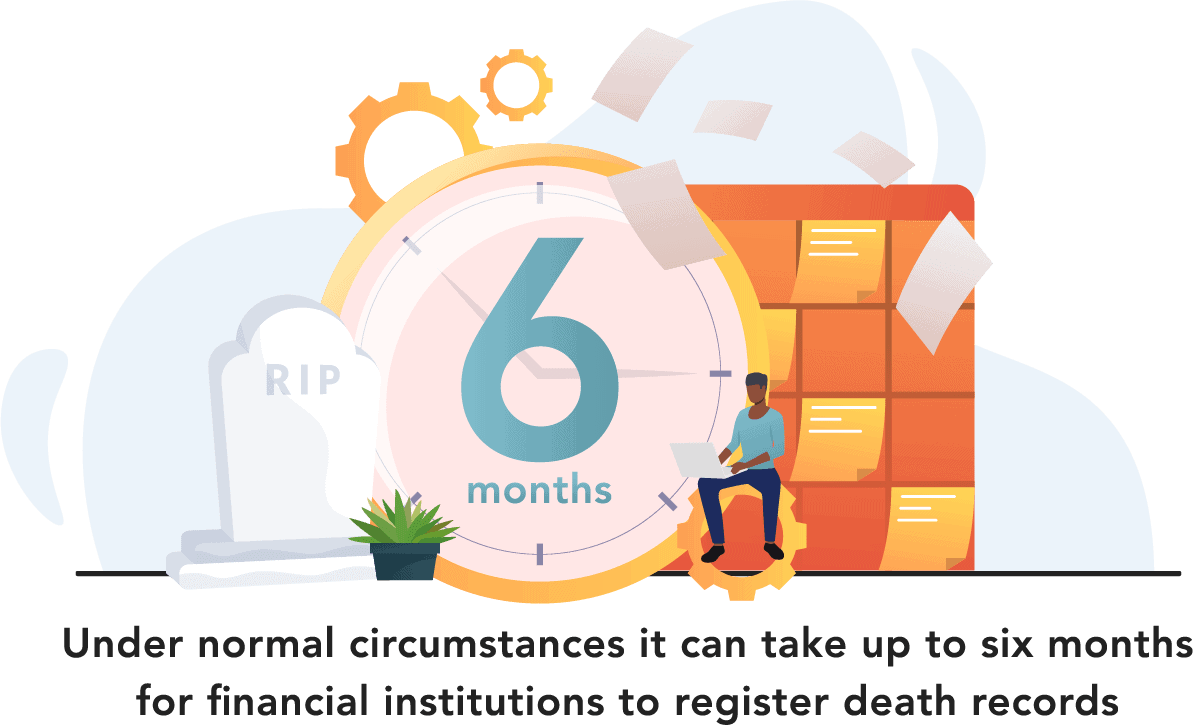 This comprehensive protection will shield the recently departed from identity theft, but will also help in the restoration of the stolen identity of a loved one who became the victim of fraud after they passed away. One caveat, though — to be eligible, they need to be enrolled in an IdentityForce Family Plan before the time of their death.
The company offers a number of services, so we've drawn up a guide to IdentityForce's pricing, plans, and protections for you to review in your consideration of which protections might be best for you.
How to Protect a Deceased Person from Identity Theft
The best way to protect your deceased loved one is to enlist the help of an identity theft protection service like those mentioned above. In lieu of that, though, there are some other ways you can help prevent their identities from falling into the hands of fraudsters.
First, be careful about how much information you're putting out there. For example, in the obituary, you don't want to include items like the deceased's date of birth. It's unfortunate, but many obituaries provide identity thieves a great head start in piecing together a deceased individual's identity. You should also avoid making public posts on social media accounts about someone's passing. Instead, notify people individually.
You should also notify the credit bureaus once your loved one has passed, and check the deceased's credit report for any unusual activity. If anything looks suspicious, it's likely that identity thieves have already used your loved one's information for fraudulent purposes. You'll need to contact the identity theft protection service you are using or work with the credit bureaus to resolve the issue.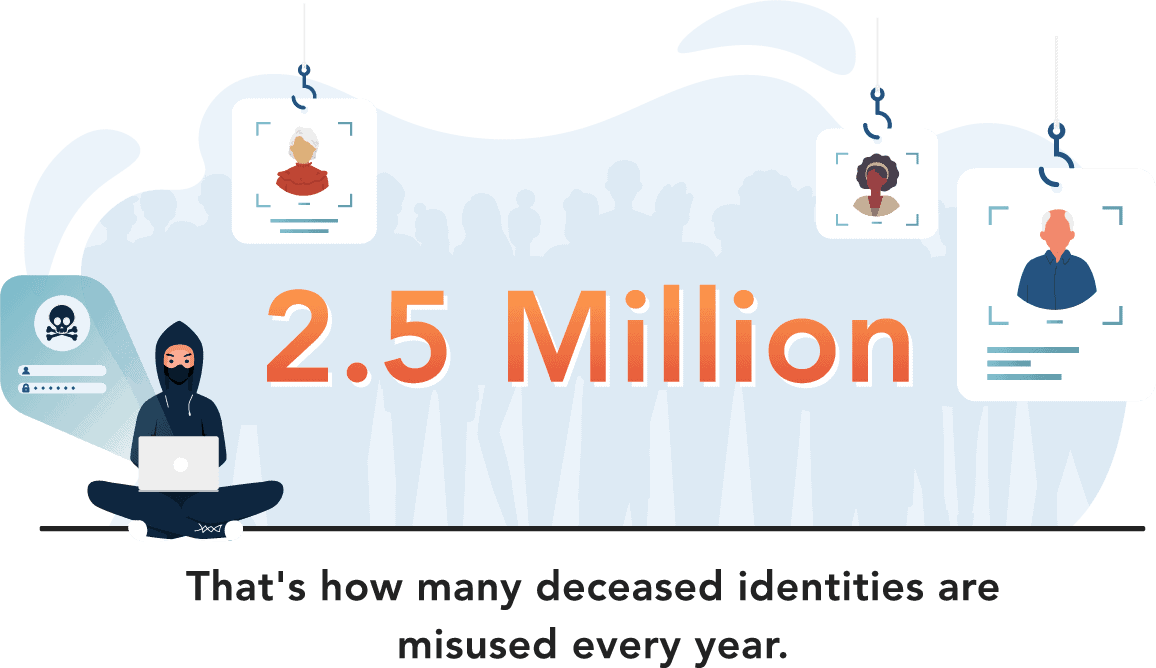 You should also contact all credit card companies, financial institutions, insurance brokers, stockbrokers, or anyone else who had dealings with the deceased and notify them of that person's death.
Other proactive measures to protect the identity of the deceased can include putting a credit freeze on the deceased's credit files and asking the monitoring bureaus to place a "do not issue credit" flag on the deceased's report. You should also contact the department of motor vehicles and cancel the deceased's driver's license. Finally, shut down all their social media accounts and digital assets.
Signs That a Deceased Loved One's Identity Has Been Stolen
The signs that a deceased loved one's identity has been stolen are very similar to the signs that are present when a living person's identity has been stolen, but they might not be as readily apparent.
Be on the lookout for these warning signs:
Your deceased loved one starts receiving bills or past due notices for purchases made after they have passed.
You begin receiving bank, brokerage, credit card, or other account documents that show transactions or other information after your loved one has passed.
You begin receiving unexpected two-factor authentication alerts for your loved one's accounts.
You suddenly begin receiving direct mail and phone solicitations for expensive items in the deceased's name.
You begin receiving alerts that your loved one's credit score has changed.
You check your loved one's credit bureau reports and see unauthorized accounts or other fraudulent information.
It may be difficult, but you need to be particularly diligent after a loved one passes. This is when identity thieves know you, your family, and your loved one's friends will be the most vulnerable. It might be hard to believe, but particularly insidious identity thieves have been known to show up at the funeral or seek out those closest to the deceased in attempts to fish for information. Be particularly guarded when discussing the affairs of the deceased — particularly with individuals you don't know personally.
The passing of a loved one is always difficult. You don't want an already sad and stressful period of time to become further complicated by identity theft. By taking precautions, you can assure your family member will truly rest in peace.
Features of Identity Theft Services for Deceased
Pay Day Loan Monitoring
Payday Loan Monitoring is fast-becoming a top feature for those looking to protect their deceased loved one's identity. After all, a criminal only needs an active bank account, an ID, and proof of income to apply and secure a high-interest payday loan. With payday loan monitoring, you can fend off fraudsters and rest a little easier in this difficult time.
Black Market Surveillance
Black Market Surveillance is another powerful feature to protect your late loved one and yourself. The technology monitors thousands of criminal websites, chat rooms, and databases for their sensitive info. From SSN's and driver's license numbers, to email addresses and everything in-between — this service will alert you at the first sign of foul play. After all, knowing is half the battle.
Social Media Monitoring
There's no denying that cybercriminals are social savvy. So it's a wise move to find an identity theft protection service that offers social media monitoring. This helpful feature is especially important for the recently deceased, as criminals are lurking these platforms just waiting for an easy target. Another smart move is to deactivate their social accounts as soon as possible.
Dark Web Monitoring
Here's a high-tech feature that could save you from confusion and financial loss in these hard times. The dark web is a stronghold for cybercriminals where they buy, sell, and trade stolen identities. So Dark Web Monitoring is the ideal solution to counteract the attacks. It monitors these hacker havens and alerts you if your deceased loved one's info is found.
Bank Account Takeovers
It's important to invest in identity theft protection for a family member who has passed away. But not just any service will do. Look for features like Bank Account Takeovers. The truth is, your loved one's financials and credit cards could be at risk, even after their passing. Put an iron cage around their accounts with Bank Account Takeover protection.
Court Record Monitoring
Another sophisticated feature, Court Record Monitoring continually scans public court records for your late loved one's sensitive information. Because some criminals stop at nothing to avoid arrest. They'll claim a false identity — often the identity of the recently deceased — to sidestep a trip to the slammer. So be aware of this dirty tactic and beat it with Court Record Monitoring.
Sex Offender Registration
The thought of it alone will turn your stomach. Some sex offenders steal and claim the identity of the deceased in order to secure jobs, homes, cars, you name it. But with this feature, your ID theft protection service monitors the national sex offender registry database to ensure your loved one's identity isn't being used by a pervert or predator.
Credit Activity Alerts
A simple alert can save you countless headaches. Credit Activity Alerts are a staple feature offered by identity theft protection services for the deceased. Be the first to know if a suspicious charge is made to your deceased loved one's credit cards. You'll also get credit report monitoring, as changes to their credit status is a telltale sign of fraud.
SSN Monitoring
Fraudsters love social security numbers — especially the SSN's of the deceased. That's why SSN Monitoring is a valuable feature with any ID theft protection service. Rest assured this advanced technology combs through millions of internet data points searching for your late loved one's SSN being used fraudulently. And of course, you'll be notified at the first sign of suspicious activity.