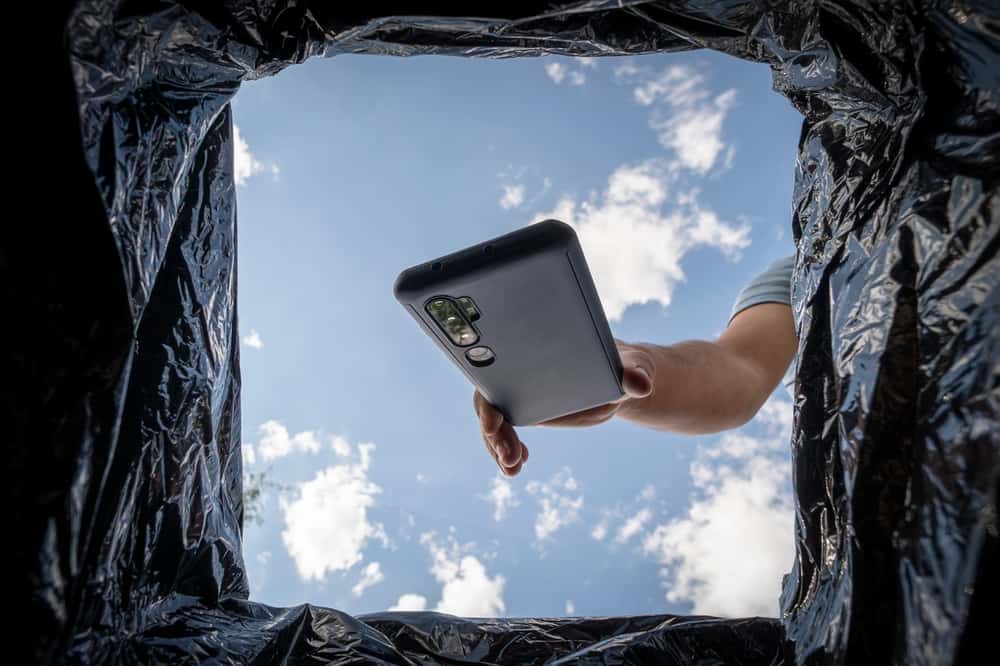 Today, I'm not going to talk about the wonders of the latest AI face recognition features from Vivint. Instead, I'm going old school to test a quasi-urban legend that's been making the rounds in home security circles. According to some of my colleagues, if I reach into my desk drawer and pull out my outdated Google Pixel 4, I can turn it into a spiffy new home security camera. For absolutely nothing.
Spoiler alert: It's actually true. But before we get started, understand that I'm not suggesting you ditch your current home security system for a geriatric handset. We've tested a bunch of affordable home security equipment in these pages, including plenty of great DIY security solutions, and this is probably the best route for most of us.
But in certain situations — your kids need a little DIY protection in the dorm room, you want a cheap extra camera for the basement, or you're still on the fence about home security with all the bells and whistles  — a phone camera might be all you need to tide you over. If that's you, here's how to convert your retired iPhone into state-of-the-art prowler protection.
In the meantime, check out our top choices for home security cameras this year. And if your kids are heading off to college, here's all you need to know about setting up a security camera in the dorm room.
Did You Know? The average lifespan of a consumer smartphone in 2023 is a mere 2.6 years. Back in 2018, it was over 3 years. In 2027, analysts predict the lifespan will drop to a minuscule 2.3 years.1
Step 1: Take Your Old Phone Out of Your Drawer and Summon It Back to Life
Your old phone has probably been sitting in your desk drawer for ages. So before you go searching for a security camera app, plug it in and give it a little juice.
And actually, you can just leave it plugged in. Because unless your retired device has been blessed with the genes of Bob Barker (who is still alive, by the way), your battery is definitely not going to be working like it used to.
FYI: There's a reason our smartphones die young. Most manufacturers glue their phones shut to make it as difficult as humanly possible for us to replace damaged or worn-out components. Apple has gone one step further, patenting proprietary screws that require their own special Apple screwdriver!2
Step 2: Choose and Download a Security Camera App
Choose Your App
A lot of folks I've talked to recommend Alfred. And really, on paper Alfred is pretty impressive. It's free. It comes with two-way talk, a siren, and real-time motion alerts.
Alfred also gives you seven days of free cloud storage, meaning everything you record for a week is in the cloud, no subscription required. After seven days, Alfred will start overwriting. So not bad at all — in theory. We'll get to Alfred in practice in just a sec.
Download App Onto Old Phone
Whichever security camera app you decide on, the next step is to download the app onto your old phone. The instructions that follow are for Alfred.
Once you've downloaded the Alfred app, open it. You'll be prompted to create an Alfred account (username/password). As soon as you verify your email, Alfred should identify your old phone as your "camera" immediately. At least that's how it worked for me.
Download App Onto New Phone
Next, download Alfred onto your new phone. Use the same login credentials. Once you log in, Alfred will give you three options. Select "Mobile Device."
Pair Your Phones
Alfred will prompt you to pair your devices. If both phones are nearby, they should pair themselves automatically. Your new phone becomes your livestreaming dashboard (see below), and the old one becomes your camera. You can easily reverse the roles if you want to for any reason. You can also name your camera. I called mine "Office."
So the urban legend is true, folks. I actually turned my smart trash into a fully functioning security camera. But there were still a few more things to do before I could start using it, so stick with me.
Pro Tip: While you can add any camera you want to an app like Alfred, the same may not be true for other premium security camera apps. For example, the SimpliSafe app works only with SimpliSafe cameras and select third-party devices, so this trick won't work.
Step 3: Configure Your Security Cam App
There's quite a bit you can do under the hood with Alfred. I'm going to cover just what you need to get started.
Activate Motion Detection
On your old phone, tap on "Motion Detection." It's the center icon on the toolbar at the bottom. By default, detection is set to medium sensitivity, which was enough to pick up the movement of my vertical blinds while the ceiling fan was on, triggering a flurry of nonstop, slightly laggy alerts. So Alfred is pretty sensitive. In light of that, I set mine to "low." You can figure out your own sweet spot.
Activate Audio Features by Enabling the Microphone
On your new phone, you'll find your camera view up top with a battery percentage. Click on it and you're livestreaming. Below your livestream, you'll see a toolbar. Find "Talk."
Talk
Tap and hold "Talk," and your voice booms out from wherever you are (as long as you allow Alfred to use the microphone on both phones).
Siren
Tap "Siren" — it's in the slideout menu to the right — and your phone will start "wailing at the maximum volume until you turn it off." FYI, that little sucker is loud. And just to make this absolutely clear: The siren doesn't play by itself when your camera detects motion. Like the "Talk" function, if you catch an intruder on camera, you've got to hit the button yourself to scare them off your property.
Did You Know? If you've got kids, Alfred's siren function could turn your old phone into a pretty nifty cookie jar alarm.
Step 4: Find the Right Location for Your New Phone Cam
I just propped my phone up against my desk lamp. If I was making this a permanent security camera, I'd definitely buy a stand. However you position your phone, you'll want to have an uninterrupted view of the entrance or object you're watching.
This doesn't mean your camera won't record a motion event if your lens is aimed at the ground. It will. You'll just be looking at an intruder's feet, which won't help much with identifying the culprit and will make it hard for you to size up the situation.
FYI: Alfred isn't the only universal security cam app out there. AtHome has pretty similar features, but with face recognition. With WardenCam (yikes!), you can unlock premium features for a one-time $5.99 payment.
Step 5: Start Monitoring
Once I had the two components of my DIY security operation configured and operational, Alfred worked as promised. Check out the gif below.
As you can see, I broke into my office while simultaneously viewing the break-in. The image quality (don't go by the gif) was passable during the day. What would happen in the dark is anyone's guess. Alfred doesn't have night vision, only a "low-light filter." So I'm wagering that my old phone footage might not hold up in court.
Pro Tip: The quality of your smartphone security footage is going to be only as good as your phone's camera. So if you're turning one of yours into a security camera, pick the one with the best camera.
The Bottom Line
Reviving your dead smartphone as a DIY security camera isn't a myth. It works and it's also a lot of fun. However, I probably wouldn't recommend this as a money-saving alternative to the home security solution you already have or are considering.
For one, brand-new budget home security cameras with 2K or 4K video quality are pretty cheap. A Lorex 2K indoor camera is less than 40 bucks, for example. Ring security cameras start at $50. And those cameras are designed for surveillance. Your old iPhone isn't.
Two, most universal home security apps that work with any old camera charge weekly or monthly fees for storage. Though they might cost a bit less than a quality home security system with professional monitoring, they're in the same ballpark. So, for a few dollars more, you could be getting sirens that go off before a thief gets inside your home and the police on your front porch if they do.
Otherwise, if you're looking for a free dorm cam for your teenagers or a cookie jar alarm for your little ones, I'd say fire up that dead phone and have a ball.