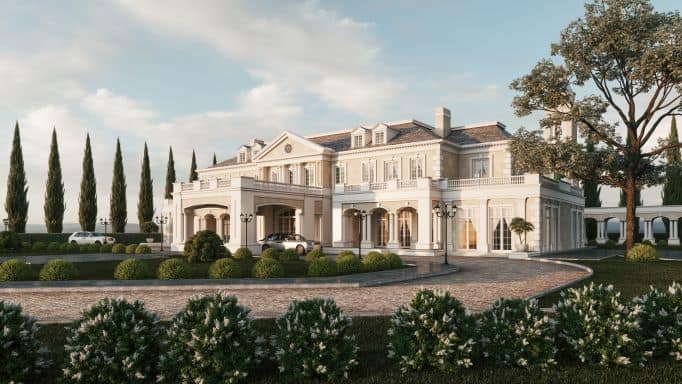 If you were a thief and tried to break into Residence 950, a $45 million "wellness compound" on San Francisco's Russian Hill, you'd need to sneak past nine security cameras and fool a biometric keypad.
Residence 950 is the most expensive piece of property in the Bay Area with a hidden garage dubbed "the bat cave." The security is extravagant. But it's nothing compared to what some celebrities have done to burglar-proof their homes in the wake of the notorious Bling Ring break-ins of 2008-2009.1
From snipers to security pods, and even medieval moats, here's a peek at the bizarre lengths our favorite A-listers have gone to stop would-be burglars and stalkers.
Celebrity Security Madness: Kim Kardashian has taken incredible steps to protect her family after being robbed at gunpoint in Paris in 2016. With now ex-hubby Kanye West, Kimmie purchased a pair of $1.2 million Dartz Prombron Iron Diamond, Latvian-made armored vehicles that can purportedly stop kidnappers, hijackers, and whatever other species of wacko.
1. Dr. Dre's Moat (a real-life moat)
Some of us keep thieves away with "Beware of Dog" signs. Others, like hip-hop mogul Dr. Dre, dig moats.
It isn't clear if Dre's moat encircles his entire 22,000-square-foot Los Angeles home, or if an enterprising cat thief with a catapult could breach the luxury mansion, which Dr. Dre bought from quarterback Tom Brady and supermodel Gisele back in 2014 for $40 million.
My bet is that Dr. Dre is safe and snug inside his palatial residence, thanks not only to his moat, but to a fleet of top-of-the-line security cameras and some snazzy front-door security.
Want a security system like it? You'll need:
Security cameras
Entryway sensors
Video doorbell
Moat
2. Tom Cruise's Sniper
Honestly, Tom, a sniper? As much as I hate burglars, I'm not sure picking them off from a watchtower is the best home security solution here. Besides a long-range crack shot, Cruise is also said to employ a former SWAT commander on his payroll.
Safe to say, dinner at the Cruises would be a little nerve-wracking. Even if you made it past Maverick's electric gate without taking a bullet, the Cruise compound would definitely be on high alert, thanks to a battery of motion sensors.
At the front door — after passing an extensive background check all Cruise's guests submit to —  you'd have fingerprint access to hand-picked "zones" of the Cruise estate.
Sounds crazy? Maybe not as crazy as the $7 million bunker Cruise built for his vacation home in Colorado.
Want a security system like it? You'll need:
Motion sensors
Outdoor and indoor security cameras
Biometric entry access
SWAT team with sniper
Celebrity Security Madness: For their 2014 On The Run tour, Beyoncé and Jay-Z assembled a 400-man army of security guards that included 16 bodyguards, a 40-man "security support group," 21 bouncers, and 300 knuckle-draggers to cover the stage.
3. Kim Kardashian's Manned Security Pod
Planning to burglarize the Kardashians? Don't try sneaking in through the garage. According to reliable, on-the-ground intel, Kimmie's mondo car park features a 24/7 manned "security pod."
That's if you even make it to the garage. Because first you'd have to pass through "Pentagon-level" gate security so strict Kylie Jenner once said she couldn't get in her own house.
Inside the $60 million Kardashian-compound, expect to find the usual professionally monitored security system with burglar alarm, motion and environmental sensors, outdoor cameras … and boxes and boxes of Adidas Yeezy Boost sneakers, which ex-husband Kanye West no longer has access to.
As of 2021, Ye no longer has the security codes and has been banned from setting foot on the Kardashian property.
Want a security system like it? You'll need:
Monitored burglar alarm
Motion sensors
Outdoor cameras
Pentagon-level security gate
Manned security pod
4. Bill Gates' CCTV Maple Tree
We photograph our favorite meals and vacation getaways. Why not our favorite trees? The world's first billionaire, Bill Gates, certainly does. Twenty-four hours a day with hours and hours of secure cloud storage, just in case anyone messes with his beloved maple tree when he's not looking.
But Mr. Gates' $63 million smart mansion in Medina, Washington — Xanadu 2.0 — is much more than a maple tree with a CCTV and a "smart water hose." Gates' swimming pool has an underwater sound system. If you ever visit, you'd also get some wearable tech that controls things like lighting and room temperatures.
How does Bill Gates protect his supersmart property beyond the roots of his maple tree? With an elaborate security system that is probably less expensive, but more clever, than the one Jeff Bezos uses.
Want a security system like it? You'll need:
Celebrity Security Madness: In 2010, police apprehended actor Randy Quaid and his wife Evi in the guesthouse of one of their own properties after the burglar alarm sounded. Quaid, who may have forgotten that he sold the Montecito, California property in 2007, had moved back in temporarily — unbeknownst to the new owners.
5. Lady Gaga's Panic Rooms
After dognappers shot her longtime dog walker and absconded with her three beloved English bulldogs — Gustav, Koji, and Miss Asia — Lady Gaga had a security epiphany. She was going to install a state-of-the-art panic room for herself and her canines in every property she owned.
In the words of one Gaga insider: "She wants a proper shelter for herself and her dogs, and won't be taking them out in public now unless they have an armed guard. Money is no object."
In addition to advanced pooch protection, Lady Gaga's $28 million, 6,700-square-foot Hollywood Hills residence also features more standard celebrity amenities like a bocce ball court, horse stables, and a saltwater swimming pool.
Want a security system like it? You'll need:
Armed security guards
Canine panic rooms