Hate Crimes Rise 22% — That We Know Of
Written By: SafeHome.org Team | Updated: June 31, 2021
Despite a federal mandate to report incidents of hate crimes, the scope and shape of bias-motivated crime across the United States are foggy at best. Many states have failed to pass legislation making bias-motivated crimes a special class of offense, while many law enforcement agencies do not report to federal authorities details on hate crimes reported to police.
In fact, nearly 20 million Americans live in jurisdictions that did not report their hate crime statistics to the Federal Bureau of Investigations for the most recent reporting year. and many of the agencies that did report offenses submitted incomplete data. Plus, it's estimated that hate crimes are grossly underreported — the Bureau of Justice Statistics has estimated about two-thirds of hate crimes are not reported to police.
But with all that said, the data the FBI was able to collect tells us that hate crimes reported to police agencies rose by 22% between 2013 and 2017 (which is the most recent report year). Just the past couple of years have seen high-profile crimes across the country motivated by racial and religious animus, such as the 2017 Charlottesville "Unite the Right" rally, which ended in the death of a woman, or the 2018 massacre of 11 people in the Tree of Life synagogue in Pittsburgh.
Who are victims of bias-motivated crimes, who commits these crimes, where in the country is the problem worsening the most, and what steps can society take to stem the tide of hate crimes?
Victims & Perpetrators
Nearly 8,500 bias-motivated offenses were reported to police agencies in 2017, according to the FBI's data. About 99% of those were incidents in which a single bias was believed to be the primary motivation for the crime, though a small percentage were inspired by bias against multiple groups.
A total of 8,828 people were victims of these crimes, and about 88% of offenders were known, though not all were specifically identified.
Victims
Racial animosity is by far the most common inspiration among single-bias incidents, accounting for nearly 60% of all single-bias offenses. The next most common bias is religion, which accounted for about 1 in 5 hate crimes.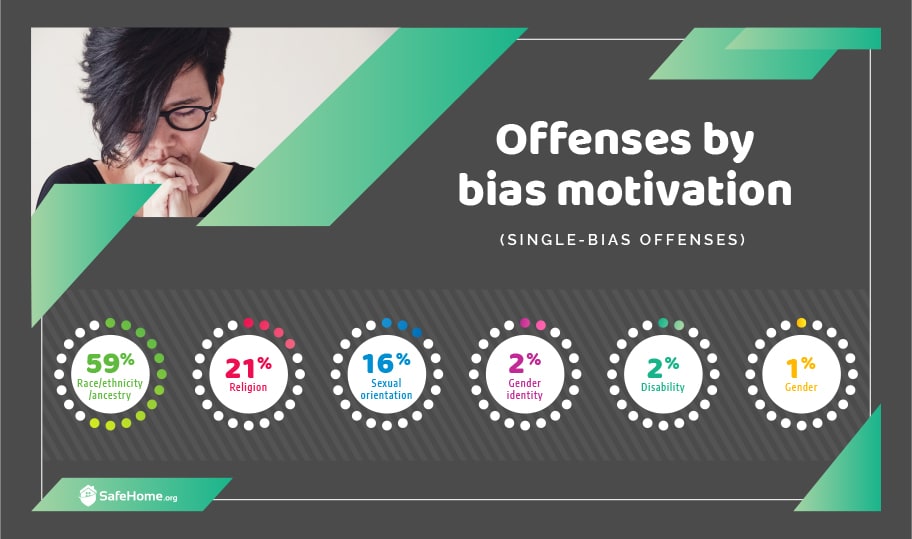 Race
Among those targeted because of their race or ethnicity, African-Americans were far and away the most likely to be victimized. In fact, African-Americans were the single group most frequently targeted among all groups, with incidents involving black victims accounting for nearly 30% of all offenses.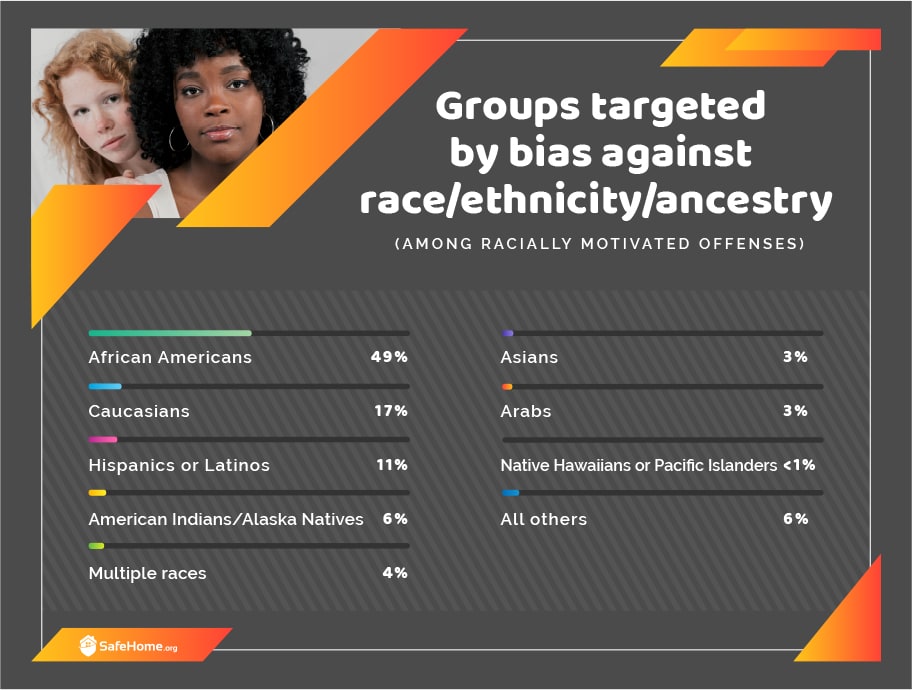 Religion
Jews are the religious group most frequently targeted, accounting for about 12% of all single-bias incidents but 40% of religion-related hate crimes.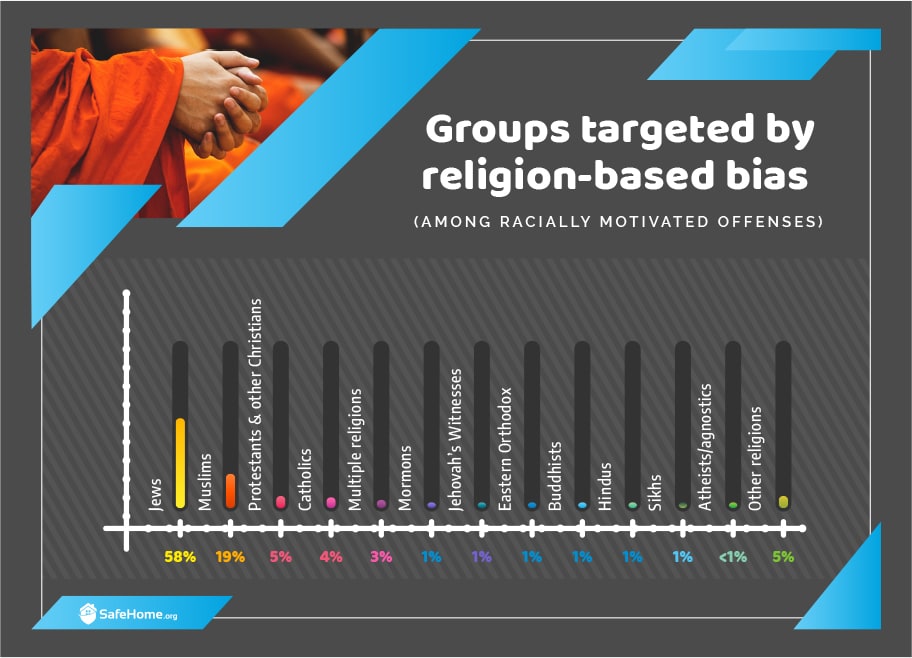 Sexual orientation and gender identity
Accounting for a combined 18% of incidents, crimes based on sexual orientation and/or gender expression were the third most common type of bias-motivated offenses, with gay men the most frequently targeted among the entire group.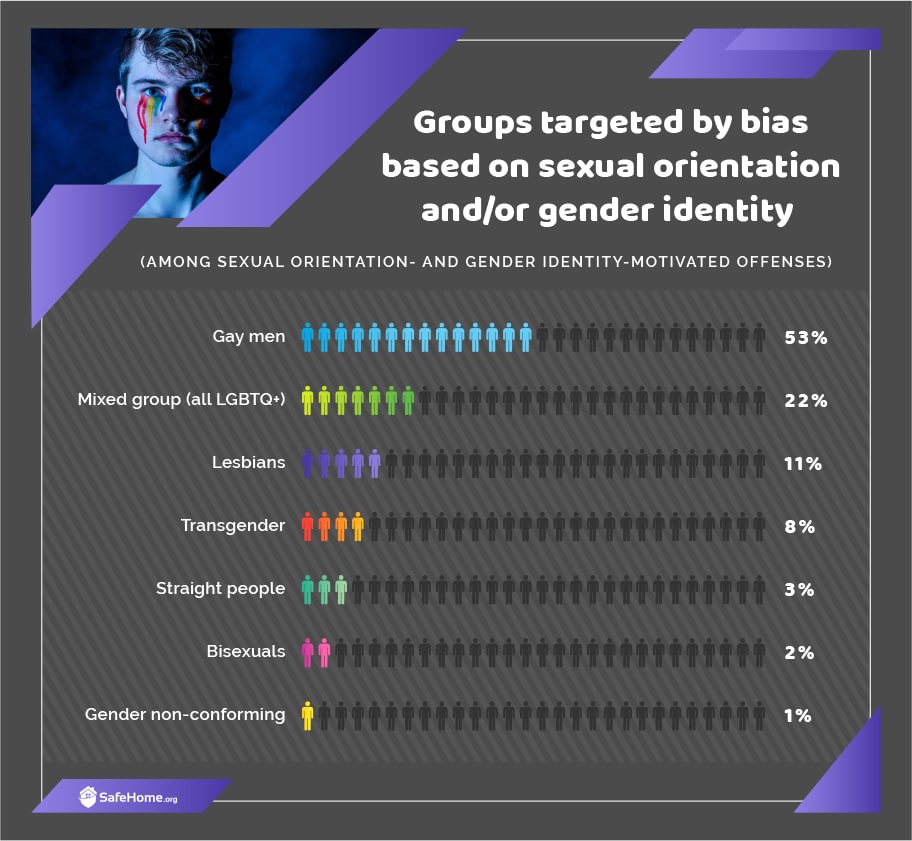 A recent SafeHome.org survey found that our readers' personal experience largely tracks with the federal data. We recently polled over 400 people to ask about their experience with harassment and hate crimes. While most of our respondents reported having been targeted for harassment based on some aspect of their identity, only a small fraction reported having witnessed what they would term a hate crime.
But notably, among those who did report having witnessed a hate crime, African-Americans were the group most often cited as the victim. In fact, among those we surveyed who said they had witnessed at least one hate crime incident, 75% said African-Americans were targeted.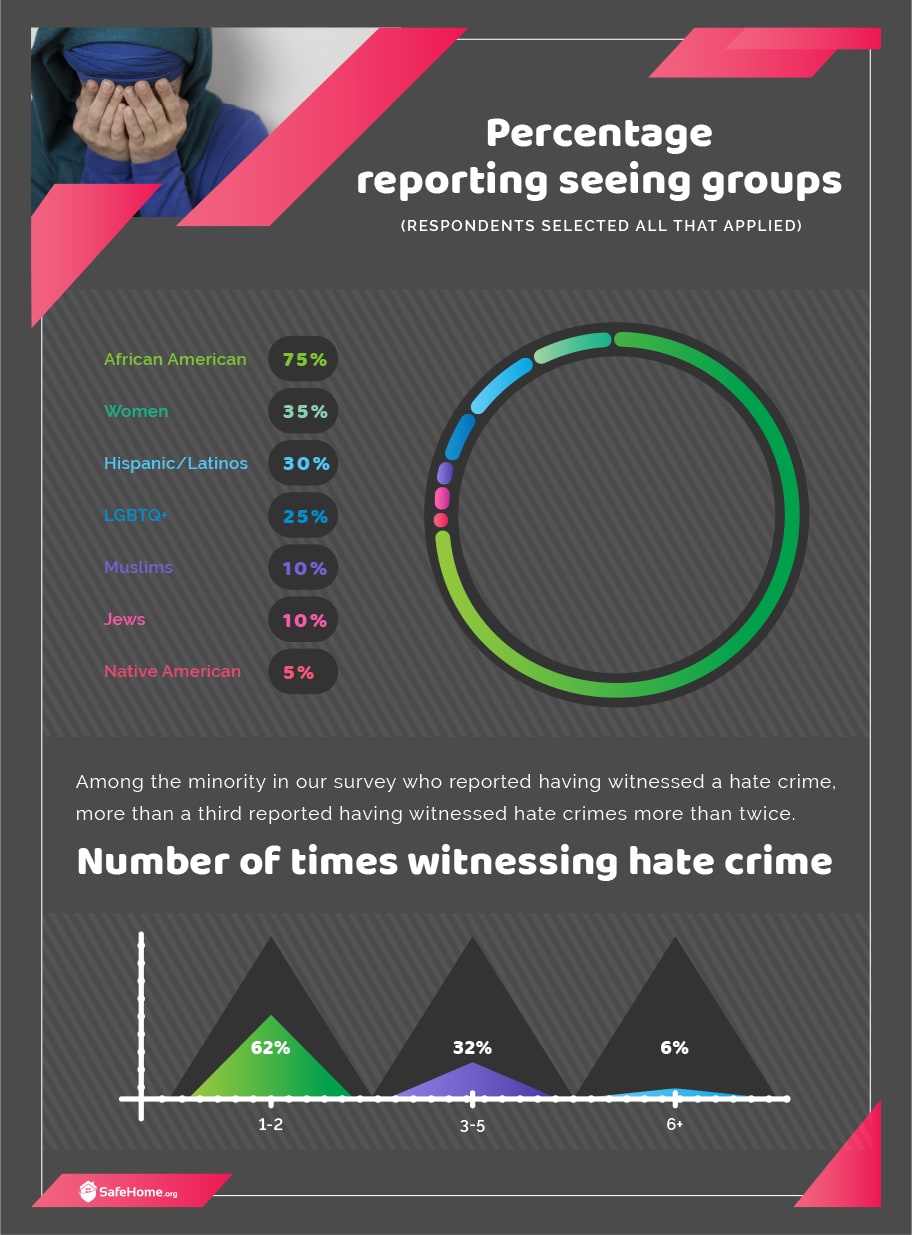 Offenders
About 88% of incidents involved perpetrators who were at least partially identified, meaning some aspect about them was known to victims or witnesses. More than half of known offenders in 2017 were white, though it's important to note that nearly 1 in 5 known offenders were of an unknown race.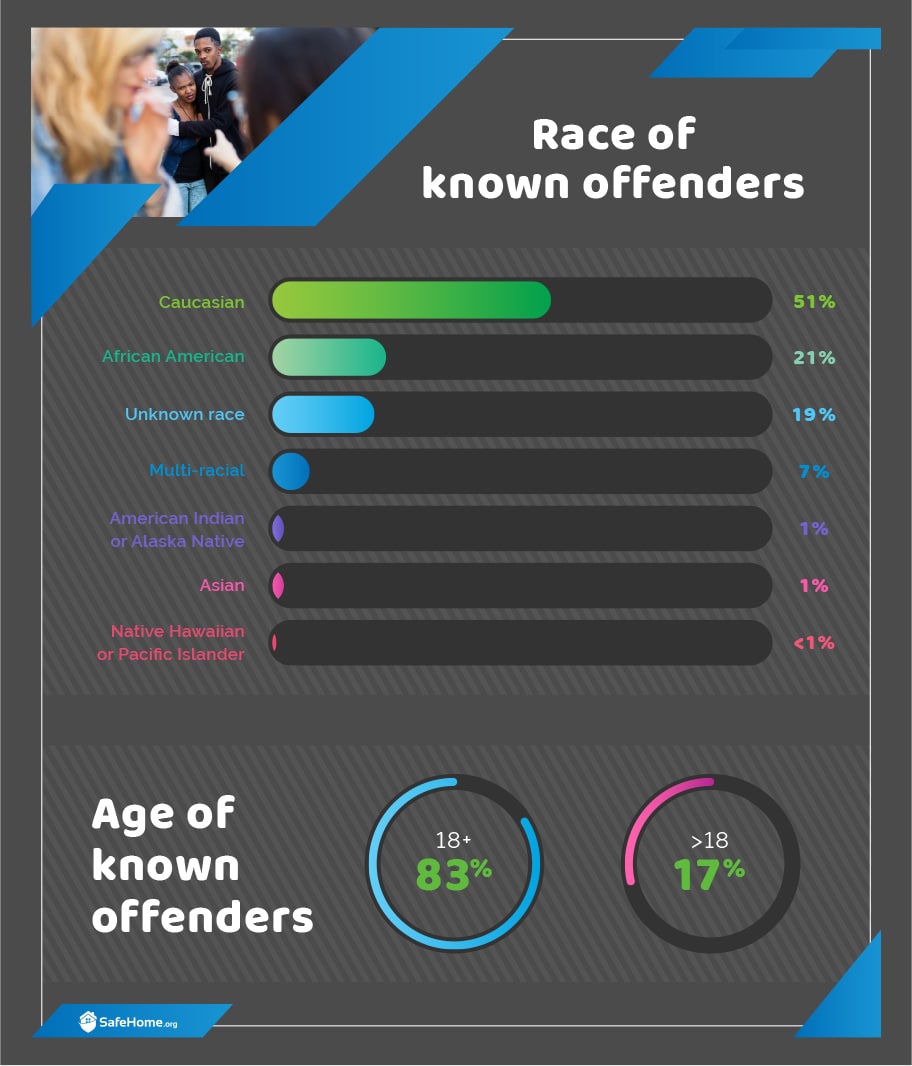 Notably, the proportion of known offenders who were children has fallen dramatically since 2013, when nearly one-third of known offenders were under 18.
Where Is Hate Growing?
The states and cities where hate crimes are most frequently reported largely correlate with population size. But taking a step back to see how these reports have changed over time provides more perspective. While overall, 22% more hate crime offenses were reported in 2017 compared to 2013, some states have actually seen rates fall — though it's not clear whether that's a reason for celebration.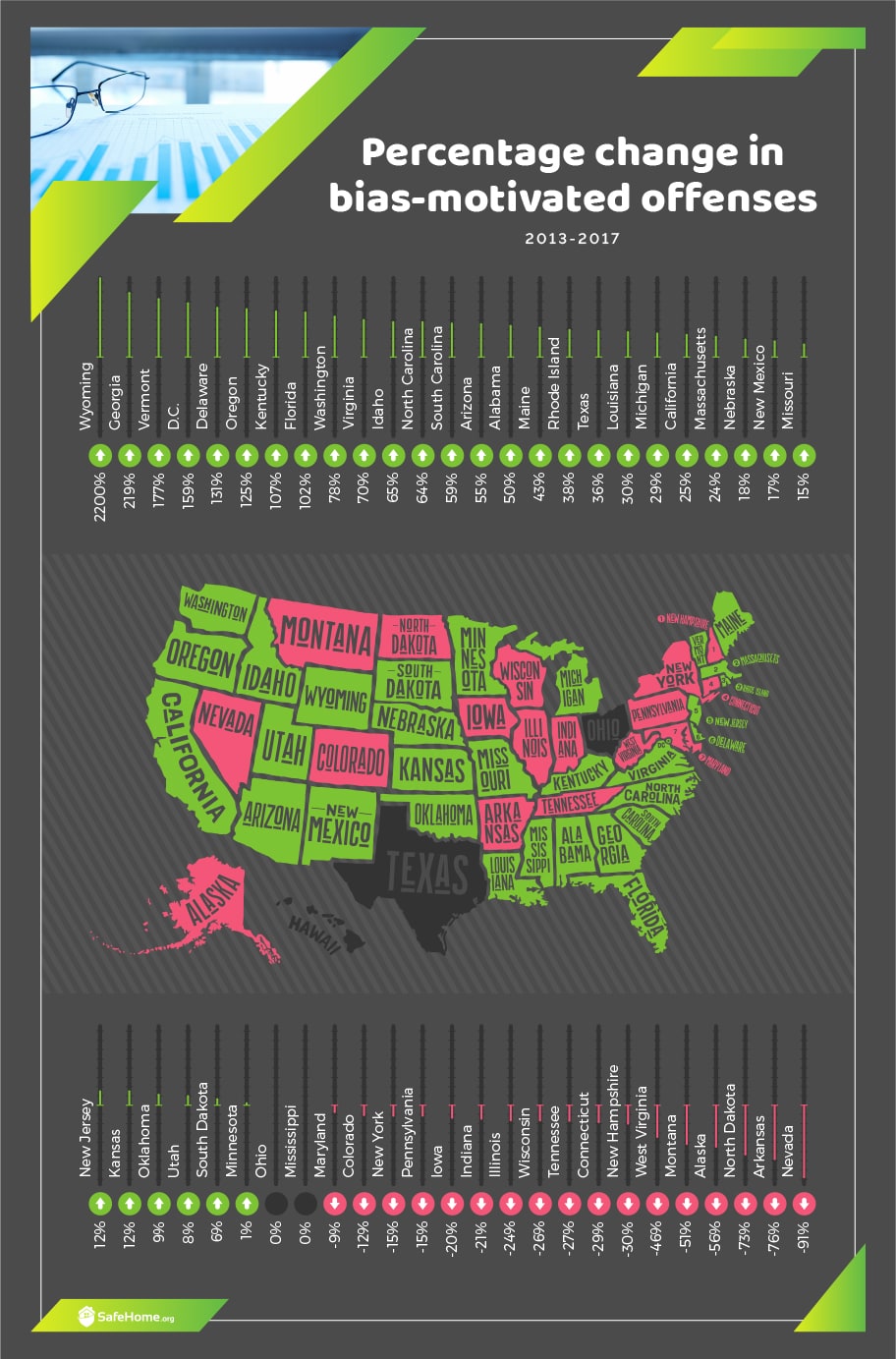 A plain reading of these numbers would seem to indicate that Wyoming has developed a huge hate crime problem while Nevada seems to nearly eradicated all hate crimes. But, of course, the devil's in the details:
Wyoming reported just 1 hate crime offense in 2013 compared to 23 in the most recent report year, which accounts for the state's incredible rise.
Nevada's rate fell from 80 incidents to just 7, but Las Vegas police did not report any hate crime information to the FBI for 2017. For 2013, that city accounted for the vast majority of reports.
Hawaii doesn't report its data to the FBI, and many observers believe the FBI dramatically undercounts the number of hate crimes to the tune of thousands, maybe hundreds of thousands.
A closer look: Top 5 states
Which groups were most frequently targeted in the states with the biggest increases? Take a look at the percentage of incidents per bias motivation:
Similarly, several of the major cities where hate crimes are most common have seen big changes in the number of reports.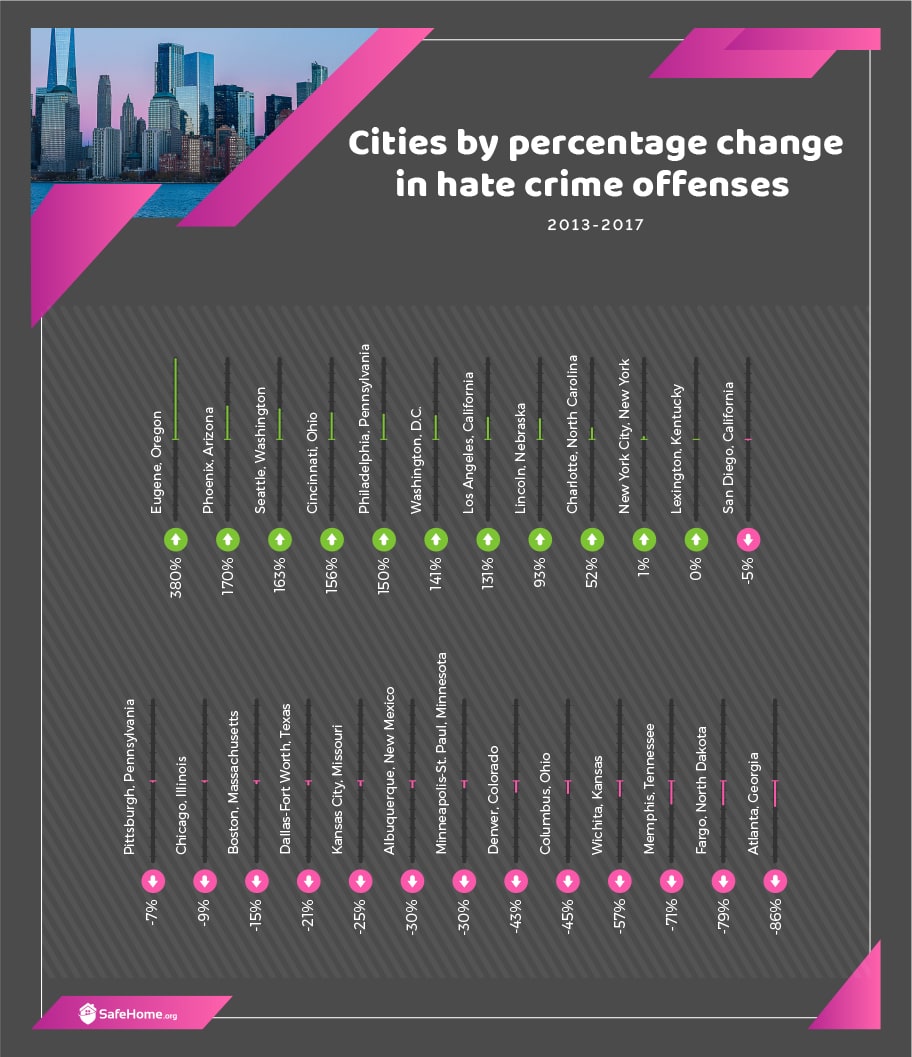 A closer look: Top 5 cities
Which groups were most frequently targeted in the cities with the biggest increases? Take a look at the percentage of incidents per bias motivation: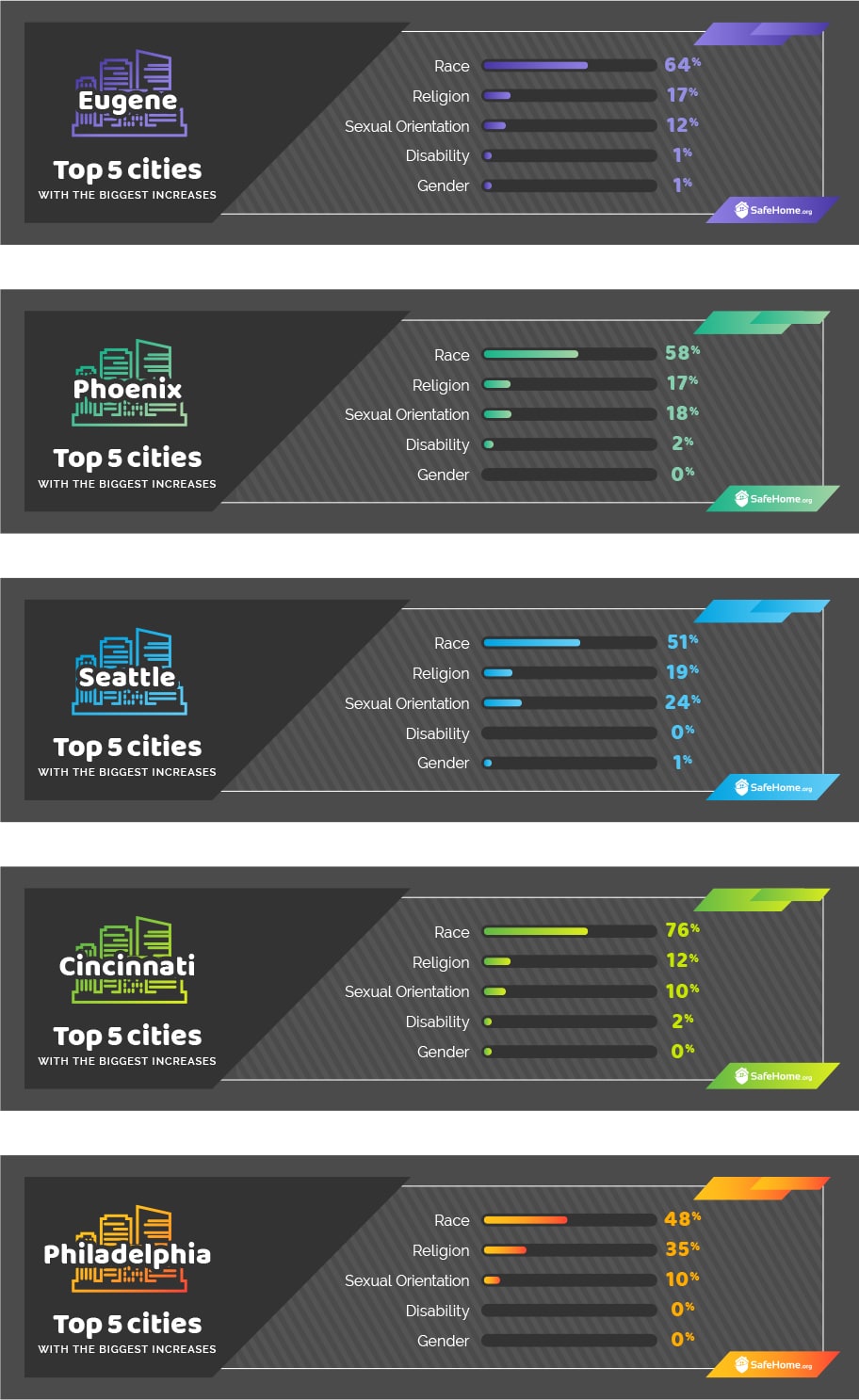 What Can We Do?
Despite the shortcomings in federal data on hate crimes and related incidents, we can clearly see bias-motivated offenses are on the rise. But effectively combating this issue is a complex challenge, to say the least.
That's because social media and online communities are helping promote hatred and often prove to be that final spark to violence. According to the Simon Wiesenthal Center, most tech platforms are struggling to police extremism and racial, religious and anti-LGBTQ movements that use their platforms to organize.
How can individuals use their resources to prevent hate crimes? Perhaps the most important aspect is simply reporting these incidents. It's estimated that hundreds of thousands of hate crime incidents occur every year, but only a tiny fraction are reported to police. Having a better understanding of the scope of this issue could help spur swifter and more effective political action.
But prevention means building a strong community in which it's clear to everyone that targeting anybody based on their race, sexual orientation, religion or other characteristic is unacceptable. This means reporting incidents that you see, yes, but it also means sometimes having difficult conversations with the people closest to you.
Conclusion
While the political rhetoric around extremist views is politically fraught (to say the least), there can be little doubt that such rhetoric can have a dangerous impact on a person who has warped ideas about a particular group of people.
Certainly, not every person who spends time in white supremacist forums will go on to commit violence against African-Americans or others. But we know that hate crimes, despite being underreported, are a great and growing problem in our society and one that perhaps speaks to the deepening divisions our modern politics can generate.
About This Story
All of the data we used to analyze hate crime offenses came from the FBI's annual hate crime statistics reports for 2017 and 2013. In each year's report, you'll find more than a dozen data tables cataloging a variety of information about hate crimes, their victims and the perpetrators.
The SafeHome.org survey on harassment and hate crimes was conducted online between March and May 2019. A total of 425 respondents were surveyed on a range of topics related to their personal experiences with hate crimes and harassment. Most respondents were between 26 and 49 years old.
Fair Use Statement
The information and images contained on this page are free to use for noncommercial purposes. If you wish to share any of this information, please include a link back to the URL of this page so it can be properly credited.