Features & Services
A lot goes into identity monitoring and identity theft recovery, but we can generally sort the features and services available from services like these into precisely those two categories: monitoring (and alerts) on the one hand, and recovery services on the other. Let's take a look at what Experian IdentityWorks has to offer us in each of these departments.
Monitoring and Alerts
IdentityWorks monitors much of the same stuff that we've grown used to seeing these sorts of services check. Chief among those is your credit score, which Experian, obviously, has the inside track on. I was impressed with how useful Experian made my credit score to me — beyond just keeping tabs on it and being ready to alert me if things went off the rails, Experian actually bothered to provide me with graphs of my credit score, tips on how to improve it, and my scores (updated daily) and reports themselves. I'll talk a bit more about this in the User experience section of this review.
Experian IdentityWorks also monitors your Social Security number, keeps an eye on change-of-address requests, and pledges to scour the dark web looking for signs that your information has been compromised, bought, or sold. All of this stuff is pretty typical.
IdentityWorks also looks for your names in court records, monitors the sex offender registry, and (if you provide access to your financial accounts) can fire off alerts when financial transactions exceed the parameters you set. You can add information and identifiers like a driver's license, passports, and even social media accounts to the list of things to be monitored. These are all familiar services, but not every competitor can match the full set that IdentityWorks offers.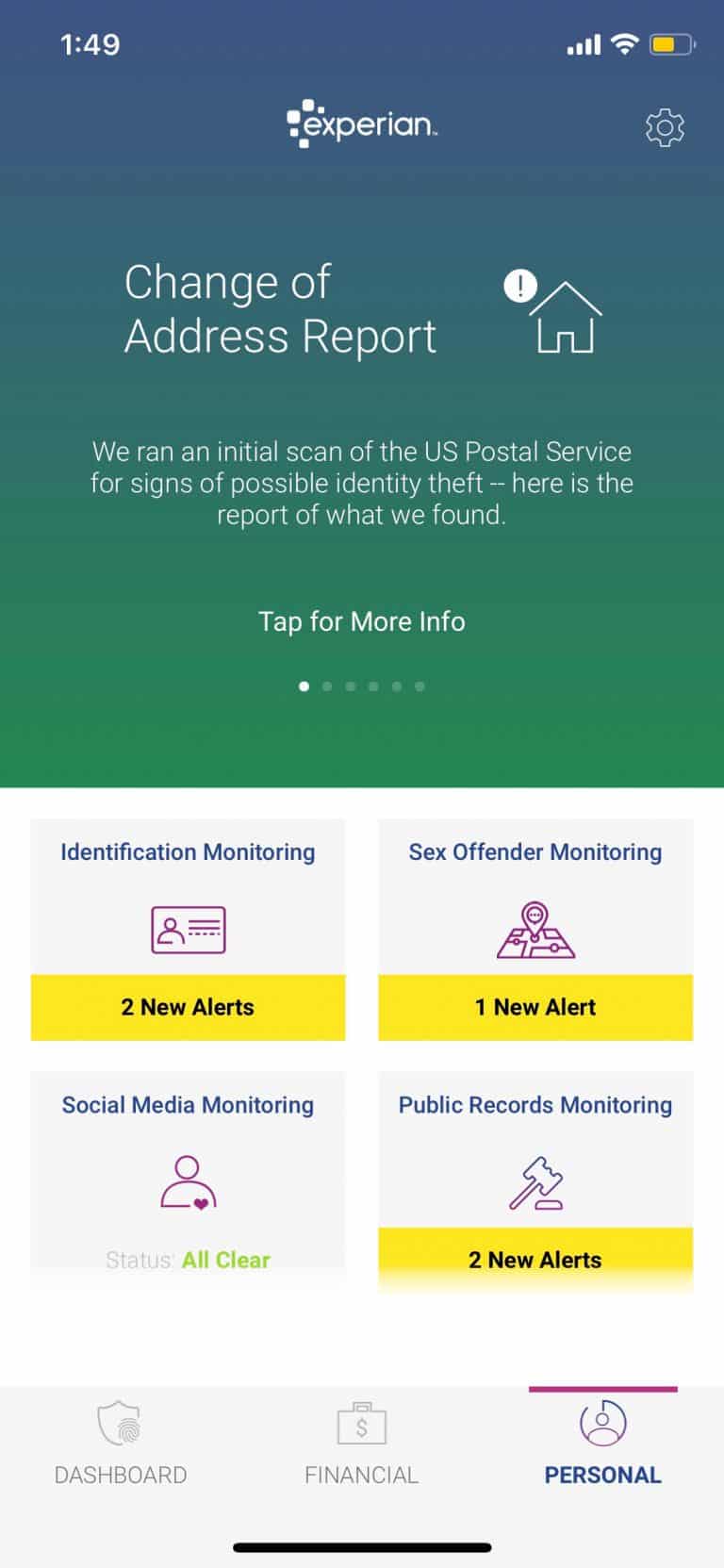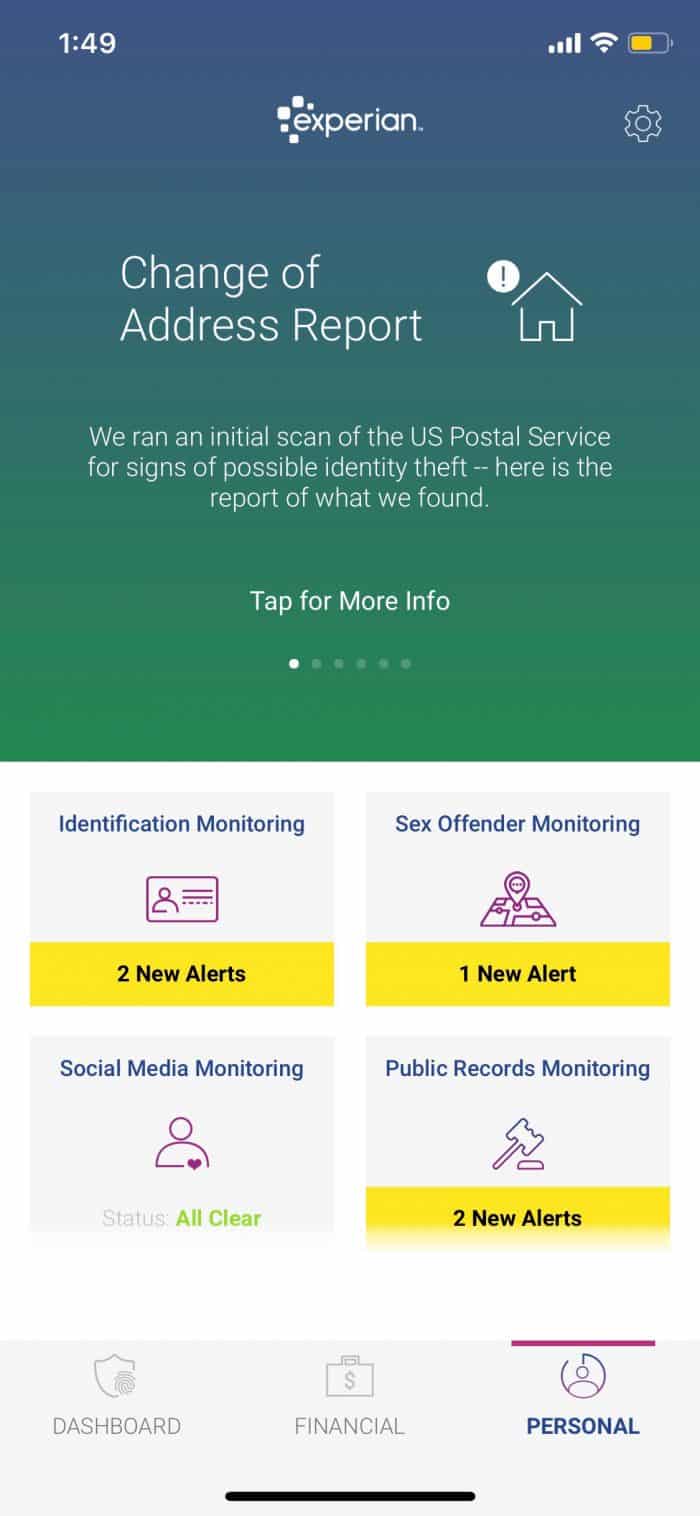 I received alerts in the app that I did not get via email, so be aware of that and tweak your settings if you prefer to get every detail emailed to you.
Recovery
IdentityWorks offers either $500,000 or $1,000,000 in insurance coverage for identity theft-related losses; the latter number is the norm in this space. Like other services of its type, IdentityWorks promises a managed recovery process that gives you full access to experts in recovery.
It's pretty easy to freeze your Experian credit score through IdentityWorks, as you might expect. You can do that with the click of a button — no need to chat with any of those recovery specialists. Of course, there are two other bureaus to worry about!
Nothing offered here stands out in particular, but IdentityWorks meets the industry standards.
Other Features
Experian IdentityWorks offers a few things that fall outside of the basic categories laid out above.
"Lost wallet assistance" is a pretty typical perk of these sorts of services, and Experian IdentityWorks has it. If you misplace your wallet, you can get some help from Experian in canceling credit cards and things like that.
The most impressive perks, in my view, were the tools related to credit monitoring. IdentityWorks offers tips for improving credit scores, charts credit card debts on graphs for users to look at, and generally makes more use of its monitoring services from a personal finance perspective than its competitors do.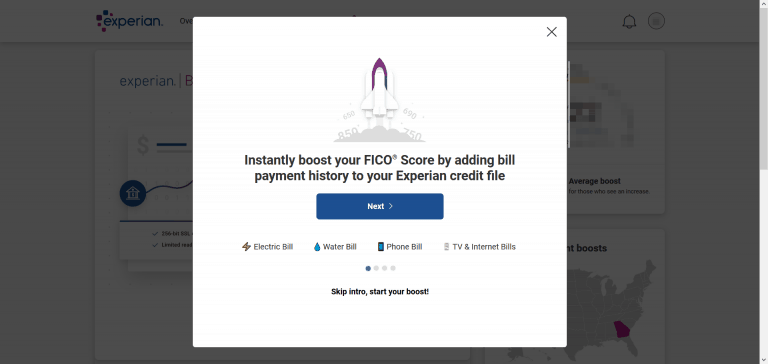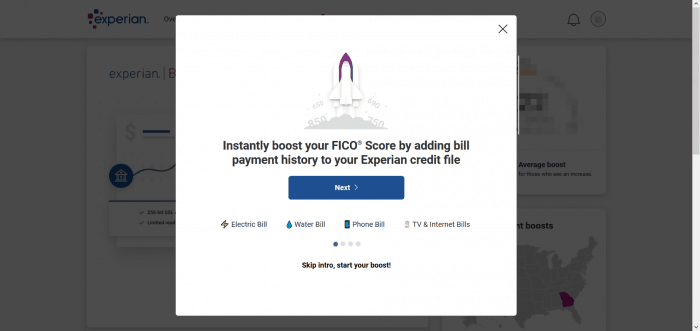 IdentityWorks also offers something called "Experian Boost." A lot of the bills that we dutifully pay are not ever logged with the credit reporting bureaus, and Experian would like to know a bit more about those payment histories. Assuming you're paying your electric bill and other basic bills on time and in full every month, sharing this information with Experian could help your Experian credit score (it will not, of course, affect your score with the other two major bureaus).