Overview
Our journey through the many different identity monitoring services on the market has brought us here, to our Experian IdentityWorks review. As the name suggests, this particular service is offered by Experian, a company best known for credit scores and credit reports. Identity monitoring services tend to pay close attention to credit scores in the hopes of spotting unusual activity being shared with the major credit reporting bureaus, so it makes perfect sense that the credit reporting bureaus themselves have gotten in on the credit and identity monitoring game. Experian's IdentityWorks, like fellow credit bureau Equifax's identity product, ID Watchdog, is an identity monitoring service designed to compete with LifeLock and the rest of the big names in the business while offering a little something extra on the credit monitoring front. So how does it measure up? Let's find out.
What is Experian IdentityWorks?
Before we get too into the weeds with IdentityWorks' features, pricing, and other details, let's take a moment to cover the basics. What is Experian IdentityWorks? What does it do?
The promise of Experian IdentityWorks is not that it will somehow stop identity thieves in their tracks — only the folks at the FBI are really trying to do that (and with mixed success, which is why we need services like IdentityWorks). The deal with Experian IdentityWorks, and with all of the other services like it, is that if and when your identity is compromised, you'll know about it fast.
And that's no small consolation when it comes to identity theft. The longer the lag time between an identity crime and the victim becoming aware of it, the more that the crooks can get away with — and the harder the mess will be to clean up. The difference between finding out that your email password is being sold online and finding out that a criminal already bought it and used it to steal your credit card number is huge. And the difference between finding out someone maxed out your credit card and finding out that there are hundreds of thousands of dollars in new loans in your name is even larger. The sooner your find out, the more damage you can avoid by taking action like freezing your credit and canceling credit cards.
That's why services like IdentityWorks work to notify you quickly when something weird seems to be afoot with your credit score or with any of the other indicators and pieces of information that they track.
IdentityWorks and its peers also offer identity theft recovery services. If you become a victim of an identity crime, IdentityWorks pros will help you pick up the pieces. They'll help you take care of chores like freezing your credit, canceling credit cards, and working things out with the credit bureaus so that you aren't tarred as some kind of deadbeat spendthrift.
As I mentioned in the introduction, Experian is one of the three major credit reporting agencies. Along with Equifax and TransUnion, Experian tracks your history with banks and lenders to form a three-digit credit score, which is a number that rules your life. Just kidding (sort of): your credit score just tells lenders, landlords, and other concerned parties how worried they should be about counting on you for money. Since lenders check credit scores and report loans, this makes credit monitoring a very important dimension of identity monitoring, so it makes perfect sense to find Experian in the identity monitoring business.
That's enough in the way of overview, though. Let's talk about the nitty-gritty stuff!
Features & Services
A lot goes into identity monitoring and identity theft recovery, but we can generally sort the features and services available from services like these into precisely those two categories: monitoring (and alerts) on the one hand, and recovery services on the other. Let's take a look at what Experian IdentityWorks has to offer us in each of these departments.
Monitoring and Alerts
IdentityWorks monitors much of the same stuff that we've grown used to seeing these sorts of services check. Chief among those is your credit score, which Experian, obviously, has the inside track on. I was impressed with how useful Experian made my credit score to me — beyond just keeping tabs on it and being ready to alert me if things went off the rails, Experian actually bothered to provide me with graphs of my credit score, tips on how to improve it, and my scores (updated daily) and reports themselves. I'll talk a bit more about this in the User experience section of this review.
Experian IdentityWorks also monitors your Social Security number, keeps an eye on change-of-address requests, and pledges to scour the dark web looking for signs that your information has been compromised, bought, or sold. All of this stuff is pretty typical.
IdentityWorks also looks for your names in court records, monitors the sex offender registry, and (if you provide access to your financial accounts) can fire off alerts when financial transactions exceed the parameters you set. You can add information and identifiers like a driver's license, passports, and even social media accounts to the list of things to be monitored. These are all familiar services, but not every competitor can match the full set that IdentityWorks offers.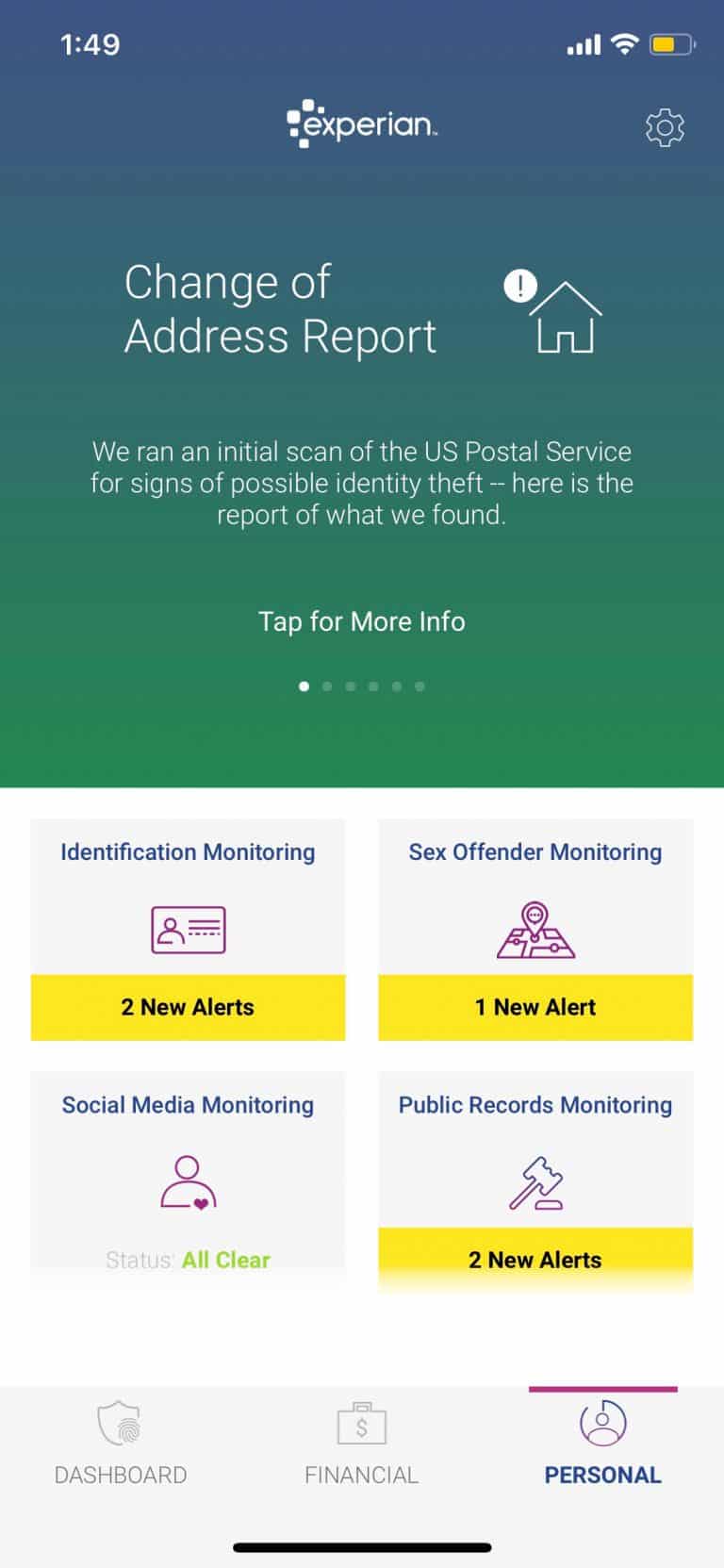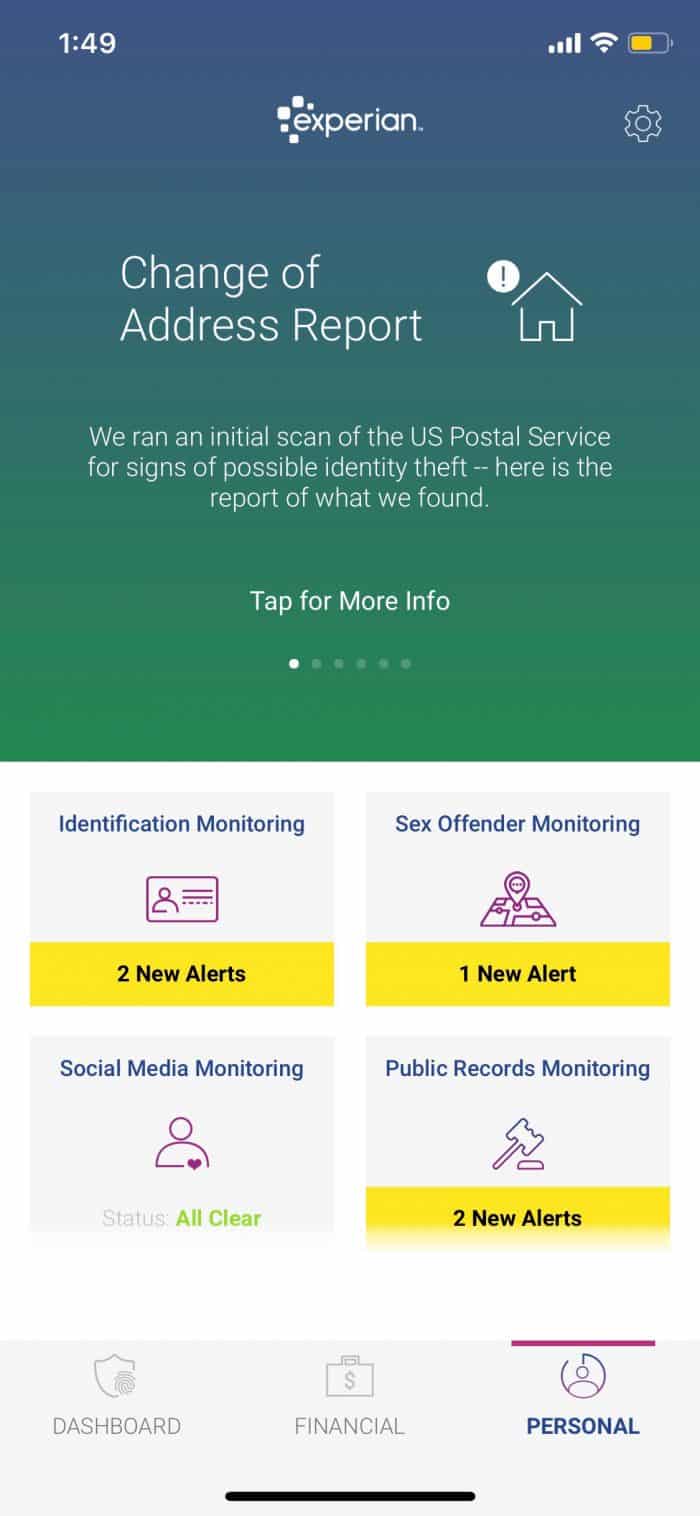 I received alerts in the app that I did not get via email, so be aware of that and tweak your settings if you prefer to get every detail emailed to you.
Recovery
IdentityWorks offers either $500,000 or $1,000,000 in insurance coverage for identity theft-related losses; the latter number is the norm in this space. Like other services of its type, IdentityWorks promises a managed recovery process that gives you full access to experts in recovery.
It's pretty easy to freeze your Experian credit score through IdentityWorks, as you might expect. You can do that with the click of a button — no need to chat with any of those recovery specialists. Of course, there are two other bureaus to worry about!
Nothing offered here stands out in particular, but IdentityWorks meets the industry standards.
Other Features
Experian IdentityWorks offers a few things that fall outside of the basic categories laid out above.
"Lost wallet assistance" is a pretty typical perk of these sorts of services, and Experian IdentityWorks has it. If you misplace your wallet, you can get some help from Experian in canceling credit cards and things like that.
The most impressive perks, in my view, were the tools related to credit monitoring. IdentityWorks offers tips for improving credit scores, charts credit card debts on graphs for users to look at, and generally makes more use of its monitoring services from a personal finance perspective than its competitors do.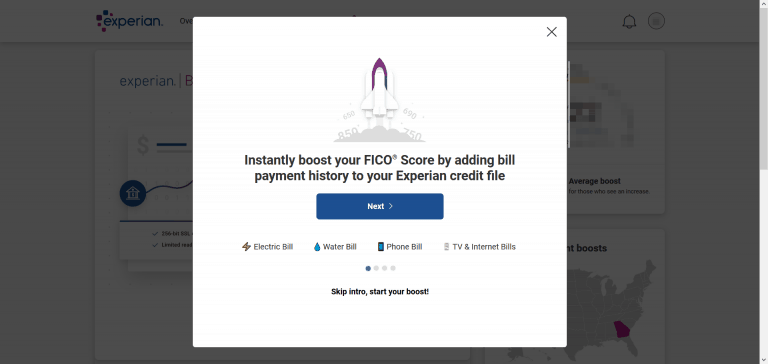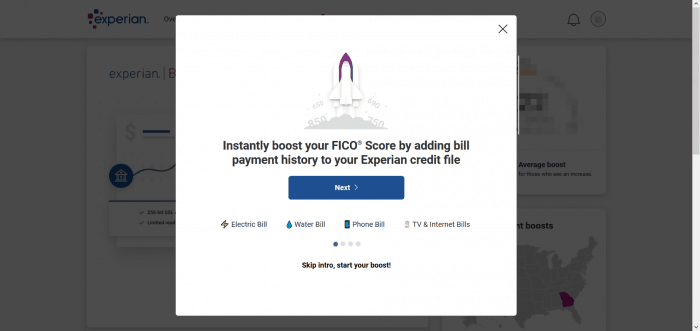 IdentityWorks also offers something called "Experian Boost." A lot of the bills that we dutifully pay are not ever logged with the credit reporting bureaus, and Experian would like to know a bit more about those payment histories. Assuming you're paying your electric bill and other basic bills on time and in full every month, sharing this information with Experian could help your Experian credit score (it will not, of course, affect your score with the other two major bureaus).
Ease of Use
I really liked the IdentityWorks web app. It was clearly focused on credit monitoring, even more so than I expected. Obviously, most identity monitoring services include credit monitoring. But identity theft isn't the only reason to keep an eye on your credit, and IdentityWorks had a lot of tools that seemed great for folks trying to keep their debt under control and build good credit for long-term stuff like buying a house.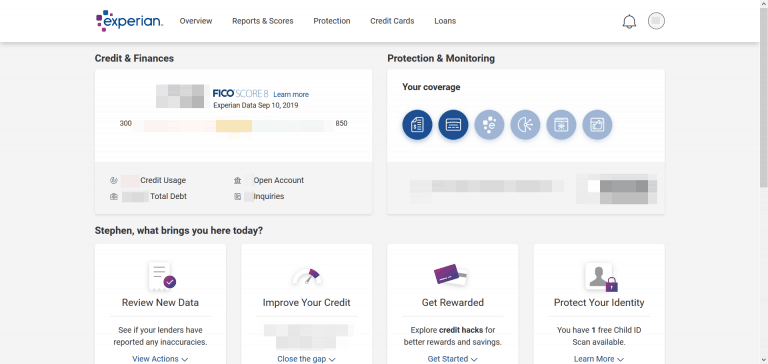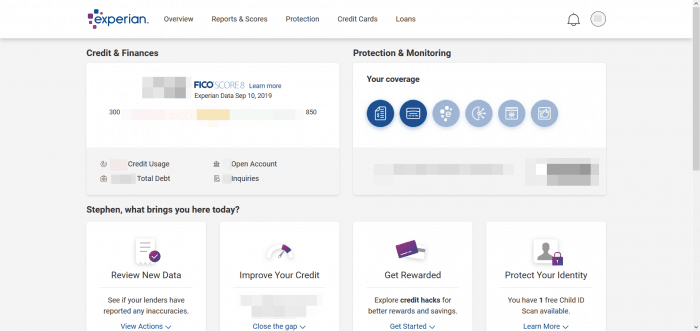 The home page included a simple bar chart of my credit usage as a percentage of my available credit (i.e., my lines of credit on my credit cards vs. my current balance). Text below reminded me that it's best to keep credit usage under 30%, and a helpful arrow pointed out where the 30% line was so that I could see if I was over or under it. The 30% rule is arguably common knowledge, but it was still nice to see in a dashboard.
Experian also included a line graph charting my credit card balances month to month. That was really useful — I even reworked my budget a bit after seeing my graph. (Hey, even though I make the big bucks here in the blogging biz, I still have to watch my spending.)
Again, this stuff isn't necessarily focused on identity theft per se — though if crooks run up charges on your card, you'd certainly see something eye-popping on the "Your Credit Usage" chart — but it was very useful for budgeting and tracking spending on credit.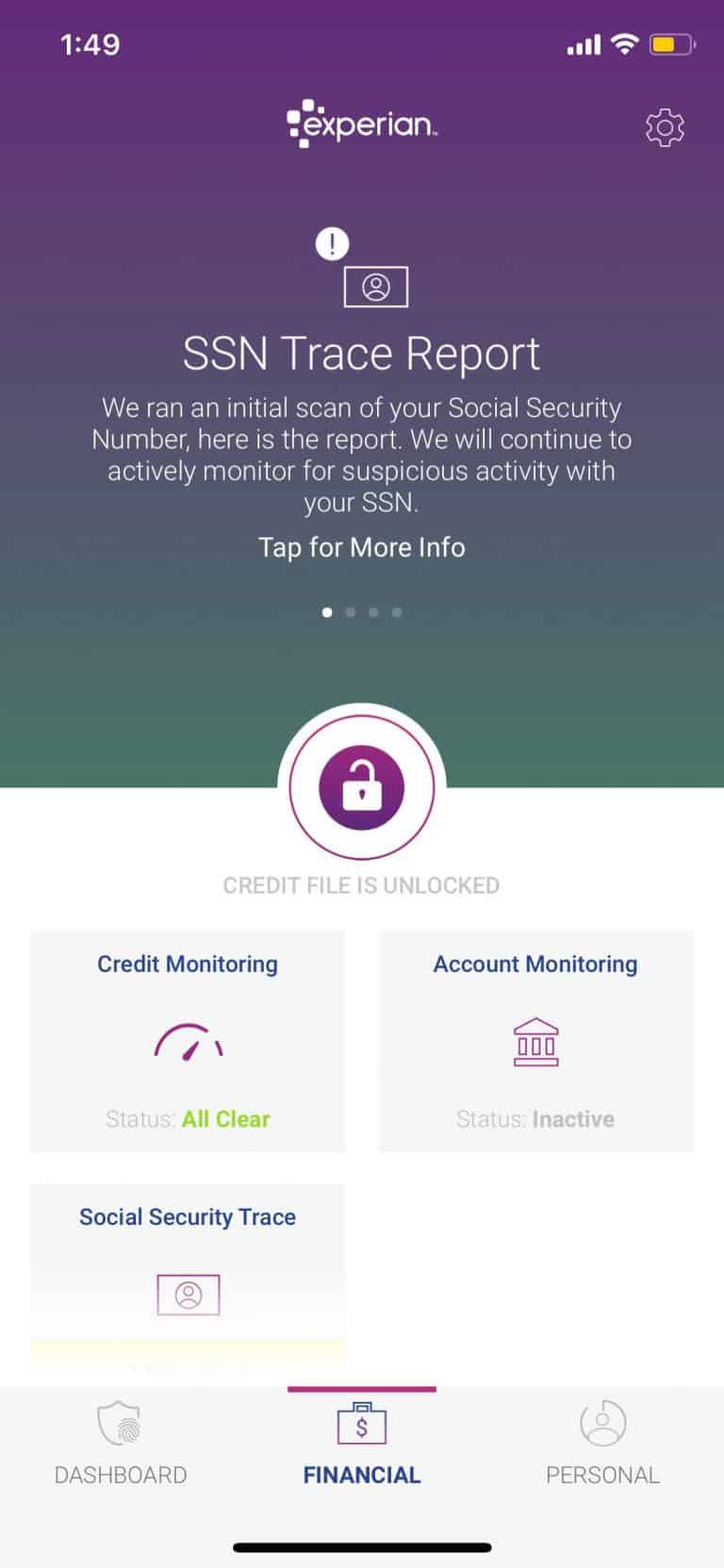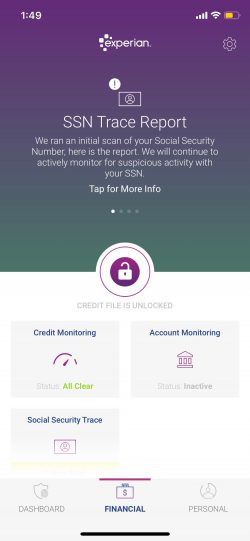 The mobile app is pretty straightforward. It can use Apple's Face ID, it sends you alerts if you allow it to do so, and it includes pretty much all the same stuff as the web app does. If anything, I found it a bit more convenient for identity monitoring and alerts purposes than the web app — though the web app was better for the personal finance stuff.
IdentityWorks uses prime real estate on its web app's credit report page to push credit cards. When I checked out the page in the web app, there was a full-width ad across the top telling me that my (pretty good, but by no means perfect) credit score would let me "earn cash back or travel points," while another box below included a "suggested" credit card from Capital One.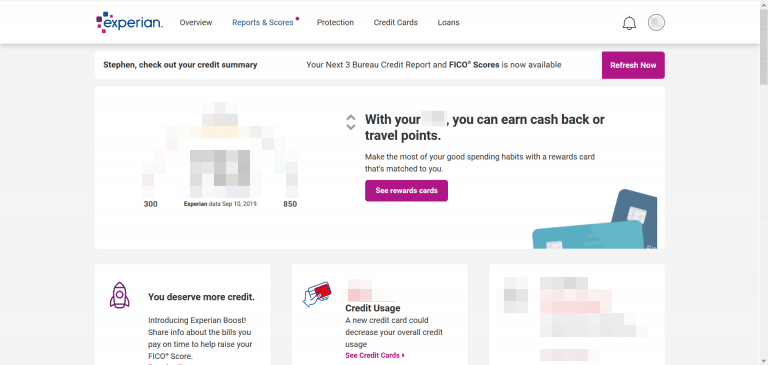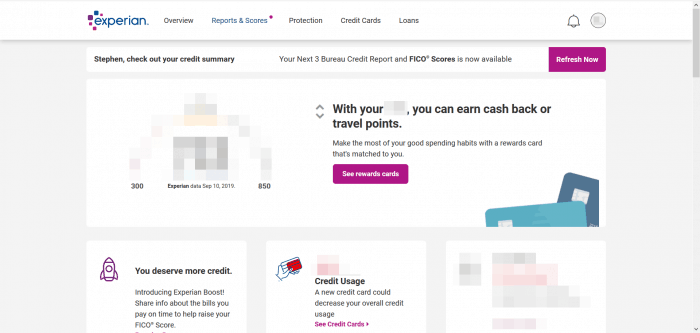 It wasn't just there that I saw what were essentially advertisements in IdentityWorks' dashboard. Experian IdentityWorks' web client pushed credit cards left and right, including on the page users see when they go inactive and are automatically signed out.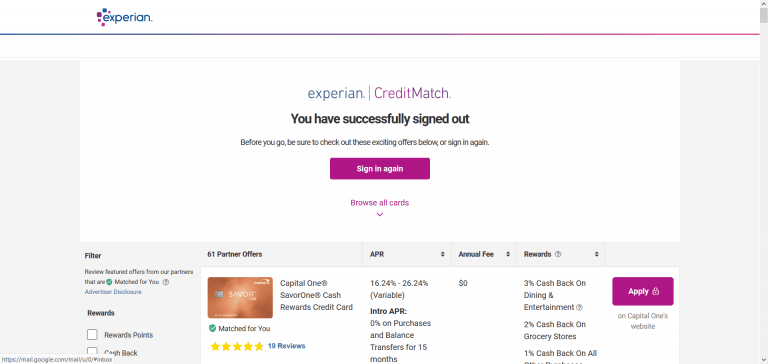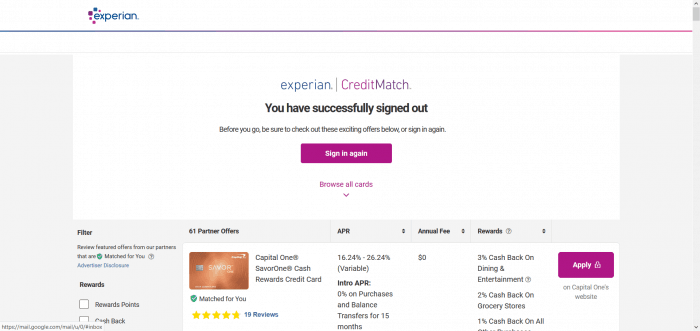 I wasn't thrilled about this. Credit cards are perfectly reasonable things to have, of course (I already have one!), and smart use of points and cash back can be good for your finances. But it struck me as a little skeevy for Experian to be pushing users to acquire and use more credit at the same time that it is showing them the score they'd earned so far by (hopefully) being careful about precisely these sorts of temptations. It's especially galling at a time when so many Americans are struggling in the cycle of debt. It's possible that these boxes disappear if your credit is really, really low, but I have a sneaking suspicion that they'd still be there, pitching credit cards to people who should be cutting theirs up. Maybe most IdentityWorks users are well-off and good with money, and therefore happy to check out new credit cards with decent cash-back deals — this is an identity theft protection service that costs 10 to 30 bucks a month, so I guess that makes sense. Then again, if users are paying as much as 30 bucks a month, then why are there ads in the first place? And these certainly are ads, not just recommendations. I've seen enough affiliate links in my day to know that Experian is getting a payout when users sign up for new credit cards using IdentityWorks' links.
To be fair to IdentityWorks, getting a new credit card can sometimes be good for your credit. For instance, if you have a moderate balance on one card, you could add a new card and split your usage between the two — meaning the same amount of total balance would be spread across two available lines of credit, resulting in an overall lower percentage of credit usage, which is good for your score. It's still the same amount of debt, but who am I to question the methods of the three major credit reporting bureaus?
Customer Service
Experian has an extensive customer service department with dedicated fraud resolution support. If you suffer from identity theft while protected by this service, Experian acts quickly to stop further damage from happening. They work hand-in-hand with you to clean up your credit file and resolve major issues stemming from this fraud.
Value
I described the features available from Experian IdentityWorks in depth in the last section. Let's see them in list form now, and sort them into the packages that are available from Experian. There are two packages: IdentityWorks Plus and IdentityWorks Premium. Both are available as individual or family plans.
IdentityWorks Plus
Identity theft insurance covering up to $500,000
Credit monitoring (Experian only)
Daily FICO score (based on Experian data only)
Additional auto, home, and bank card FICO scores
FICO alerts
FICO score simulator
Dark Web surveillance
Social Security number monitoring
Change-of-address verification
U.S.-based fraud resolution specialists
Lost wallet assistance
Experian CreditLock (allows customers to freeze their credit with Experian and be alerted to credit inquiries)
IdentityWorks Premium
All of the above, plus:
Identity theft insurance covering up to $1,000,000
Credit monitoring (all three major credit bureaus)
Daily FICO score (three-bureau score)
Bank account and credit card takeovers
Identity validation alerts
Payday loan monitoring
Court records and bookings monitoring
Sex offender registry monitoring
File-sharing network monitoring
Social network monitoring
Pricing for these plans will depend on whether you're signing up as an individual or want coverage for the whole family.
If you're not sure you're quite ready to commit to those prices yet, well, good news: Experian IdentityWorks offers a 30-day free trial. You can use that trial to test out any of the packages laid out above, from the cheapest one-person deal to the most expansive family plan. Just remember that you'll be on the hook for the monthly fee each month starting as soon as your first 30 days are up. There's no long-term contract involved here, though, and you can cancel the service at any time.
Summary
Experian IdentityWorks is a very solid identity monitoring service that goes above and beyond when it comes to credit and debt monitoring. It's a reasonable choice for the former and the best choice for the latter.
I wouldn't quite put Experian IdentityWorks in the top tier of identity monitoring services with the likes of LifeLock and IdentityGuard. But this service is not far behind the leaders, and it puts some competitors — including ID Watchdog, which is owned by Experian's fellow credit bureau Equifax — to shame.
And Experian IdentityWorks' credit and debt monitoring tools make it a more powerful personal finance tool than any other identity monitoring service that we've tested on this site so far. If that aspect is important to you, then you should give Experian IdentityWorks' free trial a look.