By: SafeHome.org Research Published: April 2021
How safe do you feel at home? Is there anything you can do to feel safer? We recently conducted a study about modern surveillance technology that examined Americans' feelings about privacy and security. Our new study below adds even more to the conversation about safety in American homes. We've measured the current state of home safety to determine which safety measures help people feel safer. Our results also reveal how some households fall short and what they can do to increase their home's safety measures.
Key Findings
Owning a firearm is the top safety measure that makes the majority of Americans feel safer in their homes. Smoke detectors, carbon monoxide detectors, and home alarm systems were also at the top of the list.
Americans are more worried about personal harm that could happen during a home invasion (a robbery) than they are about the theft of their possessions (a burglary), despite robberies being 4 times less likely to happen in your home than a burglary.
A fair amount of people believe they should have these safety measures in their homes: a home alarm system (37%), smoke detectors (31%), and a first aid kid (30%) — but they don't.
Home Safety Measures
We began our study by asking Americans about the safety measures they currently use at home. Here are the most popular options, and what people think are the most important safety measures to have in a home.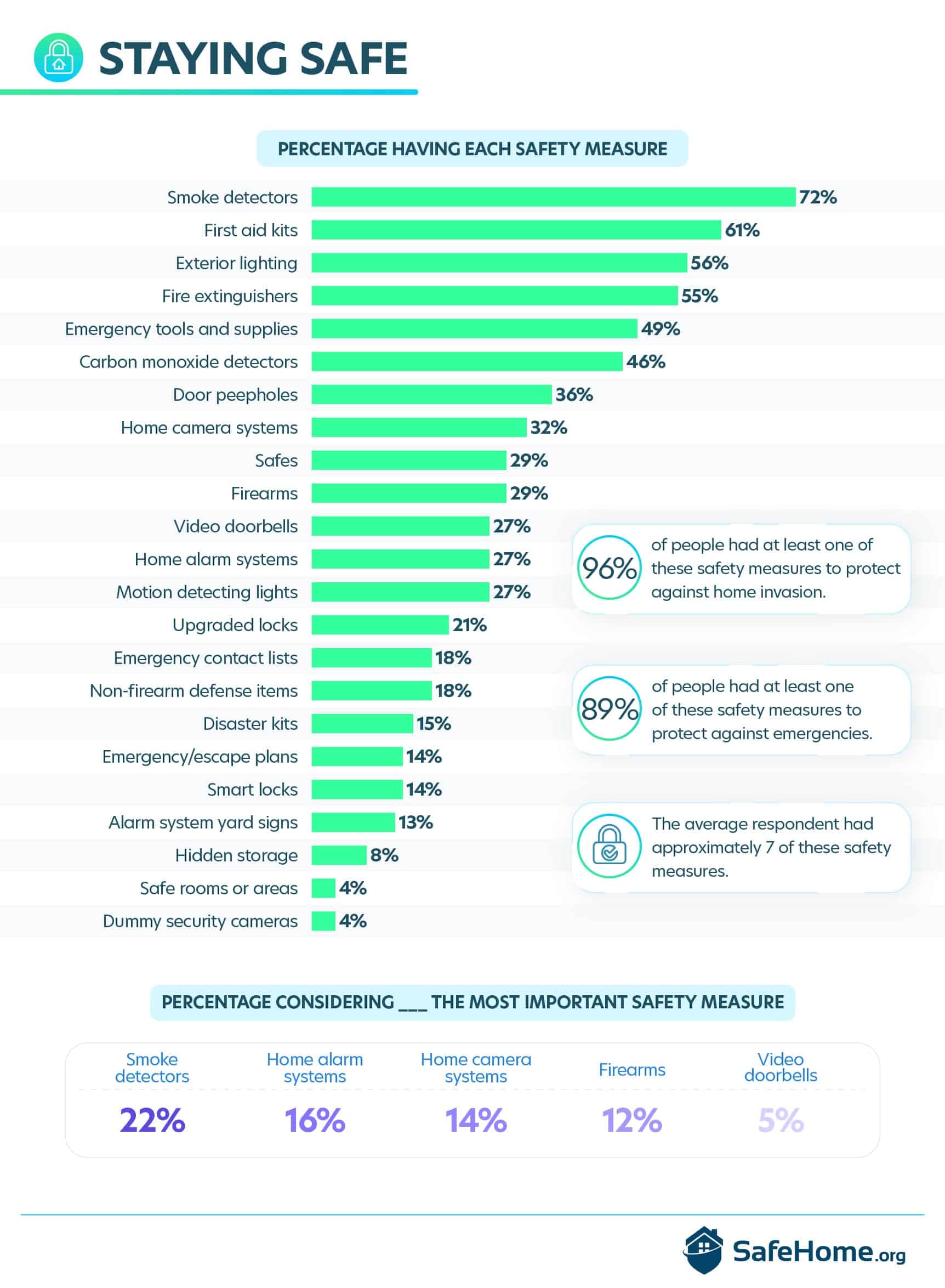 Fires are dangerous and sometimes deadly: three out of five deaths occur in homes that do not have working smoke alarms. Many Americans agree that smoke detectors are the most important safety measure to have, and experts say that installing a smoke detector gives you a 50% better chance of surviving a residential fire. Other popular home safety measures include first aid kits, exterior lighting, and fire extinguishers.
Feeling Safer in Your Home
From smart locks to home security systems, there's a wide variety of products and technologies you can install both inside and outside your home to increase safety. Take a look below at the items that help Americans feel more secure.
Firearms make the highest percentage of people feel much safer, even though Americans are more than twice as likely to own a smoke detector than a gun. In another past study on home safety, we found that gun owners were more than twice as likely to feel extremely safe at home compared to those who don't own a firearm. Gun owners were also more likely to use additional security measures, such as alarm systems, security cameras, and video doorbells, which contributed to their increased sense of safety.
Safety Needs and Concerns
Our study concluded by finding the gaps in home safety measures and exploring where improvements could be made. We also learned which types of home emergencies were the greatest cause of worry for homeowners.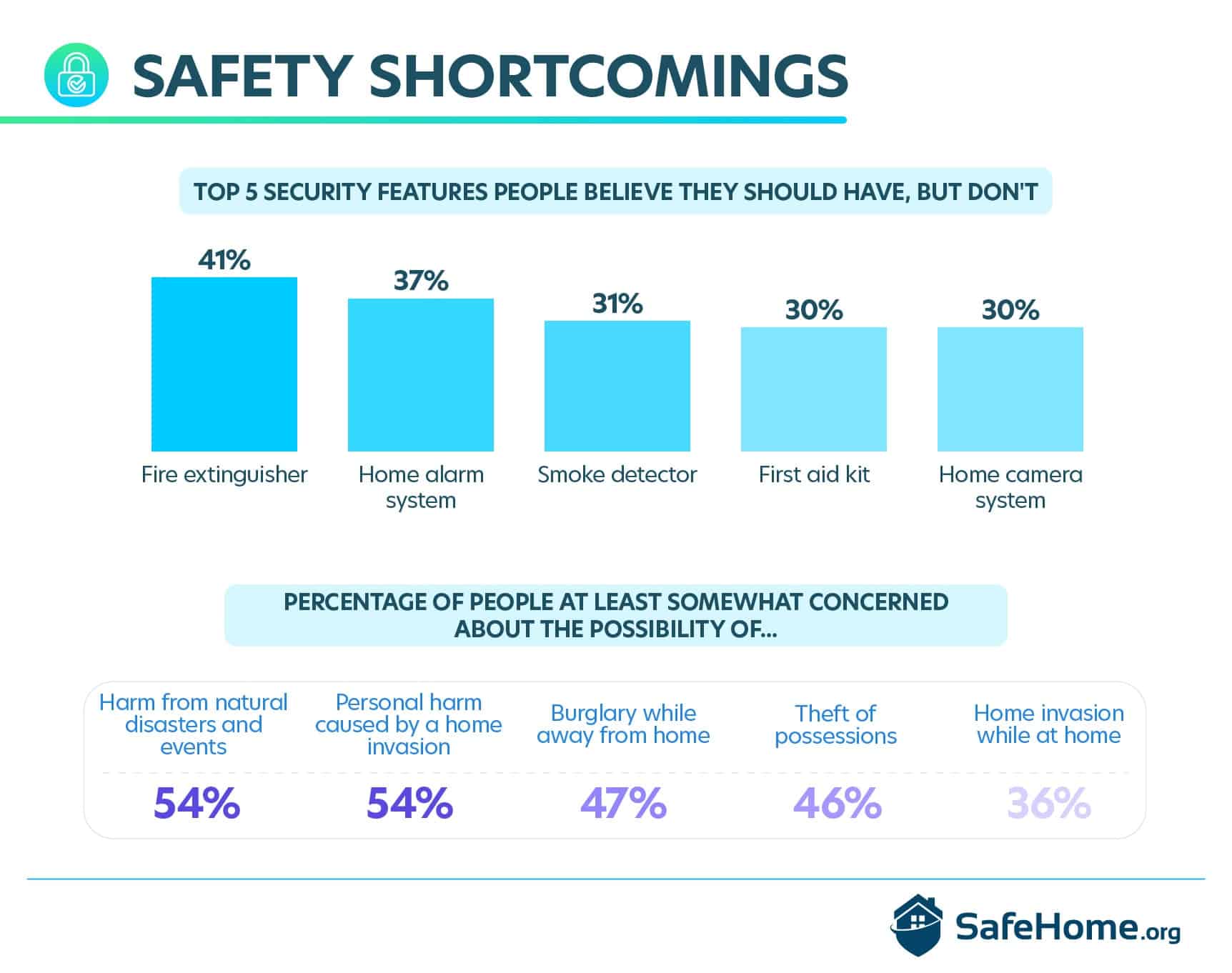 Out of the top five safety concerns for homeowners, four are related to the threat of a home invasion. Americans are more worried about personal harm that could happen during a home invasion (a robbery) than they are about the theft of their possessions (a burglary). According to an American crime study, crime has been declining overall in the U.S. for the past 20 years. However, while the number of robberies has decreased, the following states have seen an uptick in the number of robberies:
South Dakota
New Mexico
Illinois
Alaska
North Dakota
Iowa
Colorado
Indiana
Montana
The study also reported that only 16% of robberies occur in a home, whereas about 66% of burglaries take place at residences. So even though people are more concerned about getting hurt during a theft, it's more likely that a perpetrator will try to strike when no one is home.
Security cameras help homeowners keep an eye on their property whether they're at home or away. Thirty percent of Americans believe they should install a home camera system and 37% think they should install a home alarm system. These two systems are likely to deter home invasions and increase homeowners' feelings of safety.
Conclusion
Americans are most concerned about protecting themselves and their homes from fires and home invasions. Firearms, smoke and carbon monoxide detectors, and home alarm systems are what make most people feel much safer. Some people don't have fire extinguishers, alarm systems, and smoke detectors in their homes, but they believe that they should in order to increase their home's safety. The majority of people have at least one safety measure in place in case of an emergency, though the average person has about seven safety measures in their home.
Methodology and Limitations
For this study, we surveyed 1,007 respondents. Among those respondents, 542 were male, 462 were female, and 3 identified as non-binary. Our respondents ranged in age from 18 to 76, with an average age of approximately 42.
In order to help gather accurate responses, all survey respondents were required to identify and correctly answer an attention-check question. In some cases, questions and answers have been rephrased or paraphrased for brevity or clarity. These data rely on self-reporting, and potential issues with self-reported data include but are not limited to: telescoping, selective memory, and attribution errors.