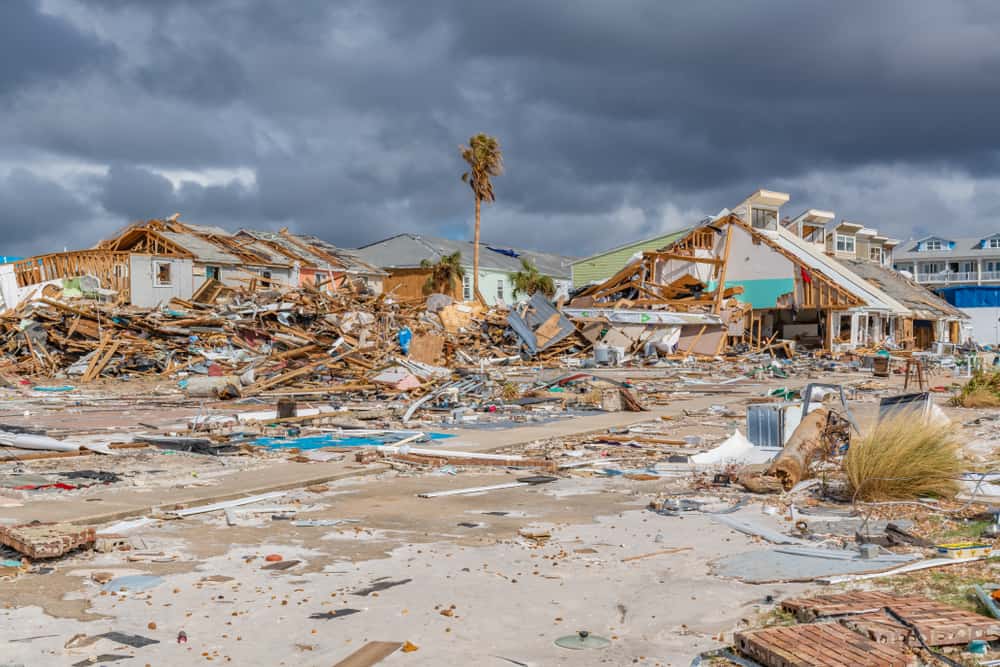 Before Katrina, there was Andrew. Winds that reached 165 miles per hour, $25 billion in property damage. No Florida homeowner who lived through it will ever forget the day Andrew's Category 5 hurricane winds battered the state.
That was in 1992, and the situation hasn't changed much for homeowners in the Sunshine State since. Once the horn sounds on hurricane season, the entire coast — and, really, much of the state — is fair game for massive storms and flooding.
I would say, "Well, thank God for home insurance." But if you live in Florida, you pay some of the highest homeowners rates in the nation and risk getting dumped if your insurer decides you're too expensive to cover.
In this Florida hurricane guide, we'll cover:
Peak hurricane season dates
Areas at high risk for tropical storms
Hurricane insurance essentials
Planning for the next hurricane
Did You Know? The difference between a tropical storm and a hurricane is wind speed. When winds max out at 73 miles per hour, meteorologists consider that a tropical storm. Anything higher than 73 mph is hurricane force.
When Is Hurricane Season in Florida?
Hurricane season stretches for half the year in Florida, from June through November. That's a huge and worrying window of disaster that dwarfs even monsoon season in India, which falls between June and September.
The real danger zone for hurricanes in Florida is August to October. That's when the warm water flowing north from the Gulf of Mexico smacks into the winds blowing west from Africa, creating what meteorologists call "tropical waves." ("Tropical waves," in this case, doesn't mean it's time to break out your boogie board. We're talking about low-pressure, hurricane-brewing air currents.) If you own a home in Florida, that's when you'll want to be on highest alert.
I'll share some tips for preparing your home for hurricane season, but let's first talk briefly about which areas of Florida hurricanes like best.
FYI: Meteorologists consider Sept. 10 to be the peak of hurricane season because that's when there's a 50 percent chance a hurricane will touch land, based on data collected since 1966, when we started charting tropical storms by 1satellite.
High-Risk Hurricane Zones in Florida
In Florida, there's no such thing as a totally hurricane-free area. Even if you don't live smack dab in the middle of hurricane country, your property may still be at risk for wind damage and flooding (more on this in the next section).
According to the Florida Climate Center, however, the southeast coastline — especially Miami-Dade and Broward counties — and the panhandle are particularly vulnerable.2 When a nasty storm blows through Florida, those are the areas that get hit hardest and most often.
Tampa, Jacksonville, and the Big Bend, on the other hand, are considered safest. But even Tampa isn't immune. Remember the Tampa Bay Hurricane, aka the Tarpon Springs Hurricane? Probably not, because it walloped Florida in 1921. The Tarpon Springs Hurricane was a late-season Category 4 monster that whipped across the Tampa area, wreaking $120 million in damage at today's rates.3
The takeaway? In Florida, hurricanes are equal-opportunity natural disasters that can strike just about anywhere. That brings us to the question of what you can do to protect your property. The answer — we'll never tire of reminding you — is making sure you have enough homeowners insurance coverage to protect your home and family if worse comes to worst.
Extra Tip: The five-category Saffir-Simpson Hurricane Wind Scale is the Richter scale for hurricanes. The Saffir-Simpson Scale starts at "dangerous," which would be a Category 1 storm. Anything above 130 mph (Categories 4 and 5) is considered "catastrophic."
Hurricane Insurance Essentials
If you're a homeowner in Florida, your home insurance will look a little different than what they have in, say, Ohio. Below are the big differences.
Mandatory Hurricane Insurance
Florida is one of 19 states to require hurricane insurance, and hurricane coverage in Florida isn't included in standard homeowners insurance policies. That obviously isn't great news for Florida homeowners looking for affordable home insurance.
An Extra Hurricane Deductible
The amount you pay will be a separate deductible based on how much you pay for dwelling coverage.
Here's how it works: Let's say your dwelling coverage is $350,000. That's the amount you need to build back your home in the event of a total loss, not your home's value. In Florida, you'd choose a percentage of your dwelling coverage as your hurricane deductible. It's usually between 2 percent and 10 percent.
Let's say you went with a 5 percent deductible. If a hurricane ever destroyed your home, you'd pay $17,500 out of pocket and your insurance company would pitch in the rest, which isn't bad.
Like with any deductible, the lower your hurricane deductible, the less you pay in the event of an accident but the higher your monthly premium.
Windstorm Coverage
Depending on where you live in Florida, you may also pay a separate deductible for windstorms, which — really? What is a hurricane if not a huge windstorm? Unfortunately for Floridians shopping for property insurance, insurers in the Sunshine State have a more nuanced definition of windstorms.
Insurance companies in Florida define windstorms narrowly as "wind, wind gusts, hail, rain, tornadoes, or cyclones caused by or resulting from a hurricane," while a hurricane is an official storm system, declared as such by the National Weather Service's National Hurricane Center.4
So there you have it. Windstorm coverage may be one more deductible you need to pay to stay safe.
Flood Insurance
Flood insurance, on the other hand, is always extra, so this isn't another penalty foisted upon Floridians. But three extra deductibles is a lot of extra insurance for one household to pay. Flood insurance may not be mandatory, but it's still highly advisable if you live in an area prone to flooding. That's one-third of Florida, by the way, according to risk assessors.5
Also keep in mind that if you have a government-backed mortgage and live in a special flood hazard area,6 you'll have to purchase flood insurance.
I mentioned cheaper insurance options in Florida, which may be worth a look if your insurance premiums have gone off the rails and you're thinking about switching insurers. Just remember that any budget policy we write about is backed by a top-10 home insurance company you can trust. I mention this because desperate homeowners sometimes sign up with subpar insurance companies that look good on paper, which never ends well.
FYI: Of the just over 300 hurricanes that have touched ground in the U.S. since 1851, 120 have smacked into Florida.7
Making a Hurricane Plan for Your Home
You can't plan and try to stay safe at the same time. It's impossible. So it's absolutely critical to know what to do before a hurricane strikes. Here's our three-step plan.
Have a sturdy home insurance policy in place. When a hurricane threatens your safety, the last thing you can afford to be thinking about is your property. Emergency time means you're in survival mode, when family safety is your No. 1 concern.
Create your emergency plan. How will you receive critical alerts? Who are your emergency contacts? What's your shelter plan and evacuation route? If you need help, the U.S. government has a handy online form to get you started.

8

Practice your plan. Walking your kids through hurricane evacuation routes is the last thing you want to do on a Saturday afternoon, but we recommend at least one dress rehearsal. Hurricanes are scary. When they touch ground, our brains are wired for fight or flight, not for asking Google Assistant the best route out of Dodge.
Extra Tip: Florida sees plenty of tropical storms that don't ravage homes but bring torrential flooding, so you may want to have a flood plan too. Mold can invade a water-damaged home in 24 hours. For more on how to deal with all things fungi, here's our complete guide to household mold.
The Takeaway
If you've made it this far, you're an expert on hurricanes in Florida now — or at least you know the important stuff.
The key components of hurricane-proof home insurance
When and where hurricanes are likely to strike in Florida
How to stay safe if a hurricane hits your area
I've also pointed you to a few of the best home insurance options in Florida. (Scroll down to the FAQs for some links.) Sometimes — for a variety of factors beyond your control — traditional insurers may flat-out deny you home insurance in Florida. If that happens to you, don't forget the Florida FAIR Plan.9 It's not anyone's first choice, but it is a solid last resort.
FAQs
Does hurricane insurance come with a standard home insurance plan?
No, not in Florida. Hurricane insurance is extra and has its own deductible.
How much does hurricane insurance cost in Florida?
Hurricane coverage is a percentage of your dwelling coverage that you name, usually between 2 percent and 10 percent. To put that into perspective, in 2022, home insurance shot up to $4,231 per year for Florida property owners,10 30 percent of which typically goes to dwelling coverage. In other words, a 5 percent deductible for hurricane coverage would cost you about $148 per year.
Does Florida have a FAIR Plan like California?
Yes, Florida has a FAIR Plan, which provides Florida homeowners with temporary insurance policies until they can find long-term solutions.
Do I need hurricane insurance in Florida?
Yes, you do. Florida is one of the 19 states in the U.S. that requires homeowners living in hurricane-prone areas to have hurricane insurance.
Are there affordable home insurance options in Florida?