By: SafeHome.org Research Published: July 6, 2021
Editors Note: See Our updated data for the current year and for 2022.
Even though 4th of July has come and gone, many Americans are planning to spend more time outdoors this summer. With school not starting back up until August or September, kids are still swimming in pools, jumping on trampolines, and playing on swing sets. Unfortunately, this means accidents and injuries are bound to happen as children and adults spend their time playing, relaxing, and socializing outside.
Last fall, we gathered data about home safety issues to help Americans learn how to identify and prevent the most common home hazards. Our new summertime home safety report builds on our previous study, plus the most recently available data from the National Electronic Injury Surveillance System (NEISS), to provide further insight into the dangers lurking in our backyards. The NEISS hospital data collection covers backyard injuries over the course of a year. According to their report, outdoor equipment and toys caused more than 15,000 emergency room visits that year, with the average age of the injured person being 17 years old.
Our goal is to help more Americans stay safe while having fun this year. We hope our updated home safety report below spreads more awareness about the top potential outdoor hazards for kids and adults. Our summer safety checklist and safety rules can especially help you to prepare for the upcoming season and reduce summertime injuries.
Key Findings
Only 19% of parents had safety concerns for their children in their outdoor spaces, yet 63% of all summer-related injuries occur among kids ages 2 to 11.
Trampolines are the most dangerous backyard hazard, resulting in almost 4,000 trips to the ER annually. Monkey bars and porches/balconies are the next most hazardous.
Family Summer Vacation Plans
Our backyard spaces got more use than usual last year, as 72% of Americans skipped their summer vacation plans and stayed home in 2020. We recently asked more than 450 parents with children living at home how they plan to entertain themselves this summer compared to last summer. Is the pandemic still affecting most Americans' vacation plans?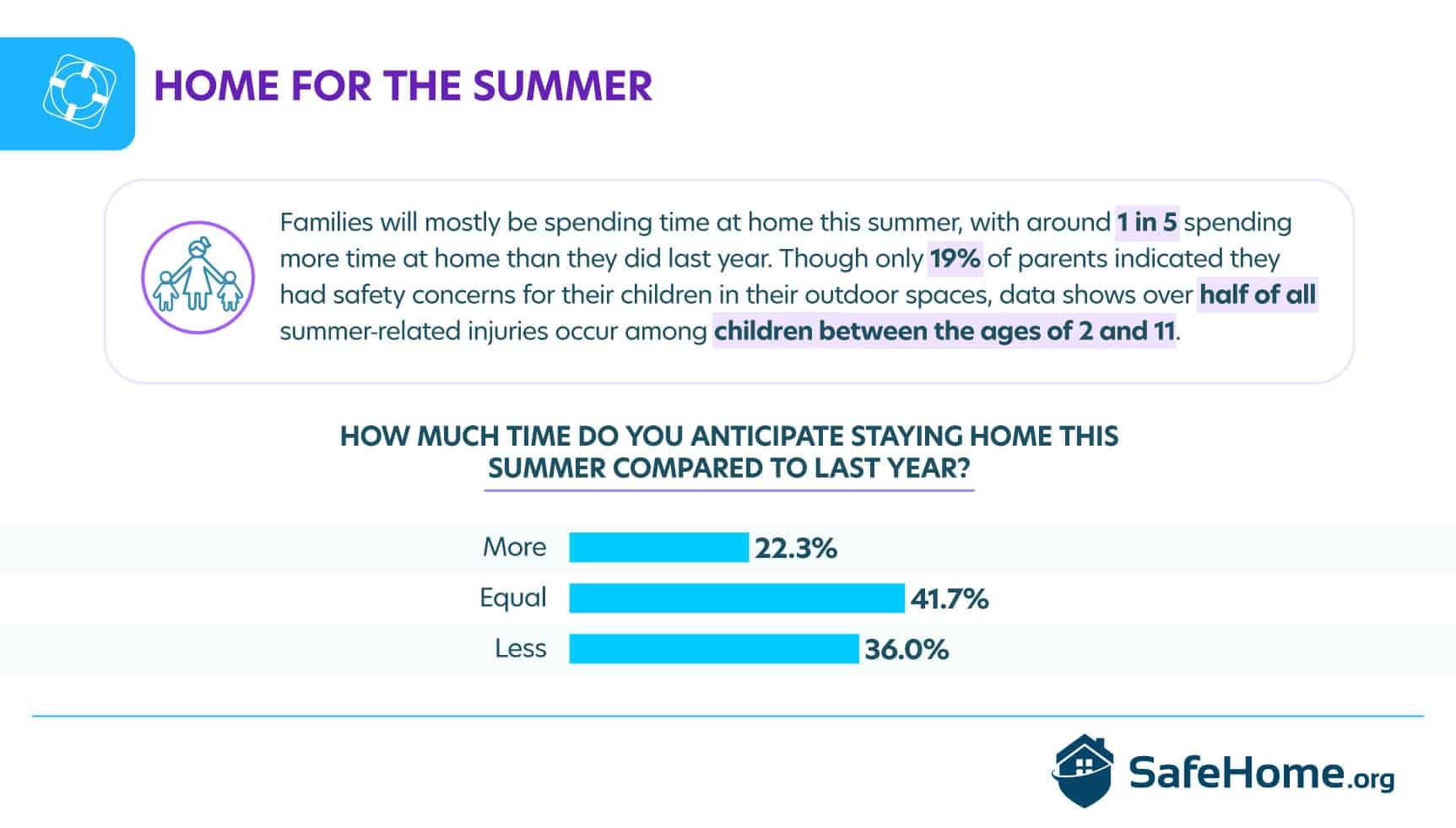 Following last year's trend, it appears the majority of American families plan to stay home this summer the same or more than last year. Only 36% of the families with children are planning to stay home less. Domestic travel destinations and places that offer socially distanced activities are expected to remain popular among travelers planning 2021 summer vacations.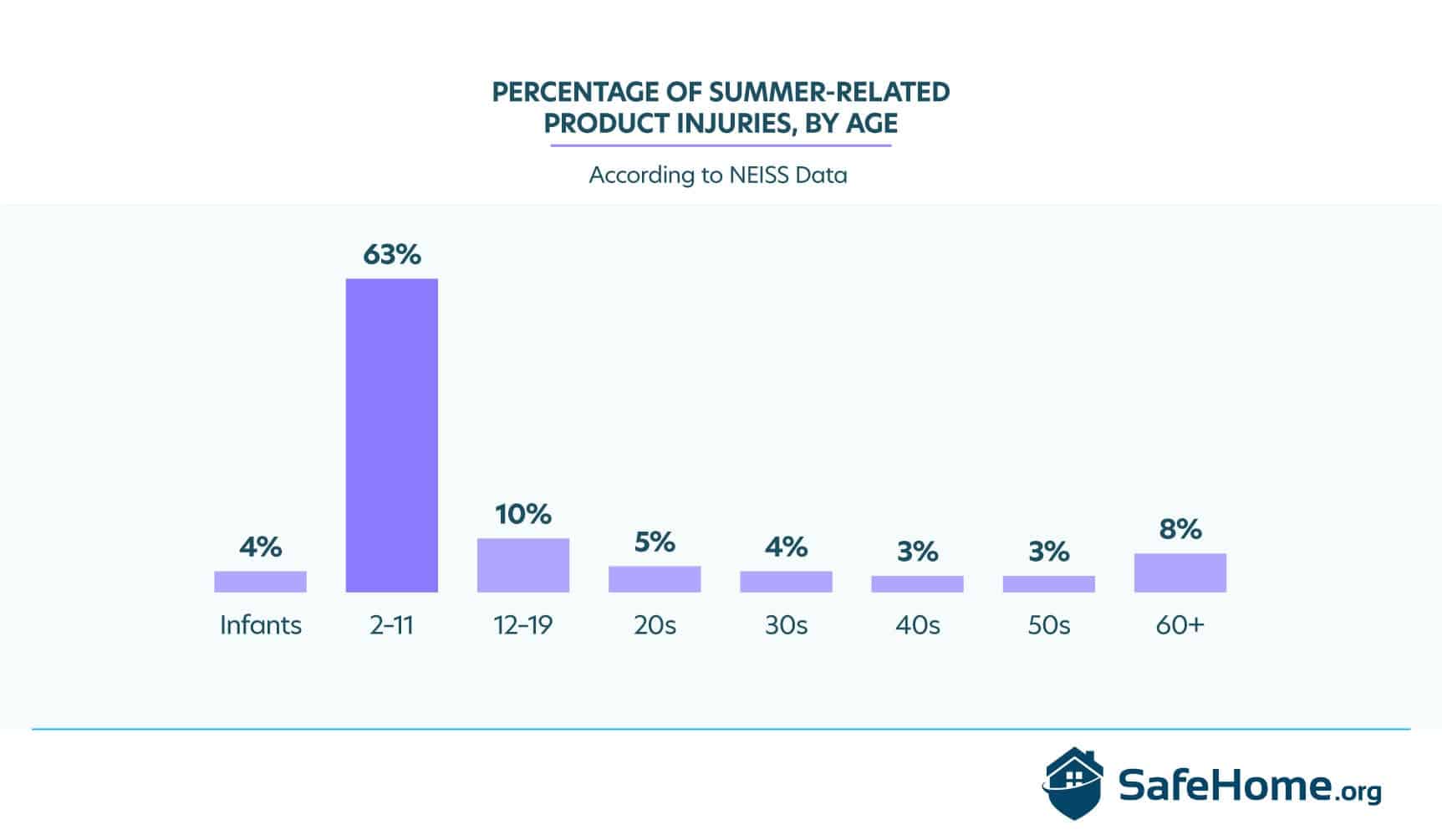 According to our survey results, the majority of parents felt their backyards are mostly safe. Only about 19% of parents had concerns for their children using features and toys in the backyard. We discovered a large discrepancy between parents' perceptions of safety and the potential for their children to come to harm. More than half of all summer-related injuries happen to children ages 2 through 11.
Common Outdoor Dangers
We next found the most hazardous outdoor products or structures based on the number of related emergency room visits. Both adults and children need to exercise the most caution around the following.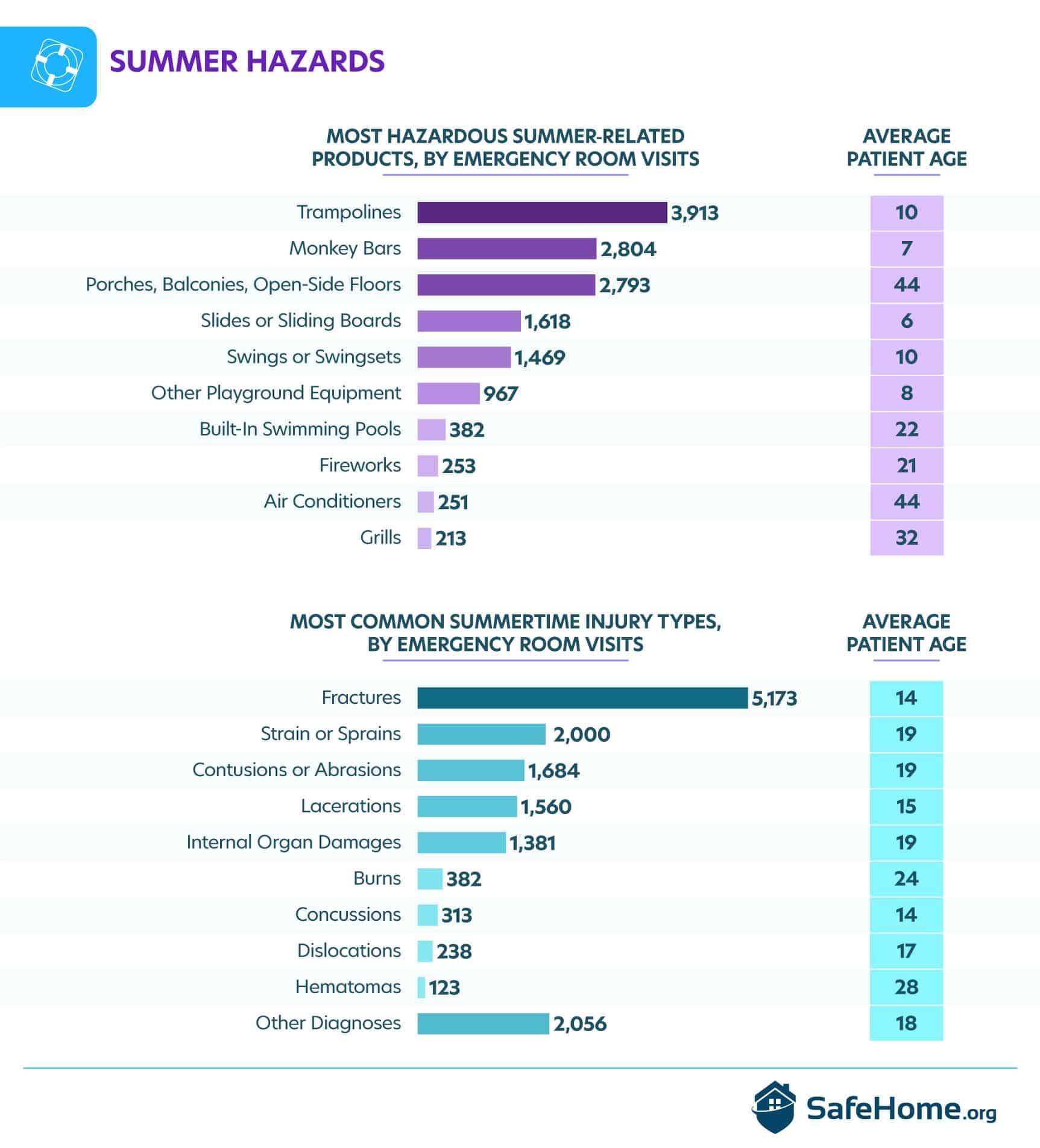 Trampolines were the most hazardous item to play on in the backyard, especially for children. Another report found that children account for about 85,000 of the 100,000 trampoline-related injuries treated in the U.S. each year. Monkey bars are another piece of play equipment younger children have difficulty navigating. It's no surprise that fractures, sprains, and bruises are the most common backyard injuries given the number of things they can fall from.
Adults appeared to struggle the most with porches, balconies, and open-side floors. Railings, floorboards, and staircases should be maintained and secured not only for the little ones but also for adults. The average age of those injured on these structures was 44.
Where Injuries Occur
Knowing the most common types of injuries to expect in the summer can help you to better prepare for a backyard emergency. We also accounted for the ages of those most often injured to help people understand the greatest risks posed for the children in their life.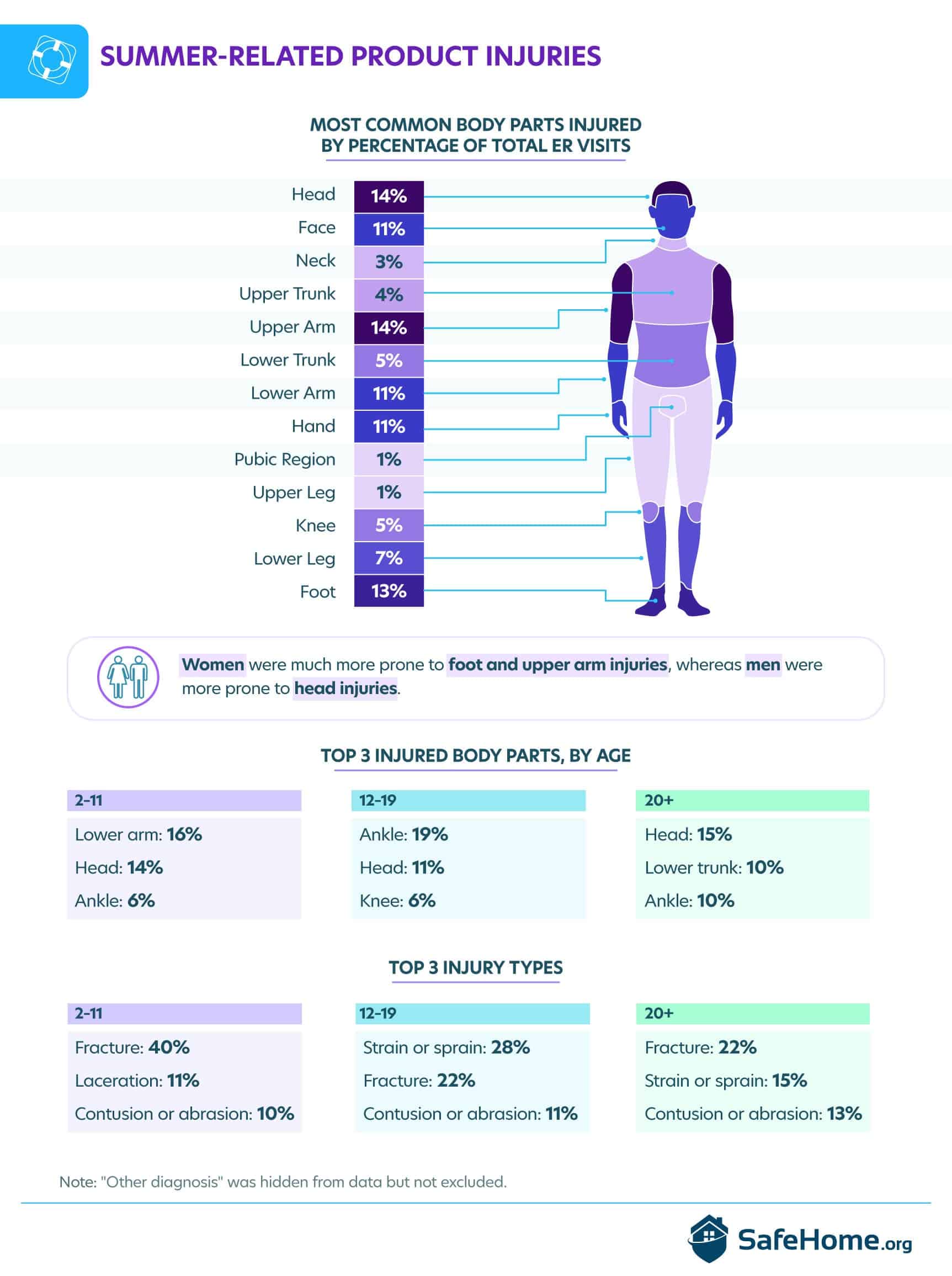 Overall, injuries were most likely to happen to the head, upper arm, and foot while in the backyard, though we did find some differences when comparing genders and age groups. Men suffered more from head injuries, while women were much more likely to hurt their foot or upper arm.
As for younger children, they're most likely to injure their lower arm and suffer from a fracture. Teens are more likely to sprain an ankle, while adults need to watch out for serious head injuries and fractures.
Dangers in and Around the Pool
When the days are hot and sunny, nothing cools you off faster than a refreshing dip in a swimming pool. Unfortunately, a pool is one of the top ten riskiest areas in a backyard. The potential for a serious injury or death by drowning is high if certain safety measures aren't always in place, and a 2020 report by the CPSC found there was recently a rise in fatal child drownings.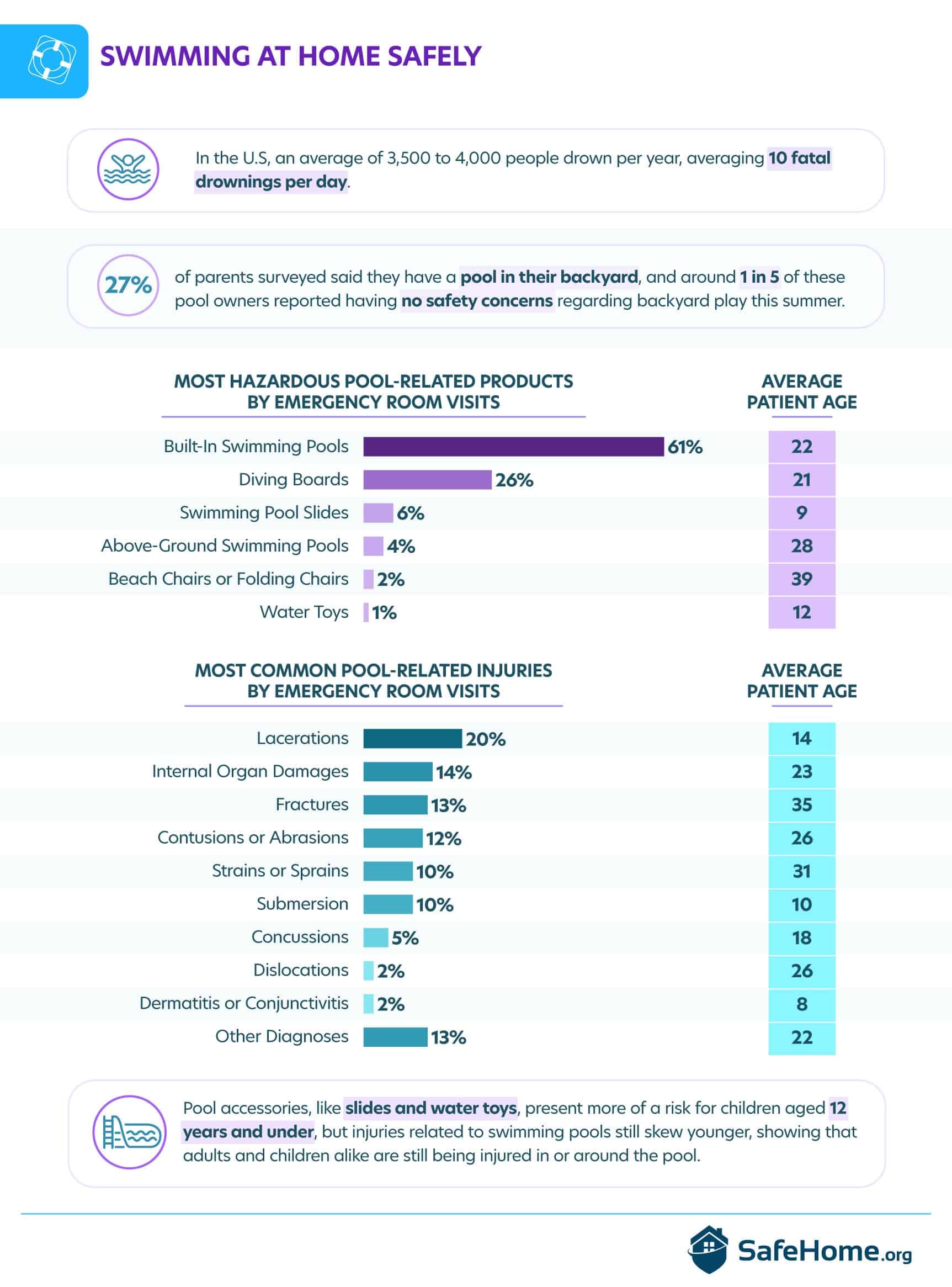 Our study shows that built-in pools are much more problematic than above-ground pools. They were the cause of 14 times more injuries in a year than above-ground pools. The higher rate of injury is likely due to the fact that in-ground pools have larger pool decks and accessories on which more injuries could occur.
Diving, whether off the deck or a diving board, is a leading cause of swimming pool injury likely because water is too shallow or the diver may be inexperienced. Adults appeared most often to be injured in or around the pool; however, pool slides and water toys affected children age 12 and under the most.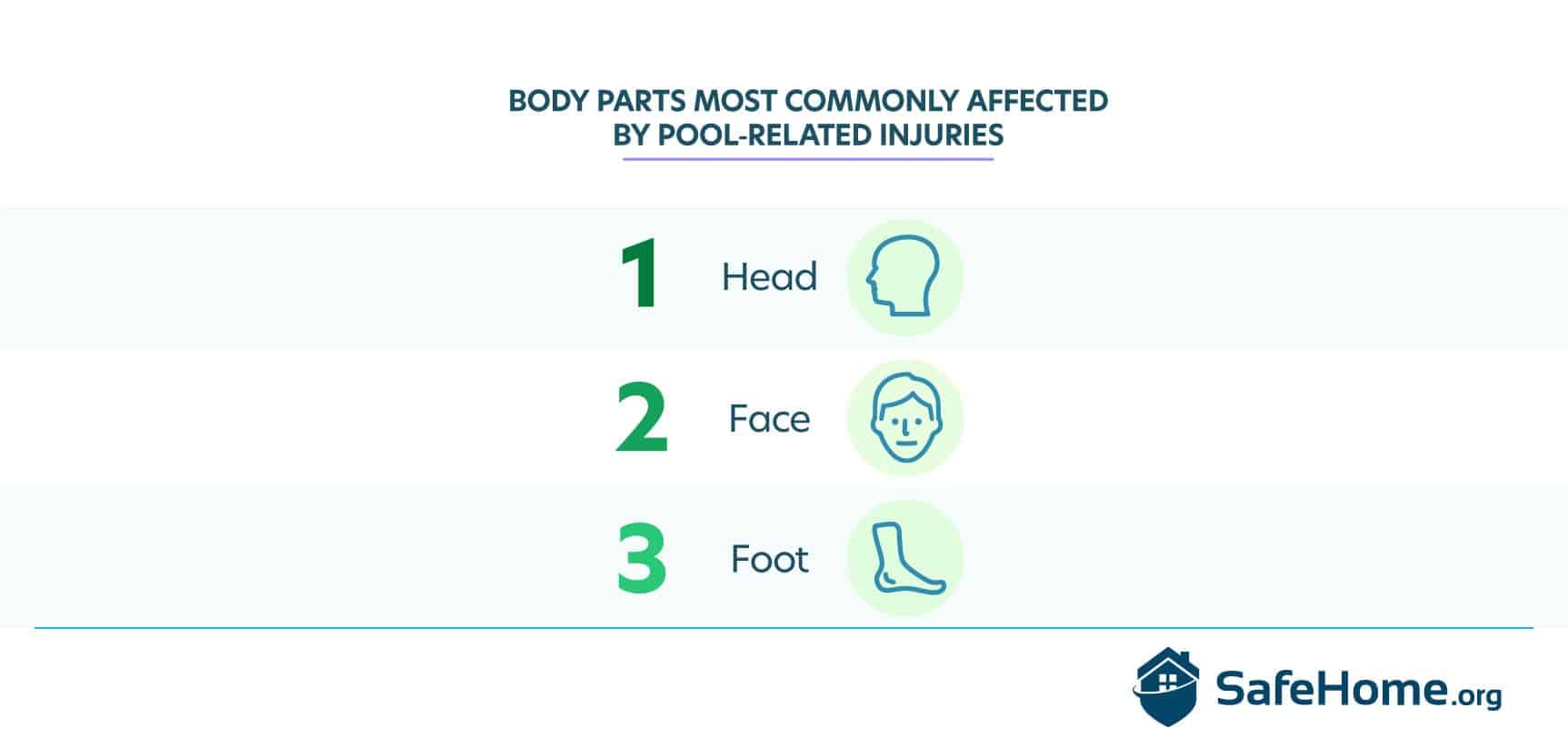 How to Prepare for a Safer Summer
Our summer safety checklist below was created to help you prepare for a safer summer this year. From trampolines to traveling during the COVID-19 pandemic, we've compiled advice on how to check equipment, develop backyard rules, plan for social summer gatherings, and more.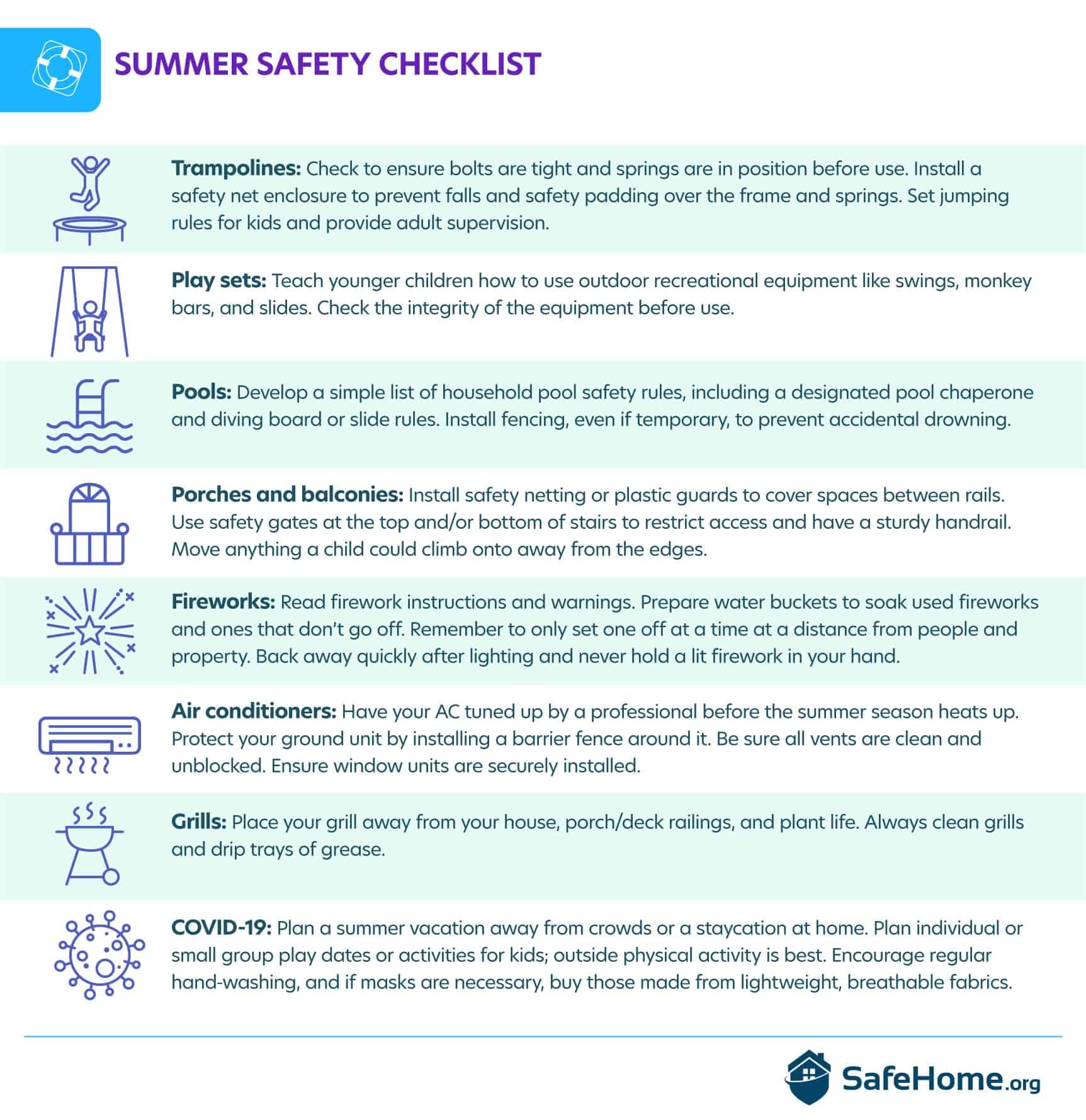 Given how often injury occurs in the backyard, it's important to learn how to keep children, teens, and adults safer this summer. Inspecting the condition of items in your outdoor spaces is a great first step to take so you can fix any problems before they cause harm. For example, checking your decks and porches for loose boards or shaky handrails can help to prevent trips and falls. Also, preparing to handle fire hazards from grills and fireworks can help to prevent fire incidents and burns.
Another recent study we conducted about fire safety concluded that cooking was the second most common cause of home fires, especially on the weekends during typical dinner hours. An additional study also determined that 45% of American households don't own a fire extinguisher. Given the likelihood of a cooking fire occurring, it's a great idea to secure a fire extinguisher for your home this summer. And if you already have one, be sure to check it's expiration date.
You may also want to review these additional important safety rules with your children. We've gathered expert advice on how to teach kids about a variety of safety issues they may face at home. Our guide also includes how to prepare them for dangers outside the home, like what to do if they are lost. Safety education for kids and teenagers can help them to avoid hazards and understand how to deal with tricky situations in the real world.
Creating Safer Backyard Experiences
Even under the most vigilant supervision, accidents can happen; however, there are many steps you can take to improve the safety of your backyard. Children and adults are both likely to injure themselves while enjoying outdoor spaces, so take all ages into account as you secure your outdoor items. We should take the highest precautions around trampolines and swimming pools, too. Follow our summer safety checklist to create a safer backyard environment today.
Our Data
Analysis of NEISS data from 2019 on items related to the home, yard, and summer activities such as grills, pools, patios, trampolines, and other outdoor recreational equipment. Supplemental survey of 453 parents with children living at home was performed to understand how families will entertain themselves this summer compared to last summer. Data relying on self-reporting have certain limitations including but not limited to exaggeration, telescoping, and selective memory.