Stalking Behavior: You Might be a Stalker if…
Written By: SafeHome.org Team | Updated: July 24, 2023
A package arrives in the mail. There's no return address. You open it to find a bunch of old '90s VHS tapes of the most iconic stalker movies of all time – films like "Psycho," "Cape Fear," and "Fatal Attraction." It's decision time. Do you call the police or rush out to the thrift store to snag an old VHS player and start watching?
The stalker archetype – the obsessed, jilted, and often-violent psychopath – captures and tantalizes the American imagination. But have you ever considered that YOU just might be the type of person so many of us love to fear?
Whether it's peeking into someone else's medicine cabinet, driving by the house of someone you're crushing on, secretly sending a package, or perhaps going even further – most of us have been a bit too extreme in the name of love or just plain ol' curiosity.
We wondered what kinds of stalkerish behavior people are inclined to commit – as well as what actions people think are entirely beyond the pale – so we asked 2,000 men and women to share their deepest and darkest stalking moments.
Here's what we discovered.
Who Have You Stalked Lately?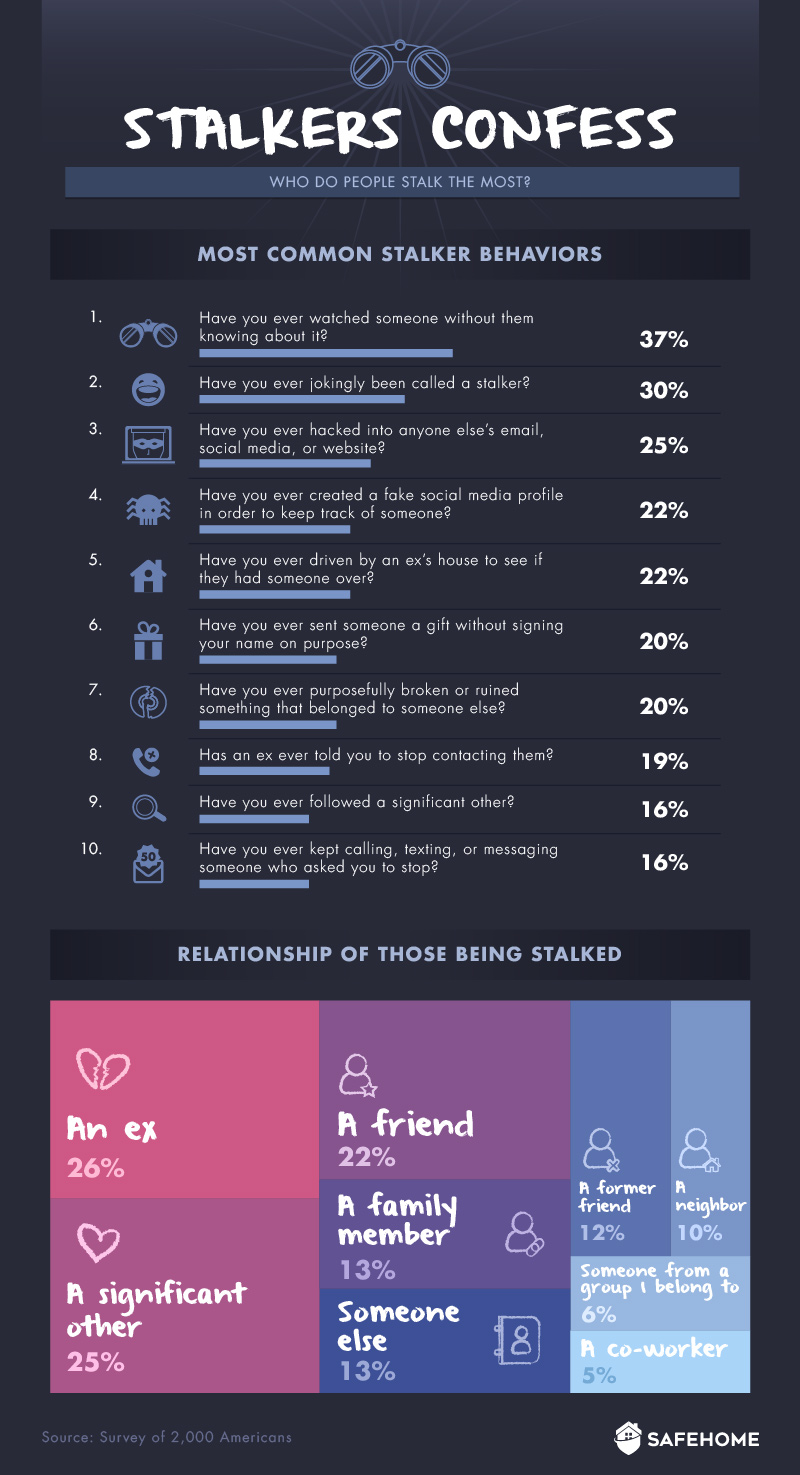 Stalking is a pattern of ongoing and unwanted attention, harassment, contact, or other behaviors directed at someone causing them to be reasonably fearful. Poking around into someone's affairs due to sheer nosiness (whether the person is a love interest or a neighbor) isn't stalking unless the actions legitimately make the target afraid. In other words, being stalky – that's one thing. Being an actual stalker? Quite another.
What percentage of the population admits to being stalky? More than a third of us have watched someone without their knowledge, and almost 30 percent of us have jokingly been called a stalker. Perhaps most surprisingly, a quarter of us have hacked into someone's email, social media, or website. This is shocking considering people expect their password-protected online accounts to be safe from prying eyes.
More than 20 percent of the people we surveyed also said they've created fake online profiles to keep track of somebody. The age old "flyby" of someone's house to see what cars are in the driveway or what lights are on? That's pretty common as well (more than 20 percent).
As for who gets stalked the most, top common targets are current and former love interests, followed by current friends, family, someone else, former friends, neighbors, group mates, and co-workers.
Different Genders, Different Fears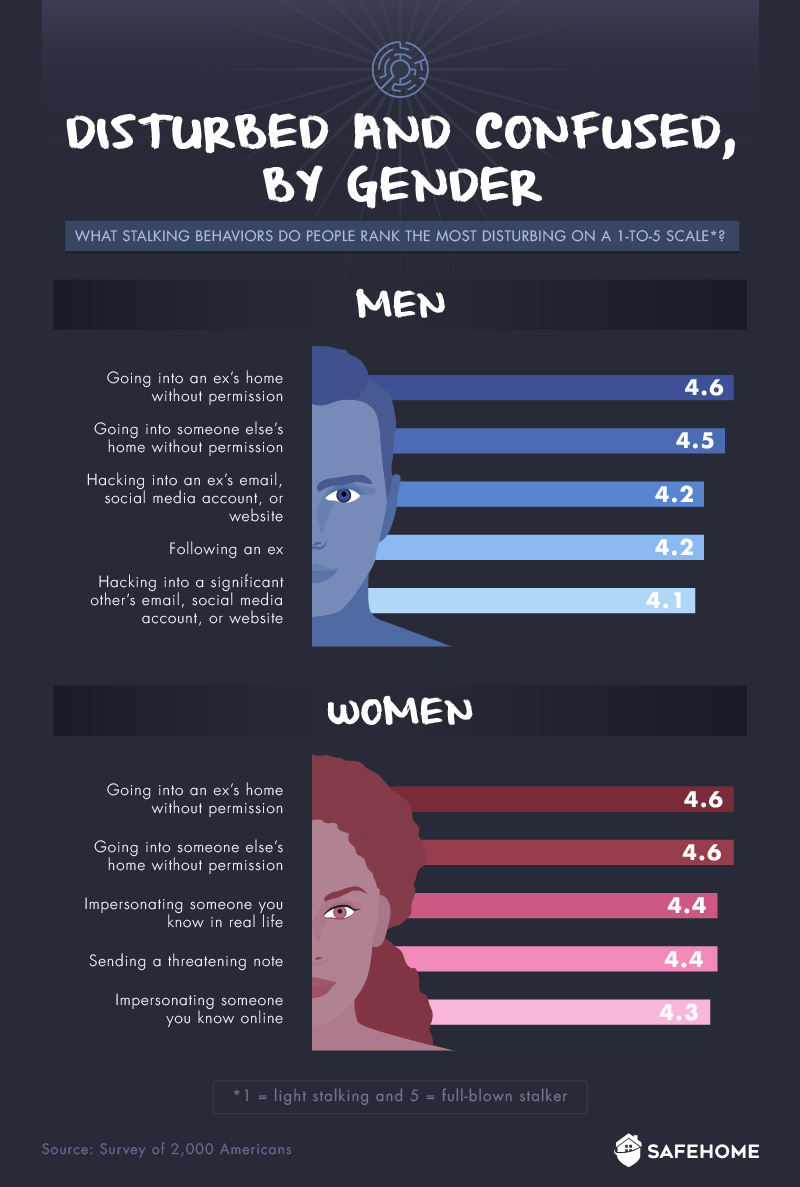 Do men and women have different ideas about what constitutes as creepy? Our survey says they do. When it comes to the sexes and exes, men are more creeped out than women by the thought of a former partner hacking into their online life or following them in the real world. Meanwhile, impersonating someone in real life – or online – disturbed women more than men.
Interestingly, following an ex ranked fourth on the creepy-o-meter for men, but didn't rank in the top five creepiest behaviors for women at all. Both sexes agreed that going into someone's home without asking was the most stalkerish behavior of all.
Most Alarming Predatory Actions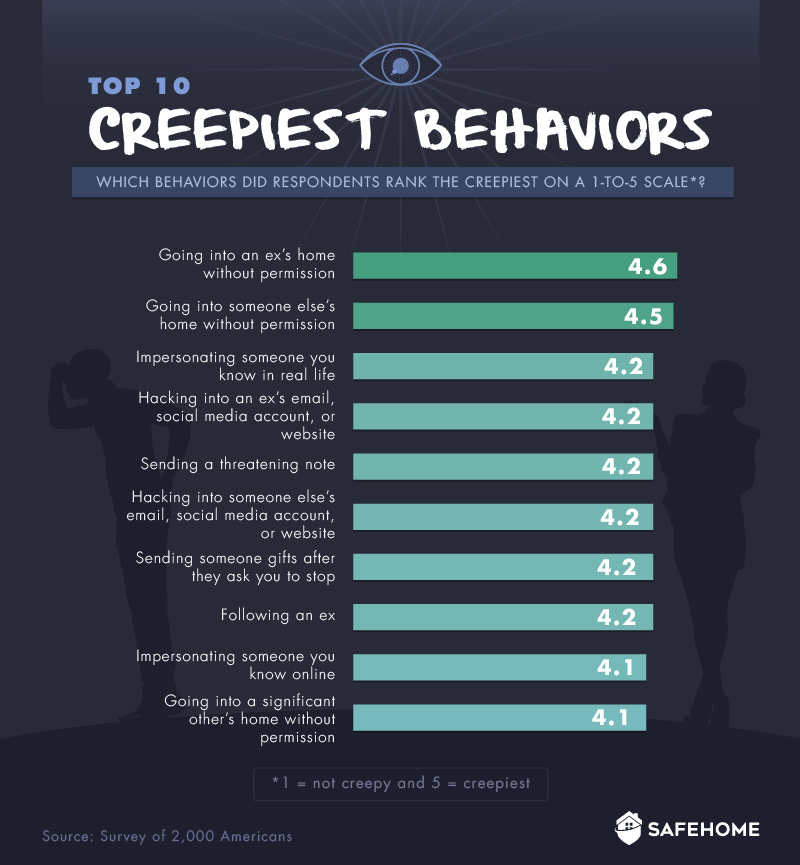 When it comes to creepy stalking behavior, going into the home of an ex-boyfriend or ex-girlfriend without their knowledge tops the list of deeds that people think are completely out of bounds.
Home invasion has been the premise behind some of the most chilling stalker movies of all time. The reason is clear: We view our homes as safe havens from the outside world; they're places where we're completely free to be ourselves. This is true even in the many stalker flicks. Those with a care-free actress prancing around the kitchen buck naked with perfect hair and full makeup.
Impersonating someone in real life, hacking into an ex's email, social media account, or website, and sending threatening notes were also considered among the most unnerving stalkerish actions.
The Object of My Affliction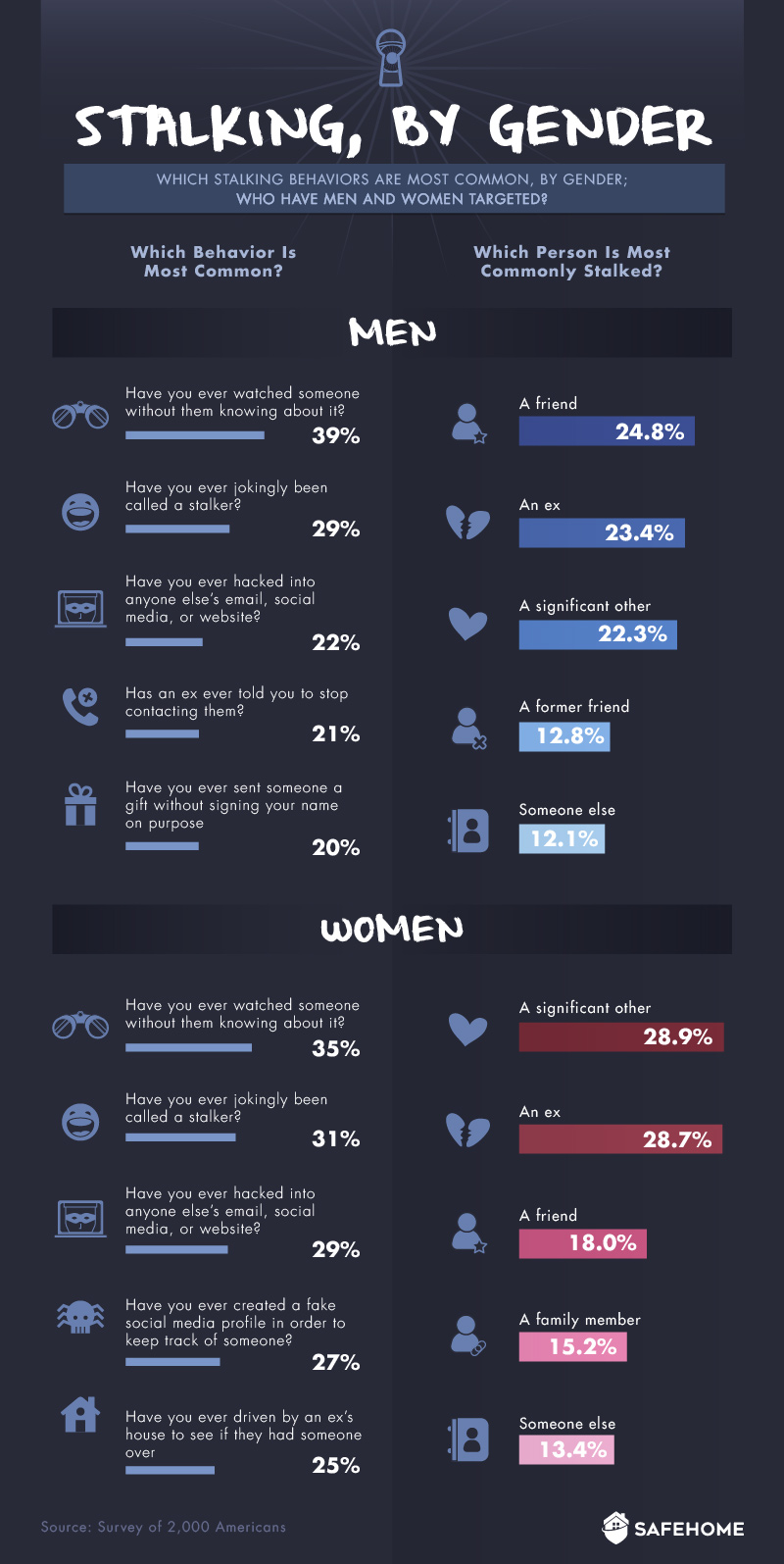 One of the most memorable scenes in movie history takes place in the classic 1960 horror film "Psycho" as the character Norman Bates secretly watches the beautiful Marion Crane through a peephole while she showers. It's been said that what interests us about other people reflects ourselves – which could explain why that arresting scene is just so unforgettable.
Of all the stalky behaviors we asked about, the one that men and women admitted to doing the most was watching someone without their knowledge. For men, 39 percent have done this before, while nearly 36 percent of women have done the same.
While secretly spying ranked as the No. 1 most common stalky action for both sexes, we found women were more likely than men to engage in online hacking by 7 percentage points. A whopping 26 percent of women have also created fake social media profiles to keep track of somebody. This behavior didn't even place in the top five for men.
Despite our findings on stalky behavior, when it comes to genuine stalking, women are disproportionately impacted. It's estimated that 1 in 6 women have been stalked during their lifetime (15.2 percent), while 1 in 19 men have been victims of stalkers (5.7 percent).
The Age of Creepiness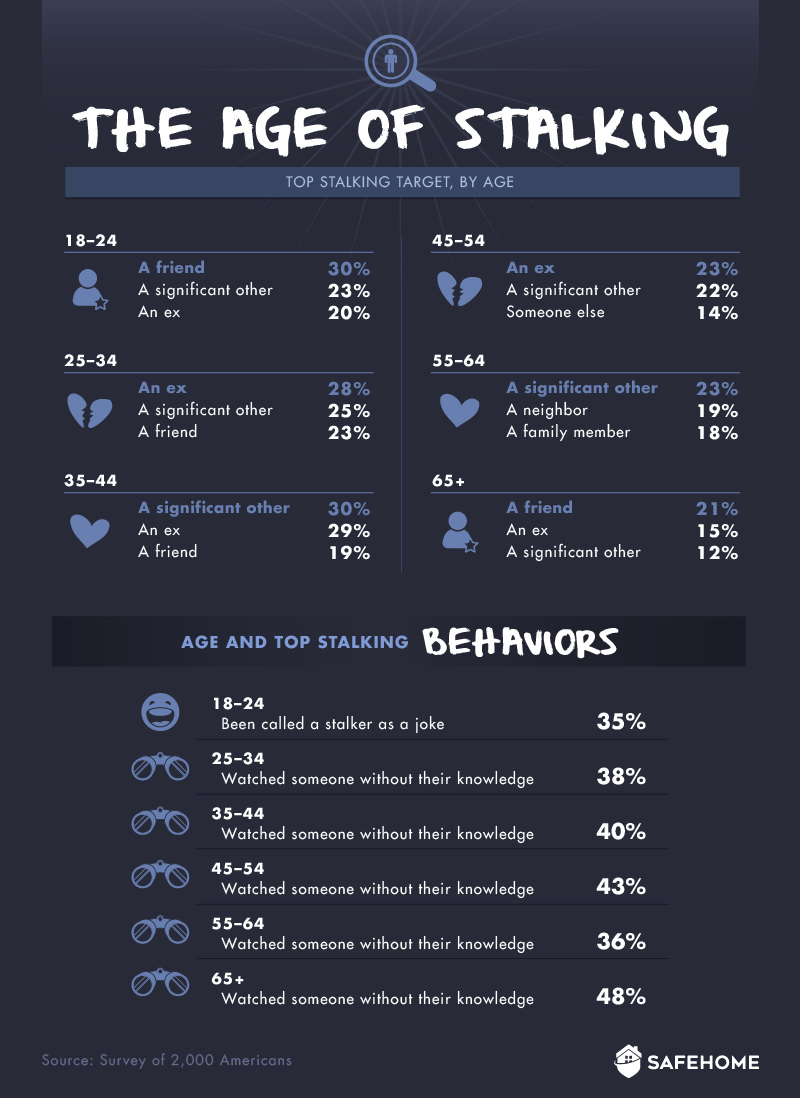 When we broke down stalking targets by age, the youngest group we surveyed (people aged 18 to 24 years old) said they stalked their friends more than any other group. Non-romantic friendships are especially important to college-aged adults as they strive to find their place in the larger social community. This could explain why friends are common targets of stalky behavior by this age group.
Among those aged 25 to 64 years old, significant others and exes were most likely to be sneakily investigated. For those aged 65 and older, it was friends.
Stalkily Ever After?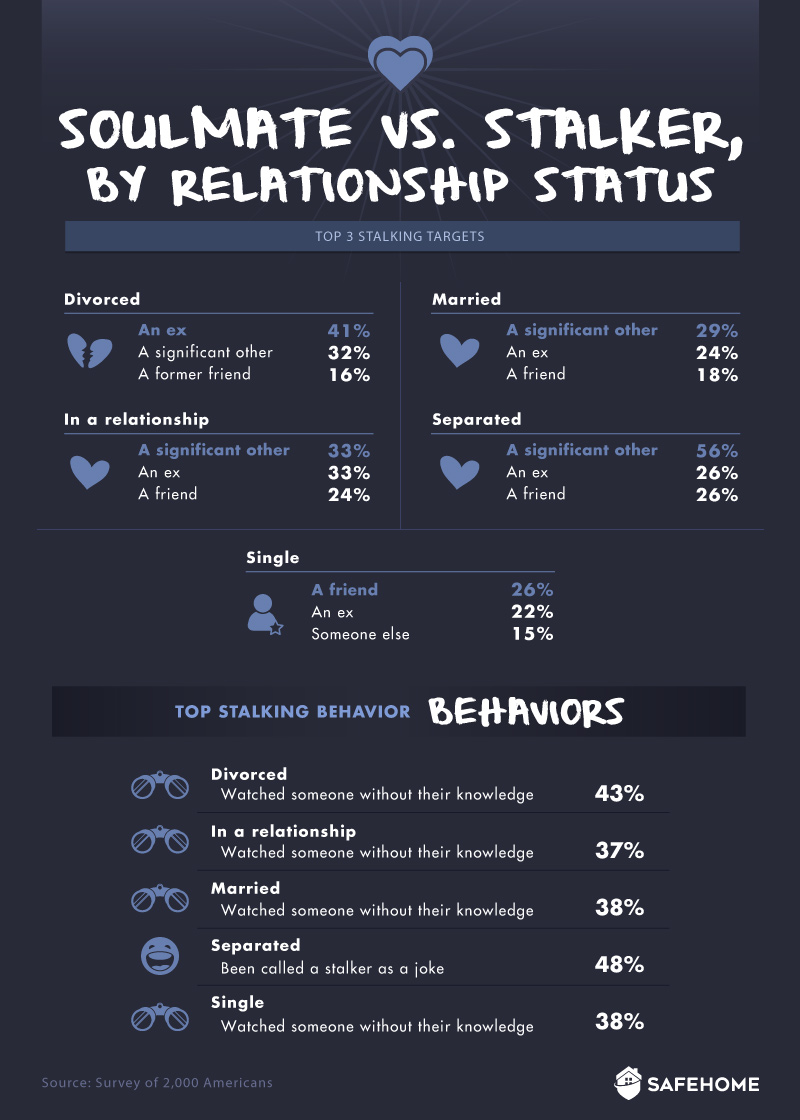 We were curious how relationship status influenced stalking targets. Who are those in various relationship statuses the most likely to stalk? How about people who are divorced or separated?
We found that single people were most likely to stalk a friend. People who were in a relationship or married were most likely to stalk their significant other. Divorced people were most likely to stalk their exes, while separated people were most likely to stalk their significant others – presumably their soon-to-be exes.
Notably, we found that people who were separated stalked their significant other the most (56 percent). They were also jokingly called a stalker nearly 48 percent of the time – more than any other group.
The experience of being separated from one's spouse or partner – that awful state of limbo before a divorce has been settled upon or finalized – can be one of the most emotionally grueling experiences in a person's life. It's a time when people may feel rejected, spiteful, or retaliatory – all of which have been cited as motivations for stalking and keeping a close eye on ones identity.
The State of Stalking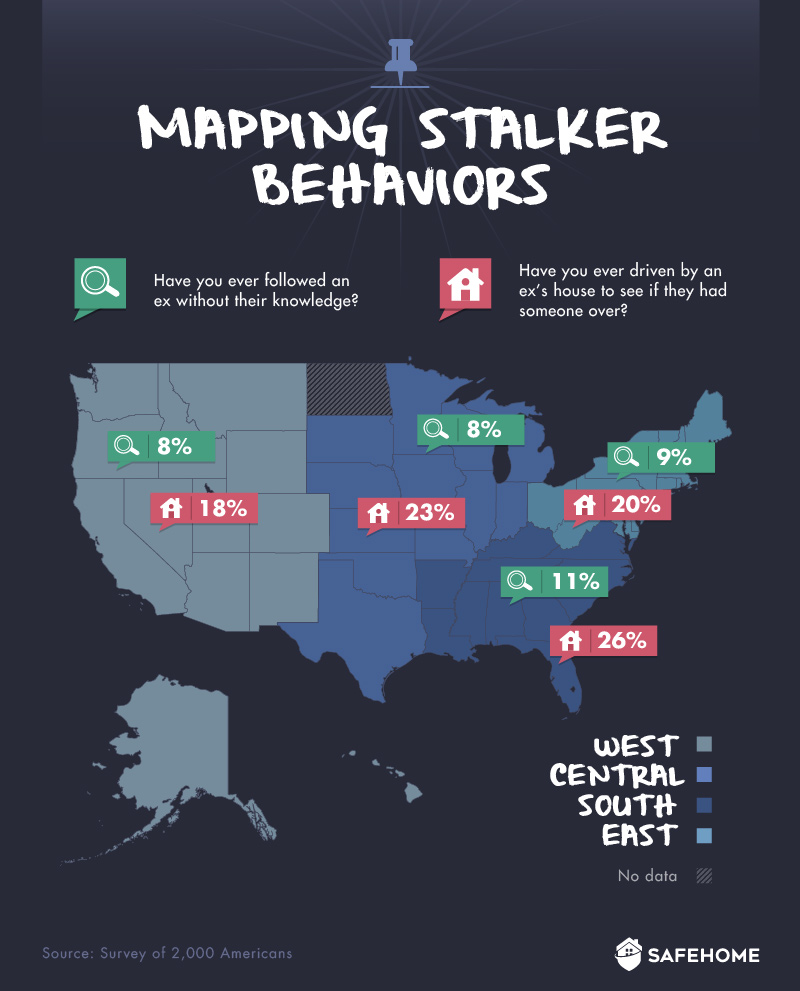 Does where we live in the U.S. influence our inclination to stalk? We found that it does. Those living in the West were the least likely to obsessively pursue their exes by following them or driving by their homes, while those living in the South were the most likely to do so. East Central U.S. fell in the middle.
Our findings are in line with some common stereotypes about regional personality differences. The West Coast is often characterized as being relaxed and laid back, while the American South is typically considered to be somewhat more aggressive or confrontational. Whether these stereotypes hold true is a matter of endless debate – although some studies have shown that personality differences are, in fact, regional.
When Can We Expect Privacy?
When does stalky and downright creepy behavior rise to the level of a crime? In some cases, the answer is relatively straightforward. Going into anyone's home without his or her permission – unless, of course, you're doing something good, like putting out a fire – is a criminal act.
It's also a crime to harass someone. The crime of harassment can apply to a lot of the stalky behaviors we asked people about – from hacking into an online account, sending unwanted gifts, or following someone. Even driving by someone's home to see who's there could rise to harassment or criminal stalking if the behavior reasonably causes fear.
High-profile celebrity court cases should make clear that, in all states, stalking is a serious crime whether it's carried out online or otherwise. Being curious about someone is all well and good, but if you end up making the object of your attention justifiably fearful, you could also end up in jail.
Methodology
We surveyed 2,000 people in the U.S.
Fair Use Statement
It's safe to use the graphics above in your noncommercial content (we promise not to stalk you). But please link back to this page so the authors of this material secure proper credit.