Public transportation is necessary for many folks. For others, it might be a way to save a few bucks, skip traffic, or help the environment. Whatever the case, the safety risks loom larger for people with disabilities. Rideshares bring similar safety concerns, too.
This guide covers various approaches people with disabilities can take, whether they ride buses, subways, Uber, Lyft, or something else entirely. It offers ideas for communication, physical protection, technology, and much more. Accessibility is a big theme throughout since a lack of accessibility means a lack of safety.
Table of Contents
Overview of the Safety Issues
Safety Approaches to Rideshare and Public Transport for People with Disabilities

Preventive defense, self-defense, or peace of mind
Stealth snooping or inadvertently revealing cash, IDs, and sensitive information
Navigation, general communication, and keeping others looped in
Preplanning, becoming familiar with routes, and identifying possible risks
When the usual public transportation or rideshare options just aren't accessible or safe enough

References and Endnotes
Additional Resources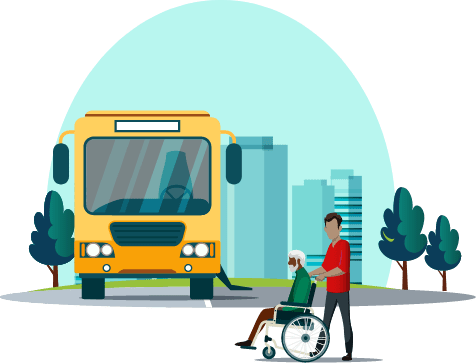 Overview of the Safety Issues
Before we dive into solutions, let's look at the issues. What are the possible safety risks and why?
Common transportation/rideshare safety risks for people with disabilities
Communication:

People who are deaf or who have another disability such as autism, traumatic brain injury, or amyotrophic lateral sclerosis may communicate in ways that others dismiss or don't understand.
People might miss important information, particularly where it's conveyed through just one or two means such as over a loudspeaker but not through electronic text and Braille.
It can be difficult for anyone to stand up and advocate for themselves, regardless of their situation and disability status.

Physical differences: Disabilities can affect people's capacity to perceive threats, run up stairs, fight, summon help, etc. This can also make them targets for theft or attacks.
Fear of revealing a disability: Many folks aren't comfortable (understandably so) disclosing that they have a disability even when it might render a situation safer.
Others' lack of knowledge about the disability: Tics, verbal outbursts, words that go unheard, and other signals are sometimes interpreted as hostility or aggression even when others are aware of the disability.
Lack of accessibility/escape routes to safety: For instance, wheelchair users might get off at subway stations to discover the only way out for them, an elevator, is out of order.
Limited or no cooperation with accommodations: Legal accommodations such as service dogs or portable oxygen aren't always understood.
Medical conditions: The risk of falls, seizures, and other medical issues is higher with some disabilities.
Snooping, spying, or theft: Criminals often target people with disabilities, whether it's to steal a wad of cash or filch personal information from a phone screen.
These are just some of the safety risks people with disabilities face every day. Now, let's explore solutions.
Safety Approaches to Rideshare and Public Transport for People with Disabilities

The following options don't apply to everyone, but we hope some will help you. A few probably seem too obvious ("Duh, of course we know to do that!") but we include them just to be safe. We divided the various approaches into a few sections, so let's start with defense.
Approaches to preventive defense, self-defense, or peace of mind
Consider alert devices such as GPS/mobile buttons, smartwatches, and other wearables. You can get them from home security, medical alert, and tech companies, and from retailers such as invisaWear. The latter sells elegant necklaces, keychains, athletic bands, and other items that can message your emergency contacts and the security company ADT.1
Apple Watch is an example of a smartwatch with Emergency SOS. Bay Alarm Medical and other companies have smartwatches, too, in addition to other types of alert wearables.2
Think about an alarm system for your home in case someone follows you there after a ride. The system could include exterior and interior cameras, smart lighting, accessible keypads, smart locks, height-adjusted peepholes, monitoring, smart speakers, and other features.
Take self-defense classes or look for videos showing basic self defense matching your abilities. Also, any caregivers you use would ideally be familiar with defense. Options for you and caregivers might include local classes (of course, not all areas have classes or satisfactory instructors to meet your needs), 1Touch, state or community programs such as Washington's Sightless Self-Defense, adaptive Taekwondo, veterans programs, and free ebooks. YouTube videos can be a huge help, too.
Carry simple items such as keys, air horns, bright lights, or tactical pens that can serve as weapons. Key fobs also come in useful if you're going to your vehicle from public transit. A car horn or alarm blaring alerts people nearby that something is happening.3
Ensure you can easily reach and use any weapons or protective devices, and that they're legal. For example, pepper spray is generally OK in the United States but with restrictions. Some states limit canister sizes and require that carriers be at least 18 years old and non-felons. Pepper spray also is not allowed on commercial flights, in government buildings, and in certain state buildings.4
Meanwhile, it may be tricky to immediately grab a gun or other weapon. Ashlee Lundvall, who uses a wheelchair, wrote a blog post detailing the pros and cons of keeping a gun on your body or off the body in a location such as under your wheelchair.Take classes and practice frequently to make sure you can properly use both lower-level and higher-level weapons. Otherwise, you could end up accidentally hurting yourself or others.
Experiment with as many options as you need to find something you're comfortable with. Everyone has different tolerances, abilities, and preferences. If you don't feel comfortable carrying a bright light, knife, gun, or any weapon at all, that is absolutely fine. Many people protect themselves through advance route planning, traveling only during certain times, self-defense, or other methods.
Create action plans and role play different scenarios. Prepare before emergencies so you're as ready as possible if you collapse on the bus or find yourself in an unfamiliar, not super-accessible station late at night.
Approaches to stealth snooping or inadvertently revealing cash, IDs, and sensitive information
Choose cashless/contactless payments, if possible. As an example, Uber is cashless much of the time. Drivers and fellow passengers won't get the opportunity to see what is in the wallet or purse of a passenger who is blind.5 Meanwhile, many transit systems have contactless fare payment. If you use actual transit cards, you can usually prepay or preload the cards.
Take care with the apps you access around others, especially if you use magnifiers, zoom tools, or screen readers such as VoiceOver. Wait until you're at home or alone to access bank and email accounts. Don't type passwords and other sensitive information in public to guard against screen snoopers.
Follow standard device protection practices. Set good passwords, locks, or biometrics on your devices in case they get stolen or left behind accidentally. Do at least one or two test runs on something like "Find My" to make it as smooth and accessible to you as possible in stressful times.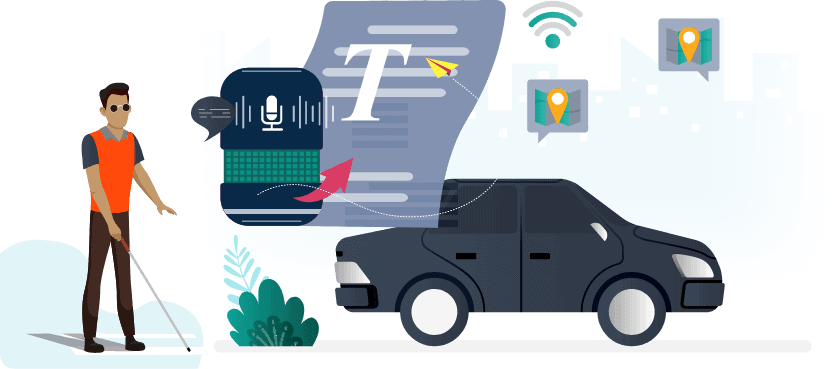 Approaches to navigation, general communication, and keeping others looped in
Share locations or tell someone else about your plans: where you're going, when, and so on.
Say that you'll text at certain points, for instance, when you get on a bus. Let the other person know what to do if you haven't been in touch.
Look into "Find My Friends" and other location-sharing apps if you haven't already.
Silent 911 alerts via Lyft are available, as is emergency help from ADT. Uber has something similar.
Use technology to help verify details or facilitate communication
Turn to Google Maps for wheelchair-accessible transit routes, voice guidance, and verbal announcements. The latter two features can assist people who are blind as they walk to/from stops.
Evelity or audio beacons such as NAVIGUEO+ HIFI can help you find your way inside a transit station.
People who are blind or who have vision loss can use apps such as Google Lens or Sullivan+ for text recognition or voice guidance on their surroundings.
Some people who are hard of hearing or deaf use Apple dictation, type with your voice, Ava, or other smartphone features/apps to better understand people who are hearing. There are also ways to make your device or tablet voice what you type (like Apple's speak selection).
Refer to your rights as needed. A printed primer (or screenshots on your phone) outlining your rights under ADA (or the company in question) can prove invaluable. Take Uber's accessibility policies, which include service animal policies. Uber explains, "There are no exceptions to this policy due to allergies, religious objections, or a generalized fear of animals."
In the same vein, New York City's MTA Accessibility page clarifies policies on personal care attendants (can ride free) and service animals (allowed if safely leashed).
Showing what you're legally allowed to do can prevent some situations from escalating and becoming more dangerous. Good places to start, especially if you use wheelchairs or have mobility disabilities, is with The ADA & Accessible Ground Transportation fact sheet and The Rider's Guide to Public Transit for People with Disabilities.
Keep material on hand if communication is a potential issue. For instance, an index card reading, "I have autism and am nonverbal," may get the point across if gestures don't work. Likewise, some people with epilepsy or other conditions wear medical ID bracelets in case a seizure occurs.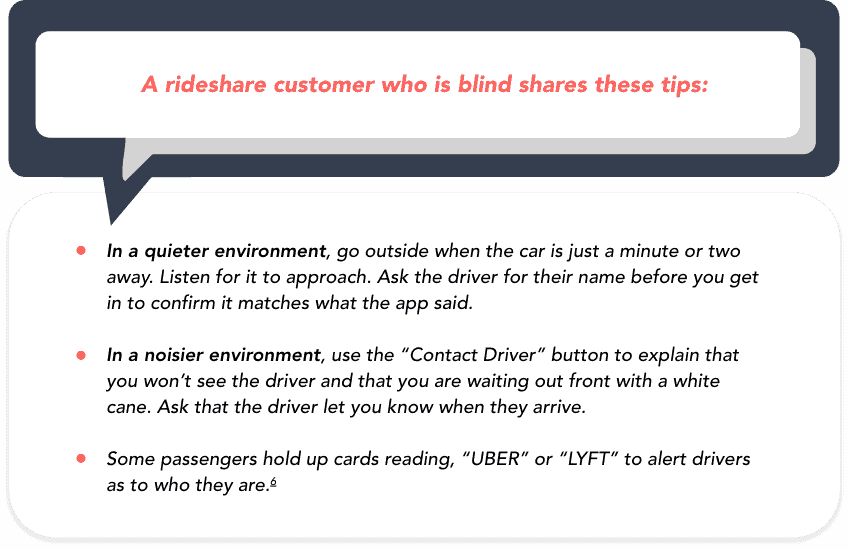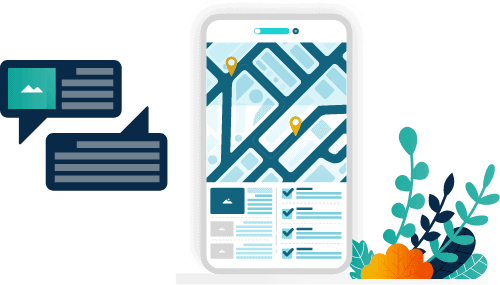 Sign up for SMS and email alerts for the transportation system and your preferred routes. That way, you have a better chance of knowing what's happening in emergencies.
Approaches to preplanning, becoming familiar with routes, and identifying possible risks
Ask the transit provider if it offers travel training. It's usually done one-on-one and is a way to gain confidence and experience using public transit. New York and San Francisco are among the cities offering this.
Ask transit system officials for pictograms, simplified maps, and the like, if applicable. They can make navigation so much easier.
Travel with someone else until you feel safe/comfortable using the transportation mode on your own. Ask your companion to help you identify possible risks and solutions. Otherwise, try to travel when it is safer (daytime, in lower-crime areas, etc.).
Take "practice" trips when time isn't a factor. Practice lets you get ahead of potential obstacles such as inaccessible stations or attendants who don't understand your accommodations.
Research your routes in advance. Know the names of the stops where you get on, transfer, get off, and the stops before and after all these.
Check route details online to ensure construction, traffic, or something else won't reroute you to inaccessible stations or parts of town you aren't comfortable with. NYC MTA lets you tick, "Accessible Trip," when planning routes, with an additional page to verify elevator and escalator status.
Communicate with vehicle operators about your needs. Let them know if you need priority seating or lift ramps and when. Likewise, ask them to make loud, verbal announcements before stops if that's what you need.7
Expect malfunctions and inaccessibility in bad weather. Hopefully, everything will go just fine, but The Rider's Guide to Public Transit for People with Disabilities points out that:7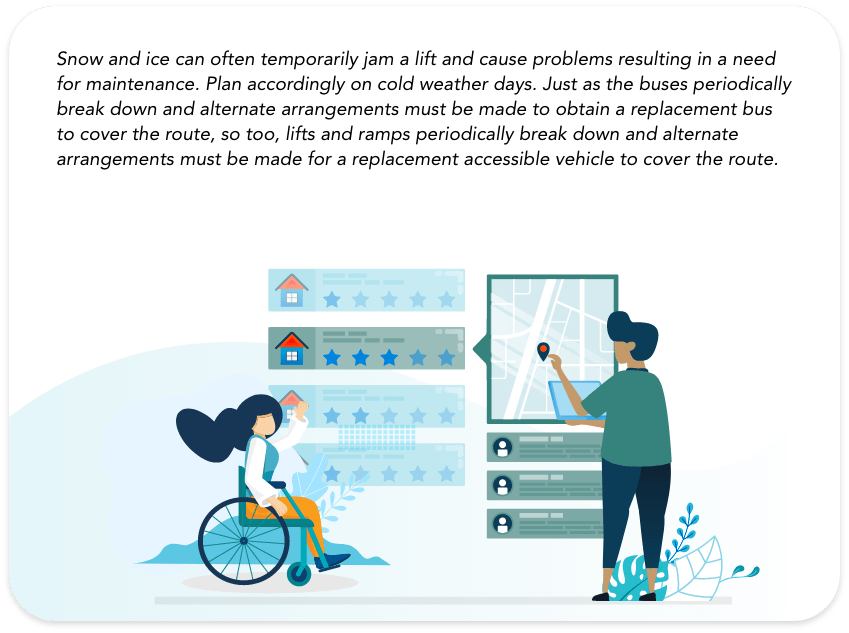 If you don't normally qualify for paratransit service, you might be eligible in bad weather when snow, ice, or other elements prevent you from safely reaching stops. Contact the appropriate transit personnel about that now instead of waiting for inclement weather (you'd qualify on conditional grounds; the other two grounds to qualify for paratransit are unconditional and temporary).
Approaches when the usual public transportation or rideshare options just aren't accessible or safe enough
See if ADA-complementary paratransit could be an option. Paratransit is for folks who can't get to public transportation stations and stops, and for people who have difficulty navigating the complexity of public transportation. Often, it's safer versus regular transit and rideshares (although not always convenient due to advance request notices and waiting time frames). You might qualify for paratransit in bad weather if you don't otherwise due to conditions such as snow or ice on the ground.7
Plan ahead for what ADA-complementary paratransit will and won't do. For instance, drivers don't have to carry your groceries or purse or accompany you inside a building to your apartment even if these moves would make you safer. You're allowed to have companions ride with you, though.
Research whether your city has accessible taxis. Such programs aren't common but do exist in places such as Chicago, Las Vegas, San Francisco, Seattle, and Portland.
Check with the Eldercare Locator for information on accessible, flexible transportation in your area. You can also look into options such as Dial-a-Ride and other demand response services, Medicaid Non-Emergency Medical Transportation (NEMT), transportation voucher programs, taxi services, and volunteer transportation.8
Consider delivery instead of going out. Grocery delivery, Uber Eats, and other delivery programs could save you from making a trip.
Approaches to general safety issues
Make sure you get in the right rideshare vehicle. Check that the license plate and the car's details match what's in your app.
Avoid travel between 9 p.m. and 5 a.m., if possible, and stick to areas you're familiar with.
Cancel if you feel unsafe with your rideshare driver or passenger.
See if your locality has female-friendly rideshare options. For instance:
Rideshare and Public Transport Safety for People with Disabilities
Safety is a nuanced topic that involves preparation, prevention, protection, and communication. It's something that people with disabilities must think about, especially if they are female or of color.
How to approach your safety is an intensely personal decision. You must be comfortable with the avenues you choose, otherwise you put yourself (and others) at risk. Experiment as needed, and feel free to adjust your approaches as you gain more experience or as your needs change.
References and Endnotes
Additional Resources
We recommend taking a look at the reference links above. These additional resources may be worth your time too: