1. The internet is parents' primary safety concern for their children.
In a technological era where concerns like strangers, school shootings, and car accidents hold genuine weight, one prevailing problem supersedes them all, conveniently found within the confines of homes: the internet and social media. An overwhelming 70 percent of parents disclosed that social media and the internet are their foremost apprehensions. These are trailed by worries regarding safe sex for teenagers and the concept of body autonomy.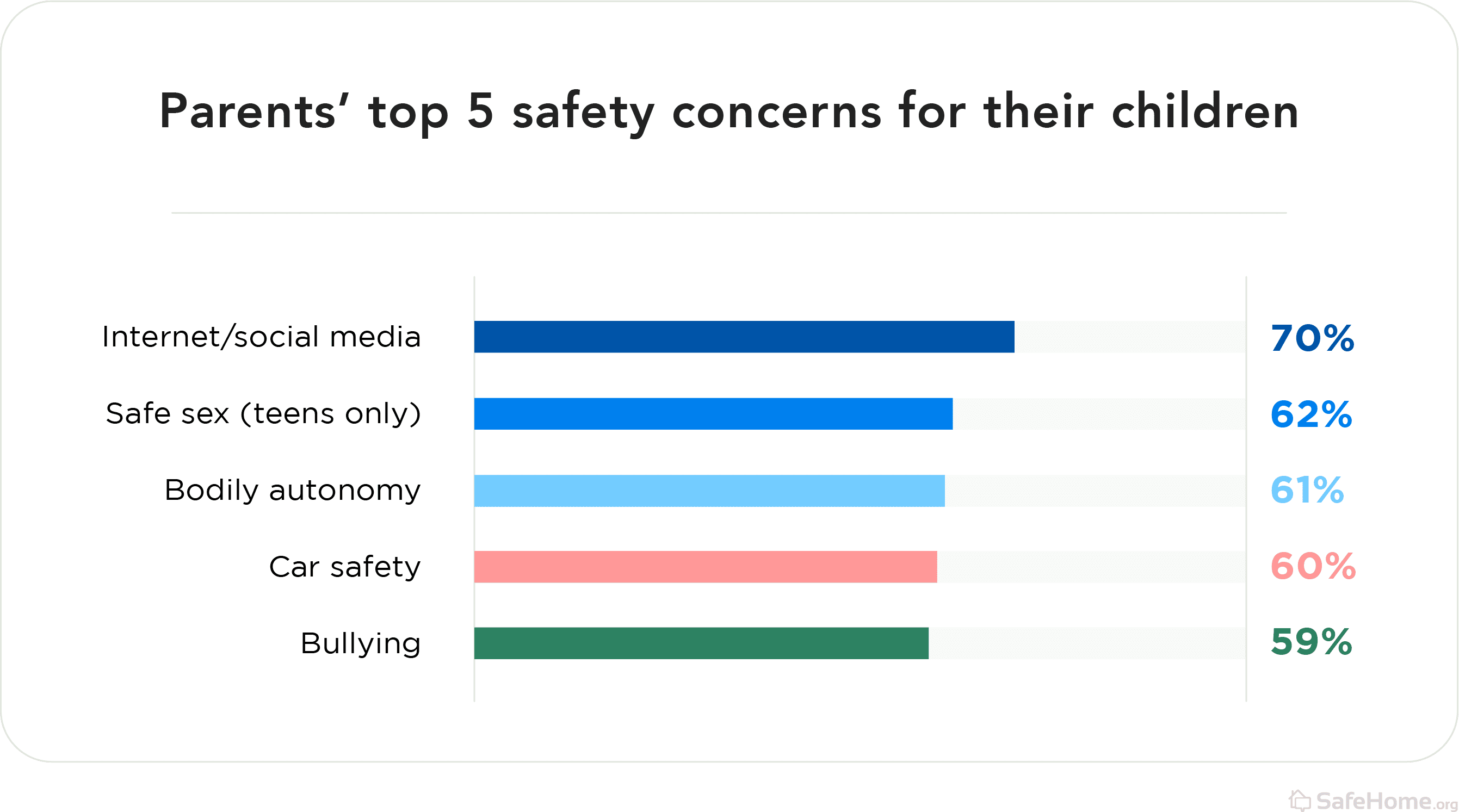 While issues like firearms (43 percent) and pools (50 percent) also evoke concern among parents, their prominence isn't as marked, possibly due to their less pervasive nature than the internet. As supported by federal data, nearly all children aged three to 18 possess internet access at home.
2. Parents' fears evolve as children grow up.
The internet can be dangerous for children for many reasons: inappropriate content, online predators, cyberbullying, and data security issues. Consequently, parents across all age groups above three years old express concerns about the internet. Significantly, for parents with children aged seven to 15, the internet emerges as their primary worry.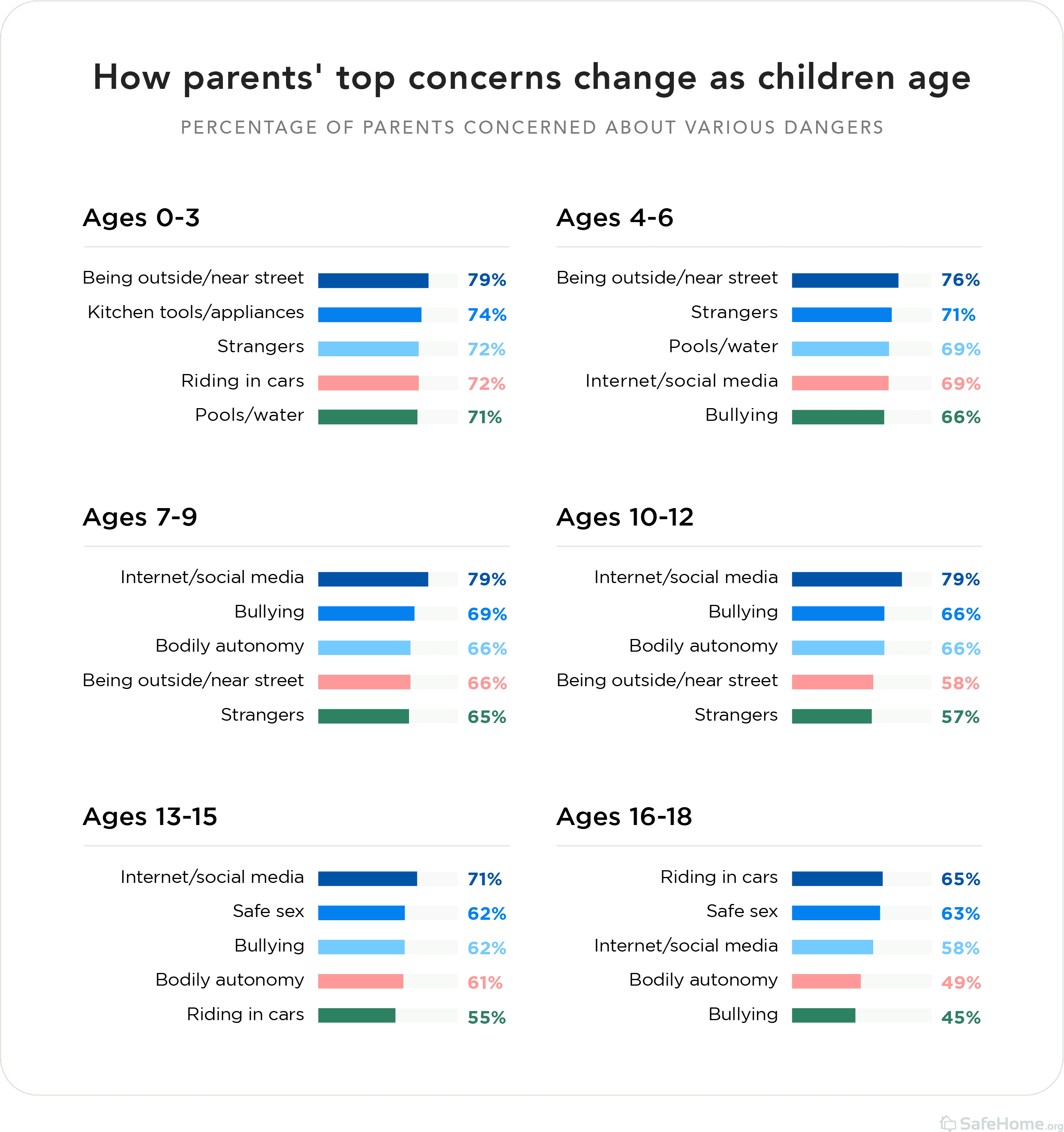 For parents with children under six, concerns about strangers loom large. While these fears recede as children grow into teenagers, apprehensions about strangers continue to linger for parents with children aged seven to 12.
Parents begin to show concern about bullying when their children are about four. This concern remains among the top five worries for parents across all age groups except the youngest (0-3), as bullying behaviors can start even during preschool years. Concerns about bullying peak among parents of elementary school kids, with a notable 69 percent expressing significant worry about this issue.
Regarding driving safety, parents of driving-age teens are primarily concerned. This concern slightly outweighs their worries about safe sex for their teenagers, which is validated by statistics indicating that teens face higher accident rates than other age groups.
3. Despite significant concerns about the internet, many parents do not limit kids' online access.
Although 70 percent of parents highlighted internet and social media as primary concerns, nearly 25 percent revealed not using parental controls to regulate their children's online activities. Nonetheless, parental controls are more common for parents of younger children. By age four, one in three children gains access to smartphones capable of downloading apps and accessing the internet, with smartphone access nearly universal by age 13.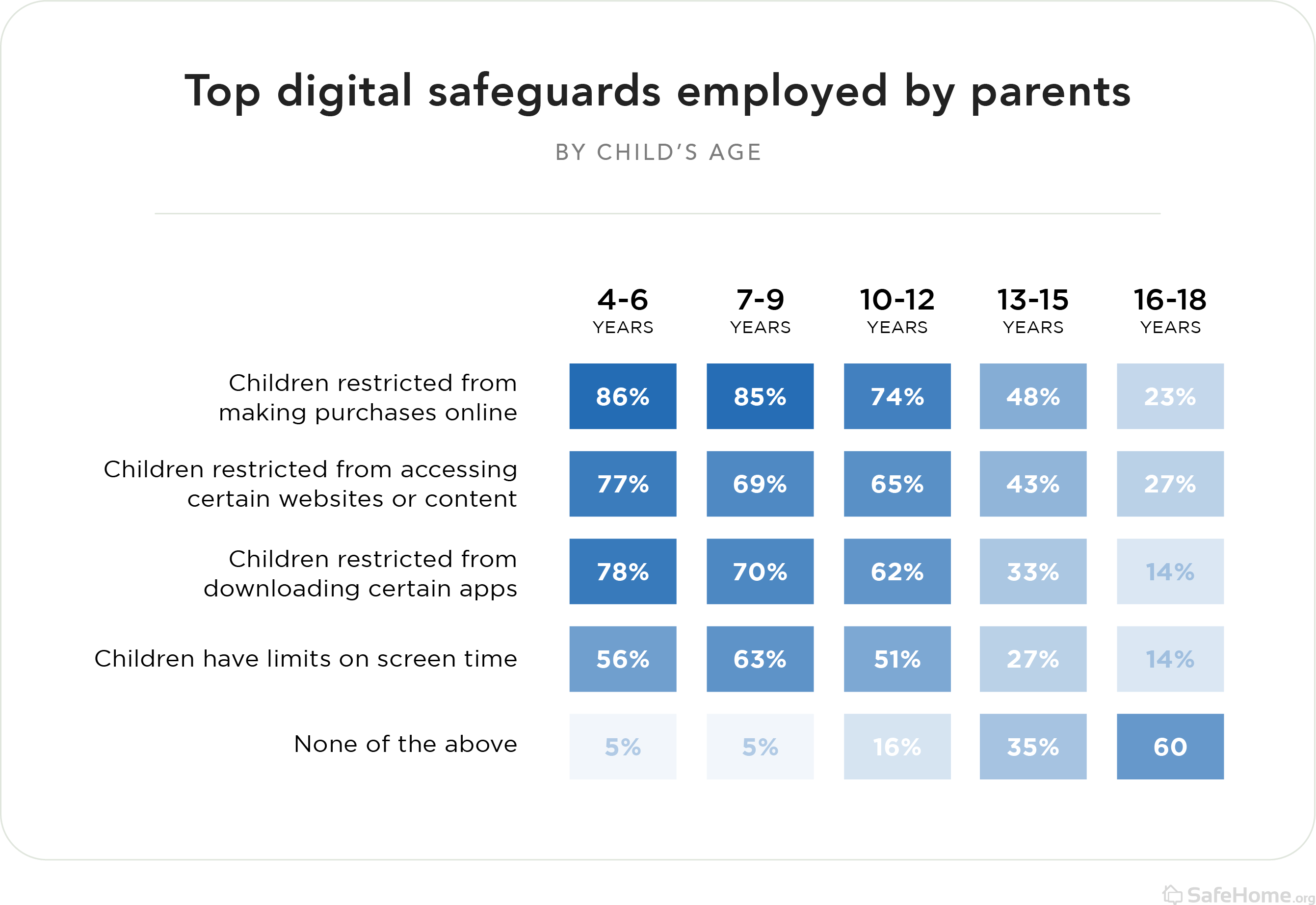 That said, parental controls are much more common among parents of younger children. By the age of four, one in three kids has access to a smartphone that can download apps and access the internet, and smartphone access becomes nearly universal by age 13.
Children tend to gain more independence in their digital activities as they grow. This might be due to parents believing that their teenagers are more skilled with technology than they actually are. Regardless of the cause, many parents of children aged four to 12 use some form of parental control. However, by the time their children reach 16, around 60 percent of parents have stopped using tools to restrict their teenagers' technology usage.
Similarly, as children age, parents tend to monitor their social media activities less. While over 60 percent of parents closely watch 10-12-year-olds' social media accounts, only 26 percent do the same for kids aged 16-18.
For parents who apply some level of control over their children's internet and social media use, limiting screen time is not a widely adopted approach across various age groups. Nonetheless, child-development experts recommend avoiding screen time entirely for children under two and limiting it to an hour daily until age five.
4. The majority of parents post photos of their kids on social media.
Despite concerns about children's exposure to social media, many parents post information about their kids online. Most parents reported posting about their children on social media, with 51 percent admitting they never sought their child's consent.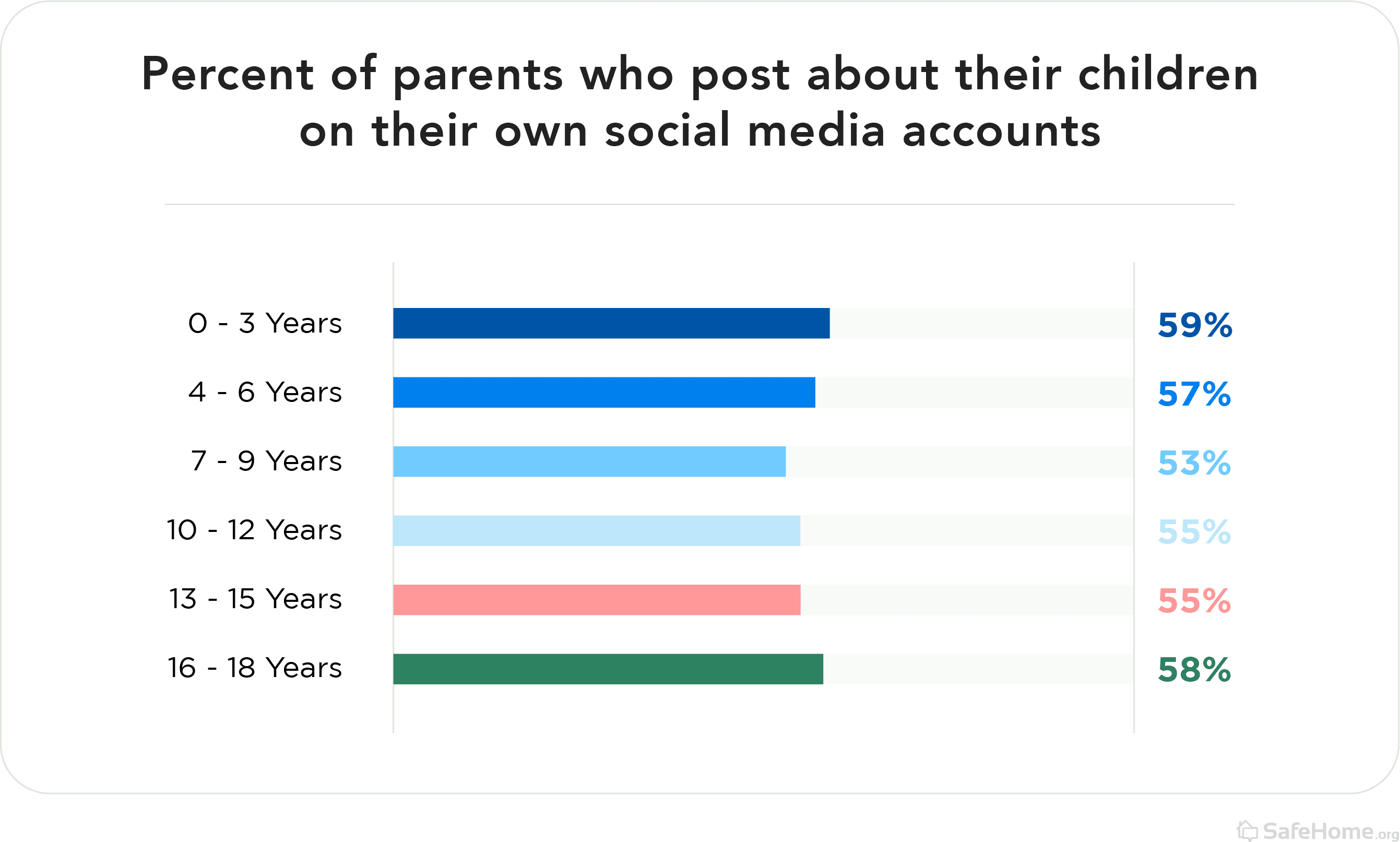 Almost all parents who do post about their kids on social media share pictures. Experts have suggested this could put children at increased risk of ID theft, kidnapping, or digital kidnapping in which children's images are used to create new social media accounts.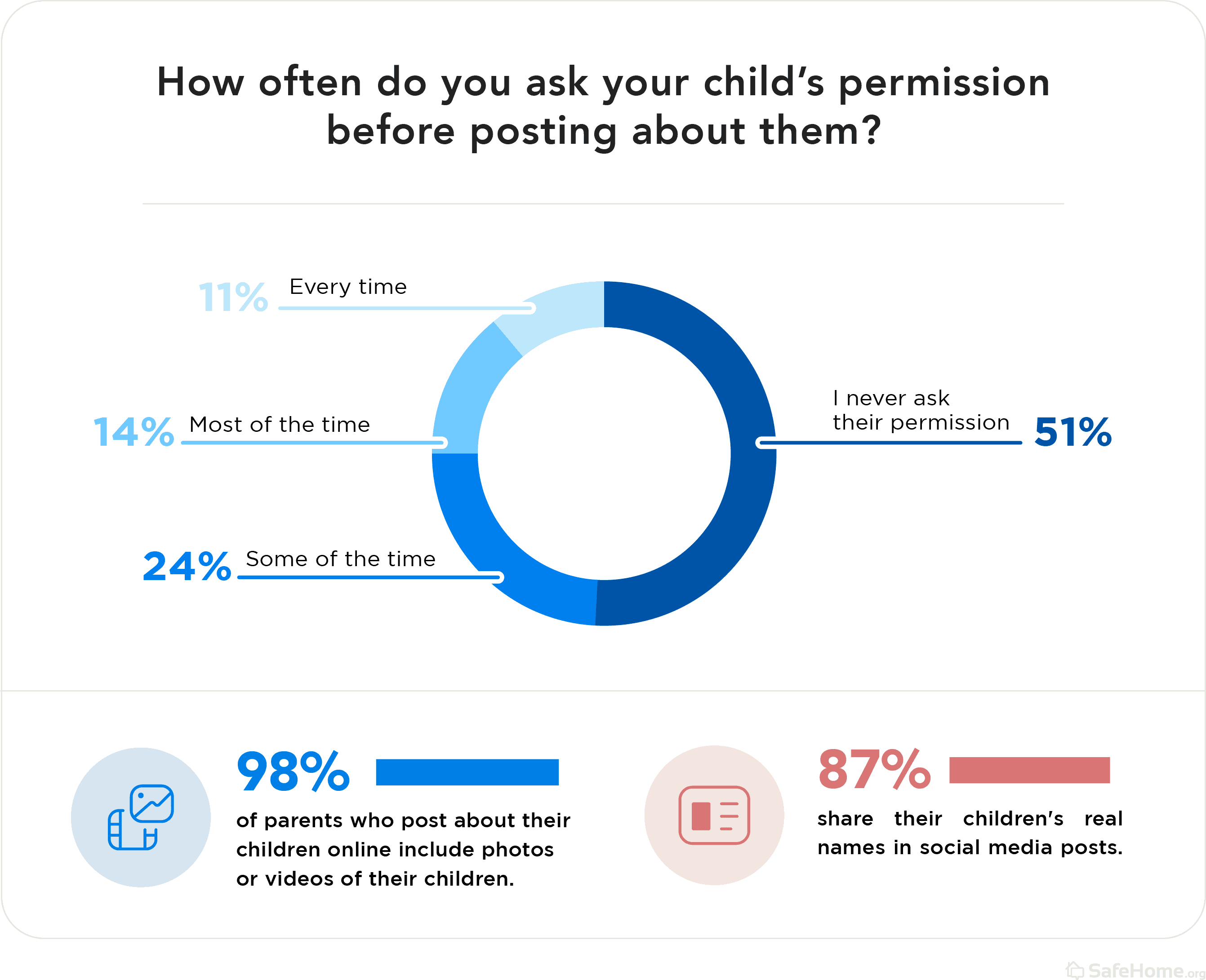 Following some safety guidelines is essential for parents who wish to maintain their social media activity and share pictures of their children. These include ensuring only friends can view the images and establishing Google alerts for your child's name. Alongside these precautions, practicing wise social media habits, such as refraining from sharing photos containing personal details like addresses or phone numbers, is crucial.
5. Nearly 1 in 3 parents regret allowing children to use social media.
While every child is different regarding when they're mature enough for a mobile phone, about one in three parents had regrets about letting their children use social media too soon. Additionally, 25 percent felt their children had acquired mobile phones prematurely.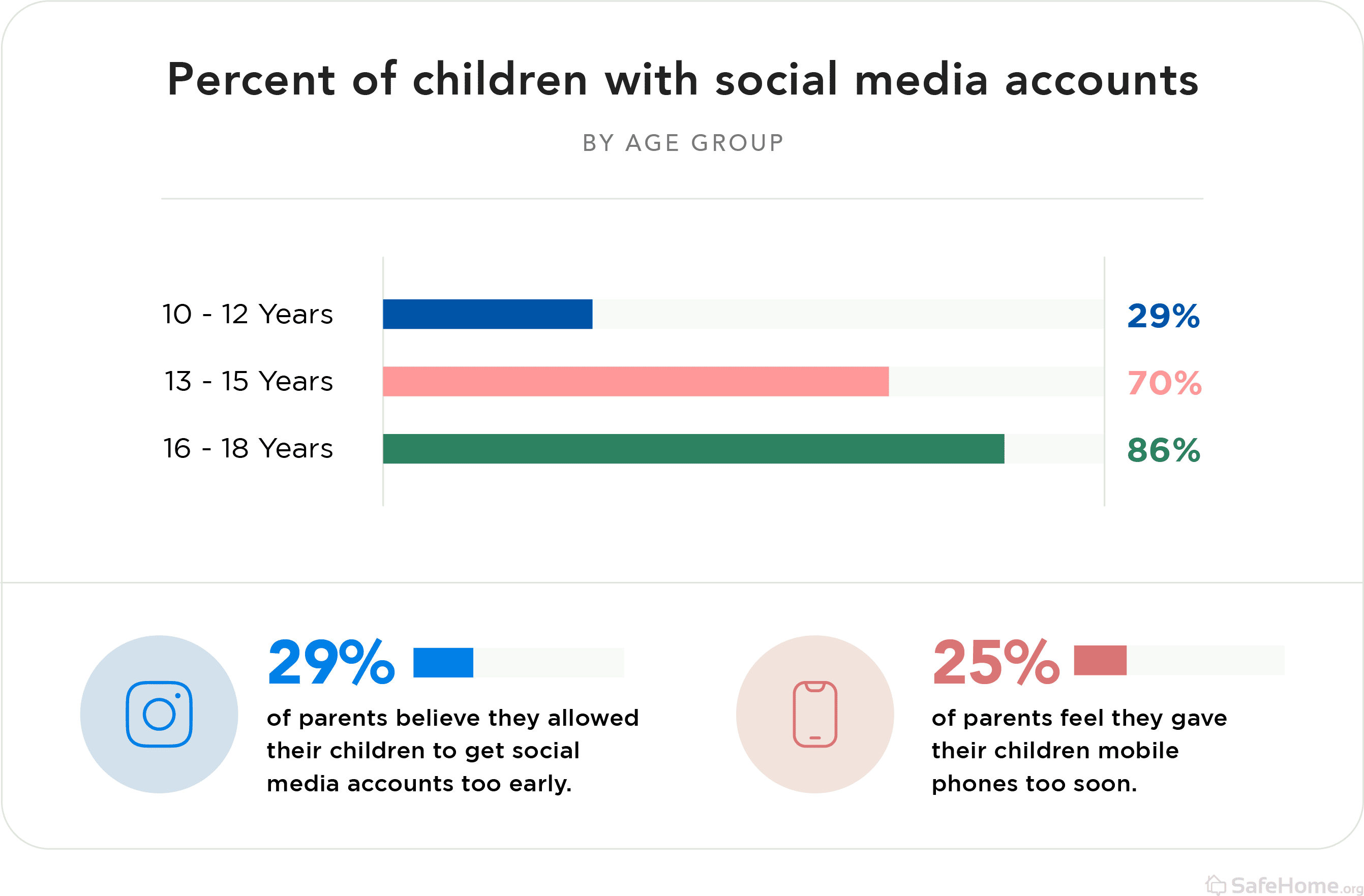 Considering our earlier findings that indicated most parents are granting their teenagers considerable freedom with technology and engaging in limited social media oversight, these results are concerning. Furthermore, while 75 percent of parents express confidence that their child would confide in them if they were experiencing cyberbullying, the reality is that only 31 percent of kids disclose their online experiences to their parents.
6. The typical parent believes kids can have cell phones starting at age 12.
Beyond digital safety, we allowed parents to voice their perspectives on age-appropriate activities or topics for children. Their responses offer an intriguing glimpse into American parenting, where conformity to expert guidance sometimes aligns and sometimes diverges.