A Parents Guide to Family Highway Safety
Written By: SafeHome.org Team | Updated: June 31, 2021
In some cases, the word "highway" suggests adventure. You dream of faraway lands you have yet to explore. Other times, highways serve a more practical purpose. They're the roads that get us to stores, schools and work, and to neighboring towns. Whatever the case, highway safety is important.
Although traffic volume in 2020 dropped due to COVID-19 shutdowns, crashes and deaths increased dramatically as people returned to the roadways in 2021. Further, the percentage of drivers admitting to drunk driving increased from 16.6 percent in 2020 to 22.5 percent in 2021.
Other potential highway dangers include poorly fitting car seats, reckless drivers, extreme weather and teen inexperience. Thankfully, preparation goes a long way toward minimizing the risks.
More good news: Children are much safer than they used to be. The current rate of passenger child deaths is 61 percent less than it was in 1975, according to the Insurance Institute for Highway Safety. Unfortunately, the advice on keeping kids safe can seem confusing. For example, state laws on car seats vary, and many fail to meet recommendations from the American Academy of Pediatrics. Plus, there are so many car seats for sale. Selecting just one feels impossible, and it's easy to get the installation wrong. What's a parent or caregiver to do?
This guide breaks down the main points of child passenger and family safety on highways. It also directs parents and caregivers to key resources so they can stay updated.
View from the Experts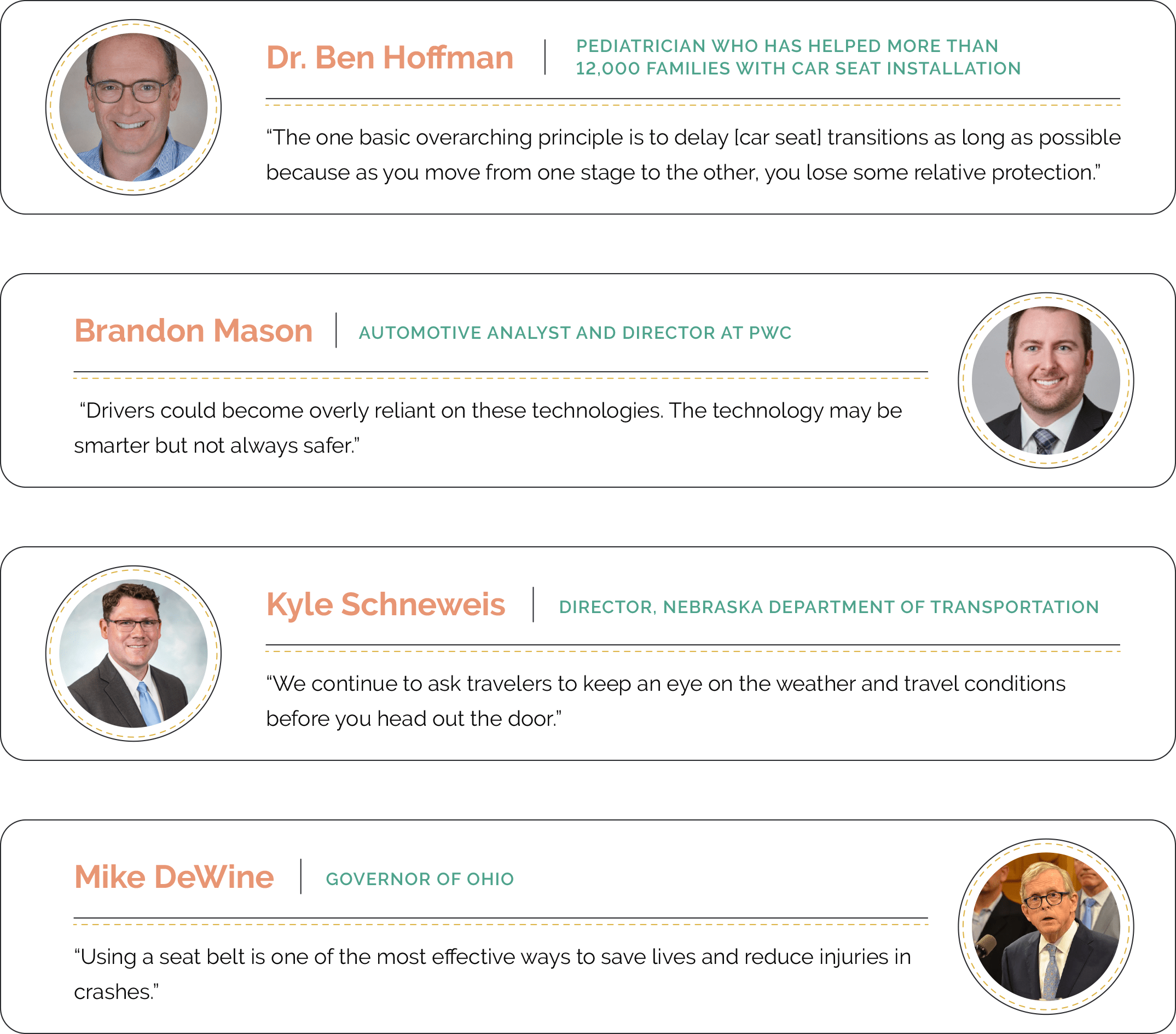 Car Seat Recommendations
The National Highway Traffic Safety Administration has a free Car Seat Finder tool to help caregivers select the right car seat for their child. You input the child's date of birth plus the child's height and weight. The tool recommends whether the child should be rear-facing, forward-facing, in a booster seat, or using a seatbelt. The tool provides you with a thorough list of car seat choices to meet your needs along with an overview on how easy each seat is to use.
The same page that has the Car Seat Finder tool also lets you find car seat inspection locations. You can narrow the list by searching for Spanish-speaking technicians and for child passenger safety week events. Fortunately, your local police and fire departments should be able to do free checks at any time, although an appointment may be required. This link contains top installation tips from the NHTSA, and here are some eye-opening stats from a study of newborns and their mothers published in The Journal of Pediatrics: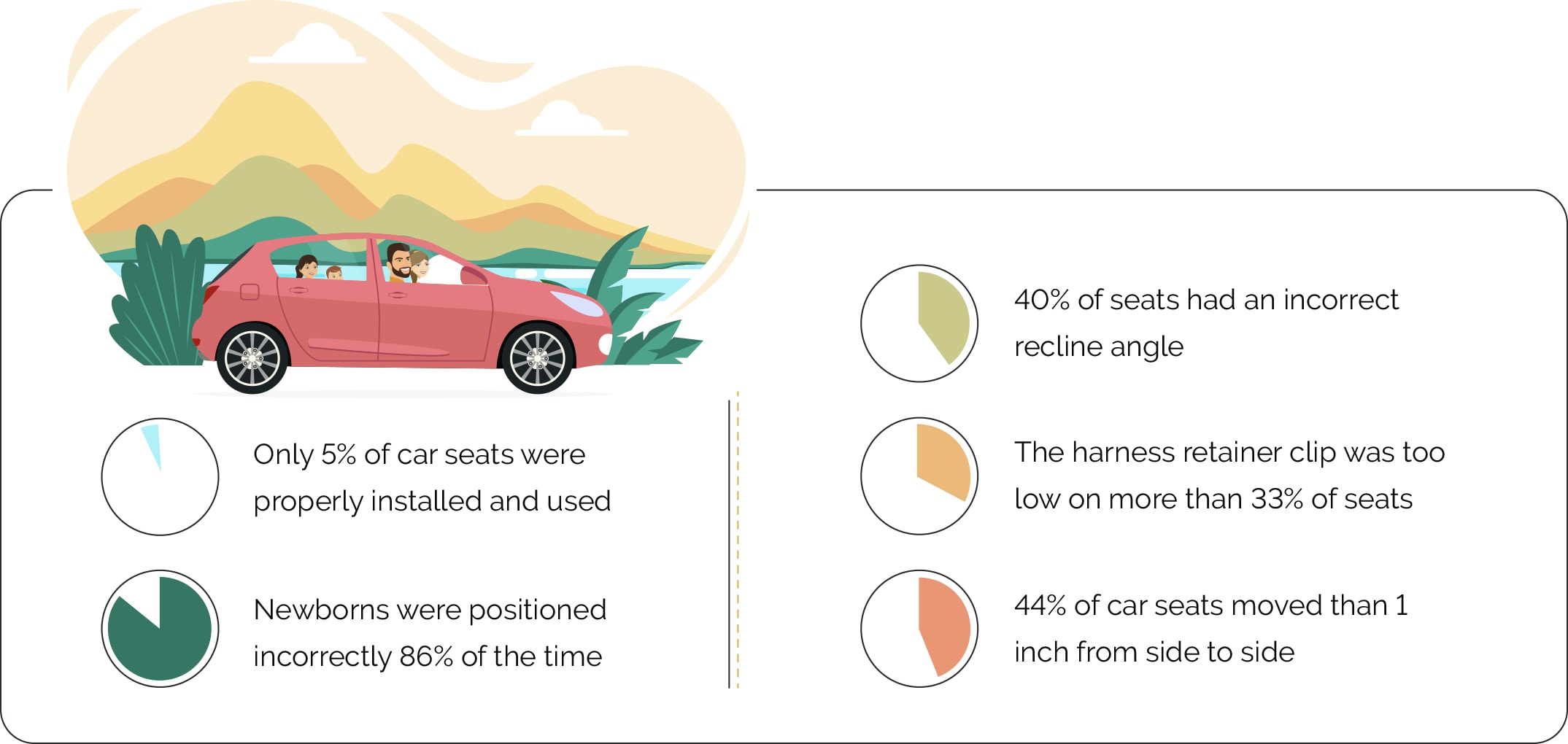 Every detail matters. For example, incorrect angle of recline increases the risk of injury, especially if the baby's head is overly upright. The head may flop forward and block the airway. Meanwhile, a low chest clip can result in slumping and strangulation. The 1-inch-plus movement space means the baby, instead of the car or the seat, would absorb the shock from a crash.
Important note: Register your car seat with its manufacturer so you get any safety updates or notices.
Many state laws governing car seats and child restraints do not meet recommendations from the American Academy of Pediatrics (AAP). Although motor vehicle crashes are one of the top killers of children older than 1 year, state legislatures still fail to act with any urgency.
If your state's guidelines aren't as stringent as the AAP guidelines, follow the AAP to increase your child's safety:
Keep children rear-facing as long as possible up to their car seat limits: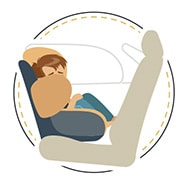 Keep children rear-facing as long as possible up to their car seat limits: The AAP previously recommended that children be kept rear-facing until they were 2 years old. With this newer recommendation, most children should remain rear-facing until they are about 4 years old. (Some parents worry that their rear-facing child doesn't have adequate leg room, or that the child's legs hurt in the rear-facing position. This won't be the case as long as parents follow the manufacturer's guidelines for weight and height. It's better for children to break their leg in a crash rather than their spine.)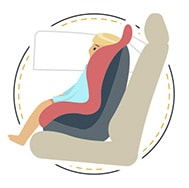 Keep children in their forward-facing seat up to the seat's weight and height limits: After children graduate to forward-facing, they should stay in that seat until they are too tall or heavy for it. Many of these seats safely hold children up to 60 pounds or more.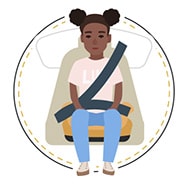 Use a forward-facing belt-positioning booster seat: At some point, children get too big for their forward-facing car seats. When that happens, caregivers should put them in forward-facing belt-positioning booster seats until lap-and-shoulder seat belts fit them correctly (usually when children are 8 to 12 years old and at least 4 feet 9 inches tall).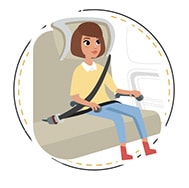 Have children ride in the back seats: Children younger than 13 should ride in a back seat as opposed to the front passenger seat.
It's easy to go wrong with car seats. For example, a child might be too big or too small for a specific seat or face forward when rear-facing is recommended. Similarly, the seat might be installed improperly. If these examples were not enough, many parents make these common blunders: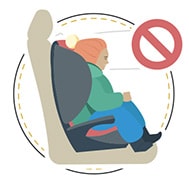 Letting children wear heavy winter coats or extremely bulky clothing in car seats. The extra few inches of "empty space" generated by a heavy coat is enough to eliminate the benefits of a car seat. Children may even fly out of their car seat in a crash. That said, certain winter coats are OK. So are ponchos, coats and blankets worn over straps. To test whether a coat is too bulky for your child, buckle the child in with the coat. Then, without loosening any straps, take the coat off and buckle the child back in. If the fit is still secure and snug, the coat should be OK.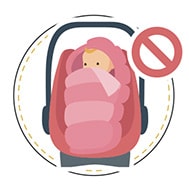 Using sleeping bag inserts and other accessories with car seats: Anything that did not come in the box with the car seat is an unknown factor and a risk. These items never underwent crash tests with the car seat and potentially put children in danger.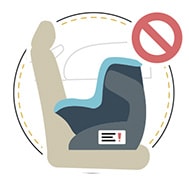 Using an expired seat: Car seats tend to expire six years after their manufacture, although the expiration date is sometimes 10 years after. In other words, the car seat your older child used many years ago is likely not appropriate for your new baby. Seats expire due to wear and tear, newer standards, innovations in car seat technology, recalls, a lack of replacement parts, and the fact that they haven't undergone safety testing for longer lifespans.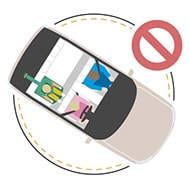 Forgetting the tether in forward-facing seats: Tethers are straps attached from an anchor built into your car. They're connected to the top back of a car seat and decrease the seat's forward motion during a crash, reducing head and neck injuries in children. Unfortunately, many caregivers in the United States forget to use tethers. The anchors come standard in vehicles made since 2003, and they can be retrofitted in some older cars.
In most cases, you can find your car's anchor by looking behind the back seats. However, tether anchors appear in different places and come in different styles. For example, you can find anchors in the center back of a bench seat or under a head rest. The anchors may be fabric loops, may look like holes in metal, or may look like rectangular metal pieces. Your owner's manual should tell you the location and style of tether anchors.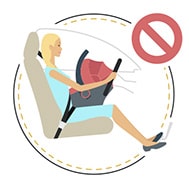 Positioning rear-facing infants too close to an air bag: Some rear-facing infants ride in the front passenger seat because there is no other choice (like if the vehicle has no back seat). If you must put your child in the front seat, disable the air bag (not always an option), or drive a vehicle that doesn't have air bags. Otherwise, keep the baby as far away from the air bag as possible. In a crash, these bags inflate at speeds up to 200 mph and can seriously injure or kill children.
If you're involved in a minor crash, you may not need to replace the car seat:
If the air bags do not deploy

You're able to drive the car away

The door closest to the car seat has no damage

There are no passenger injuries

The car seat shows no damage
You definitely should replace car seats after moderate and severe crashes.
Vehicle Safety Features
An NHTSA tool lets you check the safety of vehicles you have or are considering buying. Enter the year, make and model to see overall ratings for the vehicle as well as individual ratings for frontal crash, side crash and rollovers. In general, the following features work to keep you and your family safe:
Child safety locks: Drivers get to control the rear door locks. When they're turned on, children in the back can't open their door from the inside of the car.

Automatic door locks: Prevent your child from opening a door when you're driving down the highway.

Auto-reverse/anti-pinch windows: This technology senses when an object such as a child's finger is in the way of a closing window. The window then reverses direction.

Backup cameras: These cameras let drivers see what is behind their vehicles and act as a safeguard against backup crashes.

Rear seat belt warning systems: These systems alert you if your child (or another passenger) in the back seat undoes their seat belt. The systems also notify you that seat belts have been fastened in the first place.

Side impact air bags: These air bags protect passengers during side crashes. Children and other passengers should not lean against areas where these air bags are stored.

Advanced frontal air bags: These air bags protect drivers and front seat passengers. Ideally, children would ride in the front seat only if 13 years old or older. For a child, particularly a younger child, move the front seat as far back from the air bag as possible.
Other features such as forward collision warning, blind spot monitoring, adaptive cruise control, lane departure warning and crash imminent braking also help prevent highway crashes.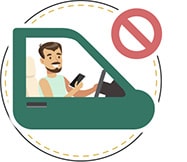 Beware of Too Much Safety
Safety features do come with some downsides. Namely, too much safety can instill a false sense of security in drivers, making them complacent and less attentive. These features even increase distracted driving in some cases, leading drivers to text or eat.
Drivers must remain attentive even if their vehicle has safety features enabled. The technology doesn't always work, and drivers need to maintain their driving skills, anyway.
Other Potential Dangers to Children
Distracted driving and poorly fitting car seats are dangerous enough. Unfortunately, many other risks remain.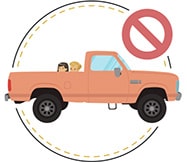 Pickup Trucks
Caregivers should never allow children to ride in a pickup truck's cargo area, even if the state has no restrictions on this type of activity. These child passengers are at 10 times higher risk of fatality than older riders. Ejection is the main issue, but covered cargo areas still pose a big danger with potential carbon monoxide poisoning.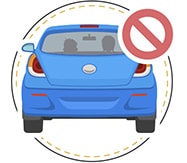 Rollaways
Rollaways may occur when children are left alone in a car that has the keys in the ignition. Even if the engine is not running, children can accidentally cause the vehicle to roll away or drive off. Never leave children alone in a vehicle.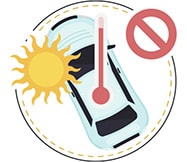 Heatstroke
Heatstroke is another danger with unattended children. Cars heat up fast. For example, the NHTSA explains that interior car temperatures can get up to 110 degrees even if it's only 60 degrees outside.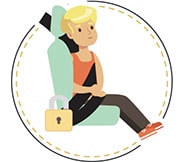 Seat Belt Entanglement
Bored children on road trips sometimes play with adjacent seat belts. They may even accidentally wrap the belts around their necks or heads. Buckle and lock all seat belts not in use, and explain that seat belts are not for playing.
Steps to Take If You Have a Car Accident
Car accidents can be traumatic for both children and adults. Check yourself, your children and others in the car for injuries. Take a quick assessment of the situation. For instance, is the traffic heavy? Is it dark outside? Do you smell smoke?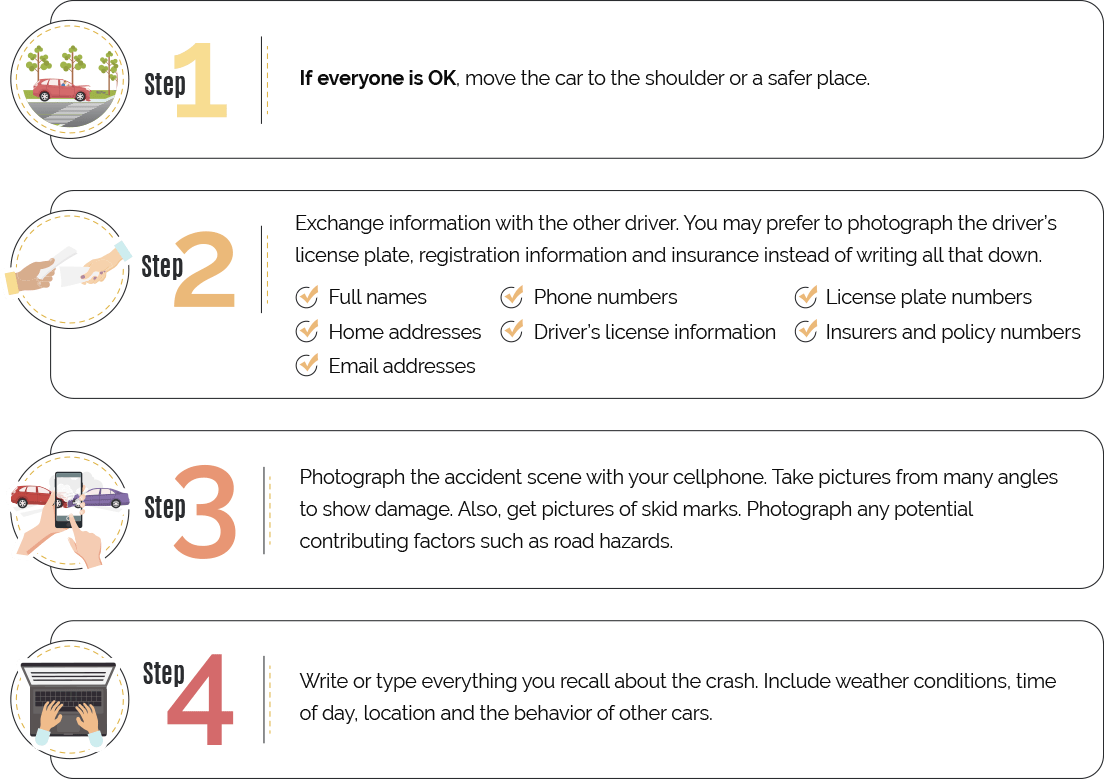 It is a good idea for a doctor to check yourself and your family for injuries, even if everyone seems fine. Some injuries do not manifest until later. Keep an eye out for symptoms such as sleepiness, excessive crying, lack of appetite, and a lack of interest in playing (including an absence of interest in toys). Let your child's other caregivers know about the accident so they can keep an eye out for symptoms as well.
Be aware that car crashes are traumatic for many children. Even if they are not physically injured, PTSD may be an issue that lingers for a few months or even for years.

If your children are injured, do not attempt to move them. That could exacerbate brain or spinal injuries. However, if logistics allow, sit with your children and console them. When EMTs arrive, they will quickly evaluate you, your children and others in the car.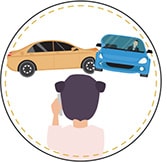 Other Car Crashes
What if you witness an accident or come across a crash scene? Park a safe distance from the scene, and call 911. Help only if you getting out of the car won't put you or anyone else in danger.
Road Trip Safety
Ahh, road trips. They can be surprisingly affordable, and they offer your family a chance at adventure. There are challenges, of course. How do you keep the kids entertained while ensuring the road trip is memorable for the right reasons?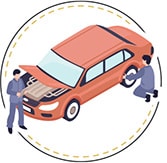 Preparation
Get your vehicle's tires, brakes, exterior lights, battery, air filters, wipers and fluid levels checked about a week before your family leaves. Also, have a time frame for the routes you're taking. This helps you avoid peak traffic times. If it's your first road trip with a baby or toddler, build in plenty of extra time, perhaps even double the time.
You may want to join a roadside assistance service such as AAA. Members can access classic-level benefits as soon as their payments process (a service fee may kick in if you enroll and need help on the same day). Classic-level benefits cost about $58 a year and include flat tire service, four 5-mile tows, mobile battery service, emergency starting, vehicle locksmith (may cost up to $50 per call), fuel service delivery (you pay for the fuel) and other services. Meanwhile, many credit card companies provide roadside assistance to their members for no extra charge.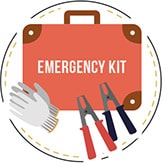 Keep Emergency Kits on Hand
You never know what could happen on a trip, so emergency kits are necessary. Consult any number of websites, and you'll see a mind-bogglingly long list of items. Don't let these lists overwhelm you! Here's the scoop on the minimum necessities, and you don't have to keep all these items together:
Magnetic key box with spare key

Phone charger

Flashlight and extra batteries

Jumper cables or jumper pack

Gloves, raincoat and tarp

Basic toolkit with pliers, screwdriver, adjustable wrench

Duct tape and plastic zip ties

First-aid kit

Nonperishable snacks and drinking water
Now for a longer list: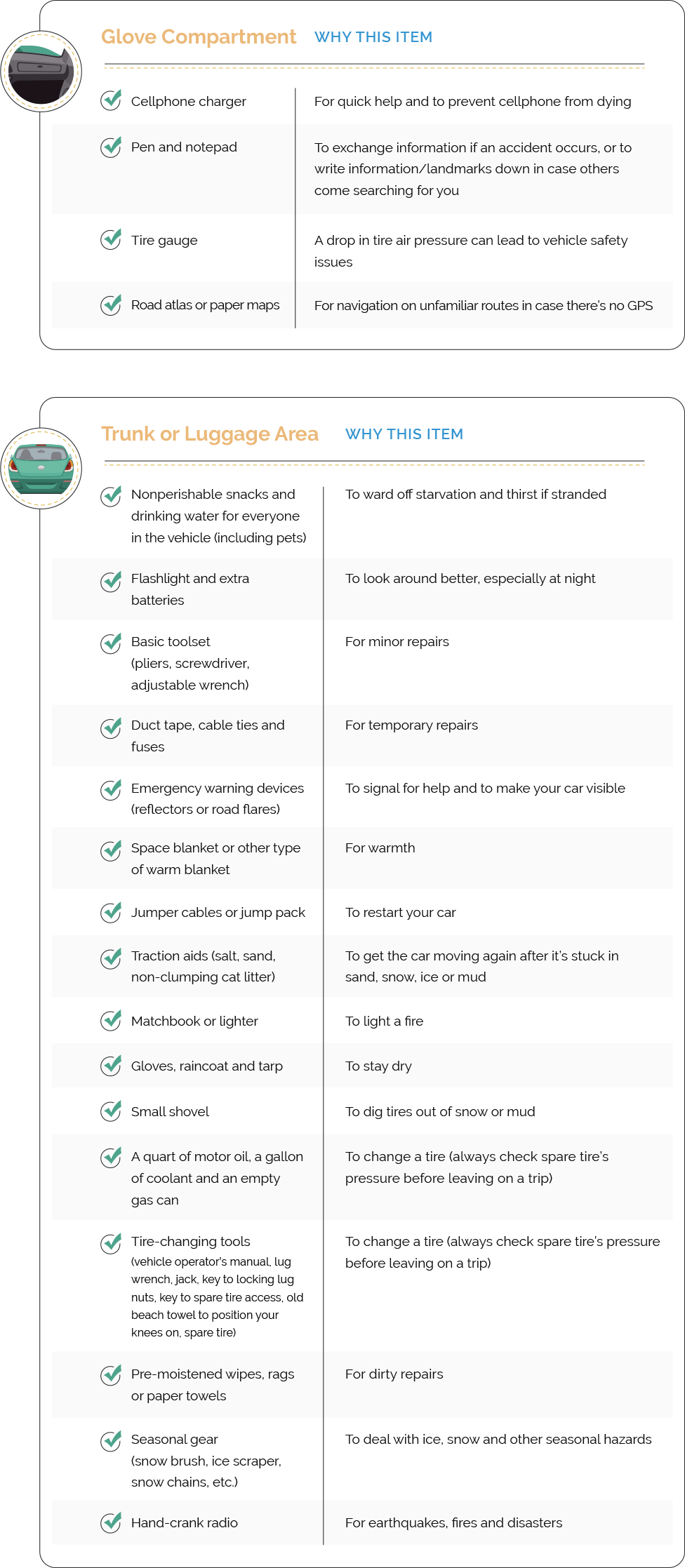 Keep a magnetic key box and spare key somewhere on your vehicle in case you get locked out.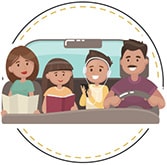 Entertaining the Kids
Designate a spot (or several) in the vehicle for your children to keep their toys and other items. Better than having toys rattling around the car and rolling under the gas pedal or brake.
Kids are messy, so place a blanket on their seats. Keep a roll of paper towels, a box of wipes and a garbage bag up front. Also have a "DIY" first aid kit with supplies such as kids' Band-Aids, Tylenol and cleaning spray (for scratches).
Road trips are alternately fun and boring. Try these ideas to ensure that everyone stays safely buckled in:
Audiobooks

Books and ebooks

Maps for the kids to mark off highway exits, cities and more

Road trip bingo

Car license plate checklist

Travel binder filled with pictures for kids to color, travel bingo sheets, colored pencils and more

Punch Buggy/Slug Bug game

Scavenger hunt (seek-and-find game with sheets you can create yourself or find online)

Toys such as magnetic games and Travel Doodle

Planned stops at areas of interest

Picnic meals at playgrounds

Snacks (loom boxes hold a variety)

Treasure chest (with items such as fun size candy, crayons, small toys and stickers—let kids decorate their treasure chests with some of these items while they're in the car)

Phones or tablets with kid-friendly apps (many don't require Wi-Fi connectivity)

Adults taking turns in the backseat with the kids

Portable DVD players (with audio headphones if you want complete silence up front)

CDs

Portable game systems and cellphone games

Singalongs/family karaoke

A "secret" bag of toys in the front seat to stave off kid meltdowns
Never let children unbuckle their seat belts or lay down to take a nap. Further, buckle all unused seat belts to avoid entanglements.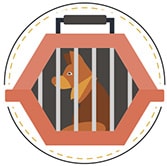 Pets
If you're road tripping with pets, one option is to keep them in well-ventilated crates or carriers. Secure the crates or carriers so they do not shift or slide during a sudden stop. Other options are seat buckles and car seats. Seat buckles are better for larger dogs, while car seats work well for small and medium dogs.
Pets should be microchipped and wear a collar with your name and contact details. Bring a folder with important records such as immunization since some interstate and border crossings require that info.
Bring an extra leash or harness, and consider packing a first aid kit for your pet. Common items include tweezers/pet tick removers, blunt-end scissors and oral syringes.
Before a big trip, take your pets on trips of increasing length to get them used to vehicle travel. These shorter trips also let you assess whether your pets are prone to motion sickness. If they are, anti-nausea medications from your vet may help.
Teen Drivers
It feels like barely any time has passed. However, your baby is now a near-adult with a driver's license. Here's a look at critical things for you and your teen to be aware of.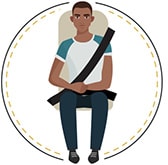 Seat Belts
Around 45 percent of teens involved in fatal crashes were unbuckled. Never let your kids think that buckling up is an option. It is mandatory. Teach your children about the risks of not buckling up, and always buckle up yourself.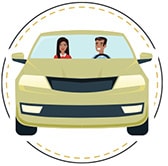 Inexperience
Practice highway driving with your teens plenty of times before letting them off on their own. Start with shorter stints, and gradually increase the distance traveled. Observe your teen's performance in areas such as:
Keeping speed within a 5 mph range of posted limits (also considering traffic, weather and terrain conditions)

Changing lanes

Monitoring blind spots and staying out of other drivers' blind spots

Maintaining six-second space cushions between your car and the car in front

Entering and exiting the highway

Using signs to navigate

Anticipating other drivers' behavior

Reacting to disruptions such as emergency lights, construction zones, detours and lane closures
Driving school gets teens started. However, they gain invaluable experience putting in more hours with you and other responsible adults.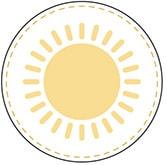 Time of Day
Teens should do most (or all) of their driving in daylight and low traffic. The weather should be good, not rainy or icy. Also, check your state's law. For example, California says that for the first 12 months that teens younger than 18 are licensed, they cannot drive between 11 p.m. and 5 a.m.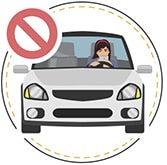 Cellphone Use
Give alternatives to promote engaged driving instead of distracted driving. Offer these guidelines to your teens, and practice them yourself:
Finish calls and texts before driving off.

Get directions before leaving.

Pull over at a safe place for a refresher on directions.

Touch base with parents and friends only after arrival.

Set up

"Do Not Disturb"

on iPhones.
Do not call or text your teens if you know they're driving. They may feel pressure to answer.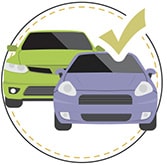 Type of Car
Magazines such as U.S. News and World Report publish compilations of the best new and used cars for teen drivers. Safety and dependability take center stage, whether you buy new or used.
Avoid SUVs, large pickups and sports cars for teen drivers. Large pickups and SUVs can be tricky to handle, and they hold a large number of passengers (talk about distracting!). Meanwhile, teens are more likely to speed and have accidents in sports cars. Insurance rates are higher, too.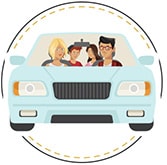 Number of Passengers
Other teens in the car are likely to distract your teen driver. Limit how many friends/passengers can ride with your teen, and check your state's law. Some states do not allow teens to transport passengers under 20 years old for the first 12 months after licensure. Safety experts recommend that only one friend ride with your teen at a time.
Common Danger Scenarios
Highways are a gateway to freedom and exploration, but plenty of hazards lurk. Sun glare can be deadly. Car breakdowns can be, too.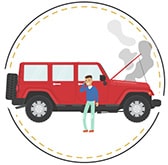 Car Breakdowns
Any person out of their car on a highway is potentially in danger. For example, motorists are at risk of being hit and killed while changing their tires on the side of the road. Here's what experts recommend you do in the case of a car breakdown:
Move the car as far off the road as you can.

Stay in the car, if possible.

Turn on the emergency flashing lights.

Take any other steps you can to show your car is disabled (hanging a towel outside the window, lifting the car hood).

Call for assistance from your cellphone.
If you and passengers must leave the car, exit away from oncoming traffic. For example, suppose the driver's side of the car is next to the road (and next to oncoming traffic). Leave through the other side of the car. Call for help when everyone is a safe distance from the road.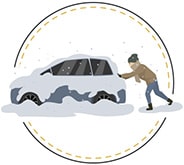 Extreme Weather
Thunderstorms, ice, snow, windstorms and more wreak havoc on trips short and long. Your best bet is to stay home (or in the hotel), if possible. Otherwise, try the following:
Do a basic vehicle check to assess windshield wipers, brakes, oil, antifreeze, headlights, taillights and tires.

Ensure you bring an emergency kit. Add any weather-specific gear it needs.

Fill the gas tank.

Tell someone where you are going.

Buckle up at all times—you and the passengers.

Add alternate routes in case your planned route is impassable.

Build in more time cushions.

Check the weather forecasts along your route.

Listen to local radio for details on road conditions and alternate routes, but keep it on low volume (so it does not distract you).

Drive more slowly to minimize your risk of skids and accidents.

Double the amount of space between your vehicle and the car in front (your braking time may be shorter).

Keep cruise control off. It helps you stay alert and reduces hydroplaning dangers.

Do not drive over a power line or into standing or moving water. Just 6 inches of standing water can damage or stall your vehicle.
If you need to rest, go ahead and do it. Extreme weather is not the time for drowsy driving (not that there's ever a good time). Stop to rest at locations that are completely off the road.
The same idea applies if bad visibility causes you to pull over. Avoid stopping on the shoulder of the road unless you have no choice. Do not park under bridges or overpasses because they can collapse.
Stay alert even after the bad weather passes. It may have left behind debris and other hazardous spots on the highway.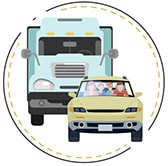 Semi-Trucks
Large vehicles such as semi-trucks command a heavy presence on interstates. They have limited maneuverability, longer stopping distances and bigger blind spots. Plus, they're so big. They can do a lot of damage to smaller vehicles, so it's important for drivers to remain attentive around them.
Remain patient. If a truck is moving slowly, it's for a good reason, not to frustrate you.

Give large vehicles plenty of room when they turn. Never try to block them or squeeze by.

Signal with at least a few seconds to spare when making a lane change. Give the large vehicle extra space. Move into its lane only when it becomes visible in your rearview mirror.

Avoid cutting in front of a semi-truck. Even if the driver slams on the brakes, the truck is likely to keep going for a while.

Stay out of blind spots. Either speed up or slow down to stay visible in a semi-truck's mirrors.

Avoid passing a large vehicle going downhill because it may be picking up speed.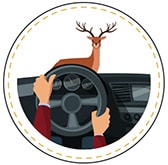 Deer and Other Wildlife
Your instincts may scream, "Swerve!" when you see a deer. However, that's not what you should do. You could crash into an adjacent car or tree, or go flying down a hillside. Instead, apply the brakes firmly, and stay in your lane. Blow your horn, and the sound hopefully causes the deer to run off. Deer rarely travel alone, so watch out for more.
If your car strikes a deer, move off the road and call the police, if feasible. Avoid touching the deer. A hurt, scared animal may further injure itself or hurt you.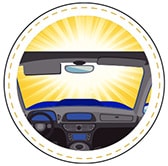 Blinding Sun
When sun glare is in your eyes, continue to drive as predictably as possible for other drivers' sakes. Avoid swerving and slamming on the brakes. These other tips help with sun glare:
Leave more room around your car.

Drive more slowly.

Keep your windshield clean of debris and spots.

Turn your headlights on so other drivers see your car better.

Use lane markings to ensure you are in the proper lane.

Use the sun visor and wear polarized sunglasses.
Sun glare is worst in early morning and late afternoon. Skip driving at these times if you can.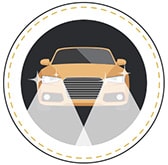 Glare from Other Headlights
You're driving along at night. Suddenly, a vehicle crests a hill or comes up behind you. Its headlights are so bright, they're blinding. You can try flashing your high beams on and off several times. This lets other drivers know to lower their high beams. However, their headlights might be that bright without high beams. Try these steps:
Wash your windows and wiper blades.

Adjust your rear and left-side mirrors (for glare coming behind you).

Get anti-reflective coating on your eyeglasses.

Clean your headlights to improve your visibility (if your vehicle has dirty headlights, other drivers may not realize you're there).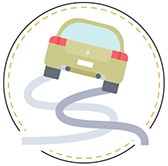 Dangerous Drivers
It goes without saying that you shouldn't drive when sleepy or distracted, or if you're under the influence of alcohol or drugs. But what should you do if other drivers pose a danger? Maybe they're speeding recklessly or swerving all over the place.
Move to the right-hand lane to let the driver pass (if the driver is tailgating or is too close for your comfort).

Give the driver ample room.

Avoid tailgating the driver.

Keep calm so you don't make your family members anxious.

Take a different route as soon as you can.

Note the car's license plate number and nearby intersections/street names (only if it is safe to do so).

Pull over to call 911 (only if it is safe to do so).
Child Passengers and Family Highway Safety
Highway safety with children is a multifaceted issue. It involves finding the right car seats, buckling children in correctly and being proactive about entertaining them. Beyond that, caregivers must be safe drivers and have emergency kits, alternate routes and other "tricks" on hand, especially for longer trips.
Gradually, children get older. The day comes when they no longer need car seats or booster seats. In a few years, they become teen drivers. It's an exciting and scary time. Even though these children are more independent, safety is just as important. Parents who serve as safety models themselves (no cellphone use while driving, always wearing seat belts, packing emergency kits, etc.) are off to a great start teaching their kids to do the same.