By: SafeHome.org Research | Published: May 18 2021
Without getting up to check, do you know if your front door is locked right now? Do you know if your windows are latched or if there's a gate ajar? In 2019, there were more than 6.9 million property crimes (including theft and burglary) across the U.S., and your home might be exposed right now without you even knowing it.
Your windows can become a common point of entry for home invasions, and many Americans may be neglecting them as a part of their regular security routines. As part of our regular research on physical safety and home protection, we tasked over 1,000 people to check their own windows and asked about their general security habits. Read on as we explore how often renters and homeowners are leaving their windows unlocked; why their windows are sometimes left open; how relaxed people can get with their window security when they live outside the city; and which windows are likely to be unlocked in your own home right now.
Key Findings
53% of residents had an unlocked window in their home, and 13% were unaware they were unlocked.
8% of households left a window unlocked in case they forgot their key.
10% of households don't think an open or unlocked window poses a security risk.
Exploring Window Security Habits
When asked to perform a routine check within their own homes, 53% of those surveyed reported at least one window as unlocked or open. Among those with unsecured windows, 1 in 4 were unaware the windows were unlocked. These may seem like unimportant observations but not when you consider that windows can be an open invitation for would-be burglars or thieves waiting just outside. While it's difficult to quantify the amount of crime that occurs in the U.S., property crime is far more common than violent offenses, and theft and burglaries are at the top of that list. On average, respondents reported having one window open at the time of this survey and two windows closed but unlocked.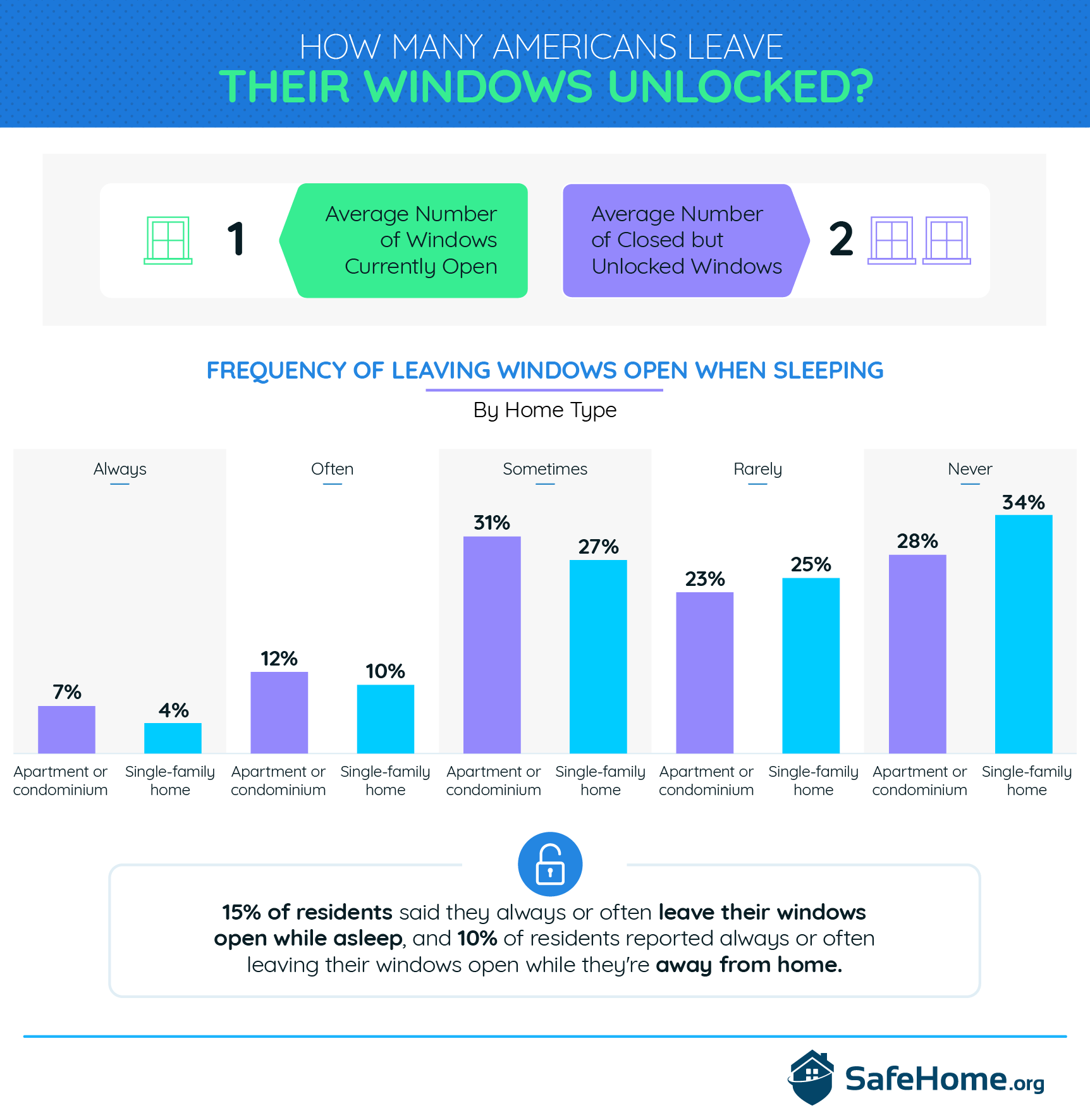 As we found, people living in single-family homes were more likely to have all of their windows closed and locked (51%), compared to people living in apartments or condominiums (37%). And while half of the people living in apartments indicated they were aware they had at least one window open, 13% were surprised to discover they'd left a window open or unlocked.
Fifteen percent of people said they always or often leave their windows open while they're asleep, and another 10% said they frequently leave their windows open even when they're not home. Almost 20% of apartment and condo owners were more likely to either always or often leave their windows open while they're sleeping. And even though single-family homes located in suburban areas are 50% more likely to be burglarized, 14% of people living in single-family homes said they always or often leave their windows open at night while sleeping.
When Windows Are Unlocked or Unlatched
So why are so many people leaving their windows open or (accidentally) unlocked? More than any other reason, 64% said they were trying to let in fresh air, followed by people trying to regulate the temperature (43%) or humidity (20%) in their home. More than half of people (53%) said their windows are left unlocked more often during the summer months, despite property crime being more likely to spike in the warmer season.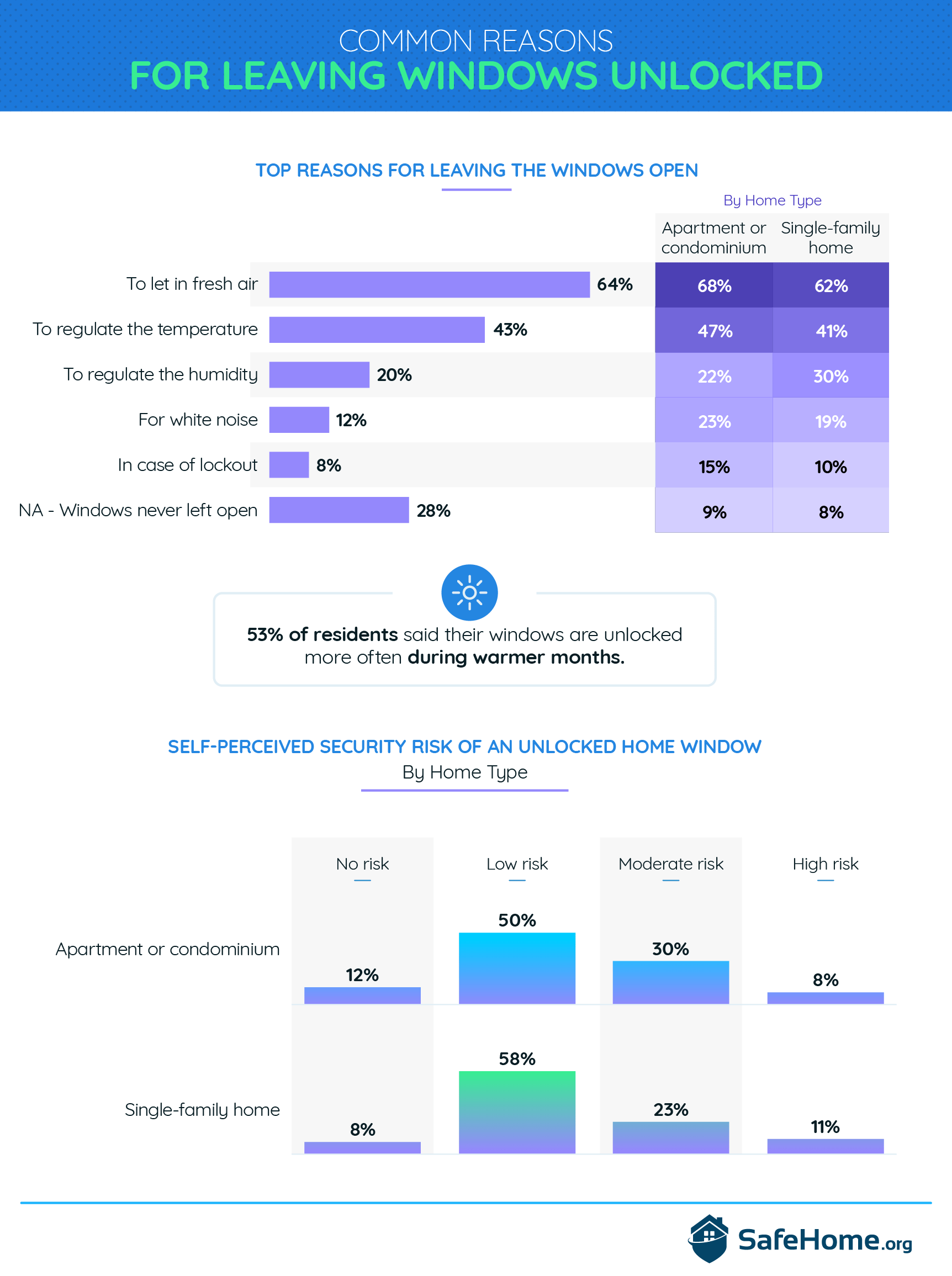 Fifty-eight percent of people living in single-family homes rated unlocked windows in their home as a low security risk, followed by 50% of people living in apartments. At most, just 11% of people living in single-family homes and 8% of people living in apartments said unlocked or open windows posed a high security risk. In most cases, when someone burglarizes a home, they aren't really breaking in at all. A vast majority of entry points for burglars and thieves occur through doors and first-floor windows, and in most cases, these windows and doors may not even be locked. Residents of urban areas are at the highest security risk (48% said an open window would risk home security), so summers in the city may be a time where residents must be more wary of an unlocked window, especially when living in an apartment building.
How Renters and Homeowners Approach Security
Among those surveyed, renters (63%) were far more likely to find an open or unlocked window than homeowners (47%). Those with fewer people in their household were also less likely to leave a window ajar, compared to those with larger households, including 73% of people with four or more people living in their home who reported finding an open or unlocked window during this survey.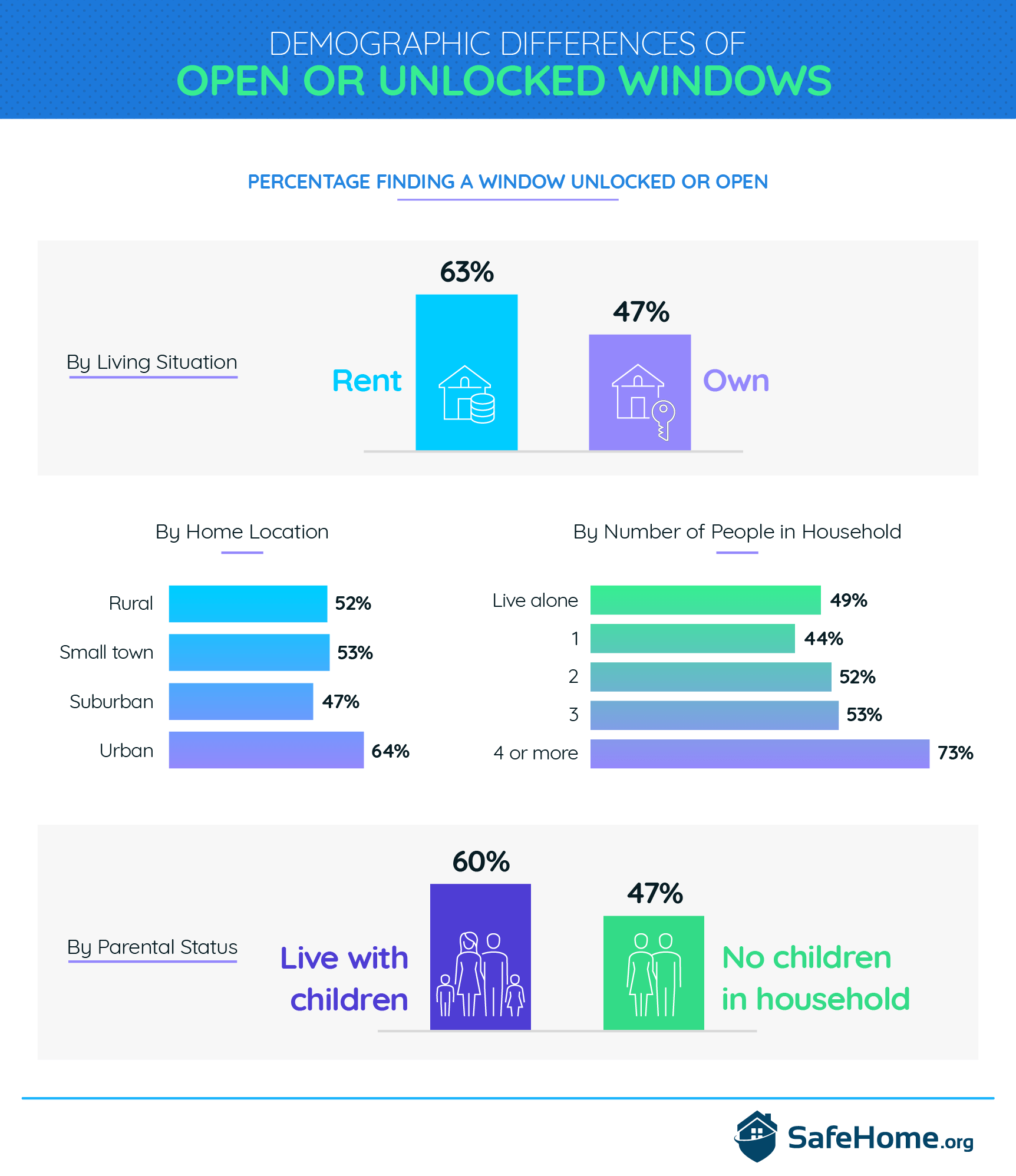 Sixty-four percent of residents living in urban areas indicated finding an unlocked or open window, more than those living in small towns (53%), rural neighborhoods (52%), or suburban settings (47%). Even though suburban residents were the least likely to report finding an open or unlocked window, nearly half located at least one. Suburban neighborhoods statistically have among the highest rates of property crime because they offer thieves and burglars more opportunities for hiding places and more points of access into a home.
Perhaps the most alarming finding in our study was that 13% of parents were unaware of an open or unlocked window in their home, and over half of homes with kids had an unlocked or open window. As the weather warms up, unlocked or opened windows pose a serious danger to children between the ages of 2 and 5 according to Seattle Children's Hospital, which recommends window safety devices and keeping furniture away from windows to prevent tragic falls. Their guide notes that any safety device you install should have an emergency release, in case you need to evacuate your home through a window.
Where Windows Are Likely to Be Unlocked
A majority of people have security measures in place to protect their home from being burglarized, but often, people are just as likely to keep their windows locked as they are to leave them unlocked, creating a potential security hazard. Close to 1 in 5 people use alarm systems or security cameras, which can add an additional layer of safety and security to a home.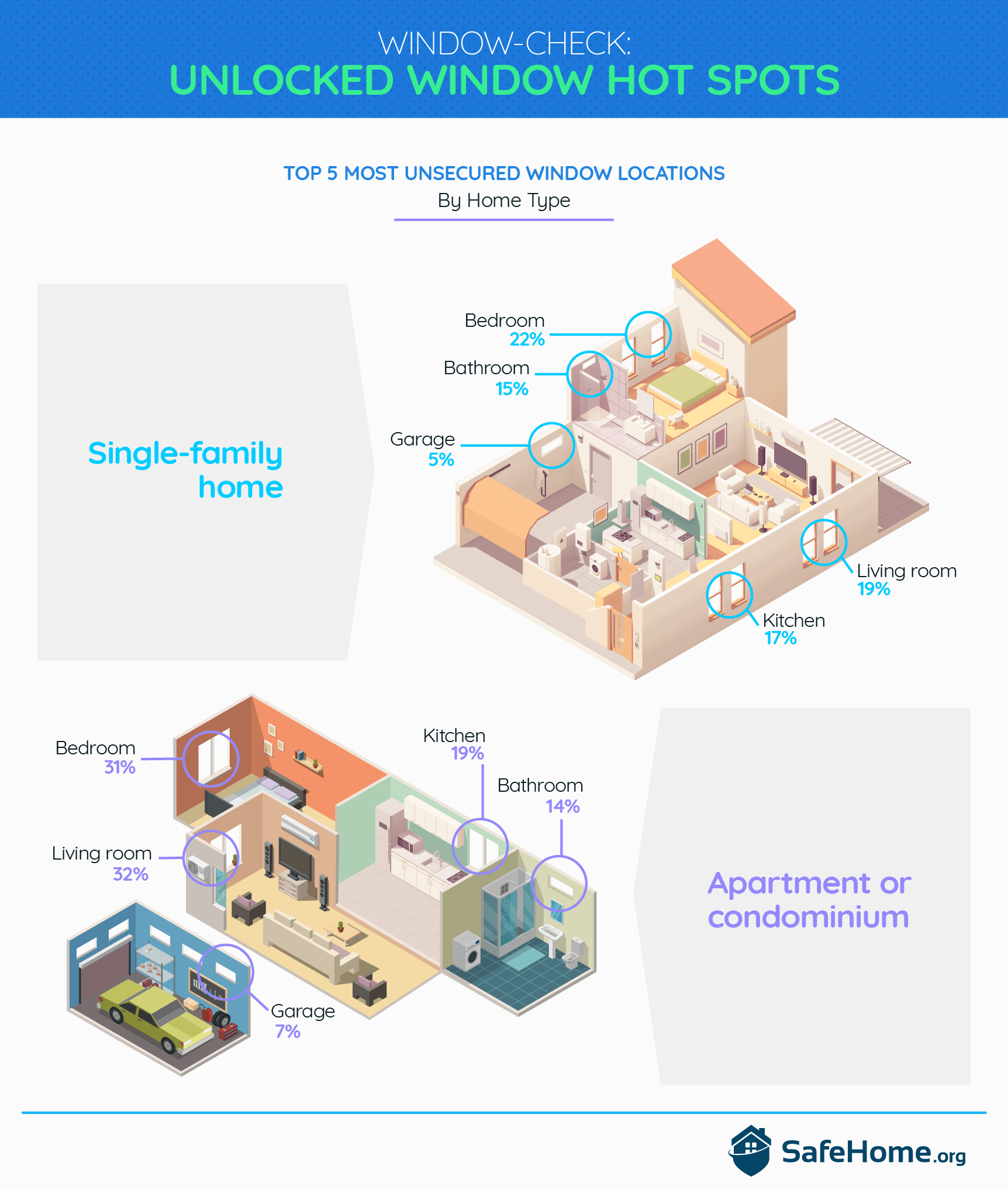 Despite the ground floor being the easiest location for someone to enter a home, 27% of respondents living in a single-family home and 24% living on the ground floor of their apartment reported finding unlocked or open windows in their home.
Among those living in apartments, 22% said they found unlocked windows on the second floor, and 19% found unlocked windows on the third floor or higher. Though a second or third floor apartment may seem like a safer location for an open window, the height of that home entry point may give residents a false sense of security. It's not uncommon for thieves to scale buildings to access an entry point via balcony or second story windows. Apartment buildings have multiple points of entry and higher foot traffic than a single-family home, which means a burglar could have an easier time gaining entry and blending in with residents, so though an open window on a second or third floor may seem safer, residents should still regularly lock windows and doors (even when they're home) and practice common-sense measures.
Building a Security Routine
Nightly security checks and habits differed significantly among men and women and those living in rural and small towns, compared to suburban and urban environments. While 77% of people living in moderate to high security risk areas ensure their doors are all locked before going to bed, that habit was more common among women (82%) than men (72%). In contrast, women (52%) reported being less likely than men (54%) to check that their windows were locked before going to bed.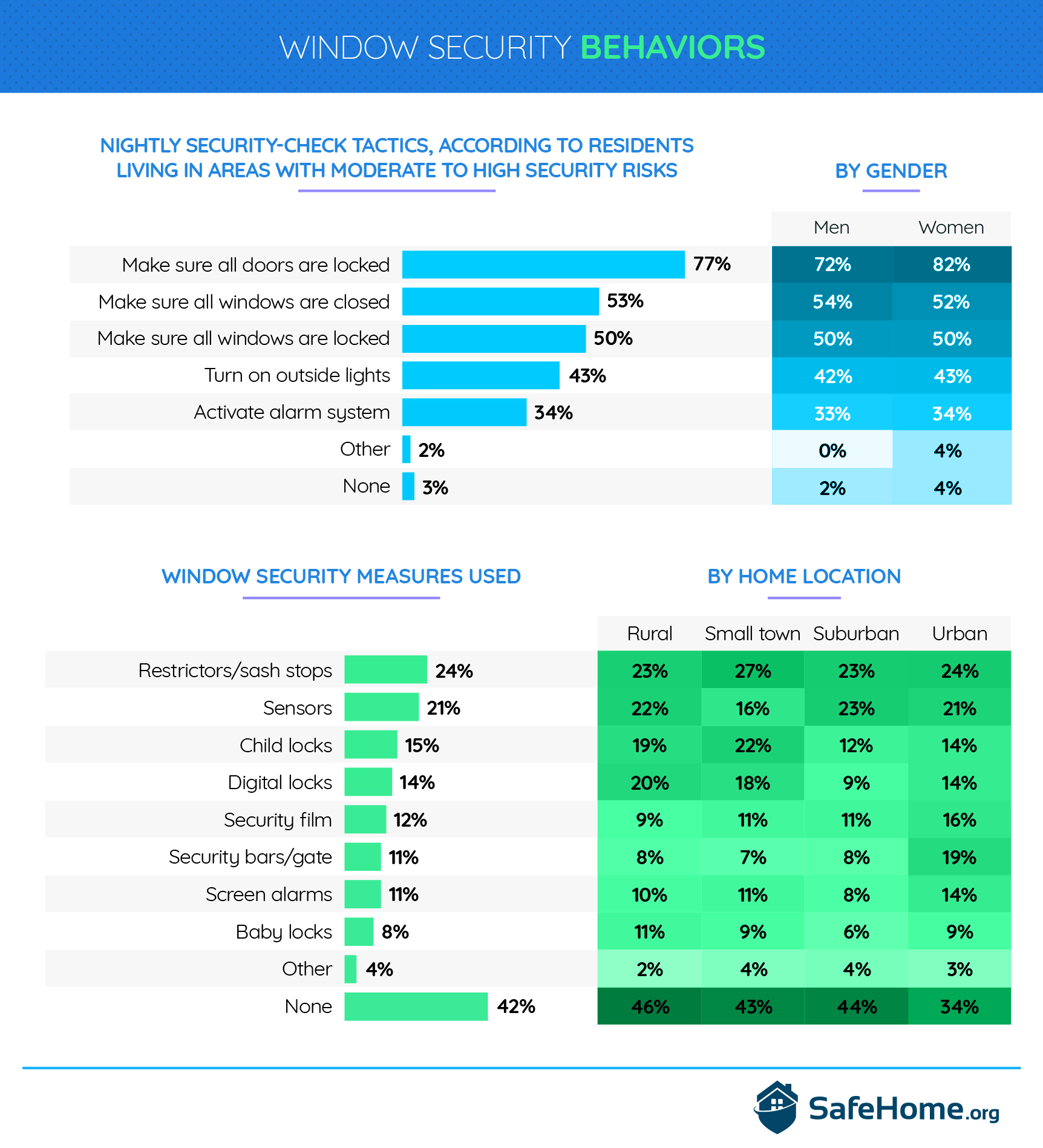 The Insurance Information Institute recommends establishing a routine in order to implement safety around the home, so before you go to bed do a door and window check, and turn any existing alarm systems on. Beyond in-home safety checks, they also recommend getting to know your local community in order to stay in tune with what's happening around your home. These neighbors can also help you keep an eye on your home when you're away, giving you some extra peace of mind.
Paying Attention to Window Security at Home
When it comes to break-ins, burglars are more likely to find easy-to-access entry points into your home, including doors and windows. More than half of survey respondents found at least one window open or unlocked in their home, and a quarter of those were unaware the windows were unlatched at the time. Among people living in single-family homes, unlocked windows were most commonly found in bedrooms and on the ground floor, possibly creating a dangerous entry point for thieves or burglars. Even when you're trying to let in the fresh air or regulate the temperature in your home, it's important to remember when and where unlocked windows have been left open and potentially left you vulnerable. Home security companies such as SimpliSafe offer several solutions for window security as well.
Our Data
We surveyed 1,019 respondents ranging in age from 18 to 79 in order to explore window security habits and behaviors. During the course of the survey, respondents were asked to perform a check of all the windows in their home and report back on how many were open and/or unlocked. The mean age among respondents was 39 with a standard deviation of 12 years. 53% of our respondents identified as female and 47% identified as male.
Survey data has certain limitations related to self-reporting. These limitations include telescoping, exaggeration, and selective memory. We didn't weight our data or statistically test our hypothesis.