States With The Most Home Break-ins
Written By: SafeHome.org Team | Updated: June 31, 2021
It's a sinking feeling; you pull up to your house and see the door is wide open or a window is broken out. You walk in to find your home ransacked, your possessions — the ones still there — strewn about and broken. Your glad your family is safe, but your sense of security is shattered.
This is an all-too-common scenario in the United States. In 2017, more than 1.4 million burglaries were reported across the U.S., making break-ins of homes and businesses the second-most common property crime behind larceny, or theft.
In addition to the emotional toll presented by being the victim of a break-in, these crimes cause enormous financial damage and even in some cases identity theft on top of that. Burglary victims lost an estimated $3.4 billion total in 2017, with the average break-in costing the victim $2,416.
More than 9 in 10 reported break-ins took place in major metro areas or smaller cities. Regionally, burglary rates are much higher in the South and West than in other areas of the country.
Note – The FBI classifies "forcible entry" as any action taken to gain access, which includes simply turning the knob on a door. "Unlawful entry," on the other hand, includes incidents in which doors or windows were left open.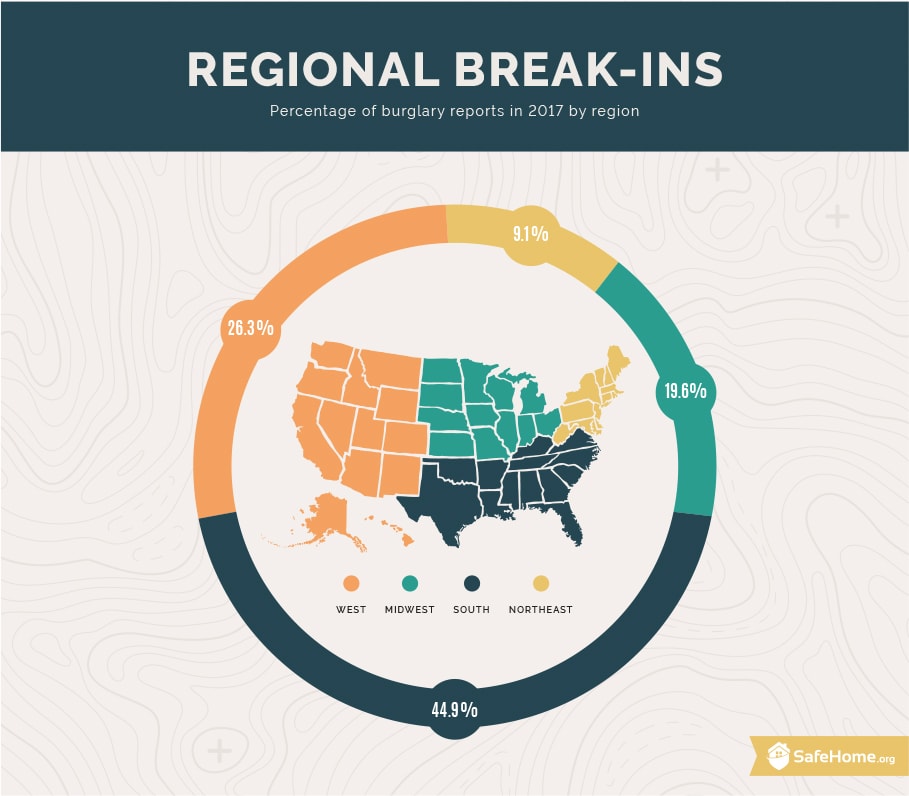 While the differences in the distribution of burglaries reported in 2017 is most likely largely because the South and West have much higher populations, there is also some weather-related correlation, as temperatures in the South stays warm deep into the winter with an average annual temperature for the region of nearly 60 degrees.
Here's a quick look at other facts about break-in rates in 2017: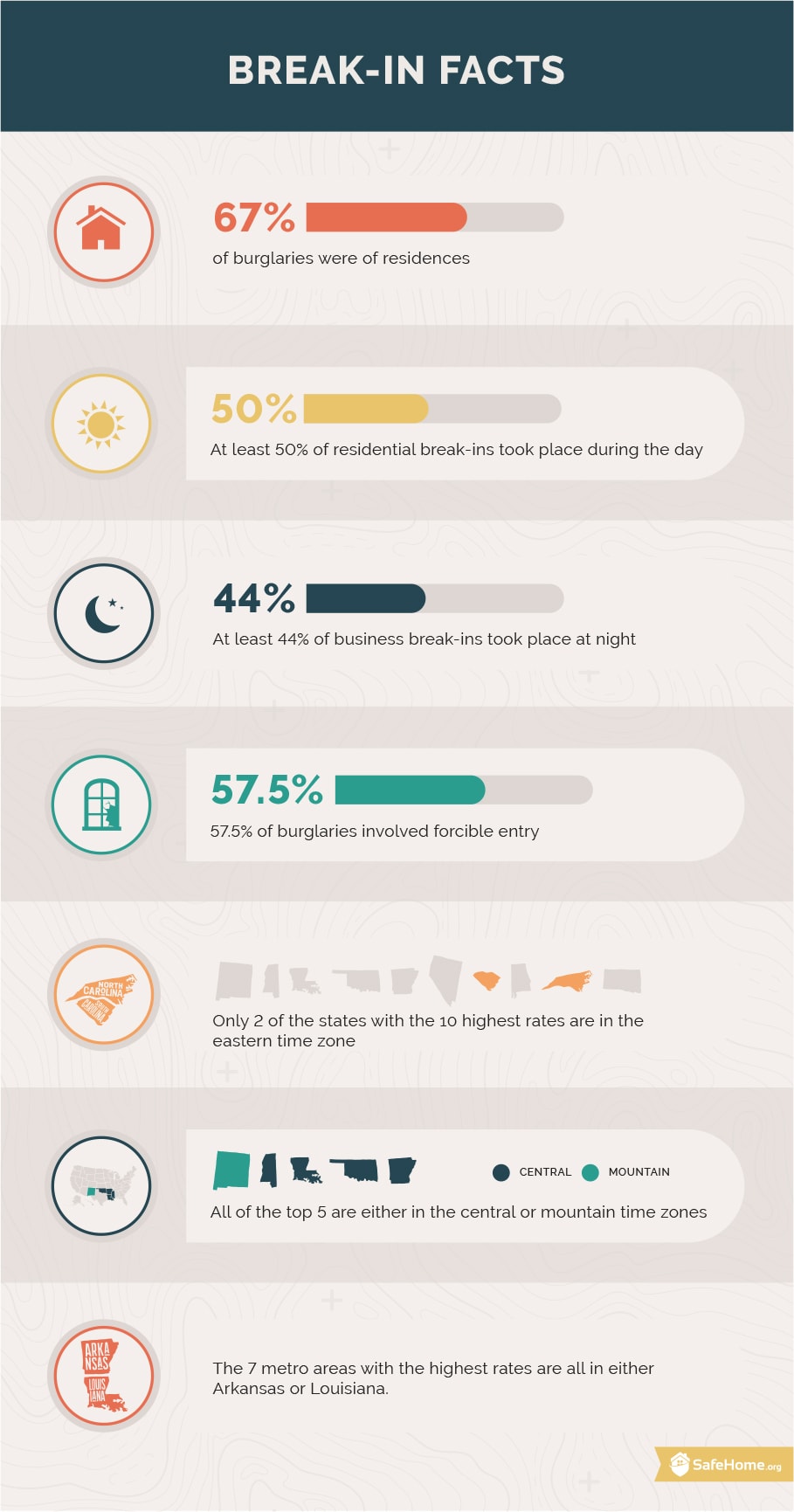 While burglary is, unfortunately, quite common, not all states pose the same risk of experiencing a home or business break-in. In fact, several states far outpace the others when it comes to burglary and they should probably put more focus on securing their home better with a home security system or at least with some home security cameras.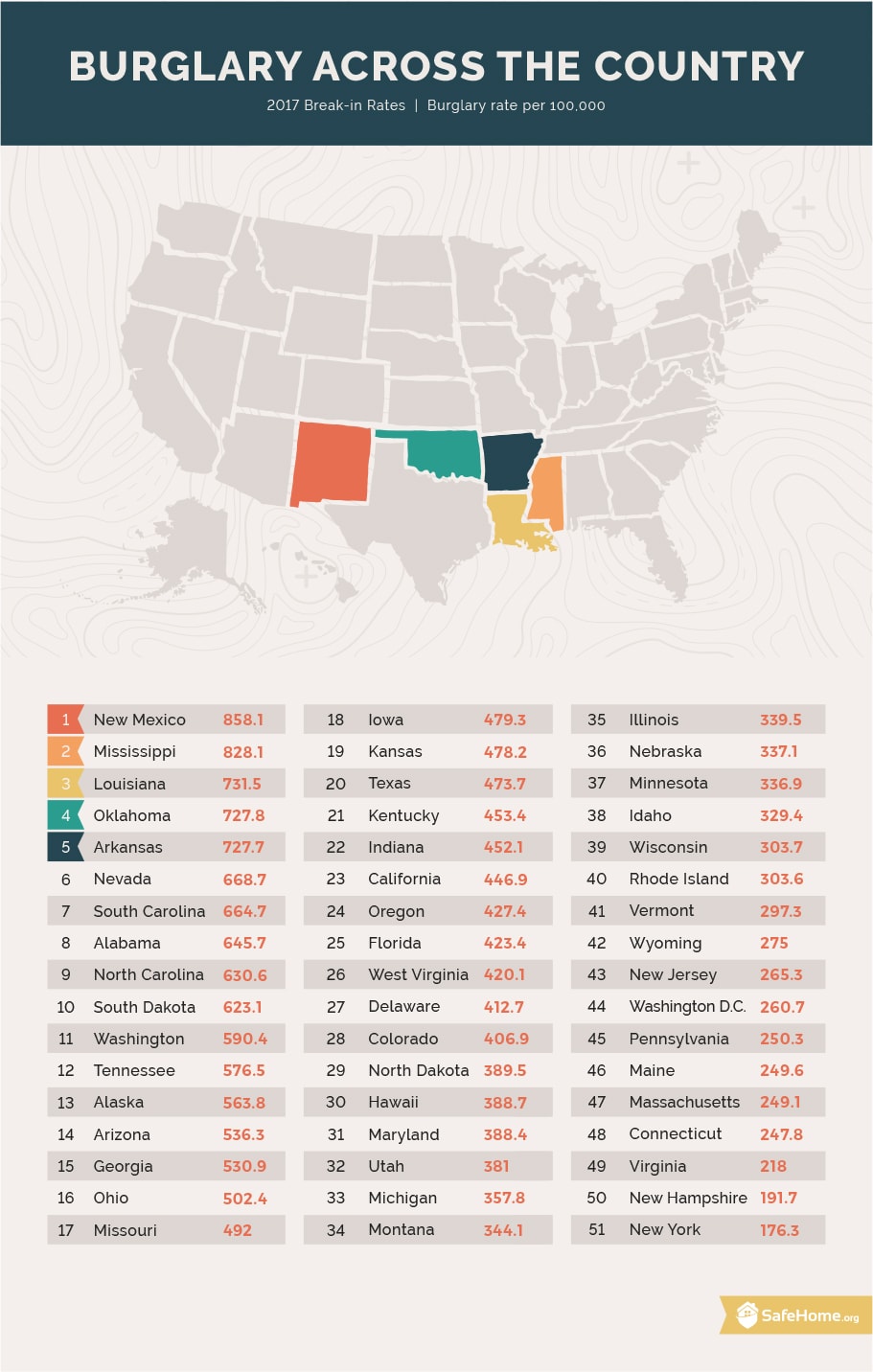 Let's take a look at the rates in each state and dig deeper on the five states with the highest burglary rates and their rates of other related crimes.*

Arkansas landed in the top 5 despite posting a nearly double-digit drop (-8.7%) in the burglary rate between 2016 and 2017. Nearly 90% of burglaries in the state occurred in major metro areas or other cities outside those areas.

More than 90% of the break-ins reported in Oklahoma took place outside rural areas. The state posted a modest 2.9% decline between 2016 and 2017.

In Louisiana, 94% of reported burglaries happened in cities, with non-metro counties reporting just 6% of the state's break-ins in 2017.

Mississippi posted the highest increase among states of the burglary rate between 2016 and 2017, with a 5.2% jump. Among the top five, Mississippi was the only state where rural counties reported more than 30% of the state's break-ins.

Not only is New Mexico's burglary rate the highest in the country, the state posted a 3.6% increase in burglaries between 2016 and 2017. Just 8% of the state's burglaries were reported in areas outside of cities.
Is There Any Good News?
Well, yes, actually. While victims of burglary lost more than $3 billion combined in 2017, the numbers and rates of burglaries and break-ins are steadily falling.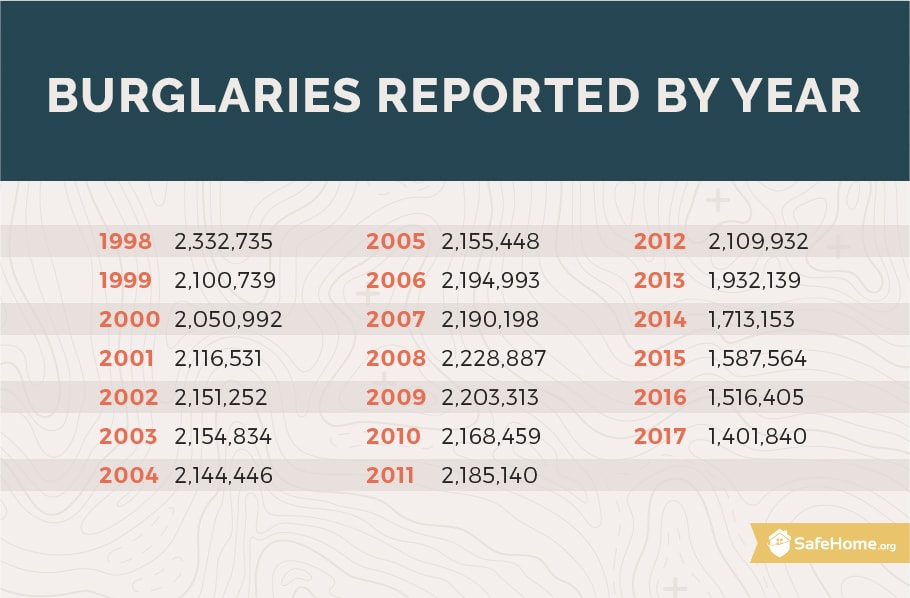 From this data, we can see that the burglary rate has fallen by nearly 40% since 1998, and every year since 2012 has seen a decline from the previous year.
Several states also have posted impressive gains in preventing burglaries. In fact, only six states saw their rates increase between 2016 and 2017. Of the states that saw declines, the average drop was 9.4%.
Here's a look at the 10 highest percentage declines from 2016 to 2017: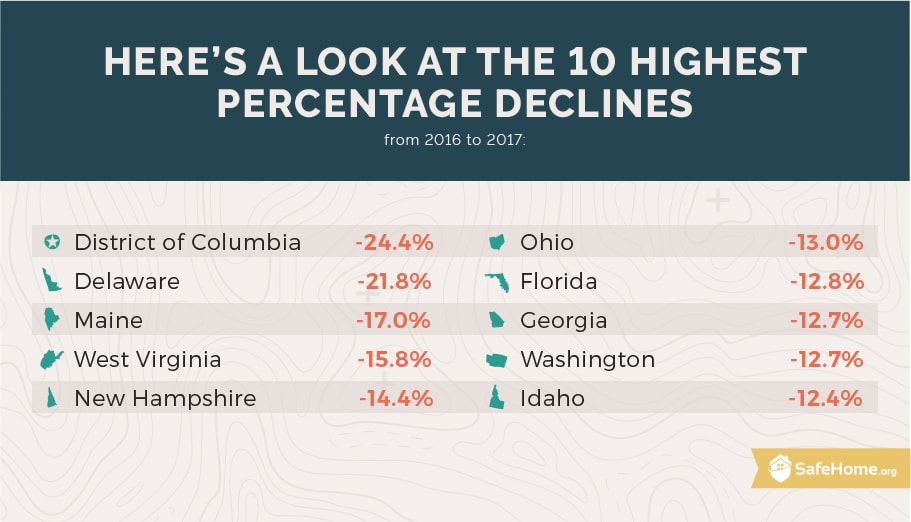 Taking an even longer view, 46 states and the District of Columbia have posted as much as 50% declines in the burglary rate since 2012. Here's a look at the 10 highest declines between 2012 and 2017: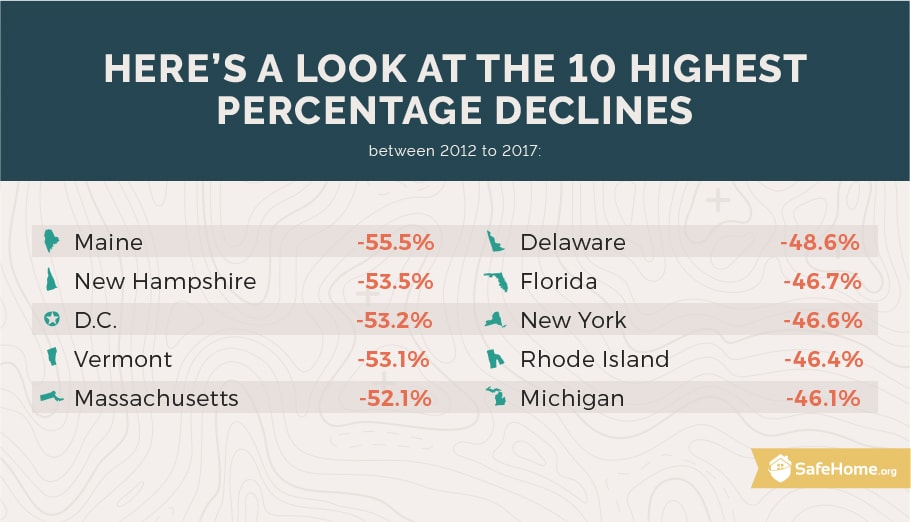 However, three states have seen increases in the break-in rate since 2012, with South Dakota's rate more than doubling (391/100,000 to 623.1/100,000), a 59% jump. Alaska (+39.8%) and North Dakota (+14.6%) also saw their rates increase during that time.
The national and state-level improvements the U.S. has seen over the past couple of decades do not mean you can stop being vigilant, though, about keeping your home or business safe. In fact, it may be possible to argue that the growing popularity of home security systems is part of the reason why burglary rates are falling all over the country.
About This Study
Our analysis of which states have the most break-ins covered data reported by the FBI in its "2017 Crime in the United States" update. We examined data on burglaries, not all of which technically are break-ins, though the data indicates the majority are. This data also includes only crimes reported to or otherwise known by law enforcement.
Fair Use Statement
The material on this page is free to share for noncommercial use. When using the text or images from this page, we ask that you properly attribute it with a link back to the URL.