Our children are our most prized treasures. They are the human beings who embody all of our hopes and dreams for the future. We invest in them with our finances, shower them with our attention, and hold them close in hopes to protect them from harm's way. But according to the Center for Disease Control, among those 0 to 19 years of age, more than 12,000 die each year from unintentional injuries and more than 9.2 million are treated in emergency departments for nonfatal injuries. These astronomical numbers, though disheartening, are just the beginning. Other dangers include school bullying and abductions, and they are enough for some parents to insist on home-school. But for many parents, shielding their kids from harm's way in a bubble is not the answer. For many, the answer lies in being prepared. We created a guide to help you and your children to be as prepared as possible in the face of the most prominent dangers facing children today.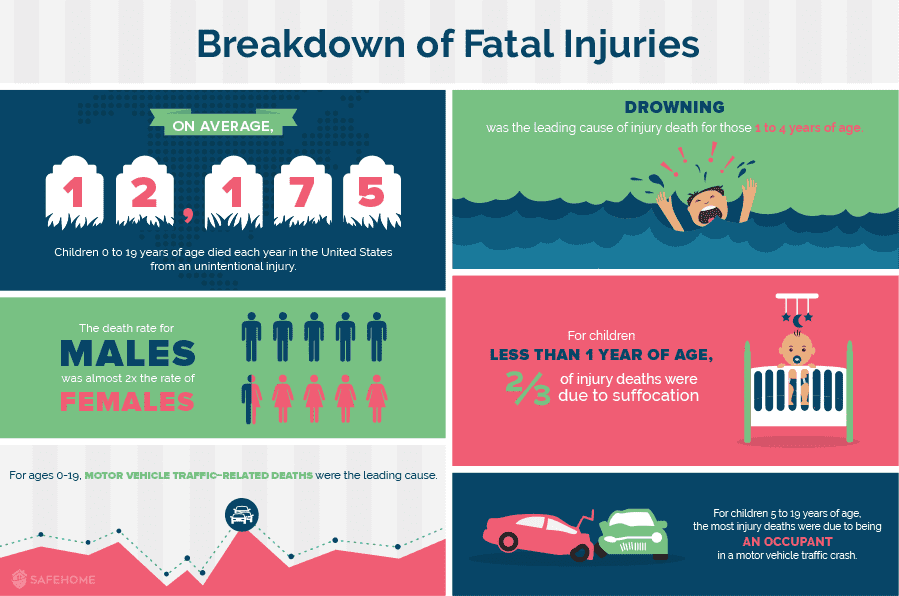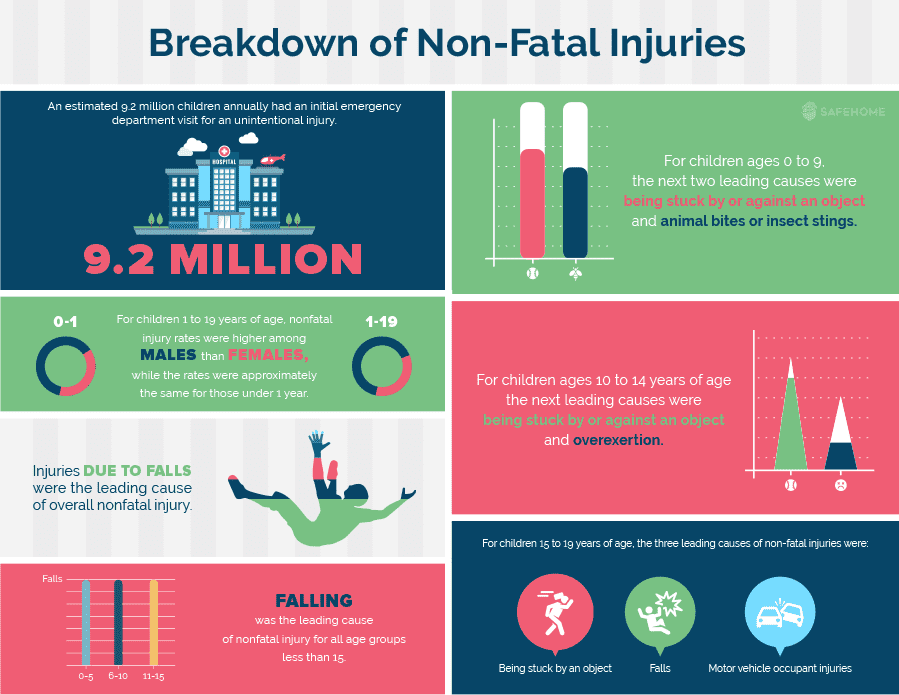 Knowing the major causes of both non-fatal and fatal injuries (motor vehicle traffic related incidents and car accidents, suffocation, drowning, falls, being struck by objects, animal bites, and poison) is the first step to preparedness. For a closer look at each of those dangers, for additional resources, and for proactive tips to combatting them, read on.
Burns
To prevent burns in children, it is paramount that your house be equipped with fully functioning smoke alarms on every floor. Be sure to test the alarms periodically (once per month) to ensure they are working. Next, it's also important to create an escape plan that the entire family has practiced and is on board with, which includes a meeting place outside the home. Because home fires are a leading cause of death among children, keeping a home fire extinguisher is also important. But it is also important to note that not all burn dangers come from house fires. There are burns due to water temperature, cooking spills, irons, humidifiers and vaporizers, and electrical cords. And if a burn does occur on your watch, it's important that you know how best to treat those burns, so as not to make the situation worse.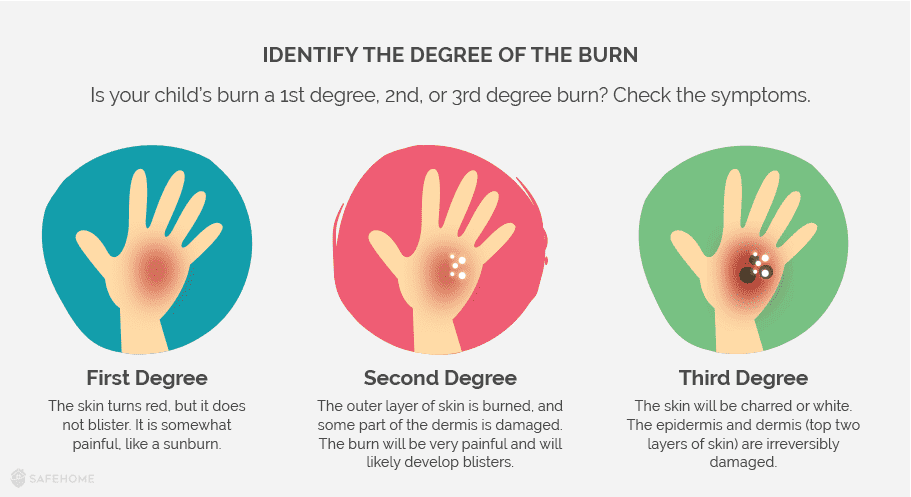 Drowning
Drowning is the leading cause of unintentional deaths for children 1-4. Teach your entire family the basics of swimming, floating, and CPR. If you do have a pool in your backyard, be sure to install a secure four-sided isolation fence around the entire pool. The CDC reports that, as far as drowning prevention goes, swimming skills, CPR knowledge, and life jackets are all major contributors to children's safety. Whether in the pool or out at the lake, ensure that your children are always wearing a life jacket. Closely supervise any child that is near water, even bathtubs, and give them your full, undivided attention. Children are at risk not only near pools, but also around natural bodies of water, and around household hazards. Equally as important, but sometimes overlooked is the phenomenon of Dry Drowning which occurs when water gets inside a child's lungs causing a sever inflammatory reaction to the water hours after the incident.
Suffocation
Unfortunately, far too many deaths due to choking, aspiration, suffocation, strangulation, entrapment, and traumatic asphyxia occur in children. But fortunately, most of them are preventable. The American Academy of Pediatrics conducted a thorough study on prevention of choking among children, and found that choking is an important public health problem, and that the prevention of this hazard falls on the education of parents, teachers, child care workers, and caregivers in this realm. Many choking incidents in younger children involve food, so please supervise your child while she is eating. There should be no rough playing or walking or riding in a car while eating, as it only increases the chances of choking. Cut food into small chewable pieces, and accompany food with liquids to help children swallow. Death due to SIDS (sudden infant death syndrome) tends to fall within these categories, so it is equally important to be educated and prepared when it comes to SIDS. CPR is something that you and your family can do together, so sign your entire family up for a CPR training course at a local center near you. You never know when you will be called upon to save your child from chocking, or when they may be called to save yours.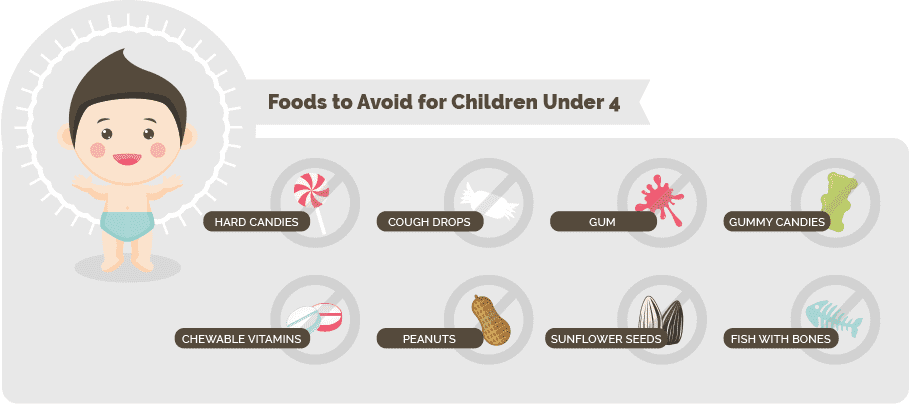 Sleep safety is also a major concern. When it comes to sleeping, make sure your child's crib sheet fits tightly and remove pillows, toys, or anything your child could potentially choke on from the crib. Younger children are safer when not sleeping with parents or older siblings, as children can be suffocated in these scenarios.
Poisoning
More than 300 children are treated for poisoning on a daily basis in the United States. Poisoning can take many shapes, like the ingestion of cleaning products, perfume, vitamins, and a plethora of other toxic items in the house. The best thing to do is keep all personal care items and cleaning products out of reach of children, and install carbon monoxide detectors to prevent exposure from gas appliances and heaters. It goes without saying that children like to mimic what they see adults do, so please be mindful not to take medication in front of children as they may try to copy.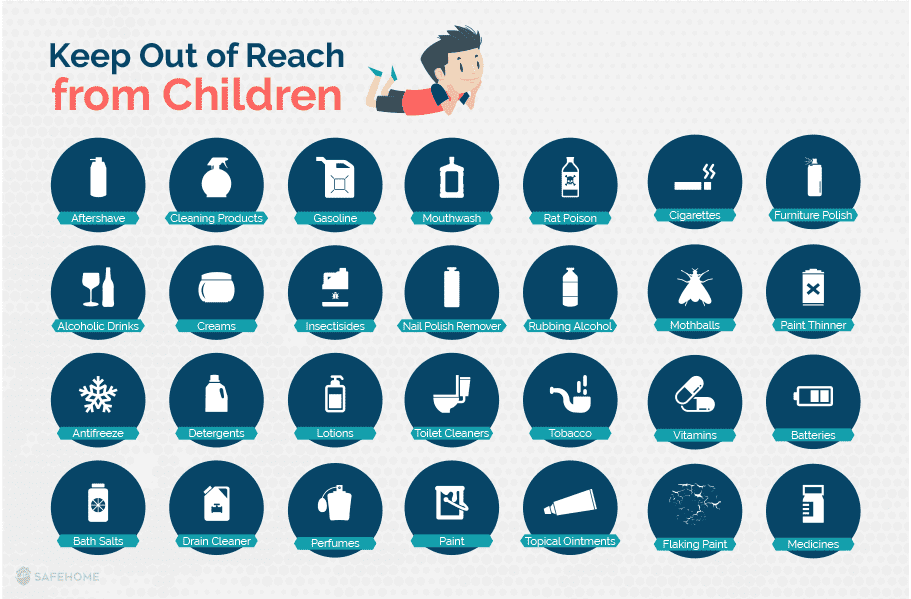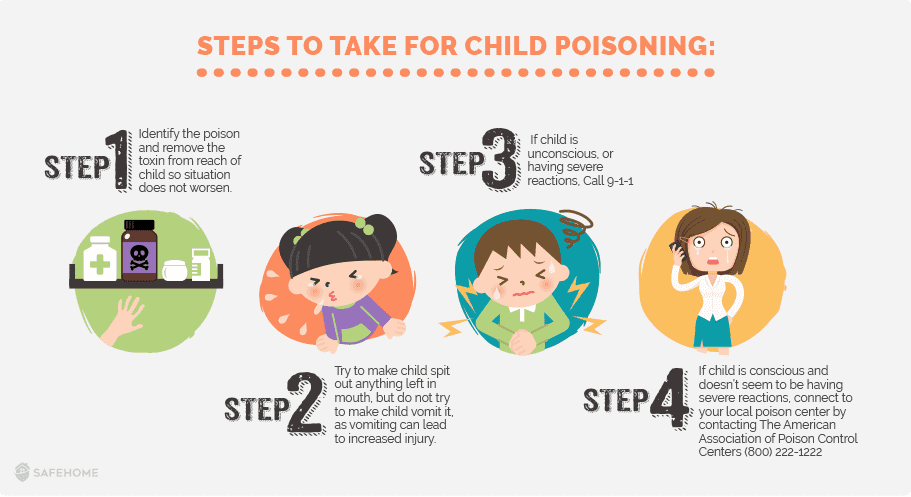 Animial & Insect Bites
Kids love animals, this we know. But it is crucial that you keep your kids' safety the utmost priority. Do not allow your children to disturb animals, no matter how innocent it seems. It might surprise you that 77% of dog bites come from the family dog or a friend's dog, so never leave your young children or babies unattended with a pet, even if it's a family pet. Please teach your children to ask permission from a pet's owner before petting the animal. Running past a dog will naturally instigate it to chase and catch. Insect bites are a little different because insect repellent is not safe for newborns. Cover your baby with clothes, keep windows and doors closed, and keep your baby indoors during those pesky dusk and dawn hours when bugs are particularly ravenous. You can also use a fitted mesh net over carriers and strollers when you do take your baby out. Encourage your older children to avoid popular bug hangouts like flower gardens and garbage cans, and do choose a safe and effective insect repellent for your children. If avoiding a bug bite has proven unsuccessful, you'll need to treat it with the appropriate attention it deserves.
Head Injuries & Falls
The Center for Disease Control tells us that for children under 19 years old, falls are the leading cause of non-fatal injuries. Falls can happen at school, on playgrounds, parks, and inside the home. To prevent play-ground fall injuries, check that the surface under playground equipment is safe and soft – no dirt of grass. For preventing falls inside the home, strive to make your home as accident proof (this can also be true for older adults too) as possible by incorporate guards on windows that are above ground level, stair gates, and guard rails. Often overlooked, protecting your child during his/her sports participation is paramount. By insisting on the appropriate protective gear for each sport, you are setting your child up for safety success. Last but not least, there is no substitute for adult supervision. Pay attention to where your kids are playing and what they're doing, or designate another adult or a sitter to do the supervising. But whenever possible, do not leave your children unsupervised.
Injuries from falling objects is also a big concern. Though not always on the forefront of parent's minds, many children's injuries occur from sharp or heavy objects striking them. To ensure your children's safety, begin by securing any bookcases or heavy furniture to the wall and making sure shelves are fixed in place. By keeping heavy objects on lower shelves and lower areas that are accessible to children, you risk the change that those objects will fall on top of them. Be sure to bolt a television down to something so that it doesn't fall over, or if it's a mounted flat screen, make sure it is installed with precision. Any items not intended for children should be placed in a room that the children don't have access to – picture frames, décor, keepsakes, are just a few. Walk around your home and give your walls a good shake to see what is truly secure and what needs some extra attention. Again, supervising the children at all times also prevents a lot of these injuries.
Motor Vehicles
There are very specific, designated stages for properly buckling up your children according to their age. Here is a guide to the stages -- get to know them very well and follow them at all times. Properly installing children's car seats is of the utmost importance. If you don't risk getting it wrong, there are certified experts you can hire that available to help.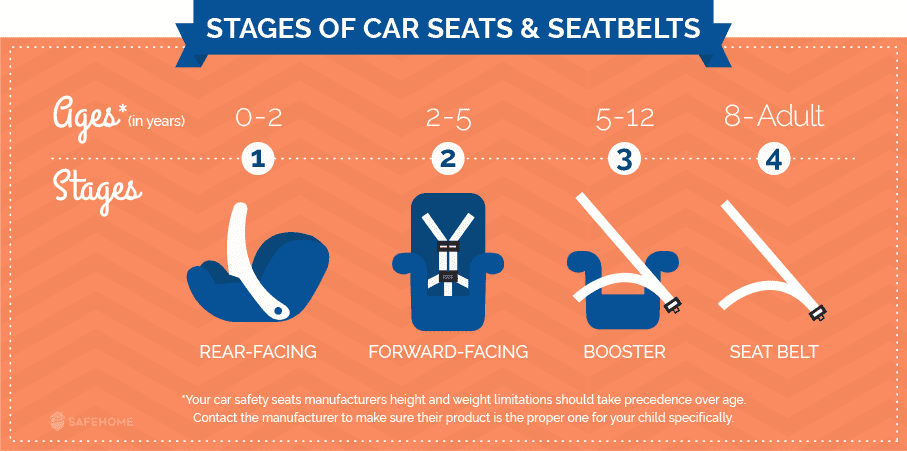 Kidnapping
One of the scariest things a parent has to face is the prospect that their child could one day be abducted. And while abductions certainly do take place (about 100 each year in the U.S), The Polly Klaas Foundation reports that nearly 90% of missing children have simply misunderstood directions, are lost, or have runaway. And while only 1% of yearly kidnappings are of the stranger abduction variety that everyone fears, it is still important to teach children the do's and don'ts of stranger danger.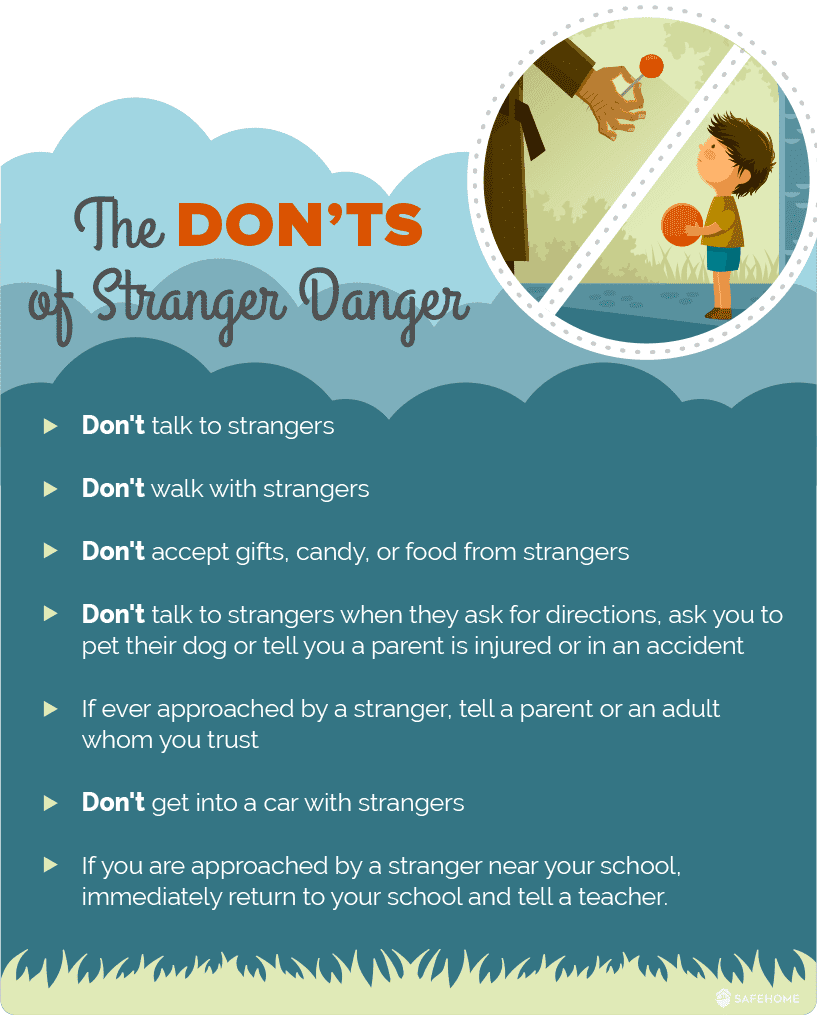 Bullying
Over the last decade, bullying has surfaced as a national epidemic. The CDC defines bullying as: unwanted aggressive behavior; observed or perceived power imbalance; and repetition of behaviors or high likelihood of repetition. Bullying can happen to anyone, anywhere, and to children of any age.
Though there is no sure fire way to prevent bullying at this time, stopbullying.gov shows us that there are warning signs that parents can look out for such as unexplainable injuries, lost or destroyed clothing, books, electronics, or jewelry, frequent headaches or stomach aches, feeling sick or faking illness, changes in eating habits, difficulty sleeping or frequent nightmares, declining grades, loss of interest in schoolwork, sudden loss of friends or avoidance of social situations, and self-destructive behaviors such as running away from home, harming themselves, or talking about suicide. Help recognize the signs of bullying so that you can move forward to putting an end to it. Lastly, it's important to remember that every bully has a parent or caregiver, and that person might be you. The harsh reality that your child might be the one bullying might be a hard pill to swallow, but it's your responsibility as a parent to recognize this behavior, and put at end to it.